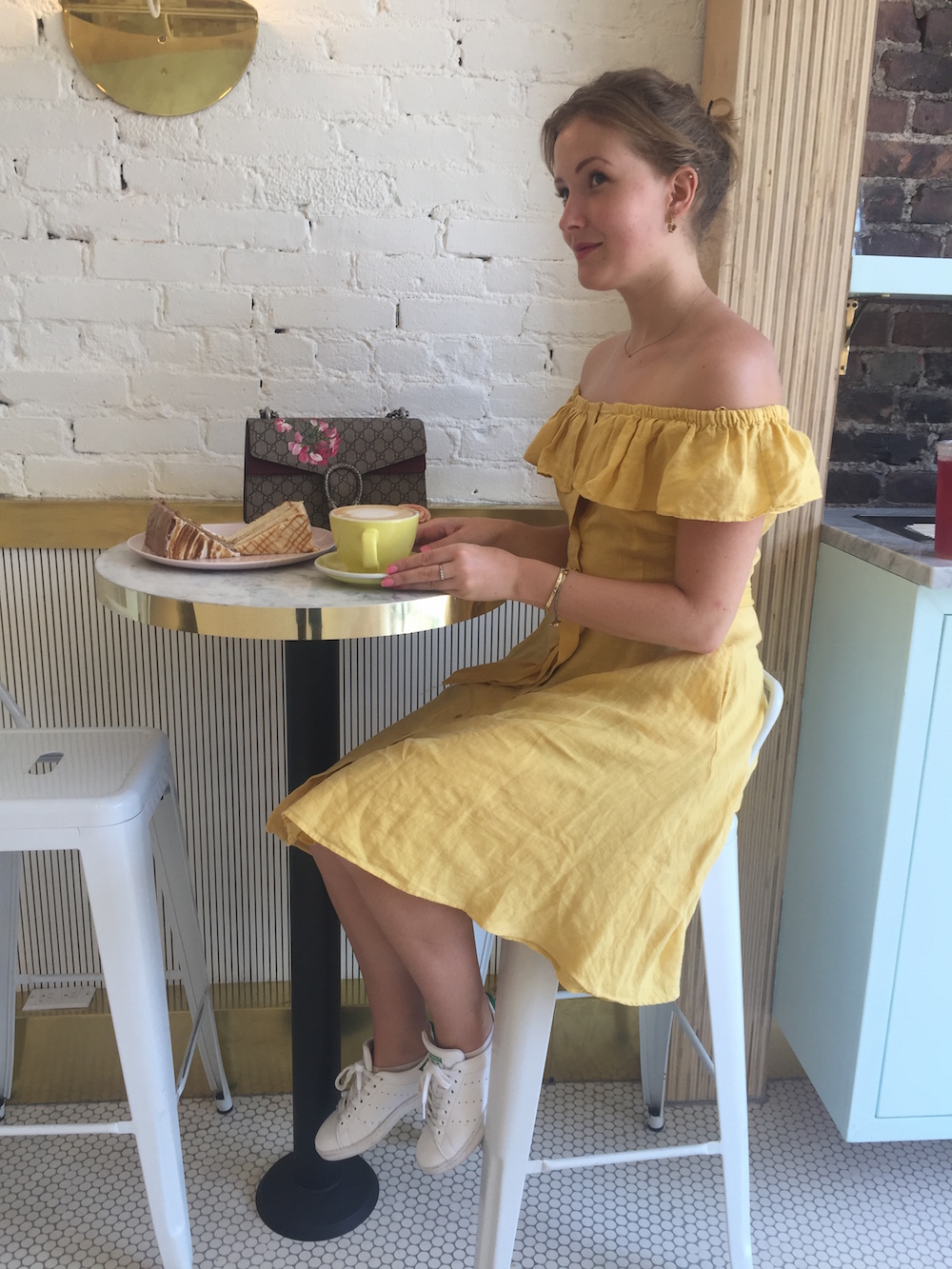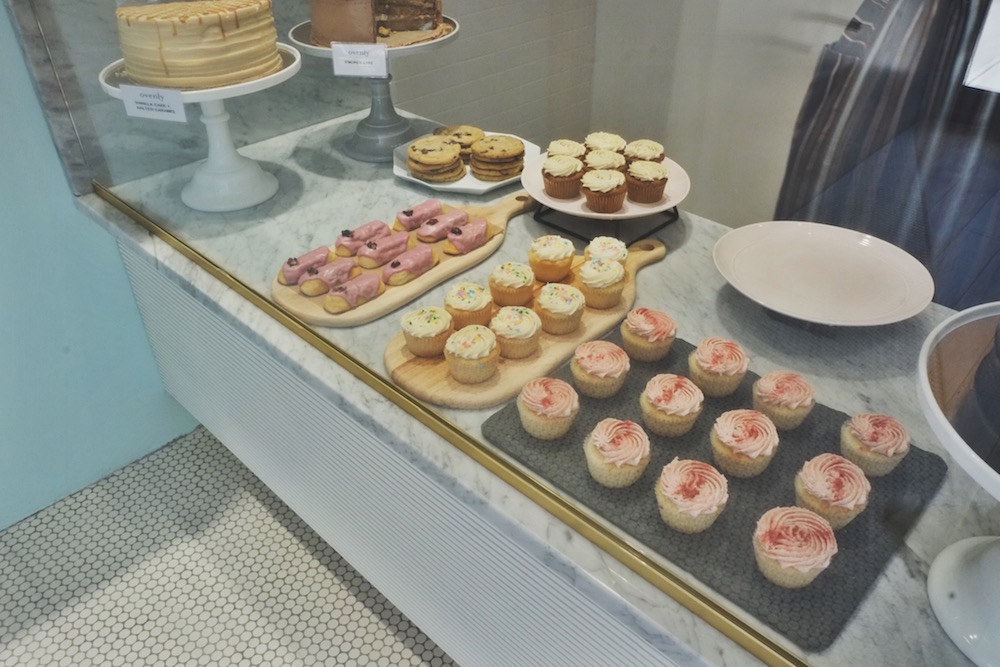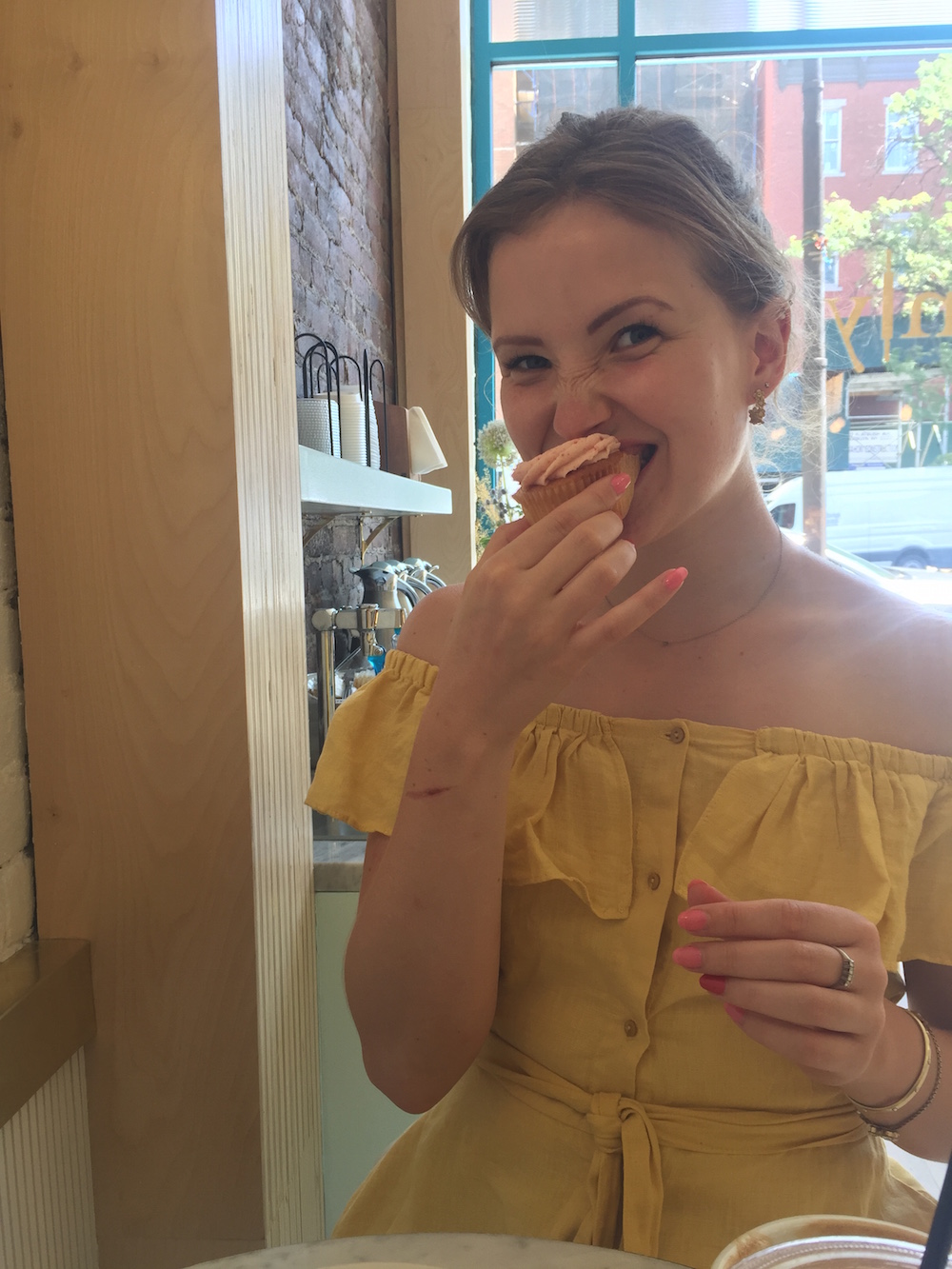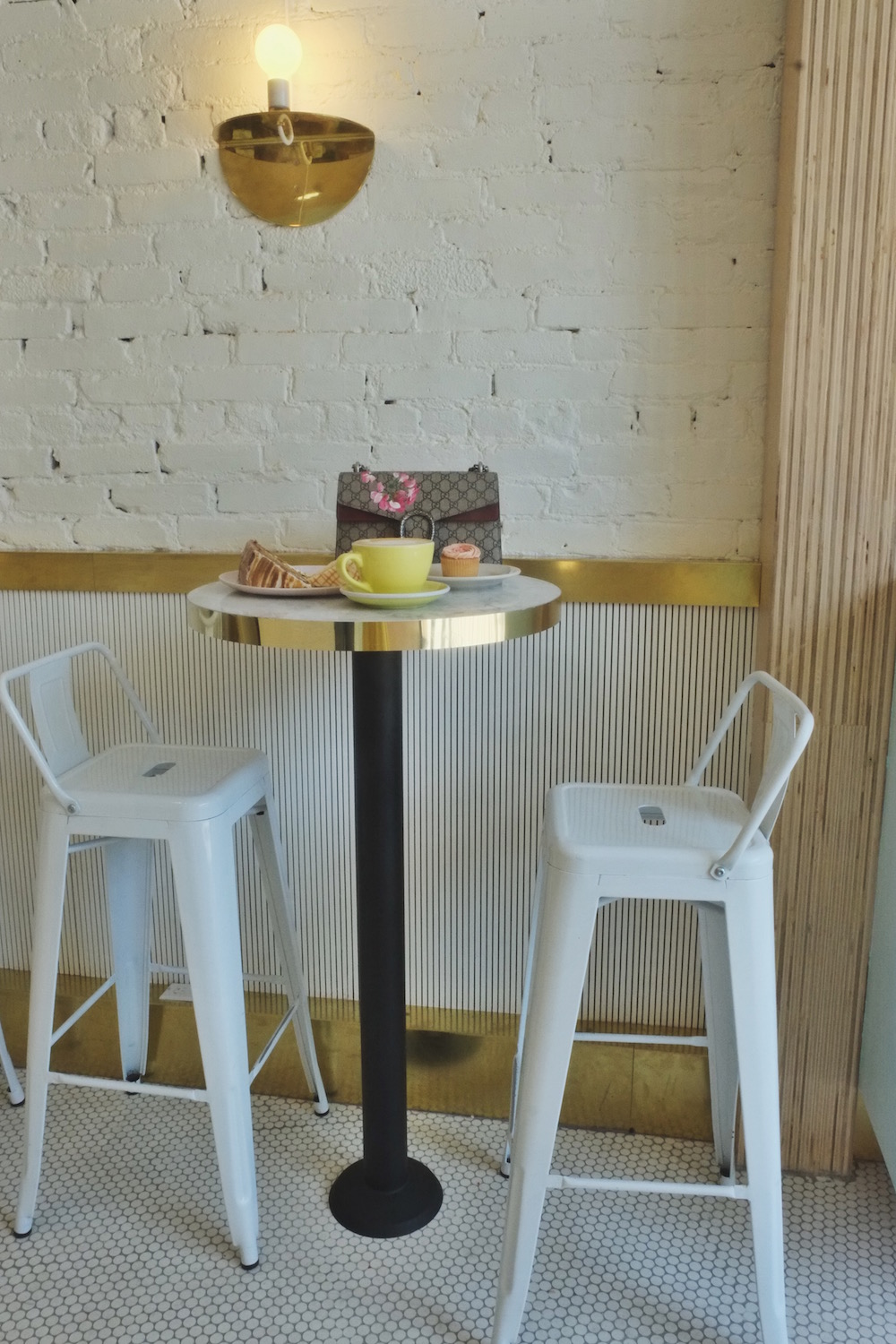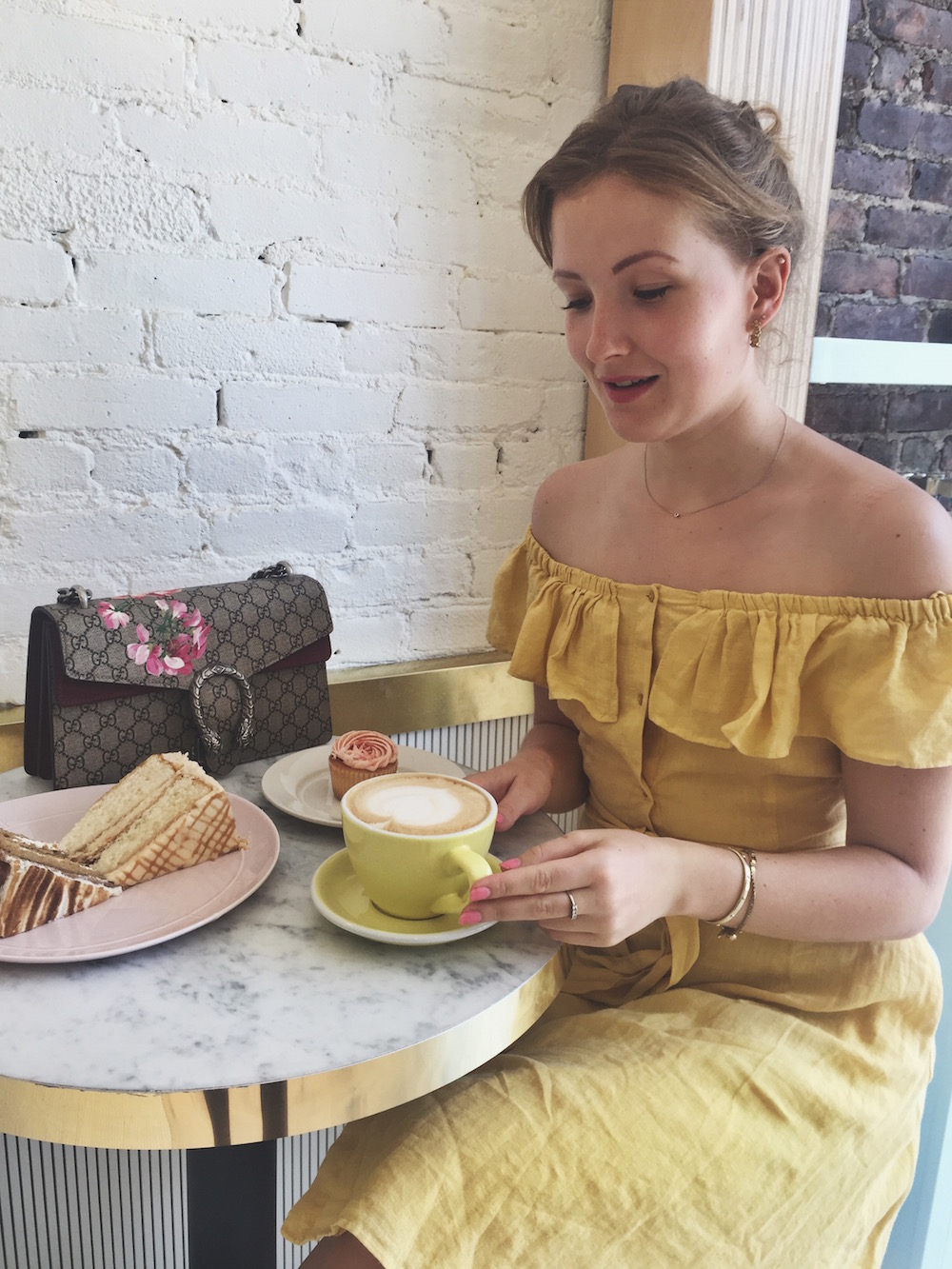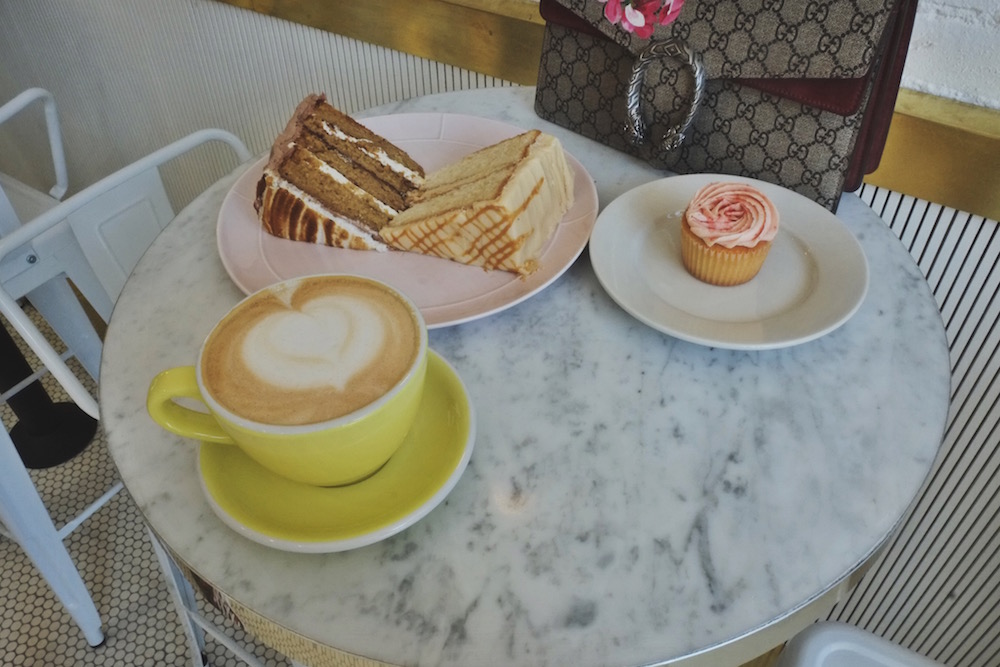 ENGLISH (DANISH VERSION BELOW) Cake, cake, cake, there is nothing better, am I right? Ovenly, a New York City café definitely agrees to that with their vast selection of cake and cake only. I visited Ovenly at their newest location in Park Slope in Brooklyn and had lots of cake. The decoration and interior of the space are beautiful, and the location is great and central and perfect for a fuel stop on a shopping spree.
Ovenly has been called the best bakery in New York City, and for a city with a huge selection of everything edible, that is one big compliment!
All of Ovenly's cakes were so pretty and looked so yummy so I had a hard time deciding on what to get. That is why I ended up with (a little too many) three different cakes. I tried the s'mores cake, which is their summer special. My boyfriend opted for the salted caramel (we always get two different ones and share). We also shared a cute, pink cupcake from the one dollar plate.
The one dollar plate is an amazing concept at Ovenly. Everything left over from the day before is put on sale for one dollar per piece. I love that concept – instead of throwing out food that is perfectly fine, you sell it at a lower price making it affordable for people to eat.
Ovenly has a few locations around New York City, such as one in Green Point and one in Park Slope, the one we visited, and in fall 2017, they will open one in Williamsburg. Check out the locations here.
Ovenly (Park Slope)
210 Flatbush Ave,
Brooklyn
____________________________________
DANSK: Kage, kage, kage, er der noget bedre end kage? Ikke hvis du spørger Ovenly, et bageri og café i New York, som udelukkende sælger kage. Ovenly er endda blevet udnævt som et af de bedste bagerier i New York. Det forstår jeg godt.
I sidste uge besøgte jeg Ovenly på deres nye café i Park Slope i Brooklyn. Caféen er fint indrettet med marmor og lyse detaljer, og med en disk, der smukt udstiller alle deres lækre kager. Det gjorde det meget svært at vælge, hvad jeg ville smage. Heldigvis var min kæreste med på en deler, så vi bestilte to stykker kæmpe kager – man er vel i USA. Det ene stykke var bageriets sommer-edition, en s'mores-kage. Sublim. Den anden var salty caramel, og lige så lækker.
Som om det ikke var nok, tilføjede vi også en fin, lyserød cupcake fra 1-dollar tallerknen – et skønt koncept. Alt hvad bageriet ikke har solgt fra dagen før, bliver solgt dagen efter til én dollar per bagværk – det kan være lige fra et stykke quiche, en cupcake, en cookie eller et stykke kage. Fedt koncept, og det gør mig glad når mad, der har det helt fint, ikke bare bliver smidt ud.
Med Ovenlys beliggenhed i Park Slope, er det et perfekt spot til en kaffe- og kagepause fra shoppingen. Ovenly ligger nemlig lige overfor den meget populære sneaker-forretning KITH samt i gåafstand fra Marshall's, Target og Uniqlo. Marshall's kører samme koncept som Century 21, altså et slags storcenter, der opkøber udsalgsvarer fra andre butikker og sælger det til meget lave priser. Dog er Marshall's i Brooklyn langt fra ligeså proppet som Century 21 i Manhattan.
Ovenly har en håndful beliggenheder rundt i New York og til efteråret 2017 åbner de endnu en café i Williamsburg.
Ovenly (Park Slope)
210 Flatbush Ave,
Brooklyn