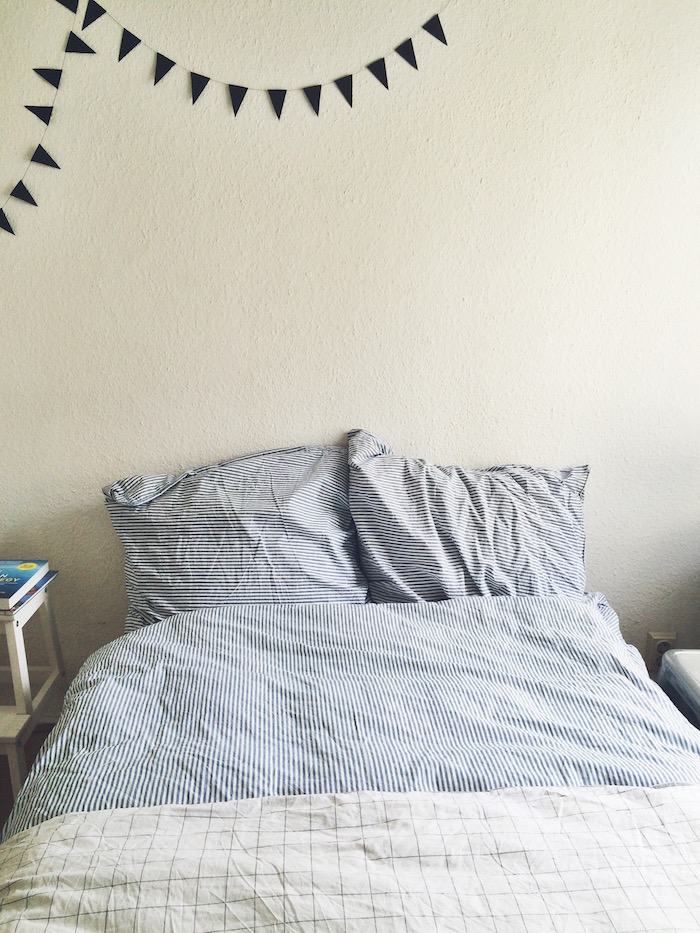 I want to be successful. If there was one thing I could change about myself, it would be my missing ability to get up in the morning. I can't. And I have never been able to. My parents say that I was the most wonderful baby because I would sleep 12 hours every night, from 12 am to 12 pm. Unfortunately, nothing has changed since I was a baby. Most nights, I have a very hard time falling a sleep, and if I have no plans, I will sleep 10-12 hours from when I fall asleep. Even if I put an alarm (or 15 of them), my subconscious will know that I don't have anything "important" to do (such as meeting people, going to work or school), and I will turn off the alarms in my sleep.
This causes me to wake up feeling like a failure. A lazy and incompetent person. Some days, waking up late completely ruins my day and I get so angry with myself. I go through my social media and I see stories on Instagram from those successful, cool, hip girls that have posted their morning breakfast wearing a perfect outfit and perfect makeup, four hours ago. I just woke up four minutes ago. If you snooze, you lose, and snoozers are, in fact, losers. That is also exactly what I feel like!
All successful people wake up at an ungodly hour, and it seems like this is the only way one can be successful. To get up early. No wonder I feel like a failure when I am simply not capable of getting up early. Will I ever be successful if I can't get up early? Is it really impossible for me to learn?
It takes so little effort. It is like eating that piece of cake when you promised yourself not to, can ruin your day. Then, if you eat a carrot instead you will be so proud and happy. That is how I feel with waking up early. When that happens once in a blue moon, I am so happy! I know that people are different, and so are their sleeping cycles. Some people need five hours of sleep, some need way more. And then there is me, who apparently needs 12 hours of sleep. Not only as a baby, or a teenager, but still to this day as a 22-year-old. If only it was something I would grow out of.
Every night, I have the best intentions and I keep believing in my ability to wake up early, and I set an alarm. And not only one, but 15 alarms. Only to fail, yet again and not getting up. From personal experience, I know that I feel more refreshed and happy with 7,5-8 hours of sleep. SO WHY ON EARTH AM I NOT WAKING UP THEN? If that is what my body needs, why does it force me to sleep 10-12 hours?! What am I doing wrong?
Trust me, I tried everything. I know all the advice. Don't bring your phone to bed. Leave your phone in the other room so you have to get up to turn off the alarm. Go to bed and get up at the same time every morning to create a sleep pattern. The list goes on.
Nothing works, and even if I did manage to create a sleep schedule, it will fuck up within a few days. I will manage to do good and wake up halfway early (8.30 am) for a few days. Then a day comes where I am only responsible for myself and I have no one to depend on me to be somewhere at a certain time. Somehow, my subconscious knows that. I will snooze for hours (yes, in plural!) and wake up at 12 ready to beat myself up about it for a whole day.
Should I just settle with the fact that I am a night owl and not an early bird? And that I need 10-12 hours of sleep (but I know I don't!)? Is there a way that I can force myself to change this? And is it true that in order to be successful, you have to wake up early in the morning? Help me!

Hvis der var én ting, jeg kunne ændre ved mig selv, ville det være mine sovevaner og manglende evne til at stå op om morgenen. Jeg kan ikke. Jeg har aldrig kunnet. Mine forældre fortæller mig, at jeg var den mest fantatiske baby, alene af den grund, at jeg sov 12 timer hver nat, fra jeg blev puttet. Det var ofte sent, fordi jeg ikke var træt om aftenen. På mange måder, er jeg stadig en baby, for det hænger ved til den dag i dag, 22 år senere. Lige meget hvor træt jeg har været hele dagen, så siger min hjerne "bling!", når klokken rammer 20, og jeg er frisk om en havørn. Jeg kan ikke falde i søvn, og når jeg endelig falder i søvn, sover jeg 10-12 timer, hvis jeg ikke har nogle planer eller noget sted, jeg skal være. 
Jeg sætter alarmer hver aften. Én er ikke nok, jeg sætter nærmere 15, der så går af med et par minuters mellemrum. Hvis jeg ikke skal noget vigtigt, såsom i skole eller møde nogle, er det som om, at min underbevidsthed ved det. Derfor slukker jeg alarmerne helt ubevidst i min søvne, og når jeg så vågner et par timer efter, kan jeg ikke engang huske det. 
Så vågner jeg op og føler mig som den største fiasko, der kan gå på to ben. En doven og uduelig person. I de værste tilfælde ødelægger det faktisk hele min dag, fordi jeg bliver i så dårligt humør over mig selv og min inkompetence. Jeg ligger og skumler og åbner min Instagram. Her er der stories fra alle de smukke, succesfulde piger, der har uploadet en video hvor de spiser perfekt morgenmad i et perfekt outfit med perfekt makeup. For fire timer siden. Jeg vågnede for fire minutter siden. I mit hoved er udsagnet "you snooze, you lose, and snoozers are, in fact, losers" rigtigt, for sådan føler jeg mig i den grad, når jeg morgen på morgen vågner op efter alt for meget søvn, doven både fysisk og psykisk. 
Vi skal nemlig altid høre om, at alle succesfulde mennesker står op før fanden får sko på. Det er den eneste måde, man kan blive succesfuld på. Man skal stå op meget tidligt, op og igang, så man kan nå alt det man skal. Så er det jo altså ikke nogen overraskelse, at jeg føler mig som en fiasko, når jeg simpelthen ikke magter at stå op. Vil jeg nogensinde få succes, hvis jeg ikke kan stå op, spørger jeg mig selv. Er det virkelig umuligt for mig at lære? 
Det er så vildt, for når jeg en sjælden gang i mellem formår at stå op til den tid, der i mit hoved er lig med "succes", er jeg flyvende. Glad, positiv, stolt. Omvendt, ødelægger det som sagt min dag, hvis jeg ikke magter det. Jeg er klar over, at mennesker er forskellige, og det samme er deres døgnrytmer og søvnbehov. Nogle mennesker klarer sig på fem timer, nogle mennesker formår ikke at sove længe, selvom de er gået sent i seng, og så er der mig, hvis krop føler, at den skal sove i 12 timer. Jeg er altså hverken en baby eller teenager længere… 
Det sjove er bare, at når jeg tvinger mig selv op efter 7,5-8 timers søvn, har jeg det meget bedre og føler mig helt frisk i løbet af dagen. De 12 timer er altså ikke reelt, hvad jeg har brug for. Hvorfor kan jeg så ikke bare vågne af mig selv efter de cirka otte timer? Hvad gør jeg forkert? 
Jeg har prøvet alt. Jeg kender alle rådene. Ingen TV, computer eller telefon inden sengetid. Læs en bog for at blive træt. Lad din telefon ligge i det andet værelse, så du skal stå op for at slukke alarmen. Skab en soverytme hvor du går i seng og står op på samme tid hver dag. Listen er lang.
Der er ikke noget der virker, og selv hvis jeg skaber en sovemønster, så fucker det op inden for et par dage, hvor jeg ikke har nogen at stå til ansvar for. Det ved min underbevidsthed, så zombien slukker de bimlende alarmer og sover 12 timer. Mønsteret er ødelagt, og jeg hader mig selv en hel dag. 
Skal jeg bare indse, at jeg er et B-menneske med stort B? Har jeg virkelig brug for 10-12 timers søvn? Eller findes den hellige gral? Og er det virkelig rigtigt, at man skal stå op tidligt om morgenen for at være succesfuld? Hjælp mig – skyd løs med jeres bedste råd og holdninger. Jeg vil bare gerne være typen, der er oppe før fanden har fået sko på.