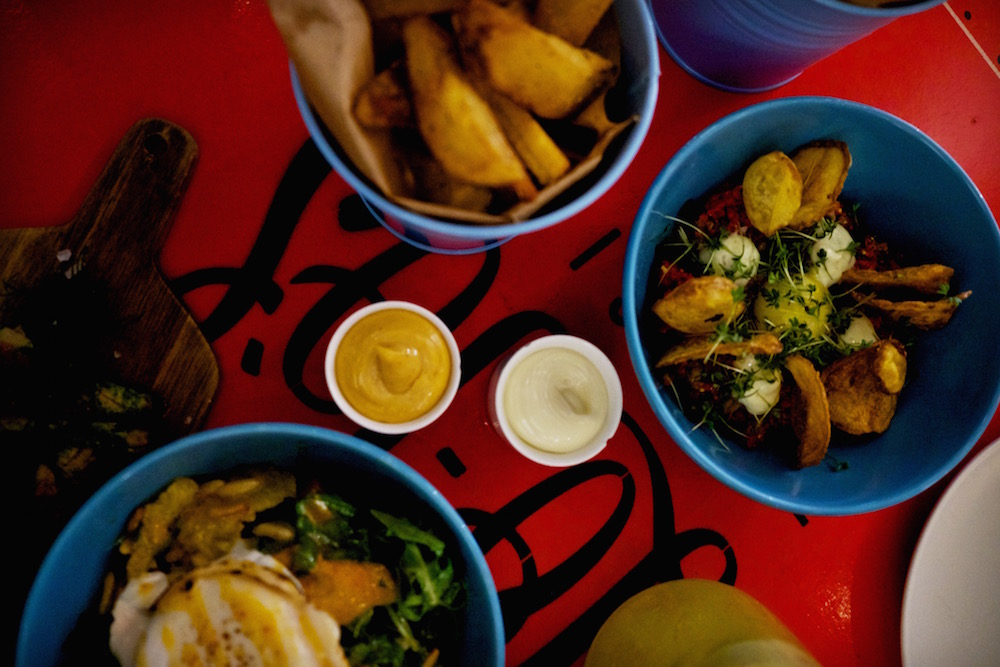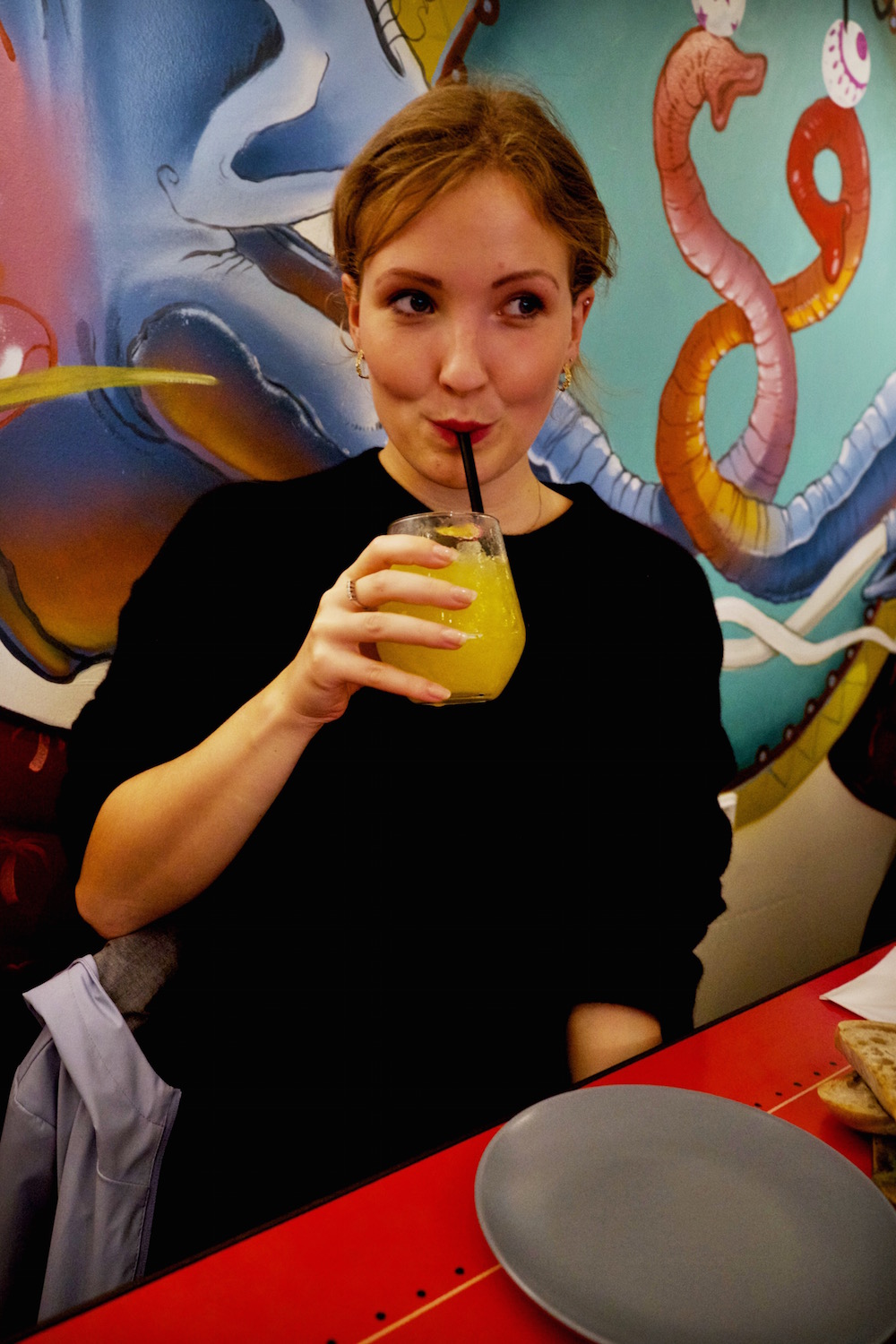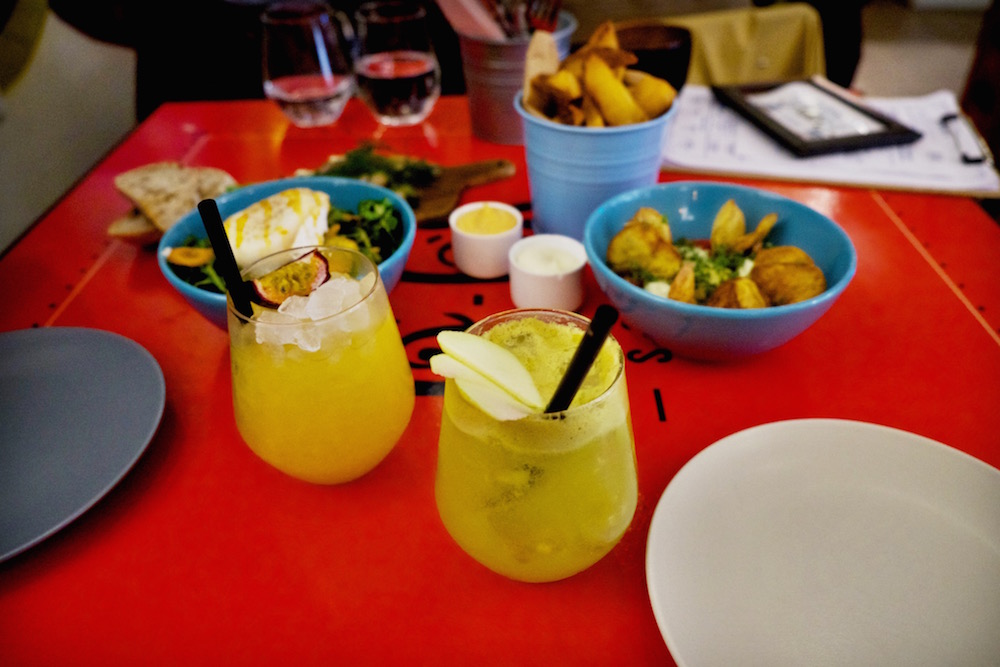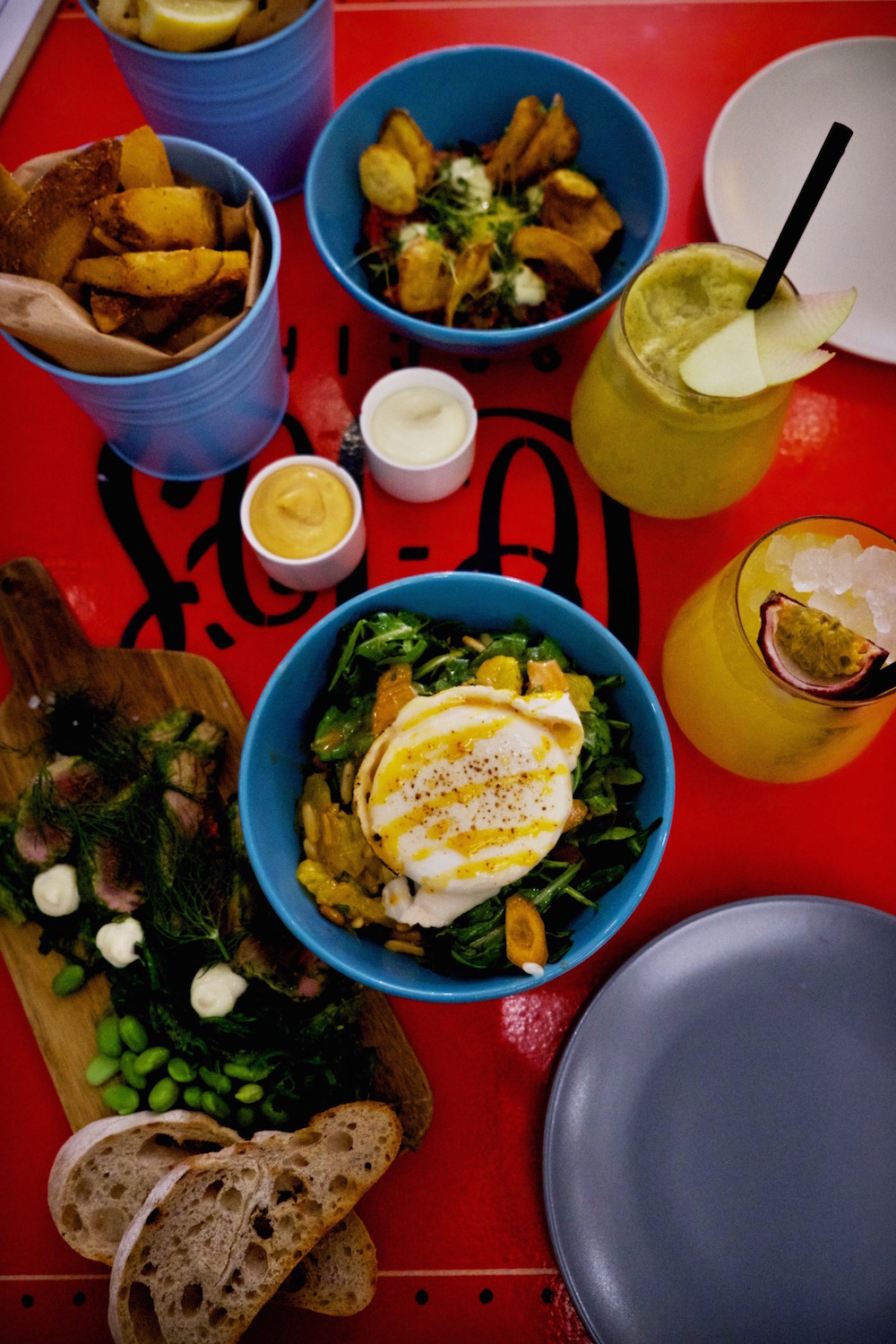 ENGLISH (DANISH VERSION BELOW) Lo Jo's Social, as the name implies, is a place to be social. The theme of the restaurant and bar is "social". And it works! The restaurant invites people to come with their friends, chill, enjoy the music, get some drinks, share some plates of food, and if you want more, you just order another round of drinks or food. No three-course meal fine dining, it is just about having a good time.
And so I did! I went to Lo Jo's Social on a regular Wednesday night and the place was packed. It was clear that they were having a good time. Some were drinking, some were eating and some were doing both. I ordered one of their most popular cocktails, "La Pincha" with passion fruit and it was just what I needed after a day full of school and biking in the rain. My boyfriend had another Lo Jo's specialty, an apple press. Made of freshly squeezed apples with your own choice of alcohol. Both were great drinks, and for Copenhagen, the prices were really good as well. The cocktails range between 70-85 kroner.
And the food…. Oh, the food. It is just so good. The menu has the perfect mix of all the dishes that I love! From fish, meats, vegetables, and snacks. And the world's best fries! They are fried three times and served with chili mayo. Everything tastes good with chili mayo.
I also tried their beef tartar, the squid, the seared tuna, goat cheese and grilled carrot salad, and of course, the fries. Everything was so yummy, served in smaller portions, although they were still huge, as they are made to share. 1-3 plates per person should be enough to share! For the food, the prices are also great, ranging from 45-95 kroner. Very cheap for Copenhagen!
The location of the restaurant couldn't be more central, the neighbor is the famous and iconic Rundetaarn in Copenhagen. Lo Jo's Social is the perfect meet up spot with friends as everyone is able to find something they like off the menu. The vibe is great, the music is good and so are the drinks and the food <3
Lo Jo's Social
Landemærket 7, 1119 Copenhagen
I was invited to eat at Lo Jo's Social, but the opinion expressed in this post is, as always, my own. 
________________________________________________________
DANSK: Som navnet antyder, er Lo Jo's Social et socialt sted. Hele temaet for baren og restauranten er social, og det virker! Restauranten indbyder til, at folk kommer med alle deres venner, hygger sig, drikker drinsk, spiser, spiller spil og nyder musikken. Menuen er også bygget op om det tema, at retterne lægger op til, at man vælger et par stykker og deler rundt om bordet. Det handler ikke om en fin tre-rettersmiddag men om at hygge sig.
Og det må man sige, at jeg havde! Jeg besøgte Lo Jo's på en standard onsdag efter en dag fyldt med skole og utallige cykelture rundt i regnen. Jeg var godt hverdags-træt, så en drink var lige, hvad jeg havde brug for. Efter lidt rådgivning fra den søde tjener, faldt valget af drink på "La Pincha", en af de populære drinks på kortet med passionsfrugt.
Min kæreste fik en anden Lo Jo specialitet, en 'apple press', som er en drink lavet af friskpressede, grønne æbler og din yndlingsalkohol. Begge drinks var så lækre, og billige for København! De kostede henholdsvis 70 og 85 kroner. Not bad.
Og så til maden. Åh, den lækre mad… Som nævnt er menuen et gennemtænkt mix af en masse populære retter, så der er noget til alle. Retterne er rimelig store men lavet til, at man skal dele med sit selskab. Lo Jo's anbefaler, at man deler 2-3 retter per person. Vi fik fem retter tilsammen, og det var mere end rigeligt. Maden er også budgetvenlig med priser mellem 45-95 kroner per ret.
Jeg prøvede deres tartar, deres blæksprutteringe, deres tun og en salat med gedeost, bagte gulerødder, appelsin og pinjekerner. Ved siden af måtte jeg selvfølgelig også prøve deres kendte pomfritter, der bliver serveret med chilimayo. Alt smager godt med chilimayo. Salaten var jeg helt vild med, fordi den var så anderledes, men alle retterne var sublime. Jeg elsker at spise på den måde, at man deler retterne, for så får man lov til at smage meget mere!
Lo Jo's beliggenhed kunne ikke være mere central. Restaurantens nabo er nemlig ingen ringere end Rundetårn! Derfor er Lo Jo's også et oplagt sted at mødes med venner, for ønsker man bare et par drinks, kan man det, vil man også spise, bestiller man bare et par retter. Er man stadig sulten, bestiller man mere. Der er ingen regler hos Lo Jo's. Stemningen er fed, drinksne er gode, maden er lækker, og musikken er lige til at synge med på.
Lo Jo's Social
Landemærket 7, 1119 København K
Jeg blev inviteret til at spise hos Lo Jo's Social, men holdningerne udtrykt i dette indlæg er, som altid, mine egne.