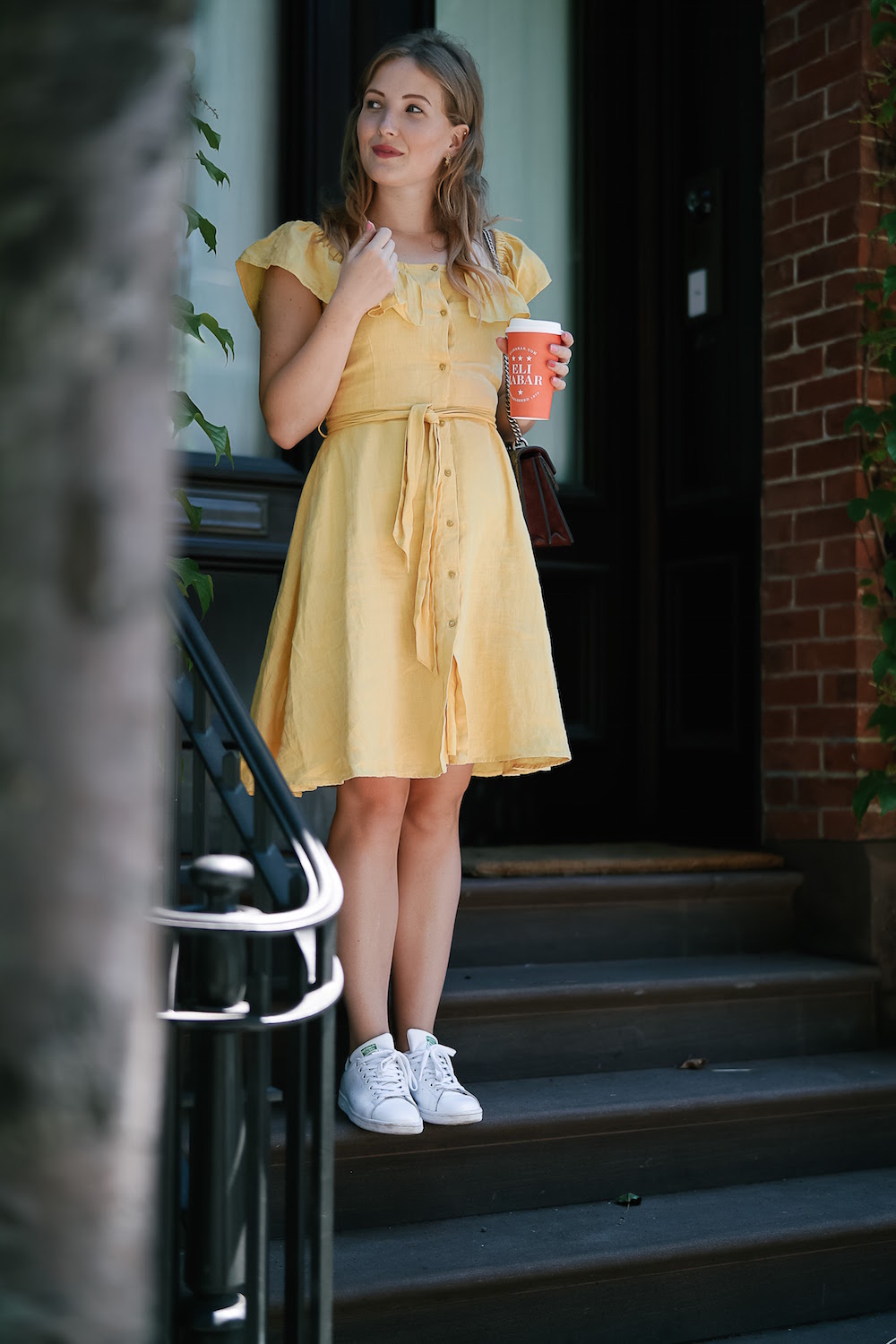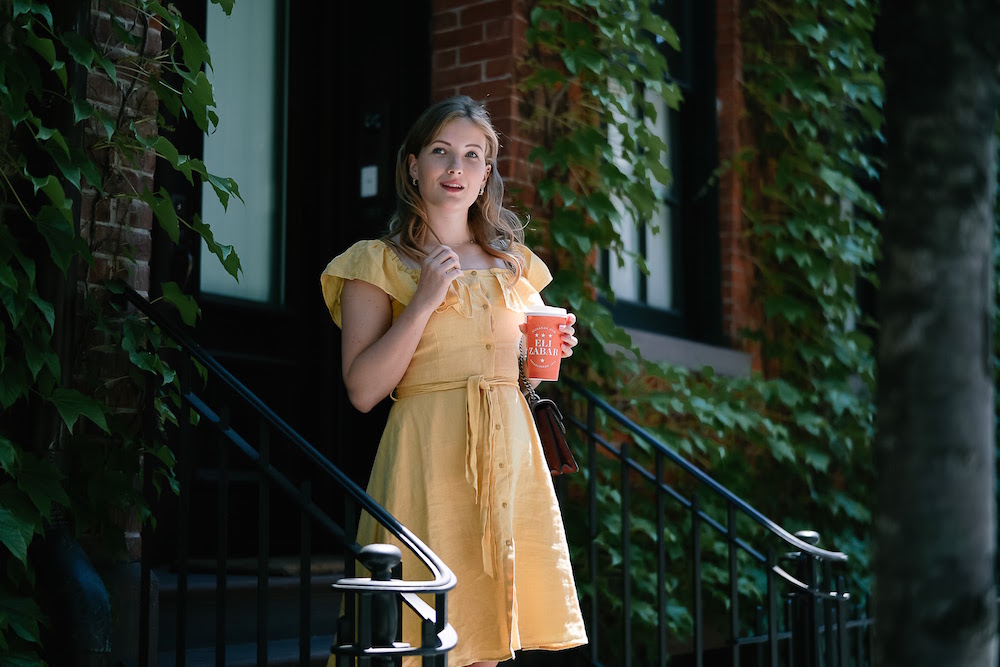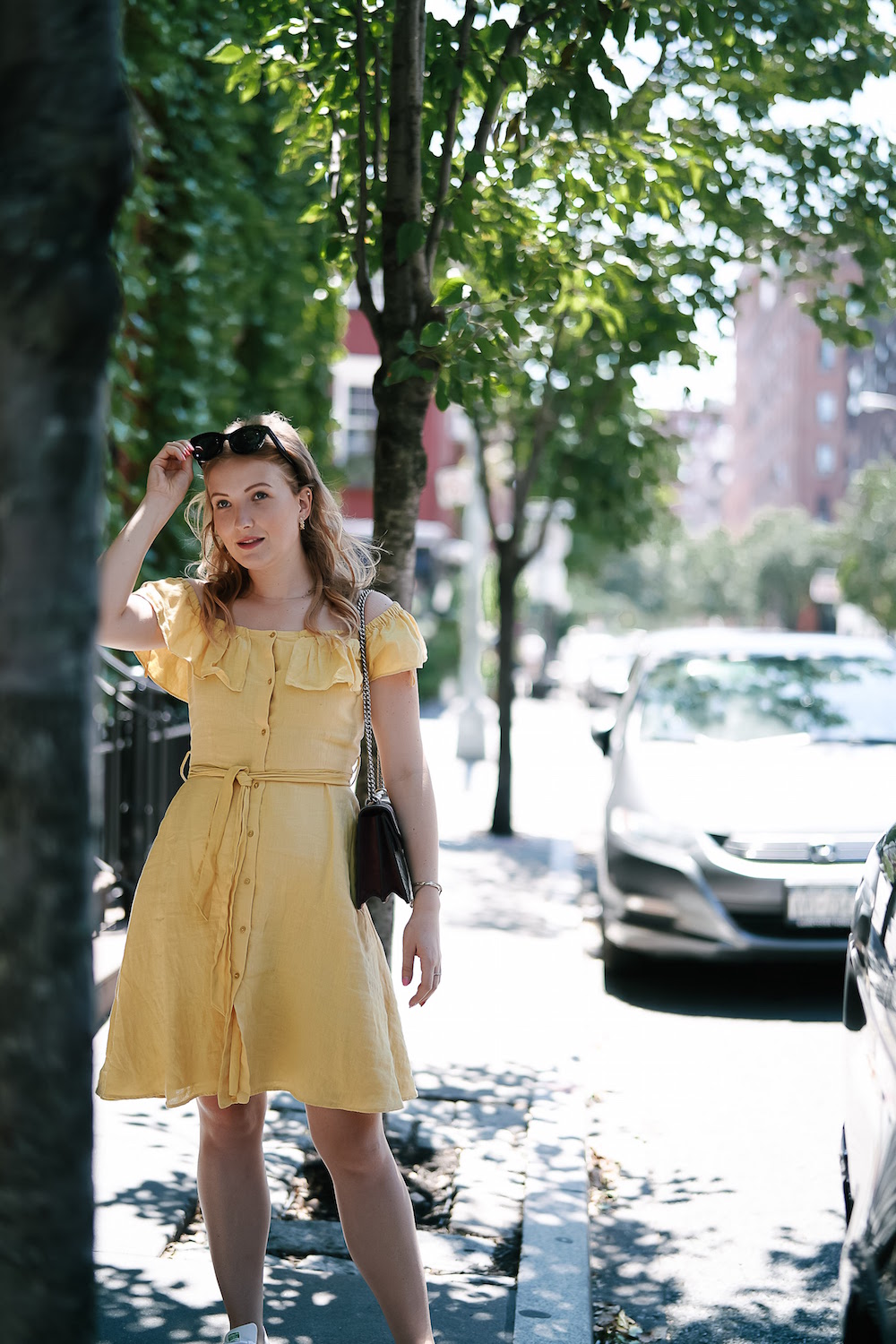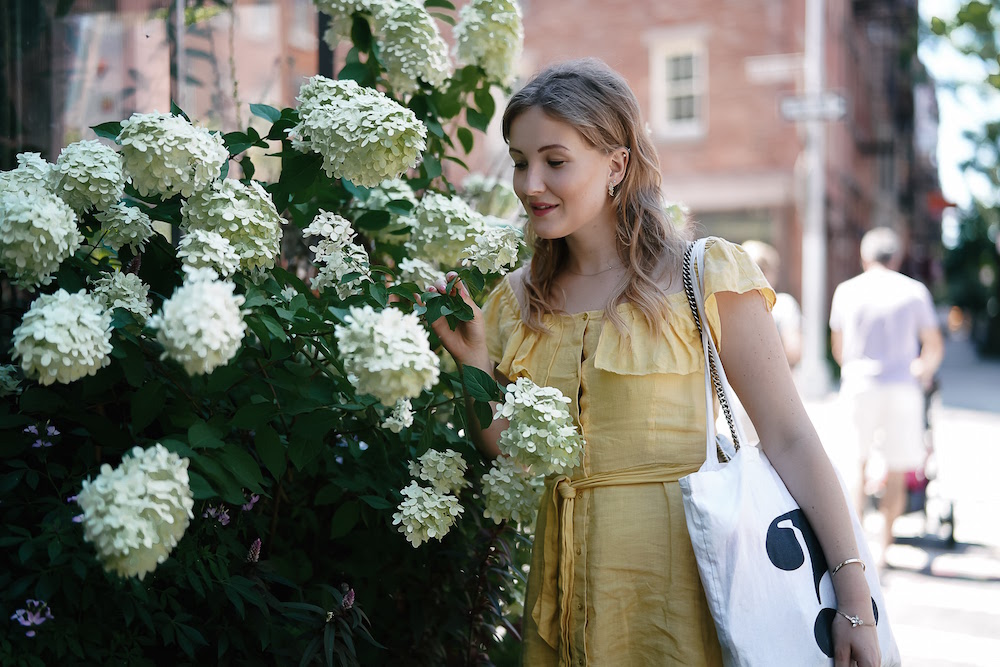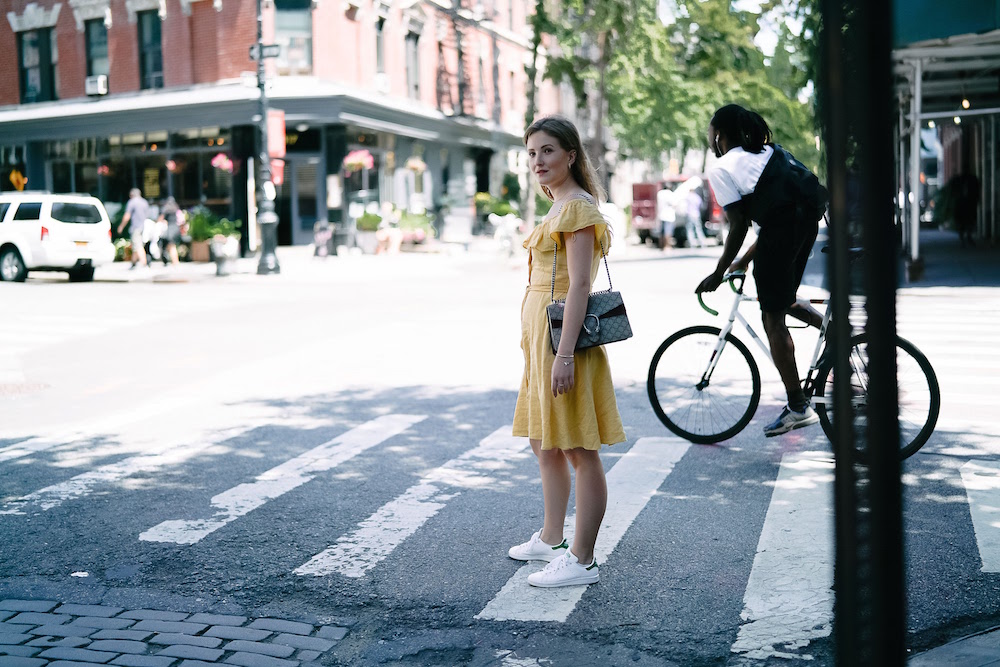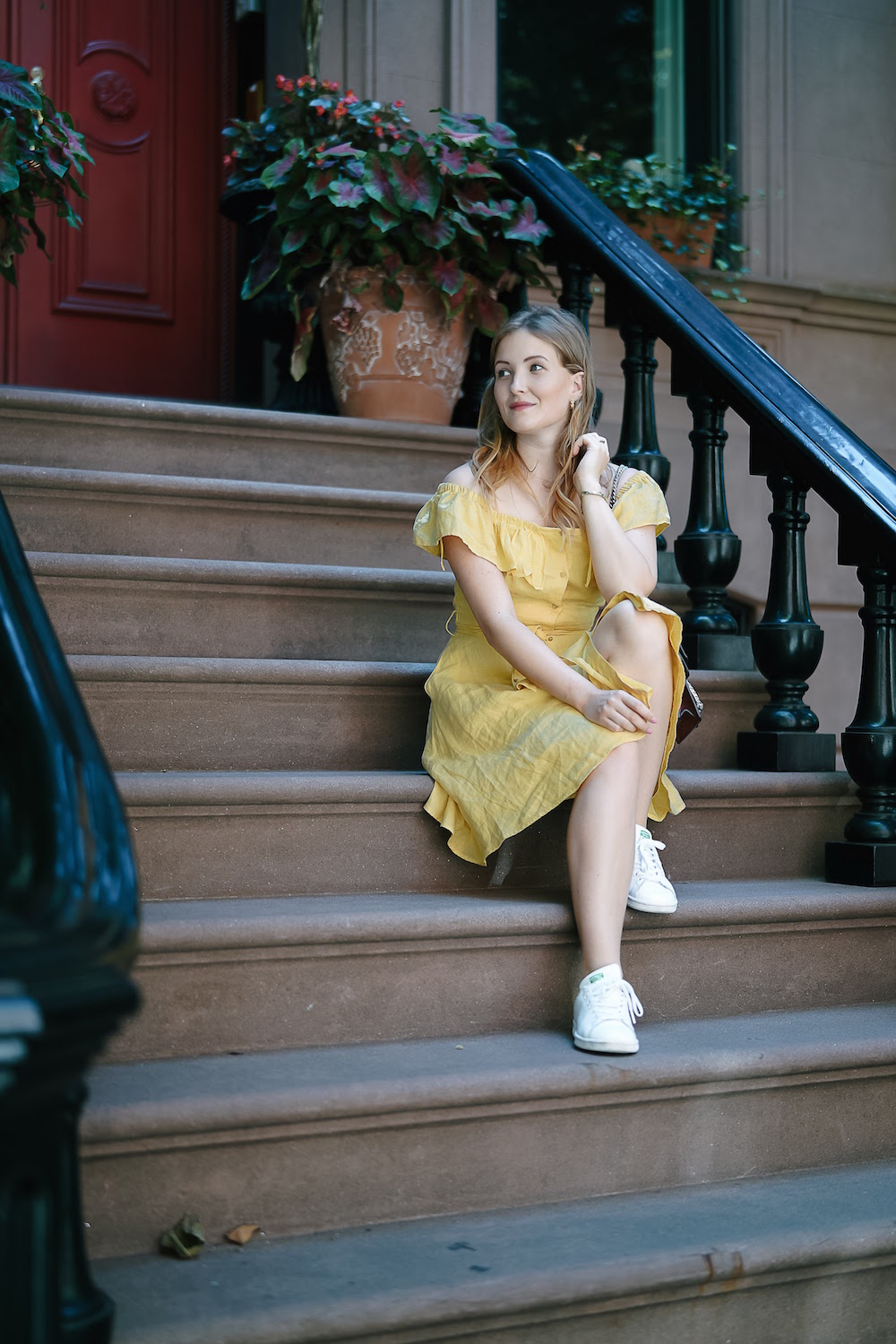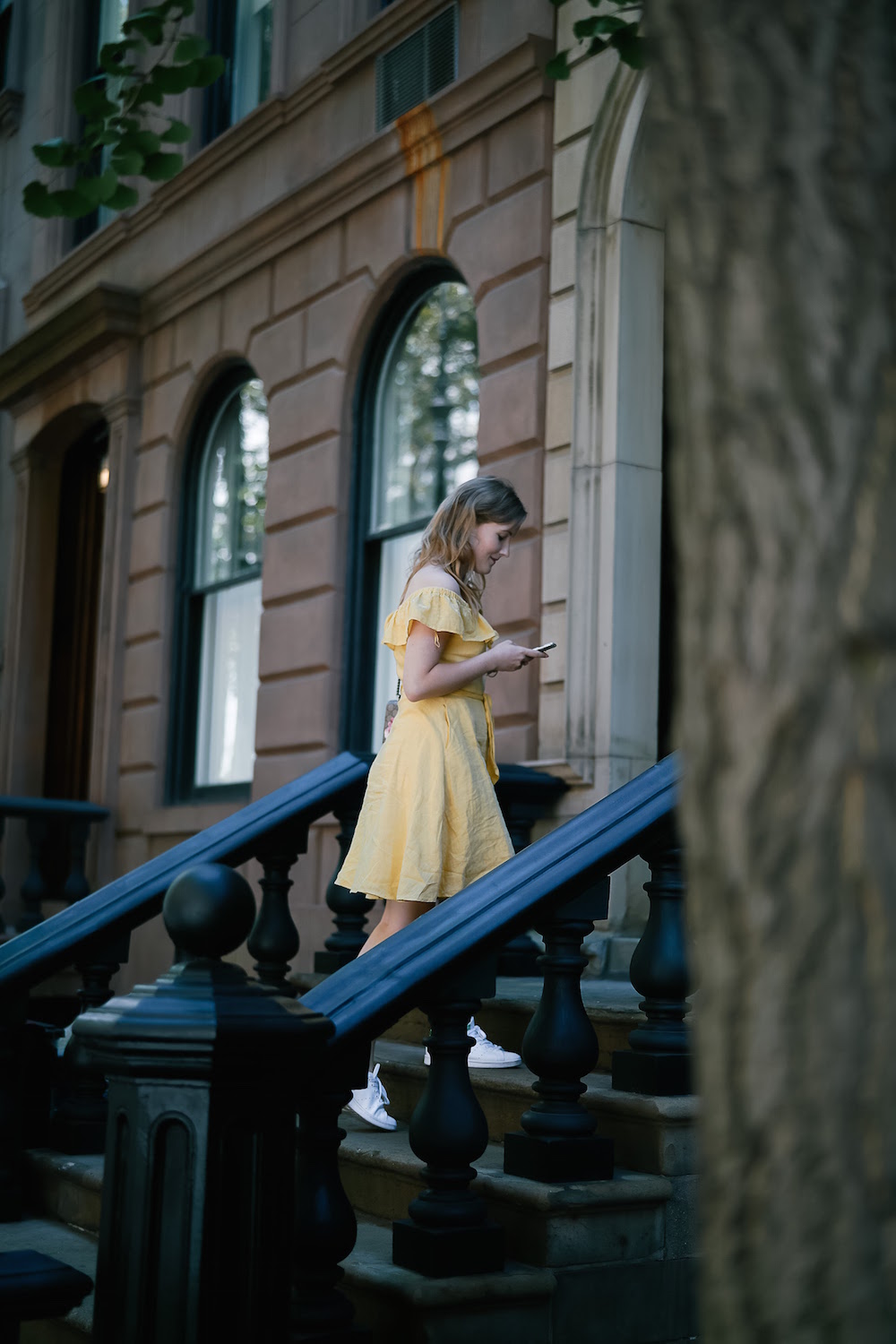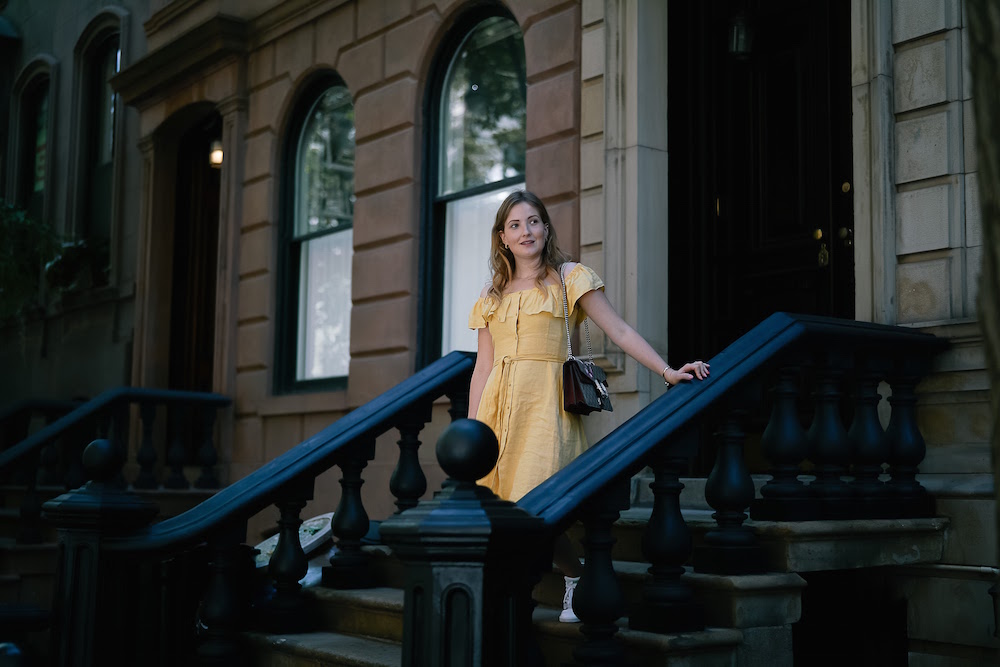 ENGLISH (DANISH VERSION BELOW) This is me in New York City back in the beginning of August. It feels like these photos were taken years ago, although it has actually just been about a month and a half. The sun was shining, it was hot, it was summer, I was off school and sort of off work. First of all, I love these pictures! Can I say that without sounding like I am too full of myself? They are taken in Perry Street in the West Village, and any fan of Sex and The City must know what street Perry Street is. Yes, you guessed it. It is the street where Carrie Bradshaw's apartment is!
I am wearing a yellow dress (move over millennial pink, yellow is the new thing!) made of linen and it was my favorite dress the whole summer. I just need a pair of Manolo Blahnik's and my title "channelling my inner Carrie Bradshaw" would actually live up to its name. As a matter of fact, the blue pair of Manolo's that Carrie is wearing in the first movie are on my wish list. I am sure they will be on my wish list for many years because 1. they are pretty expensive. 2. I never wear high heels. I wish I did though. But, I am an advocate for comfort over style any day.
So let's talk a little about the photographer that worked her magic to make these photos happen. Her name is Sandy and she is talented! We met back in May. Sandy had written me a message on Facebook after writing my blog. She told me that she was doing a Scandinavia trip and that she would love to meet up in Copenhagen. I was so happy and I always like to meet new people. We met up and now we are friends! Sandy lives in New York City, so it was great that I got to spend some time with her this Summer in NYC (and benefit from her photography skills at the same time). Yay for having friends all over the world <3
_____________________________________
DANSK: Her er nogle billeder af mig, der blev taget i New York i starten af august. Når jeg ser på billederne, føler jeg, at det er en evighed siden, at de er blevet taget. På trods af at det faktisk kun er knap to måneder siden. Mange ting var anderledes. Solen skinnede, det var varmt, det var sommer, jeg havde fri fra skole og også lidt fri fra arbejde. Jeg var i New York en måned og nyde livet. Min virkelighed lige nu er lidt anderledes. Det bliver mørkt omkring klokken 19, det er bestemt ikke varmt, og jeg har ikke fri. Tredje semester er i fuld gang med alt, der hører til.
En anden snak er, at jeg er helt vild med de her billeder. Kan jeg godt skrive det uden at virke som om, at jeg er selvglad? Billederne er taget i Perry Street i West Village, og en Sex and the City-kender vil vide, at det er gaden, hvor man kan finde Carries ikoniske trappeopgang og lejlighed. Billederne er taget på den samme gade, dog opgangen ved siden af den rigtige omgang. Den rigtige opgang er nemlig blevet en turistattraktion, der vil noget. Her er turister i massevis, der poserer foran opgangen. Faktisk er hele trappen blevet spærret af, så man må stå på gaden. Forestil jer at bo i den opgang og skulle kæmpe sig forbi turister hver gang, man skal ind og ud af sin lejlighedsbygning.
Jeg føler mig lidt Carrie på de her billeder. Jeg mangler bare et par høje Manolo Blahnik-stilletter på fødderne. Jeg indrømmer også gerne, at de da står på min ønskeliste. De blå, som Big giver hende på, da de finder hinanden i walk-in-skabet i den første film. Så smukke. De kommer nok til at blive på min ønskeliste, fordi 1. de er rimelig dyre. 2. jeg går aldrig i høje sko. Jeg er fortaler for komfort over stil, og det kan godt ærgre mig lidt en gang i mellem. Nystrøget, stramt tøj og høje sko er jo så pænt.
Jeg har en hørkjole på i gul, som eftersigende er den nye it-farve sammen med rød, så millennial-pink kan godt pakke sammen. Jeg troede aldrig, at jeg skulle se mig selv i gul, men endnu en gang holder "man skal aldrig sige aldrig" vand. Pink er jeg dog heller ikke træt af lige foreløbig. Jeg har en pink plet på hjernen, som mine forældre har sagt i snart 23 år.
Den dygtige kvinde bag kameraet hedder Sandy. Sandy skrev til mig tilbage i maj. Hun læste min blog og skulle på roadtrip i Skandinavien og spurgte, om vi skulle mødes, når hun ramte København. Det sagde jeg selvfølgelig ja til. Nu har jeg en ny veninde, der bor i New York. Vi så hinanden et par gange, da jeg var i New York i sommer, og så udnyttede jeg selvfølgelig også, at hun er virkelig skarp med sin linse. Det er så fedt at have venner rundt i verden <3
Nu står den på læsning, videnskabsteori, og det er skønt….. Eller ikke 😉