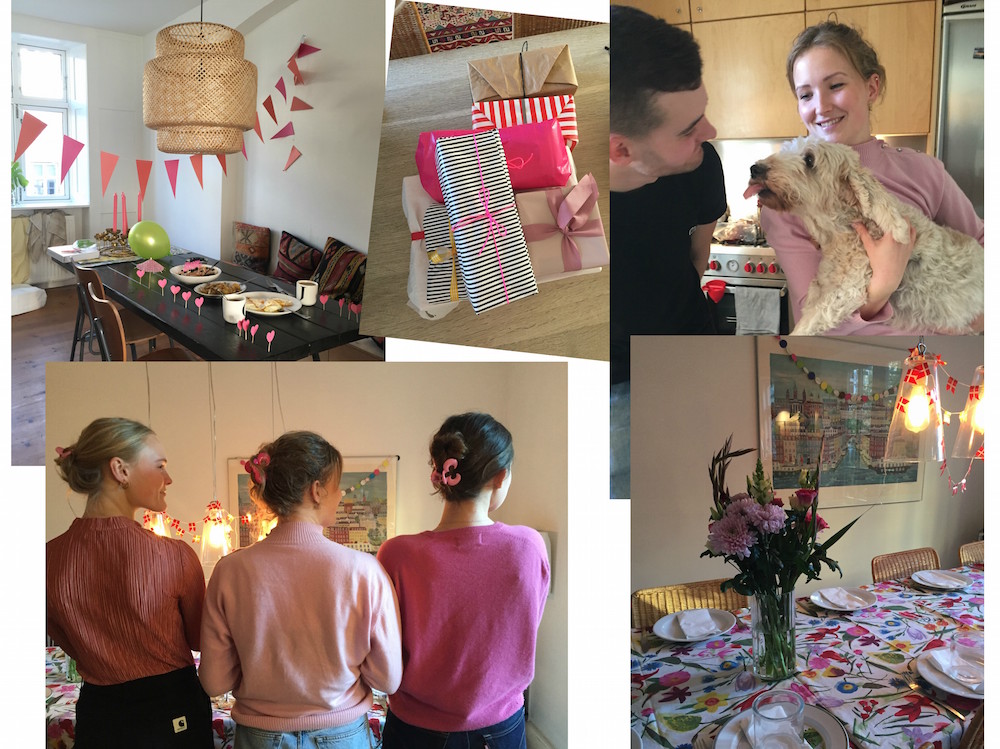 ENGLISH (DANISH VERSION BELOW) Friday the 6th of October was my birthday. When I was younger, I would start a birthday countdown weeks in advance, letting everyone around me know that my birthday was coming up, making sure that no one would forget it. It worked, because my childhood friends agree that the 6th of October is definitely imprinted in their brains as my birthday date forever.
I am growing up now so my birthday has less of an importance and significance, but who am I kidding? Birthdays are still awesome! Friday is my day off classes, so I got to sleep in. At 9.30 my boyfriend woke me up singing happy birthday, taking me to the kitchen. He had prepared breakfast with fruit, oatmeal (that I love), yogurt, home fries, eggs, coffee and tea. He had also hung flags, pink hearts and a pink festoon. It was so nice! He is lucky that I am such a heavy sleeper that I didn't notice anything at all.
In the afternoon I went to my parents house. I have a twin brother, so I don't get my birthday to myself, which is no problem at all. I never had it any other way and my brother and I are very close. We hung out and prepared the food for our family birthday dinner.
I had a great night with amazing gifts. They were all pink and it is so funny how the color just sticks with me. My friend and my brother's girlfriend even showed up in pink outifts with the same hair tie, check out the photo above. So funny! <3
The morning after, we got up early to leave to the airport for an international flight. More about that in my next post! Hope you had a great weekend.
___________________________________________________________
DANSK: Fredag den 6. oktober er min fødselsdag. Da jeg var yngre, var jeg så spændt over min fødselsdag, at jeg starte en fødselsdags-count down dage, ja, nærmest uger in advance. Det sørgede for, at mine klassekammerater i folkeskolen måske synes, jeg var lidt irriterende, men også, at de aldrig nogensinde vil glemme min fødselsdag. Haha. Nu er jeg lidt mere moden og lidt mere beskeden og råber ikke helt så højt mere, men jeg glæder mig stadig til min fødselsdag.
På min fødselsdag kunne jeg sove længe, fordi jeg ikke har undervisning om fredagen. Det var tiltrængt efter to lange arbejdsdage i Århus. Klokken halv ti vækkede min kæreste mig med fødseldagssang og tog med mig ud i køkkenet, hvor han havde tilberedt et stort morgenmadsgilde. Der var havregrød med peanutbutter, som jeg elsker, yogurt med frugt, æg, kartofler, te og kaffe. Han havde endda pyntet op. Alt lyserødt. Så sødt. Vejret var fantastisk (someone's been a good girl this year!), så vi gik en lang tur fra Vesterbro til Islands Brygge og tilbage.
Senere på eftermiddagen, tog vi hjem til mine forældre. Jeg har en tvillingebror, så vi fejrer selvfølgelig sammen. Vi hyggede, åbnede dejlige gaver (endnu mere lyserødt til mig) og gjorde maden klar til vores middagsgæster. Uden det var aftalt, dukkede både jeg selv, min veninde og min brors kæreste op i lyserøde sweatre og lyserøde (ens) hårspænder. Jeg er vist ikke den eneste, der er glad for lyserød 😉 Vi havde en dejlig aften med kærester og familie, god mad, lagkage og rødvin.
Morgenen efter skulle vi tidligt op og til lufthavnen og på en international flight. Mere om det i næste indlæg! Håber I har en dejlig weekend <3