ENGLISH (DANISH VERSION BELOW) New York, New York, so happy to see you again! It has only been two months since I was here, so it is like seeing a good friend again. The Brooklyn streets lined with Brownstones, my favorite coffee shops, my Soho-route to check out the stores we don't have in Copenhagen, seeing my boyfriend's family. It's all so familiar by now, like my second or third home (if you include Berlin). New York is just great! We had a long layover in New York, two and a half days and this is what I did: 
____________________________________
DANSK: New York, New York, jeg er så glad for at være tilbage! Selvom at det faktisk ikke er mere end to måneder siden, at jeg var her sidst. Det er som at komme hjem. Mit andet, eller trejde hjem, hvis man tæller Berlin med. Det hele er så hjemmevant. De smukke Brooklyn-gader, hvor Brownstone-husene står side om side, mine yndlingscaféere, min Soho-rute for at tjekke de butikker, vi ikke har i København, alt den fantastiske (og mangfoldige!) mad. Mange gode ting kan man sige om Københavns verdenskendte, verdens bedste restauranter, men særligt mangfoldige er de ikke. På det punkt er New York unik. 
Vi havde en lang mellemlanding i New York, som gav os to en halv dag i byen. Så dejligt. Ikke mindst, fordi vejret er bedre og varmere, end vi tør håbe på, en dansk sommerdag kan blive. Fuld sol og 27 grader. Jeg bliver næsten helt forvirret og tænker, at det er sommer igen. Her er lidt om, hvad jeg har lavet på de to dage i New York. 
ENGLISH: Sunday means brunch, no discussion. We walked from Bedstuy to Bushwick and had brunch at Carthage Must Be Destroyed. An amazing place (mainly because everything is pink!), but also very weird. Everything here is totally instal-worthy, however the restaurant has a strict photography policy. You are allowed to take photos within your personal space and of your food, but they ask you not to stand up to take photos or photograph the space. Very ironic and obscure, but  the space was gorgeous, the food was great, and it was served on pink plates. What more can you ask for? 
DANSK: Søndag formiddag betyder brunch, der er ingen diskussion. Vi gik fra Bedstuy til Bushwick i Brooklyn for at besøge Carthage Must Be Destroyed, en café der for nyligt er åbnet. Bushwick  er et industrielt område turned hipster, og mere og mere for hver dag der går. Særligt denne café tiltrækker en masse besøgende til området. Caféen er lidt mærkelig: det ligner, at den er lavet til Instagram. Alt er Insta-venligt, og det ligner, at det er nøje planlagt. På trods af det, har caféen et strengt fotografi-regelsæt. Gæster må kun tage billeder inde for deres 'personal space', de må ikke rejse sig op for at tage billeder af deres mad, og de må ikke tage billeder af selve restauranten. Lidt obskurt og ironisk, når nu alt er så gennemført 'Insta-venligt'. Restauranten er smuk, maden er lækker og serveret på lyserøde tallerkener. Hvad mere kan man bede om?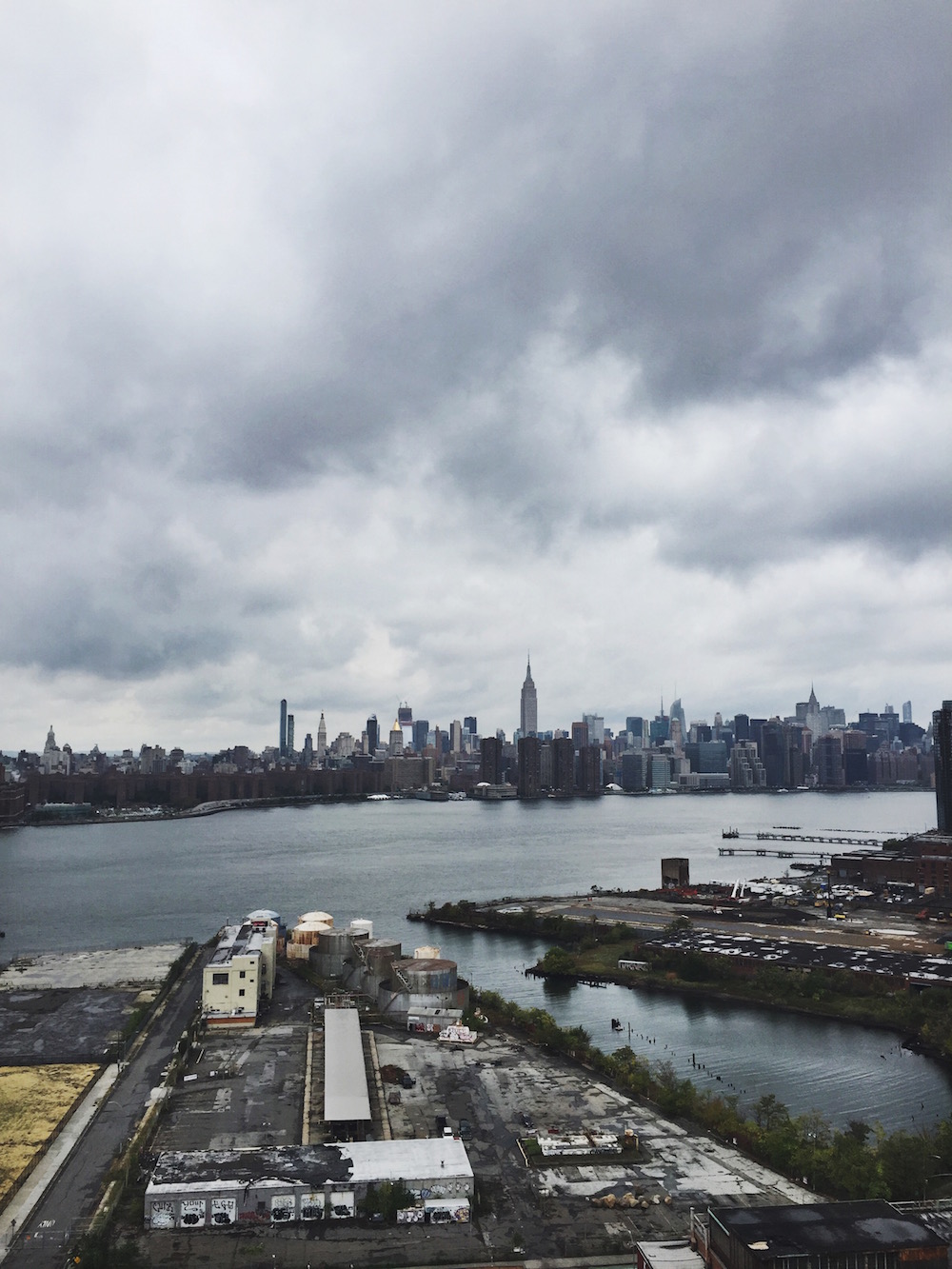 ENGLISH: After brunch, we continued our walk to Williamsburg. I went vintage shopping at my favorite's, Beacon's Closet and The Break. Then, we needed a break and went to The William Vale Hotel to visit their rooftop. It had the most amazing view, 360 degrees of both Manhattan and Brooklyn. 
Beaten by jetlag, we headed home. Considering, we had also walked 25.000 steps, we were beat. 
DANSK: Efter brunch vandrede vi videre mod Williamsburg, hipsternes højborg, hvor vi gik vintage-shopping-ruten. Jeg besøgte yndlingerne – Beacon's Closet, et totalt genbrugs-mekka, som er yderst populær. Priserne er også herefter – langt fra dyrt, men heller ikke billigt. Jeg besøgte også The Break, som er så fin. Nøje udvalgte varer, håndplukkede af butikkens ansatte til gode priser. Den minder mig på mange måder om min gode veninde, Carolines, vintagebutik på Nørrebro, Passage 21. 
Dagen efter fandt jeg en ny genbrugsbutik, som i den grad er tilføjet til listen over gode genbrugsbutikker i New York. Den hedder L Train Vintage, og jeg fandt en pink cashmeretrøje til 6 dollar. Det var næsten for godt til at være sandt. Trøjen har jeg allerede taget i brug, den er skøn. Efter lidt shopping besøgte vi så The William Vale Hotel, som netop har åbnet deres rooftop. Her var den vildeste udsigt!  
Jetlag vandt, og efter iPhonen kunne vise os, at vi havde gået 25.000 skridt, besluttede vi, at det var tid til at kapitulere. Hjem i seng. Jeg gik kold klokken 22.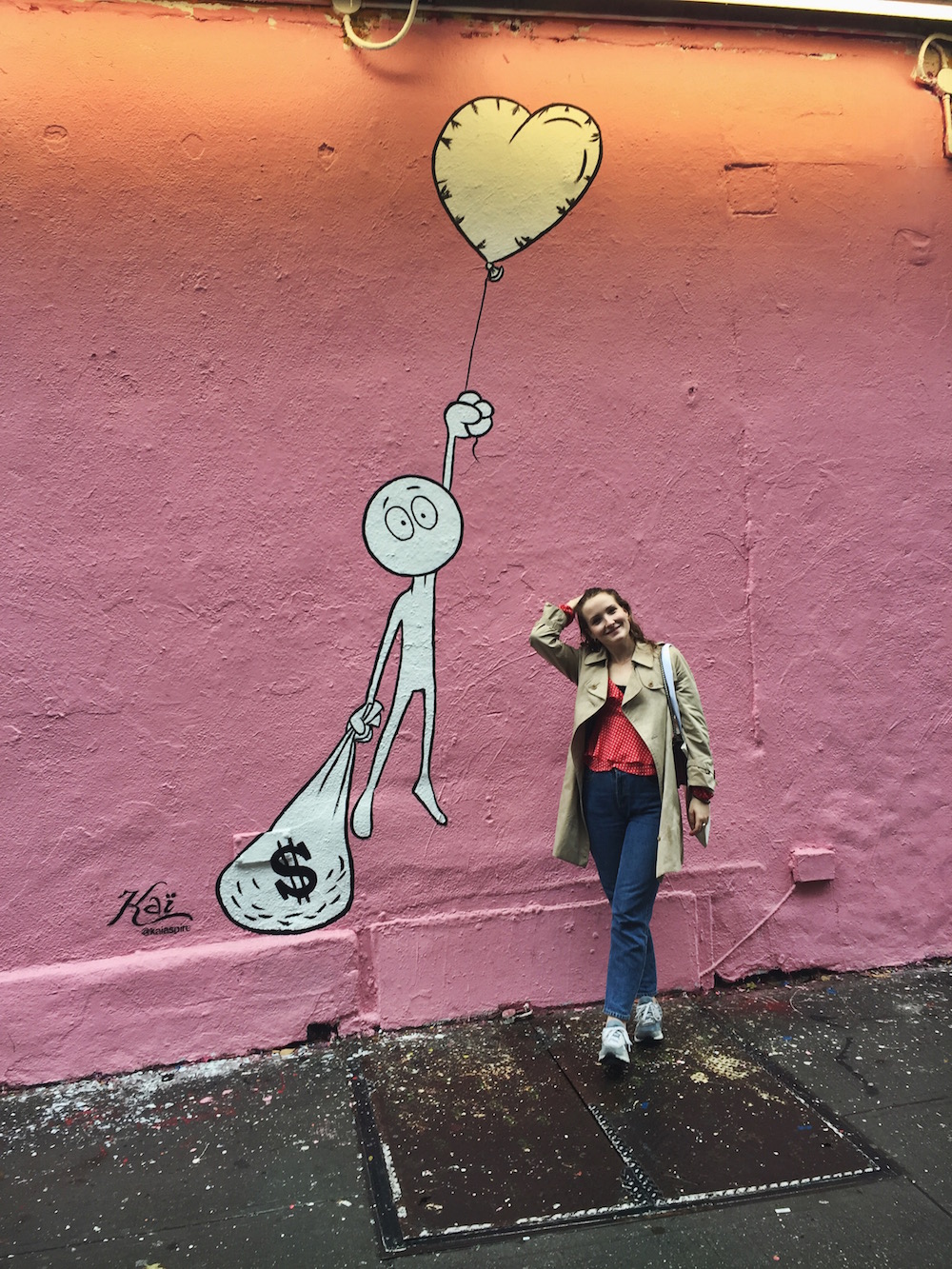 ENGLISH: The day after it was raining like crazy. It was still hot and humid, a very weird weather combination. I went to Soho, shopped new workout clothes from Outdoor Voices and had dumplings for lunch with a friend. Great day despite the rain. Back home to pack and get ready for the next adventure <3 
DANSK: Dagen efter silede det ned, på trods af, at det stadig var omkring 24 grader varmt. Mærkeligt. Vi tog til Soho, jeg købte lækkert træningstøj i Outdoor Voices, og så spiste vi kinesisk til frokost med gode venner. Dejlig dag. Så hjem og pakke og mod lufthavnen, for det er tid til næste eventyr <3