Can you believe that it is already December 2? I can't! I even wrote this post before I left for New York and when I am back in Copenhagen, it will be the 11th of December. Incredible how time flies. It's fine for me right now, because honestly, I just want to reach January 23rd, because that is when I will be done with all six of my exams for the third semester. Of course, a few months after that, I will have to go through another month of exams and that will continue for the next few years. I just try not to think about that 😉
Well, let's get to it. A little throwback to what happened a year ago. And guess what? Last year, I was in NYC too. <3
SEE ALSO: THIS IS WHAT HAPPENED A YEAR AGO #1 & THIS IS WHAT HAPPENED A YEAR AGO #2 & THIS HAPPENED A YEAR AGO #3 & THIS HAPPENED A YEAR AGO #4 & THIS HAPPENED A YEAR AGO… #5 & THIS HAPPENED A YEAR AGO #6 & THIS HAPPENED A YEAR AGO #7 & THIS HAPPENED A YEAR AGO #8
________________________________________
Er det virkelig allerede den 2. december?! Jeg forstår det ikke. Og når jeg kommer hjem fra New York, så er halvdelen af måneden næsten gået. Det er for vildt, hvordan tiden flyver. Lige nu gør det ikke så meget, for jeg er både træt af mørket og af eksaminer, så for min skyld, må det gerne hurtigt blive den 23. januar. Der er jeg nemlig færdig med alle seks eksaminer. Jeg prøver at lade vær at tænke for meget på, at et par måneder efter, er der seks nye eksaminer. Og at den rutine vil fortsætte de næste (mange) par år. Mit år er efterhånden inddelt i eksamensperioder frem for, da jeg var yngre, og den var indrettet efter sommerferie og juleferie.
Nå, inden jeg skriver alt for meget ved siden af, så har jeg fundet lidt frem i arkiverne og kigget på, hvad jeg lavede for et år siden. Her skrev jeg også eksamen, så det var begrænset, hvor meget sjov, jeg fandt i arkiverne. Dog blev det også til en tur til New York for at fejre jul og nytår med både sol og +15 grader og den vileste snestorm. Det var hyggeligt at kigge tilbage på <3
LÆS OGSÅ: THIS IS WHAT HAPPENED A YEAR AGO #1 & THIS IS WHAT HAPPENED A YEAR AGO #2 & THIS HAPPENED A YEAR AGO #3 & THIS HAPPENED A YEAR AGO #4 & THIS HAPPENED A YEAR AGO… #5 & THIS HAPPENED A YEAR AGO #6 & THIS HAPPENED A YEAR AGO #7 & THIS HAPPENED A YEAR AGO #8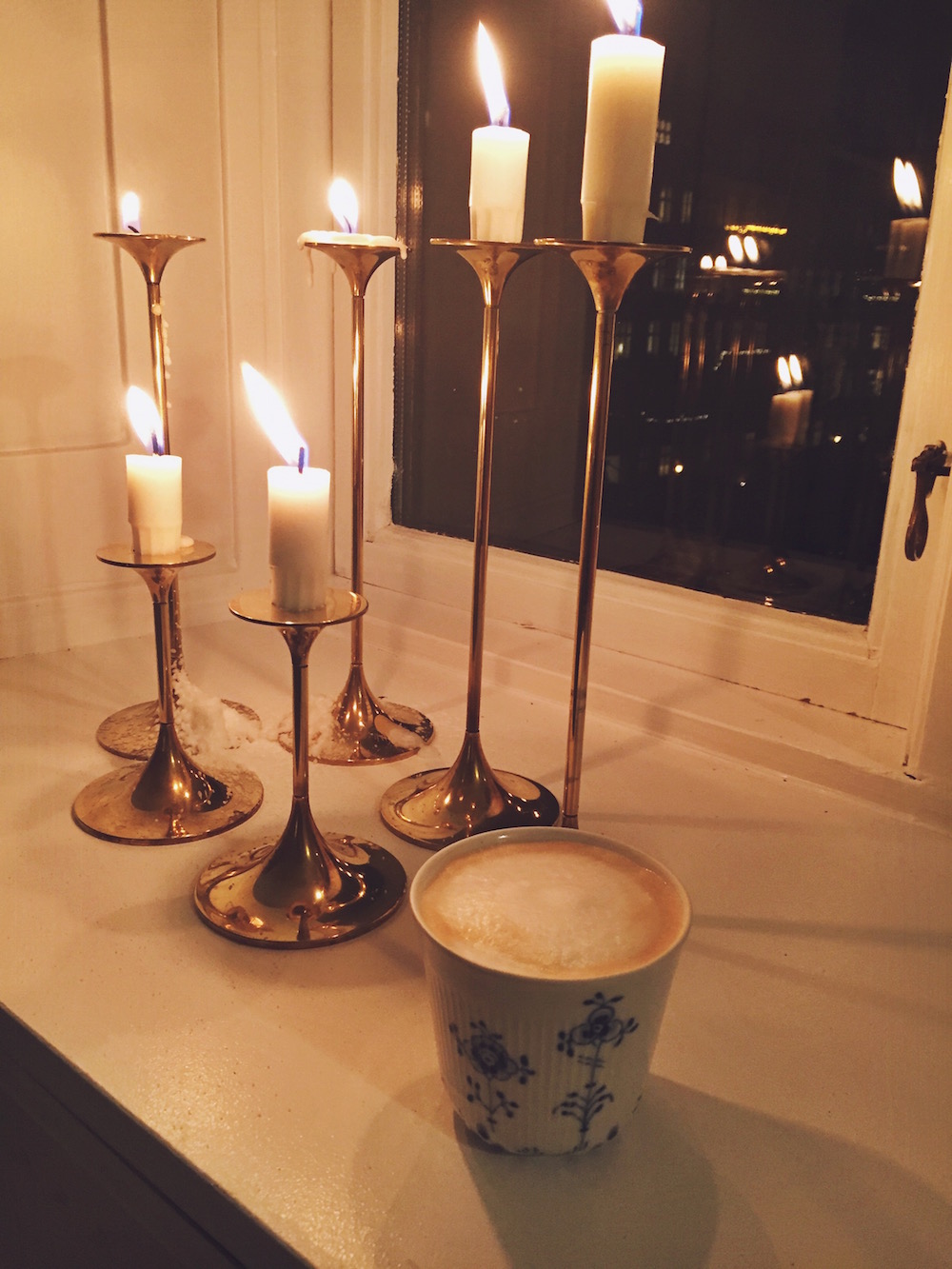 Jeg fik flyttet rigtigt ind i min nye lejlighed, og jeg brugte fantastiske indflyttergave fra min farfar, en mælkeskummer, flere gange daglig <3 / I moved into my new apartment for real, and the housewarming gift from my grandfather, a milk steamer, was very useful in the cold December month.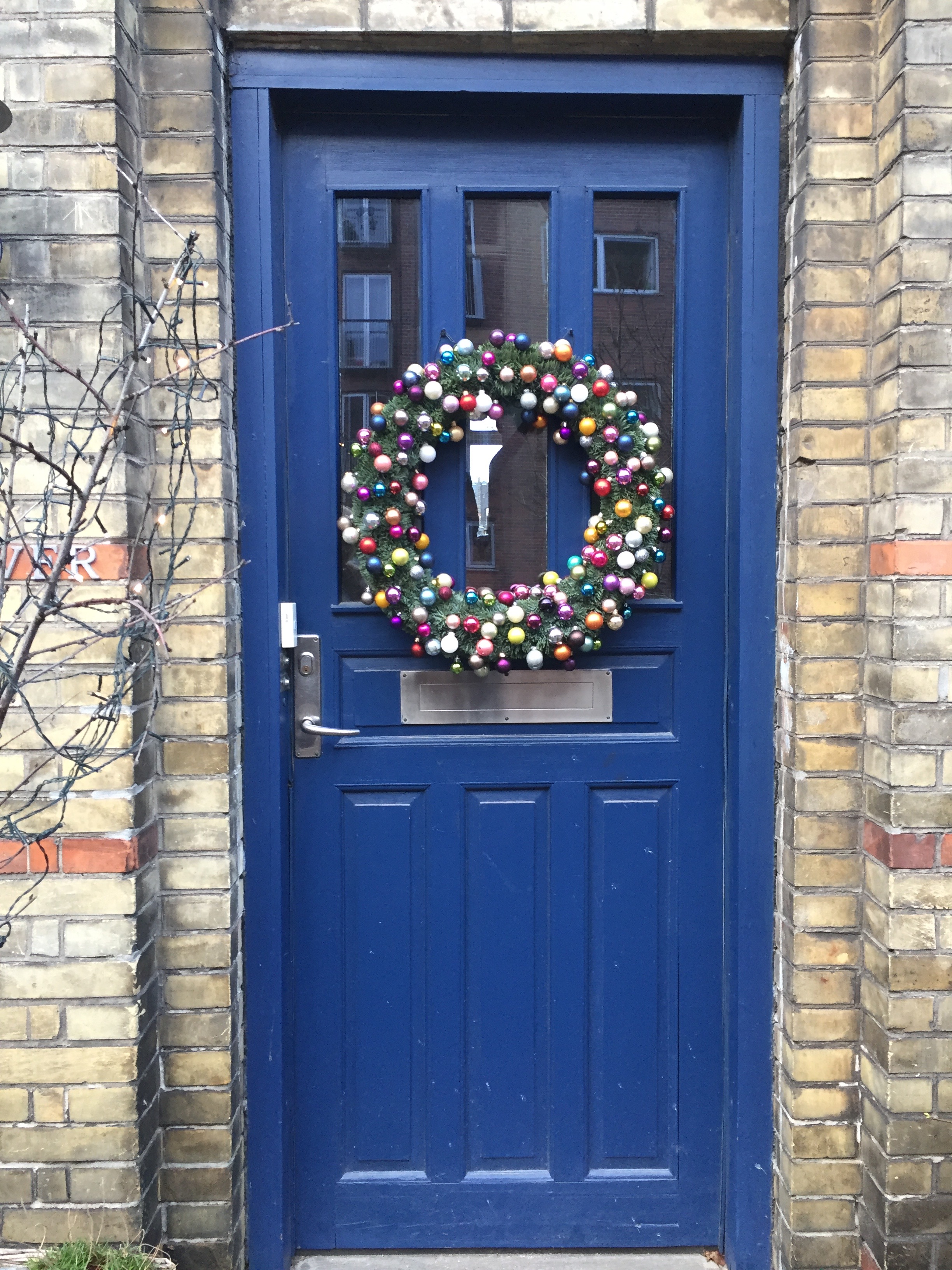 Jeg hjalp mine forældre med at pynte op til jul. Det gør de det ikke vildt meget i, men det faste indslag, den overdådige krans på døren, er et must. Folk forventer, at den kommer op at hænge, og dagligt kan vi se at forbigående stopper op og tager billeder af den. Den er også meget, meget fin! / I helped my parents with their classic Christmas wreath, which is a must every year. People almost expect to see it once we hit December. I think it is so beautiful!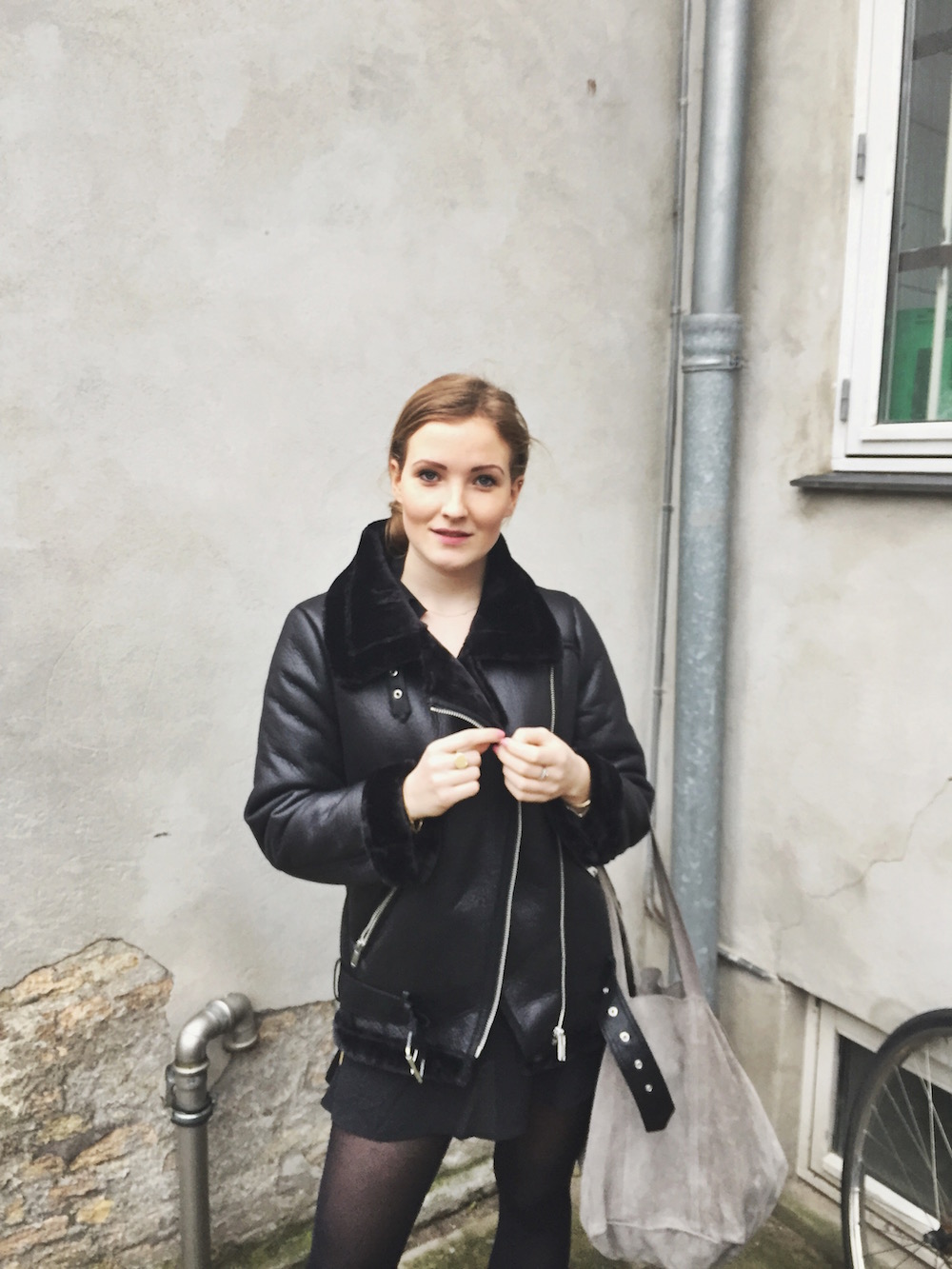 Jeg købte en ny jakke, årets jakke vil jeg næsten kalde den. Zara kopierede Acnes klassiske velocite, og der var ingen øjne tørre. Folk rippede Zara for jakker, og jeg var heldig at få fat en. I år har jeg slet ikke brugt den…. Shame on me. / I bought a new jacket, an Acne look-a-like biker jacket from Zara and I loved it. This year, I haven't even worn it yet….. Shame on me.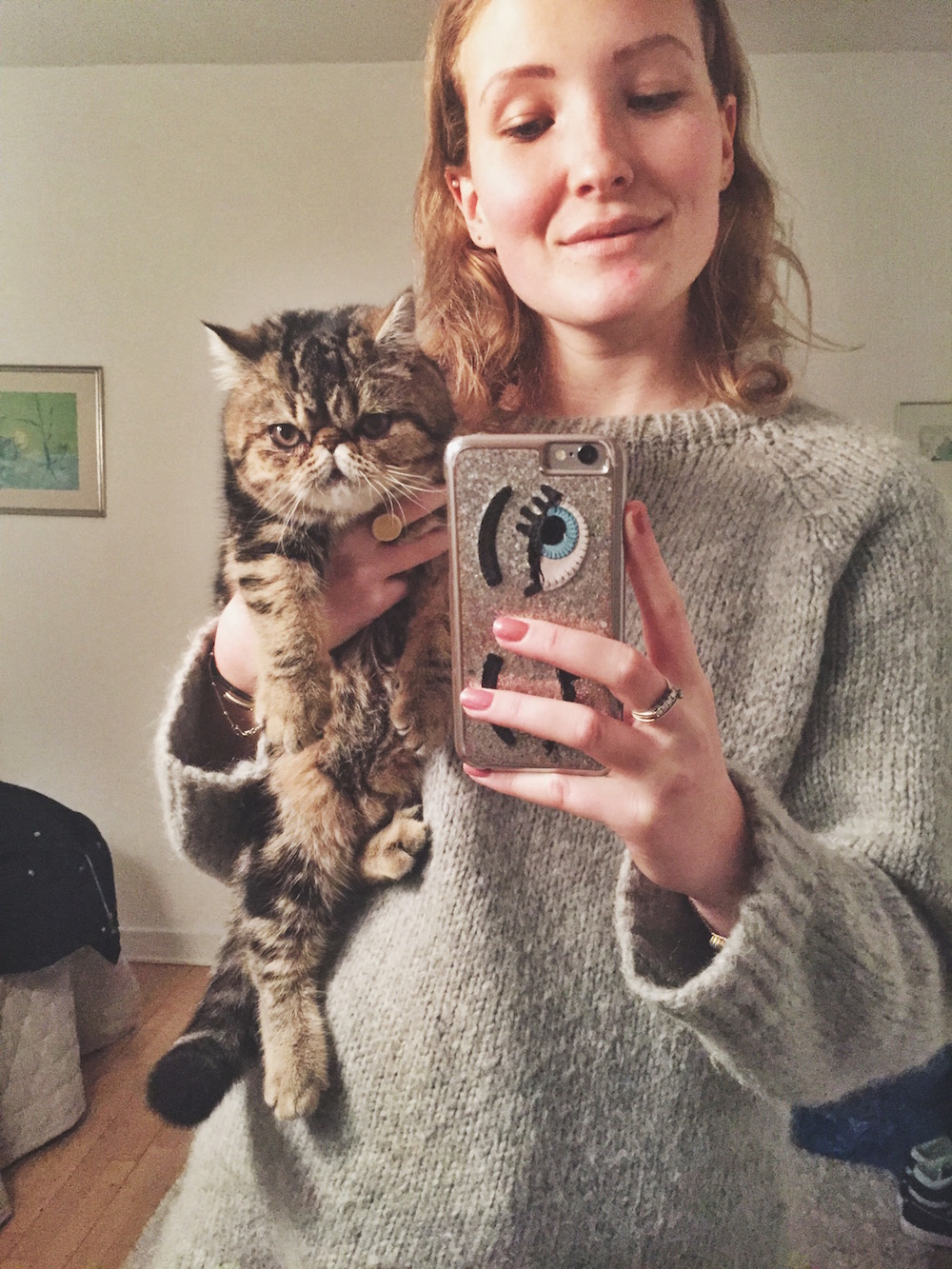 Jeg skrev eksamen i dagevis. Heldigvis sammen med min veninde, der har denne fantastiske kat, Pablo, der i den grad hjalp på eksamenshumøret <3 Hvor sød er han ikke lige?! Og jeg er ellers inkarneret hundemenneske og faktisk lidt bange for katte, men Pabber samt min farfars 12-årige kat, Aske, kan jeg ikke stå for. De opfører sig også som hunde, så måske det er grunden. / I was busy studying, doing papers with no end for my first exams at university. Luckily, I did part of the exam writing with my friend who has this insanely cute cat, Pablo.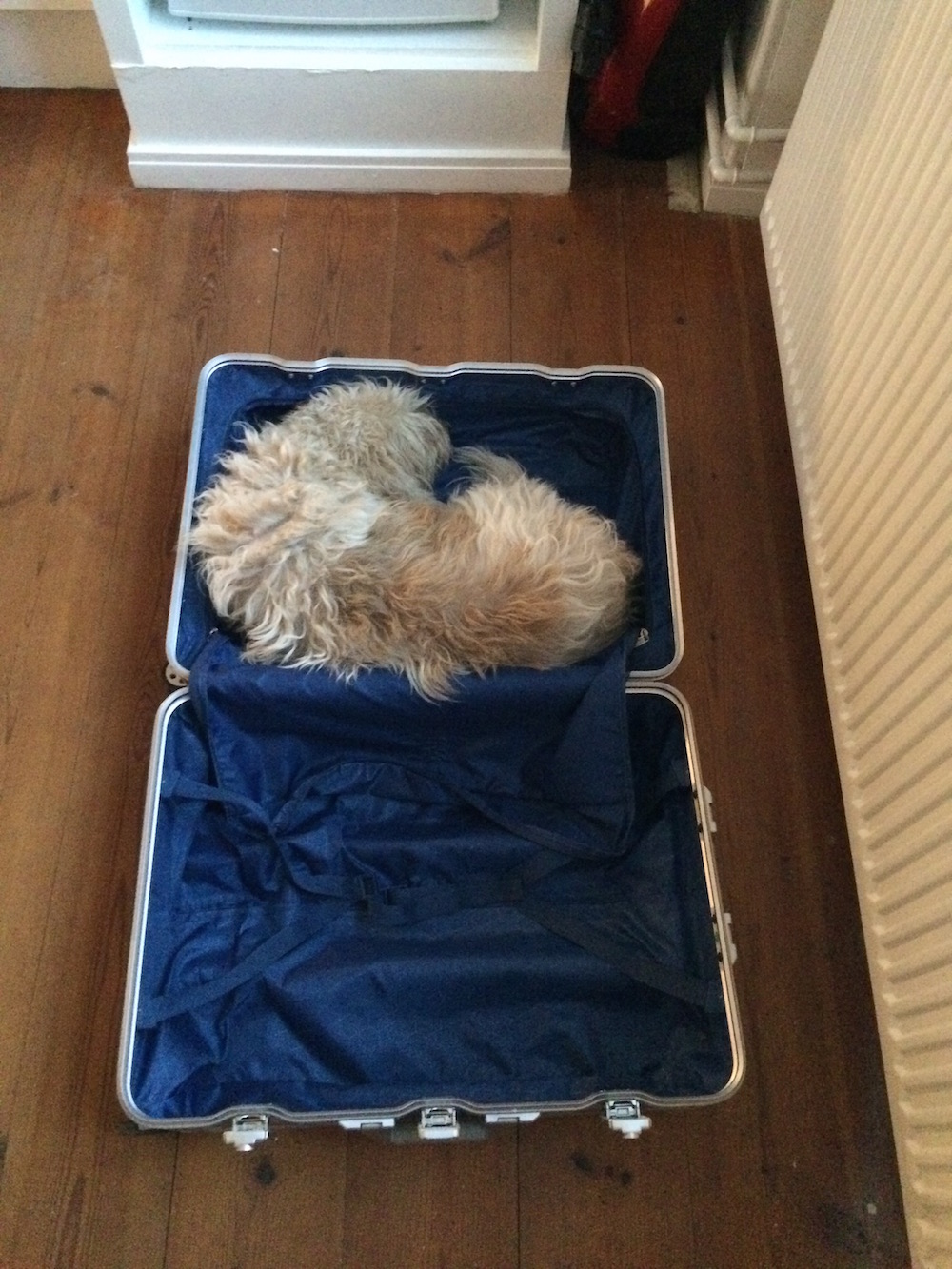 Og så skulle jeg til New York. Og verdens sødeste Carla på 13 år, som jeg jo desværre mistede for en måned siden, lagde sig i min kuffert og gjorde det lidt svært for mig at pakke. Ihhh, hvor jeg savner hende :'( / And then it was time for me to pack and fly to New York. Carla, my 13-year-old dog that I lost a month ago, decided she would sleep in my suitcase. It made it a little hard for me to start packing. Oh, how I miss her :'(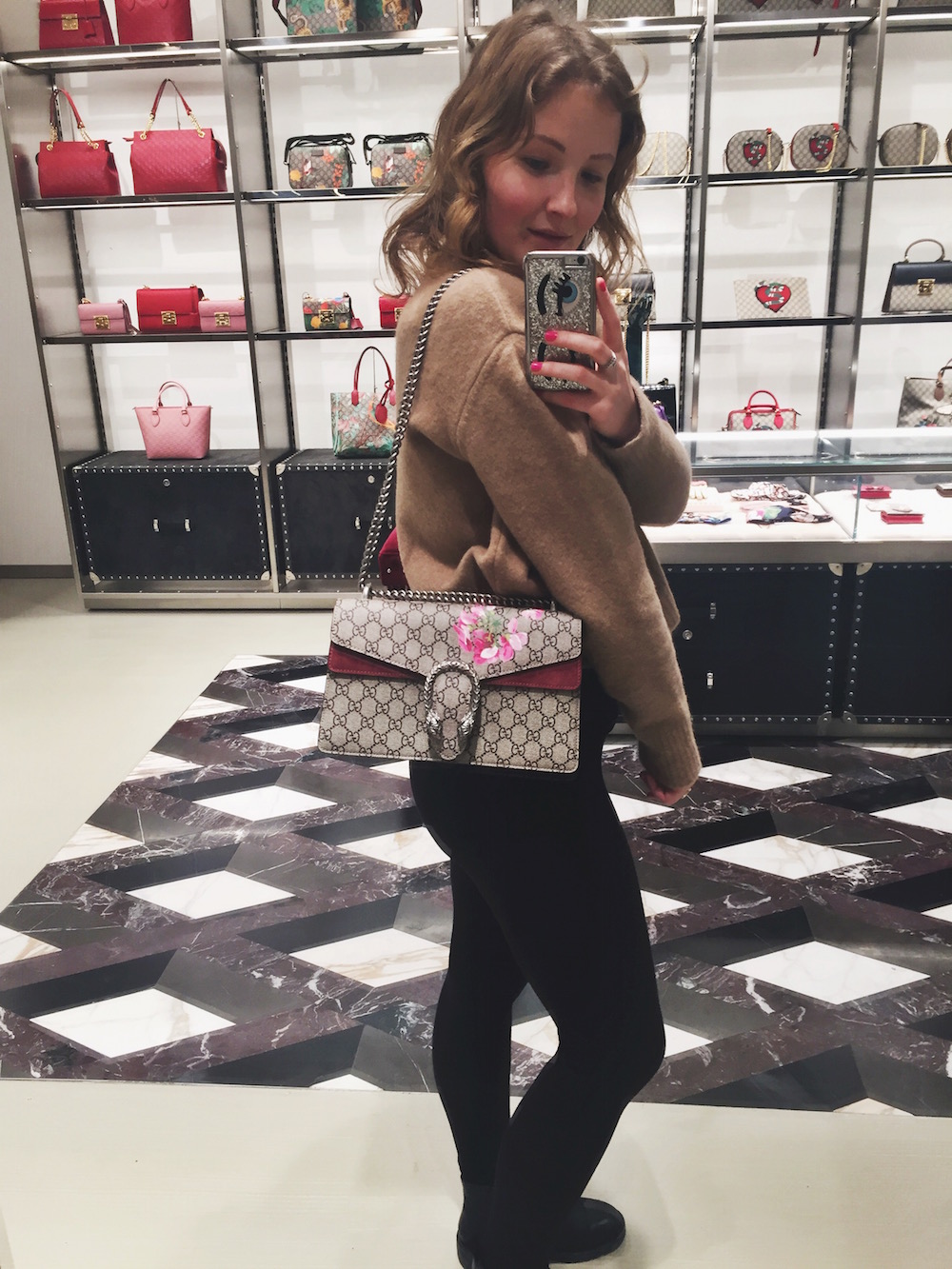 Og på mit layover i London på vej til New York, prøvede jeg drømmetasken, der et par måneder siden skulle vise sig at blive min. Det er næsten som en kærlighedshistorie <3 / Finally flying to New York with a layover in London, I went to the airport Gucci store and tried on my dream bag in Gucci. A few months later I bought it, and I still love it.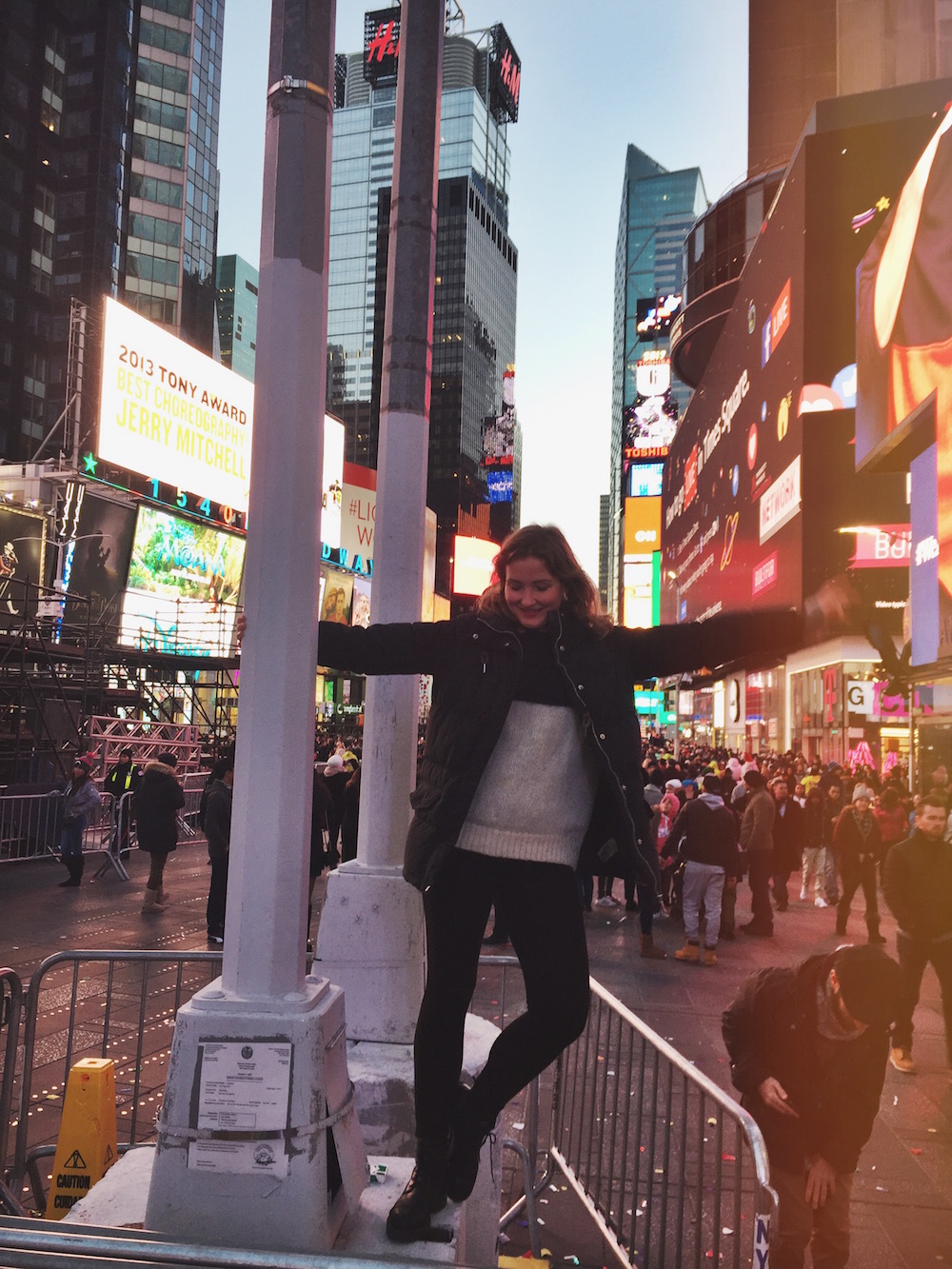 Aaaaaand, touch down New York! Jeg var her i to en halv uge fra den 25. december og over nytår, og det var så sjovt at opleve byen i den periode. / Touch down New York! I spent Christmas and New Years there and it was great to experience the city for the Holiday season.
Nu er det tid til at hoppe op og ud i byen og gå på opdagelse. Jeg er så glad for at være her med en veninde! <3 
Now, I will get ready and go out to explore NYC with my friend. So excited to be here with a friend for the first time!