Oh damn, 11 days of no posting. First I had 11 amazing days in New York and I took a break from blogging and actually updated the whole blog design. It is still messed up and that kinda also stole my motivation away from blogging. Hopefully, it will all be fixed soon! Next thing I know, my wisdom tooth starts messing with me. An after that, a series of unfortunate events rolls over me. With a bad toothache, both my flights are delayed and I spend 18 hours traveling from New York to Copenhagen. As I arrive, my suitcase doesn't. For the day after, I get an appointment at the dentist, and without further ado, he pulls out my wisdom tooth. Ouch.
Fast forward two days later. Still no suitcase, but still with a toothache. And jet lag on top of that. Sweet! But on a happier note, let's take a look at my absolutely amazing days in New York City.
_________________________________________________
Så gik der lige 11 dage uden en lyd fra mig her på bloggen. Jeg har været væk 11 dage i New York og det var den bedste tur! Jeg besluttede altså at tage en uplanlagt ferie fra bloggen, hvor jeg samtidig kunne opdatere mit blogdesign. Det gik ikke så nemt, som jeg havde regnet med, og jeg mangler en del. Derfor mistede jeg lidt motivationen til at tjekke ind her, fordi alt er lidt kaos. Jeg håber på at kunne fikse det snart, så det bliver rigtig fint herinde! Men det er lidt lettere sagt end gjort.
På mine to sidste dage i New York blev jeg ramt af betændelse i min visdomstand, som har drillet i mange år. Jeg har bare udskudt og udskudt at få den (eller faktisk alle fire) fjernet, fordi hvordan planlægger man lige sådan noget… Og en ulykke kommer sjældent alene. Med onde tandsmerter blev mine fly fra NYC til København forsinkede, og jeg endte med at rejse i knap timer. Jeg ankom endelig til København mandag eftermiddag, men det gjorde min kuffert ikke.
Dagen efter fik jeg en tid til tandlægen, og inden jeg så mig om, blev jeg bedøvet og fik med vold og magt hævet den dumme visdomstand ud. Nu sidder jeg her, med jetlag, ondt i den tand, jeg ikke længere har og stadig uden en kuffert. Øv. Og sikke en kontrast til mine fuldstændig skønne dage i New York med min kæreste og hele to gode veninder. Læs med her og se lidt billeder fra min tur <3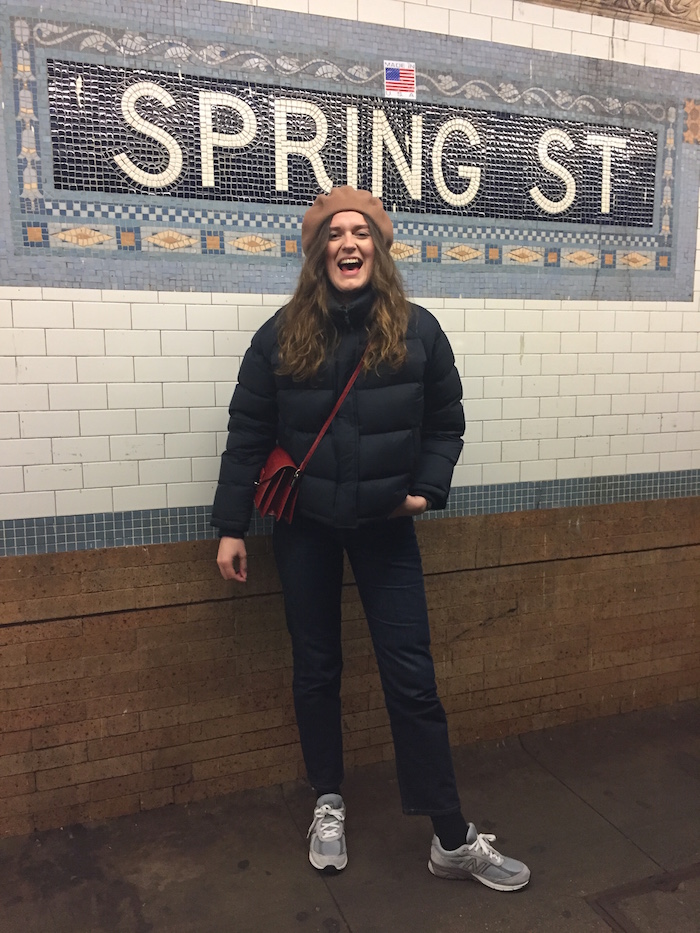 ENGLISH: This is my best friend Asta, whom I brought to New York with me. It was her first time visiting, and I was beyond excited to show her around my third home after Copenhagen and Berlin. We did all the things one must do on a first trip to NYC, included seeing Times Square and much more. The best time! <3
DANSK: Det her er min bedste veninde Asta, som jeg har kendt, siden vi var otte år gamle. Hun tog med mig til New York, og det var hendes første besøg i byen. Jeg havde glædet mig helt vildt til at have hende med og vise hende mit trejde hjem efter København og Berlin. Vi oplevede alle de ting, man skal opleve, når man er i NYC for første gang (også Times Square!) og meget mere. <3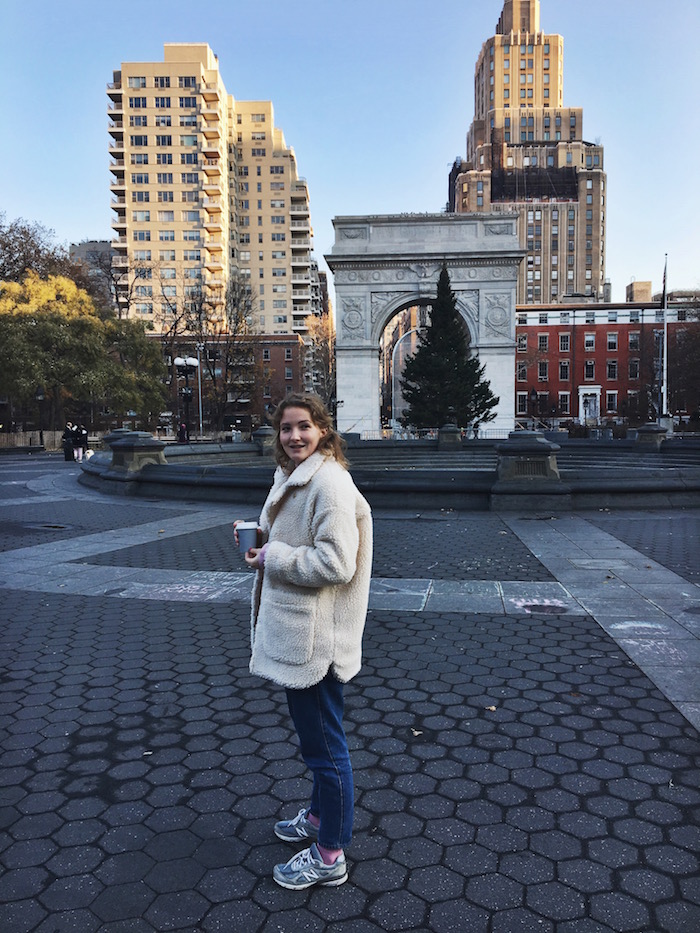 ENGLISH: The first morning we woke up at 6.30 ready to seize the day. We went out for a walk, grabbed a cappuccino and went to Washington Square Park to do some dog watching. I love that there are so many dogs in NYC! Oh, and the sun shone and we were ecstatic, as it felt like we haven't seen the sun for months in Copenhagen.
DANSK: Den første morgen var vi jetlaggede, så vi vågnede, friske som havørne, klokken 6.30, og så stod den ellers på morgengåtur. Der var ikke et minut at spilde. Cappuccino i koppen, solskin, min bedste veninde under armen, Washington Square Park og en hundepark fyldt med doodler = perfekt morgen i New York!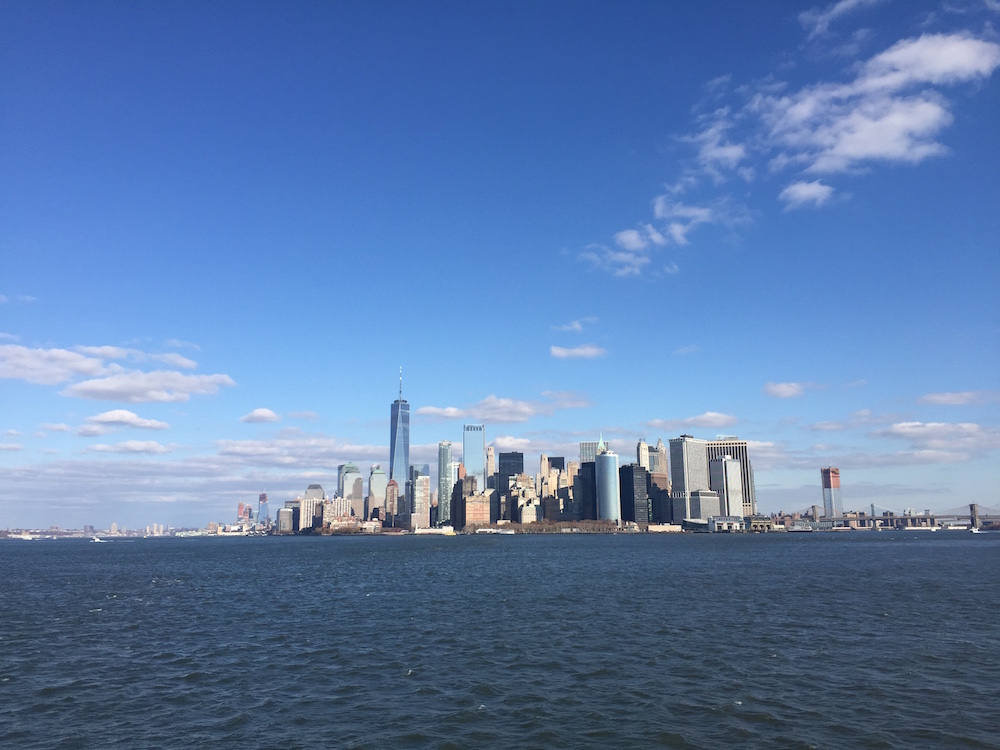 ENGLISH: After morning coffee, we walked all the way down Broadway and ended by the Staten Island Ferry. The ferry happens to be one of my favorite tourist tricks in the city, as it gives you a 30-minute sail trip to Staten Island which provides you with glorious views over the city as well as the Statue of Liberty. From Staten Island, you get to do it all over again as you sail back to Manhattan. And best of it all? After the views of course… The ride is completely free of charge! It was my mom, who lived in NYC back in the 80s who first took me on the ferry ride.
DANSK: Efter vi havde tømt vores kaffekopper, var vi stadig fulde af energi, og vi tog turen hele vejen langs Broadway til enden af Manhattan. Her hoppede vi på Staten Island færgen, som faktisk er mit favorit-turist-trick i New York. Færgeoverfarten tager lige under 30 minutter til Staten Island, og så giver den de mest fantastiske views over Manhattan, broerne, Brooklyn og Jersey og ikke mindst Frihedsgudinden. Fra Staten Island tager du færgen tilbage igen, så du simpelthen kan nyde synes og udsigten hele to gange. Og det næstbedste efter udsigten og oplevelsen? Det er fuldstændig gratis at tage færgen. Tricket (som nutildags er rimelig kendt!) lærte min mor mig, som boede i New York i slut-80'erne.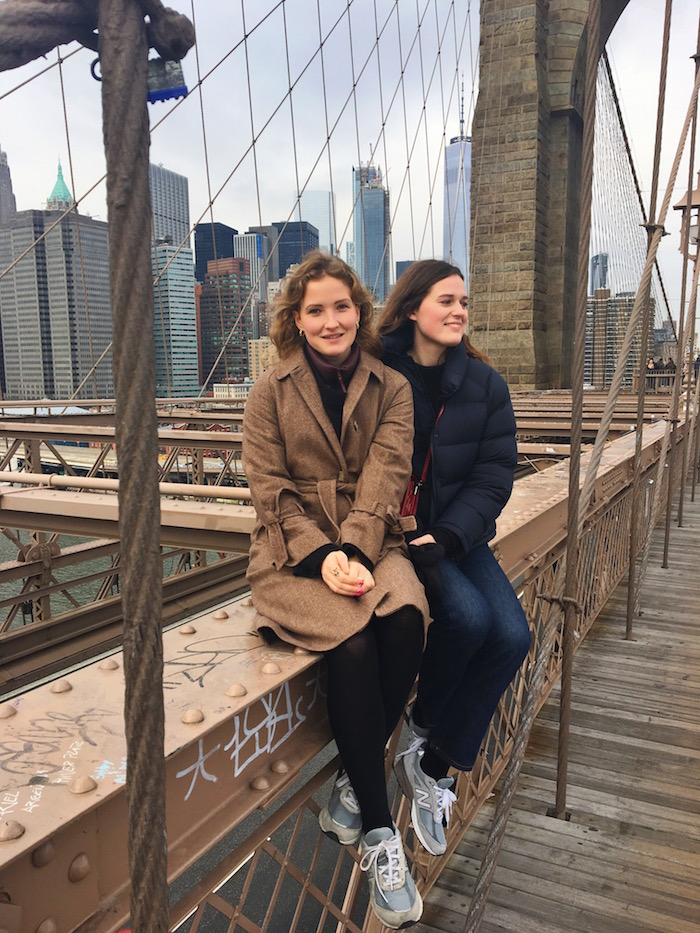 ENGLISH: Another must when in NYC: walk the Brooklyn Bridge! I never get tired of this, and Asta loved it too. We snapped this photo halfway, wearing our twin shoes. On the Brooklyn side, we had lunch at Shake Shack which is yet another must do when in New York, and luckily Asta seemed to love it as much as I do!
DANSK: Et andet must i New York – gåtur over Brooklyn Bridge. Den er så storslået, fantastisk og så tænker jeg altid på scenen i Sex and the City, hvor Miranda og Steve skal mødes på halvvejen, hvis de gerne vil være sammen igen efter et lille slip med utroskab. Og selvfølgelig dukker de begge to op <3 På Brooklyn-siden spiste vi frokost på Shake Shack, der ligger lige ved broen, og Asta var vist ligeså vild med deres burger, som jeg er!
ENGLISH: In total, an absolutely amazing trip to NYC. Does that shine through the photos? I will most likely be sharing one more post about our week in New York.
DANSK: Altså, en fantastisk tur! Skinner det igennem? Jeg kommer nok til at dele i hvert fald ét indlæg mere om vores dejlige uge i New York.