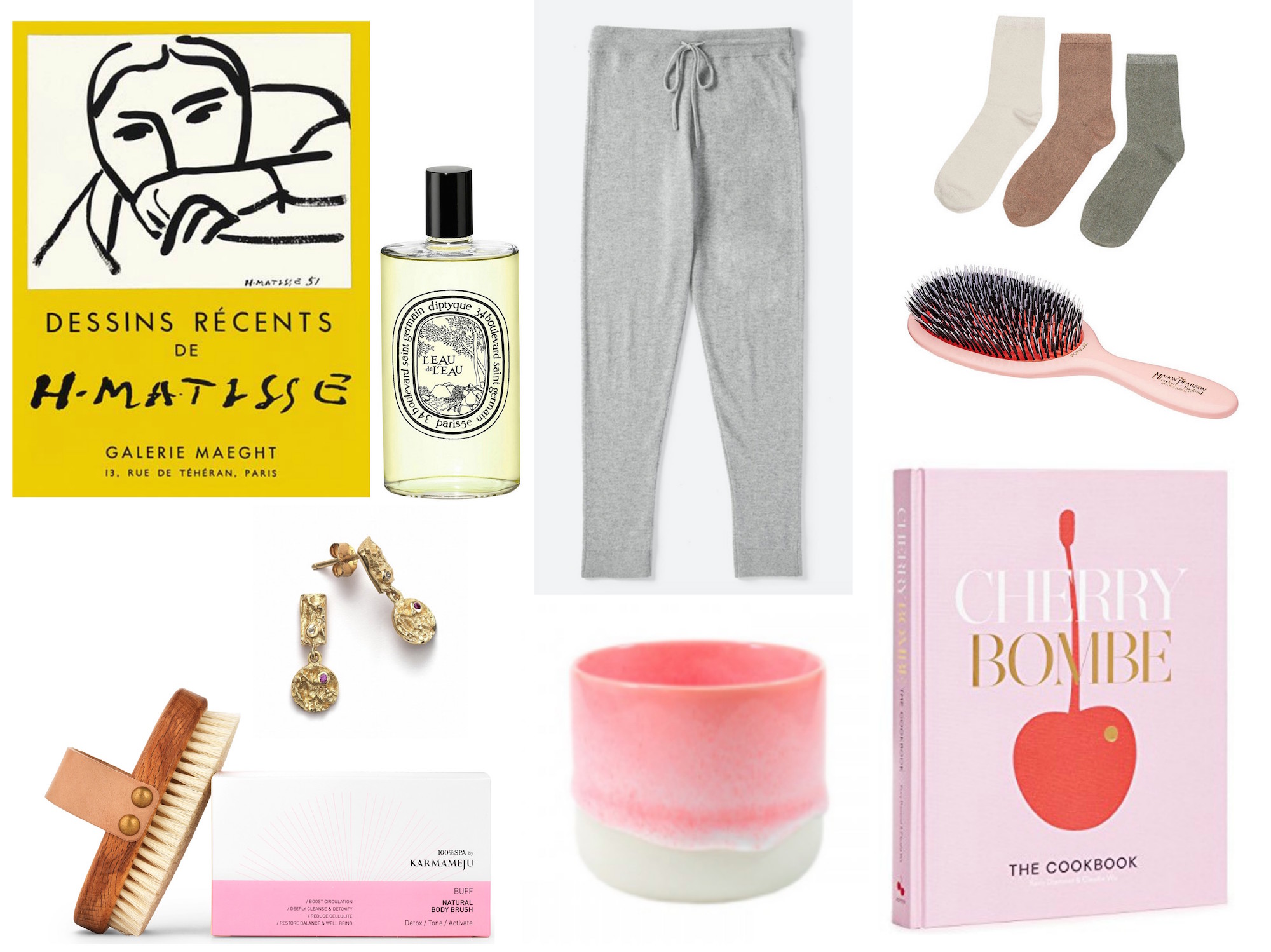 ENGLISH: Better late than never, although my mom won't agree. She's been punking me to send her a wish list for the past few weeks and as naughty as I am, I didn't really send her one… Until now! Of course, she said, she already bought me something else and she hopes that I will be surprised and happy. I love that because wish lists tend to seem a little bit like a list of orders. Surprises are better!
However, here is my wishlist! When I was in NYC last week, Everlane opened their first store. In front of the store, there was a constant long line of people wanting to go inside. I didn't know the brand so I didn't go in, and also, I don't really care to make a line for any store. I did look up Everlane online to find out what the fuss was all about, and I completely (or sort of) understand the long line. Everlane is classic, timeless and they have cashmere sets. I love everything cashmere and have multiple shirts, sweaters, and scarfs in the soft material – but no sweatpants. Straight to the wishlist – Everlane cashmere sweatpants. Could you imagine anything better to wear at home for the winter time? Me neither.
Although, I have actually lived in my apartment for more than a year, there is still a lot to be done. My walls are still bare, and I am in the process of creating a gallery wall. Which is actually easier said than done! I would love to add a Matisse poster to the wall.
The earrings from Danish Anni Lu are so pretty and look way more expensive than they actually are. At 67 euros, I am thinking to gift them myself for Christmas. That's allowed, right?
Oh, the brush… The Mason Pearson brush. Which is way overpriced for a hairbrush, but also renowned to be the best thing one can do for one's hair, whatever the price is. I haven't tried it myself but I do know that it is very pretty, pink and that it would suit my bathroom.
I can never get enough of tea and coffee cups. I don't know what it is, they are just so cute and I can't seem to stick to one kind either. My latest cup obsession is from Danish Studio Arhøj, and they create cups in different colors and styles.
Somehow, I ran out of all my perfumes and what better excuse do I have to put a new one on my wishlist? Diptyque is beautiful and smells amazing!
Glitter socks are always a safe choice when it comes to gift buying and I can never get enough of them. They are cute and brighten up your day, even if you don't actually see them in the outfit.
Last but not least, I think it is about time that I get a little more into cooking. What better way to do this than to seek inspiration from the cutest cookbook ever? A little bird actually told me that this one might be hiding under the Christmas tree…
Those were my Christmas wishes. What do you wish for this year?
__________________________________________
DANSK: Bedre sent end aldrig, selvom min mor måske ikke er enig. Hun har punket mig for en ønskeliste de sidste par uger, og jeg formåede aldrig at sende hende en…. Nu er den her! Det fortalte jeg hende så, og hun svarede kækt, at hun havde da allerede fundet på noget, som hun håbede, jeg vil blive glad og overrasket over. Endnu bedre! Jeg elsker overraskelser, og det er lidt finere at få og give gaver, der ikke er "ønsket efter", for så bliver ønskelisten altså hurtigt som sådan en ordreseddel.
Ikke desto mindre, deler jeg her min ønskeliste. Da jeg var i New York sidste uge, åbnede Everlane deres første fysiske butik i Soho. Der var konstant en lang kø uden for butikken, og af den grund gik jeg altså ikke ind og kiggede. Jeg blev dog nysgerrig og slog mærket op på nettet, som jeg ellers ikke kendte til. Og så forstod jeg alligevel godt den lange kø. Everlane laver miljøvenligt tøj, der er simpelt og tidsløst. Jeg blev især forelsket i deres cashmere sweatpants. Jeg elsker cashmere og drømmer nu om at tilføje et par sweatpants til min spæde samling. Hvad rarere kan man mon iføre sig en kold vinterdag derhjemme?
Selvom jeg faktisk på nuværende tidspunkt har boet i min lejlighed i lidt over et år, mangler jeg stadig en del. Blandt andet at få noget op på mine bare vægge. Jeg vil gerne lave en gallerivæg, og på den, må der godt hænge en Matisse plakat.
Øreringene fra Anni Lu er så fine og så synes jeg, at de ser ret eksklusive ud, i forhold til at de koster 500 kroner. Så fine. Måske det skal være julegaven til mig selv i år? For sådan en hører da til, ikke?
Børsten… Den smukke, fine børste fra Mason Pearson. Som dog er totalt overpriced for en hårbørste at være. Men jeg læser på blogs og hører fra et par veninder, at den simpelthen er fantastisk og gør underværker, og at enhver med respekt for sit hår, bør eje en. Og det har jeg jo. Under alle omstændigheder ville den i hvert fald klæde mit badeværelse.
Jeg er helt vild med kopper i alle afskygninger. Jeg ved ikke helt hvorfor, men jeg har i hvert fald en fin samling af forskellige kopper stående i mit køkken. Jeg drømmer nu om at tilføje en eller to fra Studio Arhøj, og gerne af deres lyserøde slags.
Jeg er på mystisk vis løbet tør for alle mine parfumer, og det går jo ikke. En parfume fra Diptyque er altså på min ønskeliste! De dufter så godt og er så pæne.
Glimmersokker er altid en sikker vinder, og jeg kan ikke få for mange af dem. De lysner enhver mørk vinterdag op, selvom man ikke nødvendigvis kan se dem. Bare følelsen af glimmer inden under er nok <3
Sidst men ikke mindst, har jeg tænkt på, at det er på tide, at jeg bliver lidt bedre til (og interesseret i) at lave mad. Måske denne smukke kogebog kunne hjælpe mig på vej? Jeg har faktisk hørt en lille fugl synge om, at den nok gemmer sig under juletræet… Jeg krydser fingre 😉
Det var mine ønsker for i år. Plus en hel masse andet! Hvad ønsker I jer?