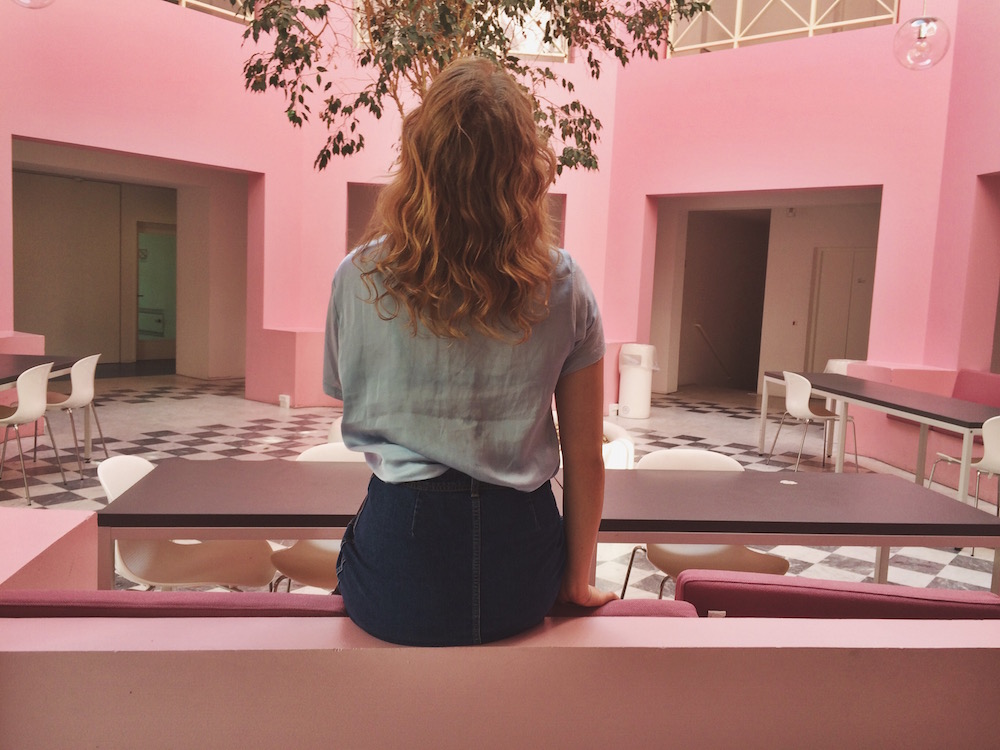 (This is actually my school, Copenhagen Business School! Could it be a more perfect color for someone like me?)
ENGLISH: Sooooooooo done! And so happy! Yesterday I had my last oral exam for this semester which means I am finally done with finals. It has been the worst. For two and a half months, I've had exams on my mind. Whenever I was doing something else to get my mind of the stress of the exams, the thoughts about them would pop up to stress me again. I've had to individual written exams, two group paper exams as well as two oral ones. The latter is definitely the worst ones. Sitting in front of two teachers for 15 minutes, having to answer whatever questions about the class they might want to ask, is so intimidating. Especially as the exams were in scientific theory and methodology and statistics. Ugh.
I made it through without failing and it feels so good. Now I have a week and a half off before it is time to begin the fourth semester of my bachelor. I have no plans and it feels kinda weird as I usually go away every time I am able to. Already today, on day one, I feel restless and try to think of where I could go and with whom. But I actually think it would be good for me to just stay home, chill, and learn how to 'not do anything at all'.
I have to take care of some practical things on my days off before the new semester. I have to sort out what books I need for the new semester, get them, and I have tons of work and writing to do. I am sure I will come up with something to do, besides sleeping til noon every day.
_______________________________________
DANSK: Endelig! Jeg er færdig med eksaminerne for tredje semester, og jeg kan næsten ikke forstå det! Det har været den længste eksamensperiode nogensinde. Mere bestemt har jeg siden midt november, altså to en halv måned, skrevet eksaminer i et langdrag. Jeg har selvfølgelig også lavet alt muligt andet som at være i New York, holde jul og være i Berlin, men alt imens jeg har haft det sjovt, har jeg hele tiden gået og været nervøs for de skide eksaminer.
Jeg har haft to skriftlige gruppeeksaminer, to individuelle skriftlige eksaminer samt to mundtlige eksaminer. De mundtlige var frygtelige, både fordi det var i fagene videnskabsteori og metode/statistik men også fordi mundtlige eksaminer bare er og bliver frygtelige. Jeg klarede mig heldigvis igennem det hele. Og nu føles det næsten helt tomt at være færdig. Især fordi jeg nu har halvanden uges tid fri til…. ingenting.
Det havde lignet mig at planlægge en eller anden tur til et eller andet sted, for det gør jeg så godt som altid, når jeg har et par dage fri. Men ikke denne gang. Og det føles meget mærkeligt. Men måske er det også sundt for mig at blive hjemme og slappe af uden de store planer. Jeg har nogle praktiske gøremål såsom at skaffe bøger til fjerde semester, som begynder så småt i næste uge, lidt arbejde og så kan jeg jo også altid svinge en gulvmoppe i min lejlighed. Vi må se, hvad det bliver til. Og ellers går jeg bare og glæder mig til, at det bliver lysere og varmere!