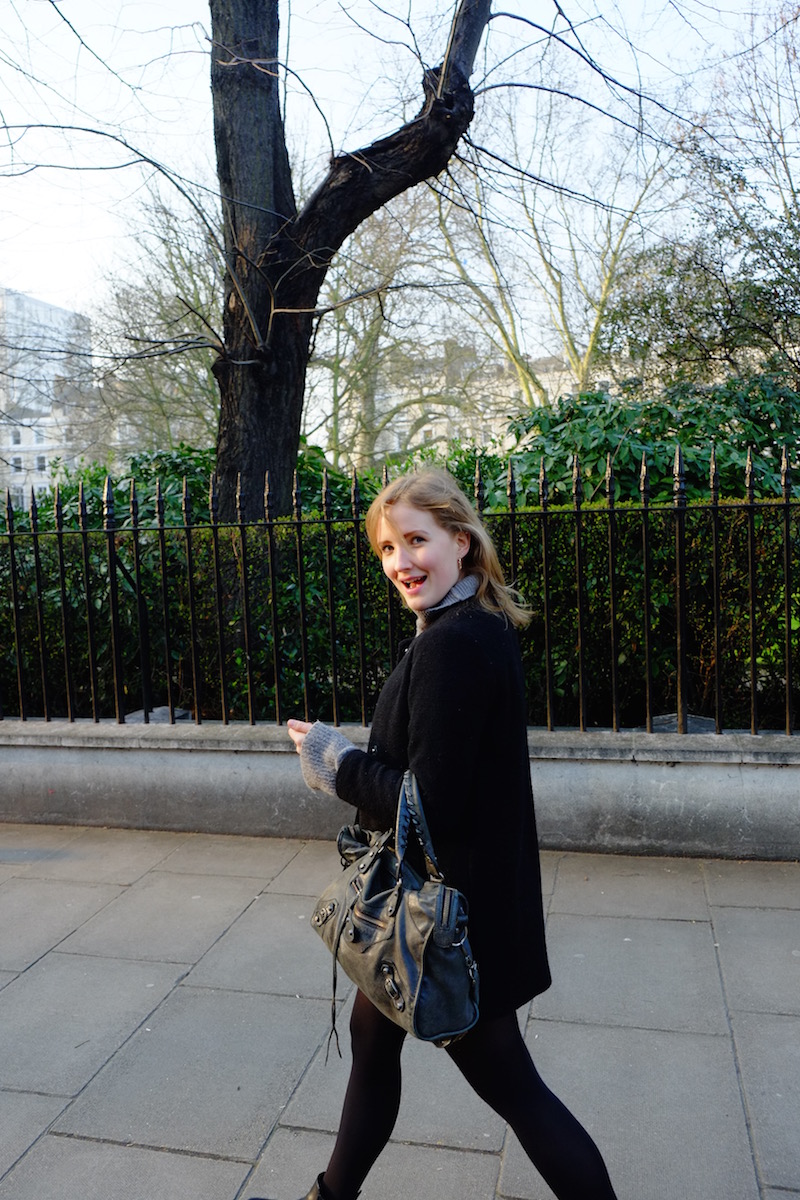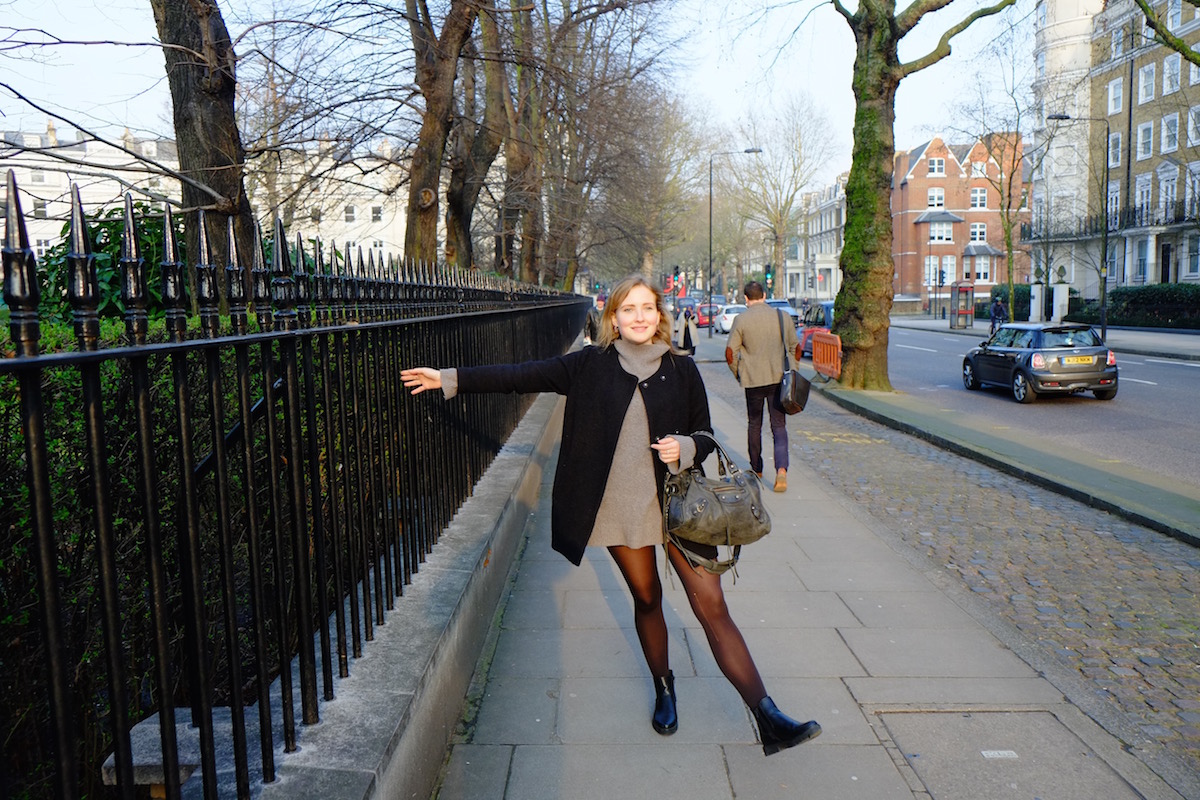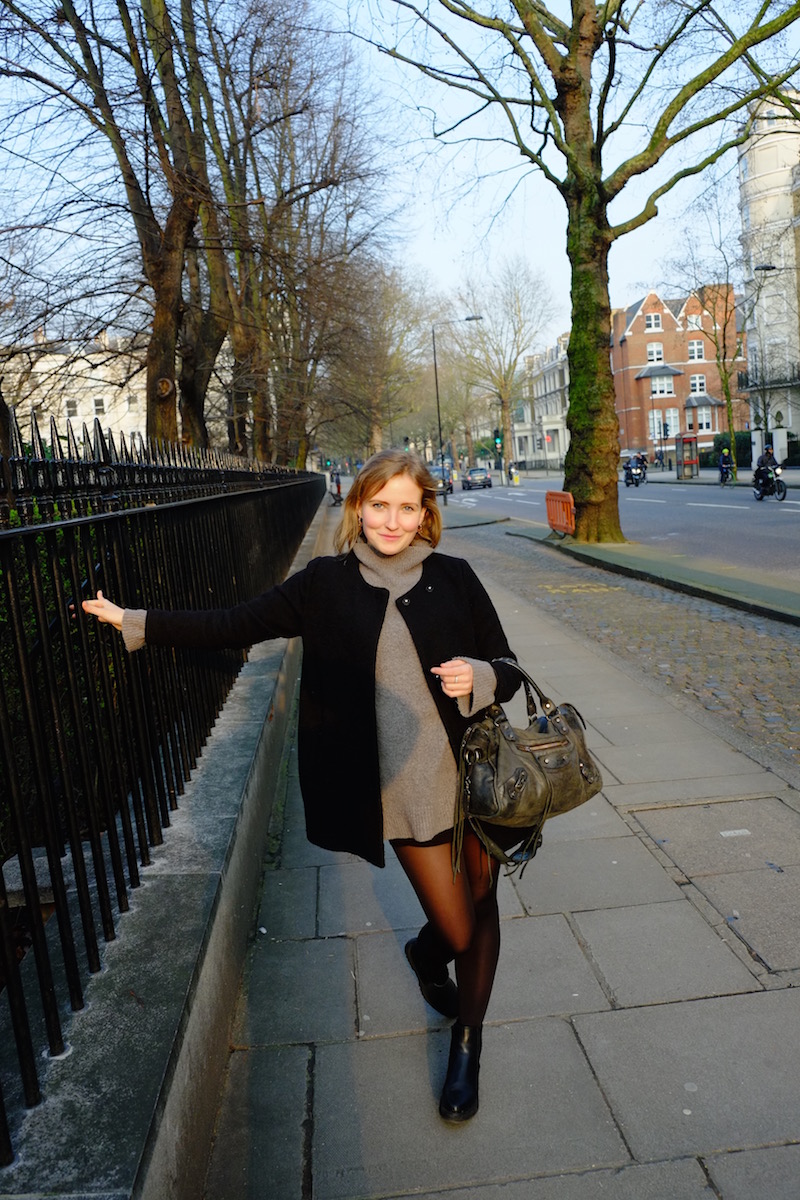 Blaaaaaaah. A pretty exact description of how I feel at the moment. I am uninspired, unmotivated, indifferent. And I don't know why. I don't feel particularly sad or happy, just blah. Do you know that feeling? It drives me crazy because I don't know what to do about it. Not even cake or sunshine make me happy, both of which I have been enjoying a lot this week!
For the uninspired, lists are always a great thing. This is why this blog post is a little different. It contains a list of random things happening in my life right now.
A list of seven things from my life right now
♡ The photos above have absolutely nothing to do with this post. As I haven't been feeling as my happy, inspired self, I also haven't been taking any photos of myself lately. These were taken in London about two years ago.
♡ I've been back at university for a week and a half, and I am already about 100 pages behind in my international trade law class. Did I mention this is not my favorite class?
♡ Today, I biked around 18 kilometers. Nothing new in that, as I always use my bike as a mean of transportation to get around Copenhagen. I just never really think about how much I actually bike on a regular day. Today, for some reason, I decided to count how many kilometers I actually biked, and 18 kilometers is quite a lot! I shouldn't feel upset about not going to the gym then, lol!
♡ On Sunday, if everything goes according to plan, I will get in a car with two of my friends and drive to Sweden and stay for one night. My childhood friend has a house there. It is so idyllic and beautiful, so I am really hoping we will go!
♡ There are still a good handful of things that need to be taken care of in my apartment. Hanging up a curtain, fixing a closet, hanging up some paintings and posters on the wall in my living room. Small things that I never get around to do. Luckily, I have a dad who is great at fixing things, he could basically change jobs from being a pharmacist to a craftsman. We planned that he will come over on Saturday to help me fix my apartment. I feel like this about it: emoji with hearts as eyes!
♡ My boyfriend had his third nephew this week. I can't wait to meet him!
♡ Writing blog posts is definitely more fun than studying and reading for that four-hour international trade law class that I have tomorrow. I better get to it! Wish me luck…
__________________________
DANSK: Blaaaah, meeeeh…. Sådan har jeg det inden i for tiden. Grå, umotiveret, uinspireret. Den der følelse mellem glad og trist. Den ligeglade følelse. På trods af smukt solskin og et godt kage- og croissantindtag denne uge, er jeg grå. Og jeg kan ikke helt sætte fingeren på, hvorfor. Øv.
Derfor har jeg heller ikke kunnet finde den store inspiration til blogindlægs-skrivning. Her er listen en sikker vinder! Således får du her syv ting fra mit liv lige nu.
7 ting fra mit liv lige nu
♡ Ovenstående billeder har absolut intet med blogindlægget at gøre. Jeg fandt dem frem fra gemmerne. De er taget i London for to år siden, hvor jeg havde en skøn tur til den store by. London er ikke min yndlingsby, men den er klart fed! Jeg synes, det er meget fedt, at jeg kan kigge på billeder af mig selv taget for to år siden, uden at græmmes og tænke "hvad havde jeg dog på!". Outfittet kunne jeg egentlig godt finde på at tage på den dag i dag – det er vel et godt tegn, tror jeg. At jeg har en slags stil, der ikke ændrer sig mega drastisk, selvom jeg selvfølgelig er influeret af tidens mange trends. Det er dog vigtigt at holde fast i sin egen stil, så man ikke bliver en mode-slave. Det havde jeg faktisk også en lang snak om med min veninde forleden dag.
♡ Det er kun halvanden uge siden, at jeg startede på 4. semester (vildt!). Jeg har allerede formået at komme cirka 100 sider bagud i det fag, jeg allerede er blevet uvenner med. International handelsret. Av. Vi har fire timer lange forelæsninger i faget en gang om ugen samt hvad der føles som en million sider at læse.
♡ I dag cyklede jeg 18 kilometer.Cyklen er mit faste transportmiddel, så der er såmænd ikke noget vildt i de det antal. Men normalt tæller jeg ikke sammen, hvor meget jeg får cyklet på en ganske almindelig hverdag. 18 kilometer er alligevel en god sjat! Så skal jeg ikke være ked af, at jeg ikke orkede fitnesscenteret.
♡ Hvis alt går efter planen, skal jeg en tur til Sverige i min barndomsvenindes ødegård fra søndag til mandag. Vi skal lige finde ud af noget med en bil, der skal have vinterdæk på. Der er skønt, idyllisk og smukt, og jeg håber vi kommer af sted! Fingers crossed.
♡ Der er stadig en god håndful sager, der mangler i min lejlighed. De der små ting, som jeg bare ikke får gjort selv, fordi jeg ikke er så handy. Hænge billeder op, hænge et gardin op, fikse lidt i køkkenet og på badeværelset. En masse praktisk. Heldigvis har min far skruet hænderne rigtig på, og han kommer på lørdag og tager en slags arbejdsdag i min lejlighed. Jeg er glad for min far <3
♡ Min kæreste er blevet onkel for tredje gang denne uge, og jeg kan ikke vente med at møde den nye, lille fyr. Han er desværre født i Washington D.C., så jeg ved ikke helt, hvornår det bliver.
♡ Det er meget sjovere at skrive blogindlæg, end det er at læse til international handeslret. Jeg må hellere til det. Wish me luck!