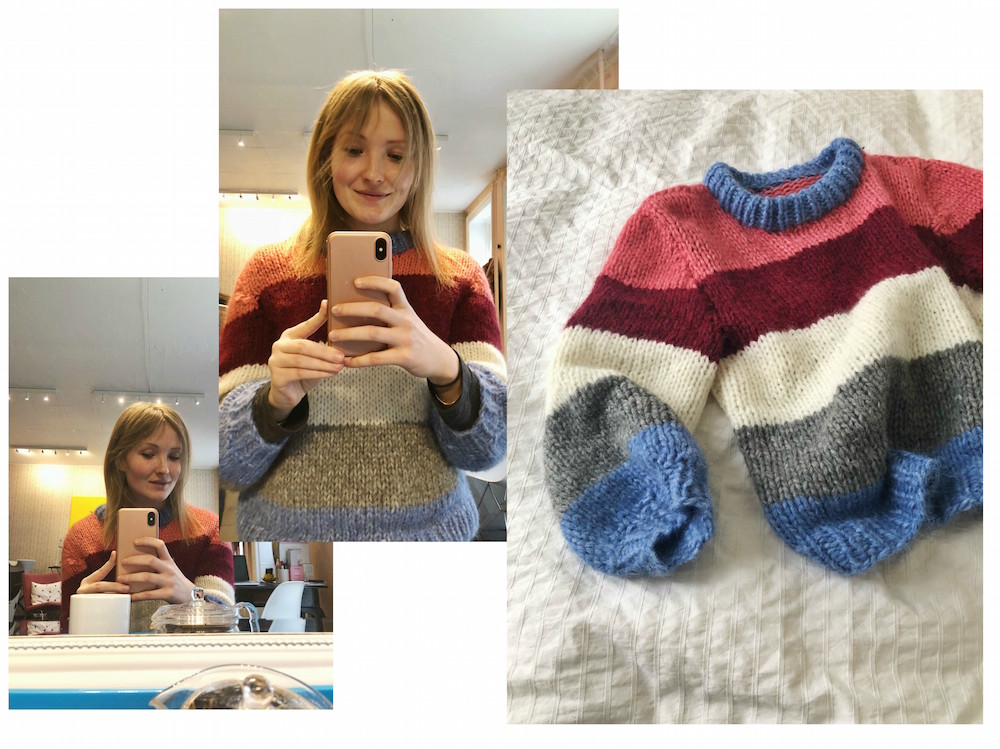 It is no secret that I am not in the happiest point of my life right now. But I make  sure to get out of bed although it is hard, I do yoga, I eat a croissant every day, and allow myself to watch Gossip Girl instead of doing homework. And I try not to feel too bad about it 😉
In times like these, I also try to remind myself three things that I am grateful for or that make me happy. It is actually a scientifically proven method to make you feel better, especially if you are consistent with thinking of three things every single day. I try!
Here are three things I am happy about today
♡ I had my hair dyed! Check out the photos. Blonde baby lights, highlights, stripes or whatever you call them. I haven't died my hair since 2010, but I was getting so tired of my winter dark, boring hair, and I needed some change. Next thing I know, I find myself actually at the hairdresser. Luckily, my hairdresser Copenhair did a great job and I am so happy.
♡ I made it out of bed and to school this morning. I was so close to just skip it. Wuhu! Celebrating the small accomplishments.
♡ My amazing, talented mom knit me another sweater. I have to tell her to stop as all the sweaters she has been knitting me this winter don't fit in my closet much longer 😉 I think it is beautiful, and in real life it is soft, too.
Det er ikke nogen hemmelighed, at jeg er lidt trist over livet for tiden. Derfor forsøger jeg, alt hvad jeg kan, at være god mod mig selv uden at sumpe for meget sammen. Jeg står op, jeg tager til yoga, jeg går i skole. Jeg spiser croissanter dagligt og lader mig selv gense Gossip Girl for tusinde gang i stedet for at læse. Og så prøver jeg at lade være med at have for dårlig samvittighed over det.
Derudover husker jeg mig selv på at tænke på de gode ting. Dem jeg er glad og taknemmelig for. Det er endda videnskabeligt bevist, at hvis man dagligt, over en længere periode, tænker på tre ting, man er glad eller taknemmelig for, så får man det bedre. Hermed tre ting, jeg er glad for i dag, på en ellers gennemsnitlig, grå og kedelig mandag.
Tre gode ting der skete i dag
♡ Jeg har fået farvet hår! Lyse striber lavet af dygtige Copenhair. Jeg har faktisk ikke farvet mit hår siden 2010, fordi jeg var en værre en mod mit hår i mine teenagedage. Fra mørk farve til lys farve, til mørk farve, til afblegning. Så en masse 'fjern-krøller-med-glattejern' hver evig eneste morgen. Stramme frisurer og så en omgang extensions af flere omgange, fordi mit hår ikke ville vokse. Så tog jeg en kold tyrker og har været en engel mod mit hår lige siden. I otte år. Ingen farve, ingen varme, bare nænsom pleje og ugentlig hårkur. Og det vil stadig ikke vokse! I fredags besluttede jeg mig så for, at hvis jeg ikke kan få langt hår, vil jeg i det mindste have lyst hår. Tre dage senere sad jeg i frisørsalonen. Lidt nervøs, især for, at mit hår vil blive ødelagt igen. So far, so good, og jeg er så glad for resultatet. Det ser så naturligt ud <3
♡ Da vækkeuret ringede klokken syv i morges, kom jeg op og i skole. Dog lidt forsinket, men hovedpointen: jeg kom op, ud på en syv-kilometers cykeltur og frem til undervisning, selvom jeg var så tæt på at skippe det. Det handler om de små sejre 😉
♡ Min dygtige, skønne mor har gjort det igen. Strikket endnu en fin sweater til mig. Den blev færdig i går aftes og jeg har haft den på i dag. Det siger lidt om, hvor glad jeg er for den. Ligesom da man var lille og fik nyt tøj og nærmest tog det på i seng, fordi man var så glad for det… men hun må snart stoppe med at strikke til mig, for jeg kan ikke have flere sweatre i mit skab. Luksusproblem! Hun er i hvert fald dygtig <3