It's already been a week since I got back from Berlin! Time flies. Time to catch up and show you a little more from my eight glorious days in my favorite city (or, at least a shared first place with Copenhagen!)

Der er allerede gået en uge, siden jeg kom hjem fra Berlin. Jeg forstår ikke rigtigt, hvor tiden flyver hen, men det har i hvert fald været en fuldstændig fantastisk uge i København fyldt med solstråler, varme, dejlige stunder, badning flere gange om dagen og en eksamensopgave. Nu har jeg overstået fem ud af syv eksaminer og mangler kun to mundtlige. Den ene er om en uge, den anden om to uger. Gider jeg læse op? Ikke rigtigt… I mellemtiden tænkte jeg, at jeg vil vise lidt billeder fra min dejlige, skønne tur til Berlin, hvor jeg var af sted i otte dage.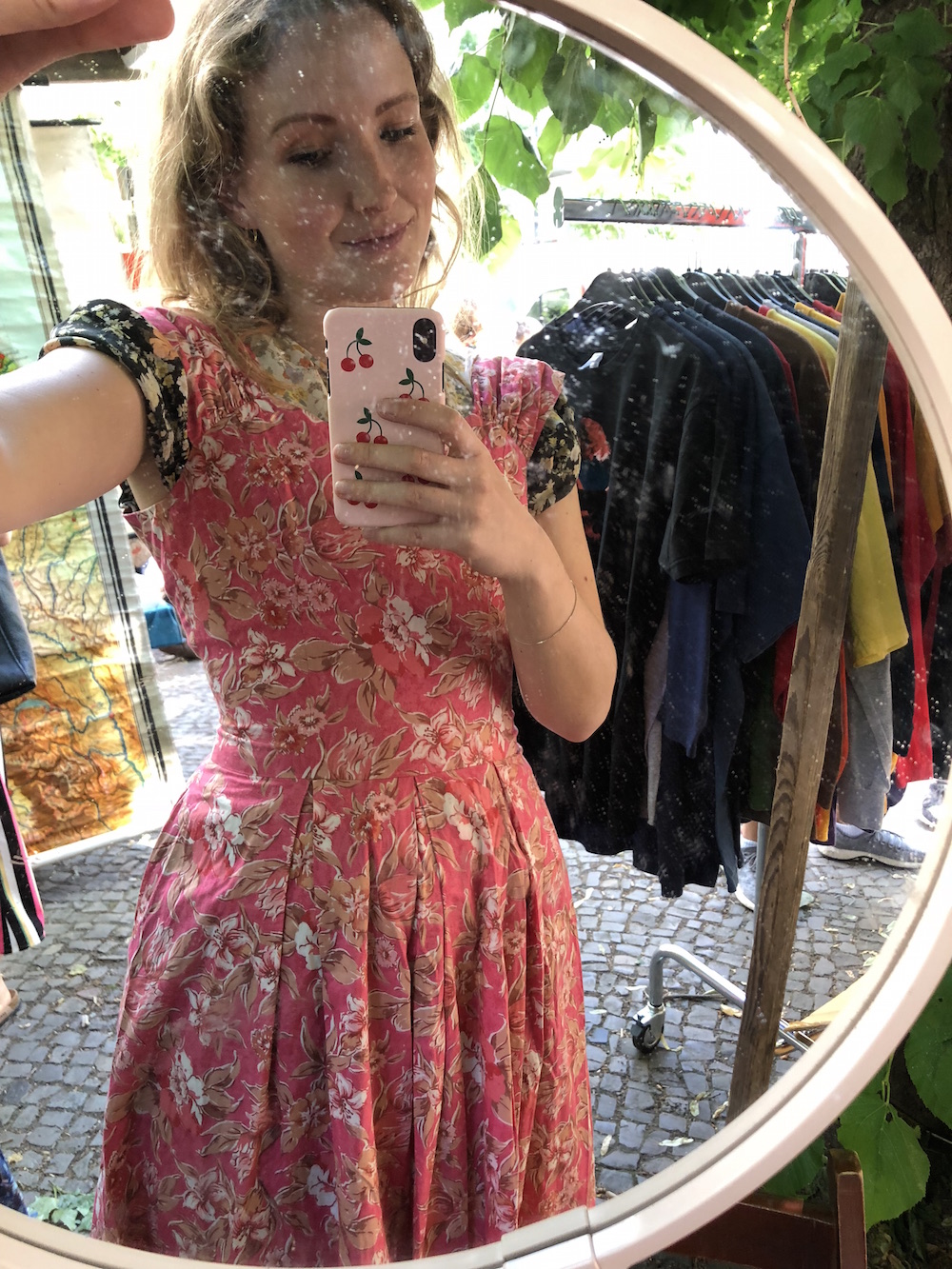 Sunday, funday. In Berlin, all stores (even the supermarkets!) are closed on Sundays. Hence, Sundays in Berlin are made for; brunch at a lovely cafe and visiting all of Berlin's flea markets. That exactly what I did. Tried on lovely vintage dresses at Arkona Platz fleamarket, ended up getting one (the denim one in one of the next photos). 
Sunday, funday. Når det er søndag i Berlin, er alt lukket. Selv supermarkederne. Det betyder, at søndage i Berlin skal gå med at spise brunch på en hyggelig café og så gå på samtlige loppemarkeder, for det er berlinerne vilde med. Det gjorde jeg. På Arkona Platz loppemarked faldt jeg over en skøn bod med vintage-kjoler. Jeg endte med at købe én – den i denim, som jeg har på på et af billederne nedenfor.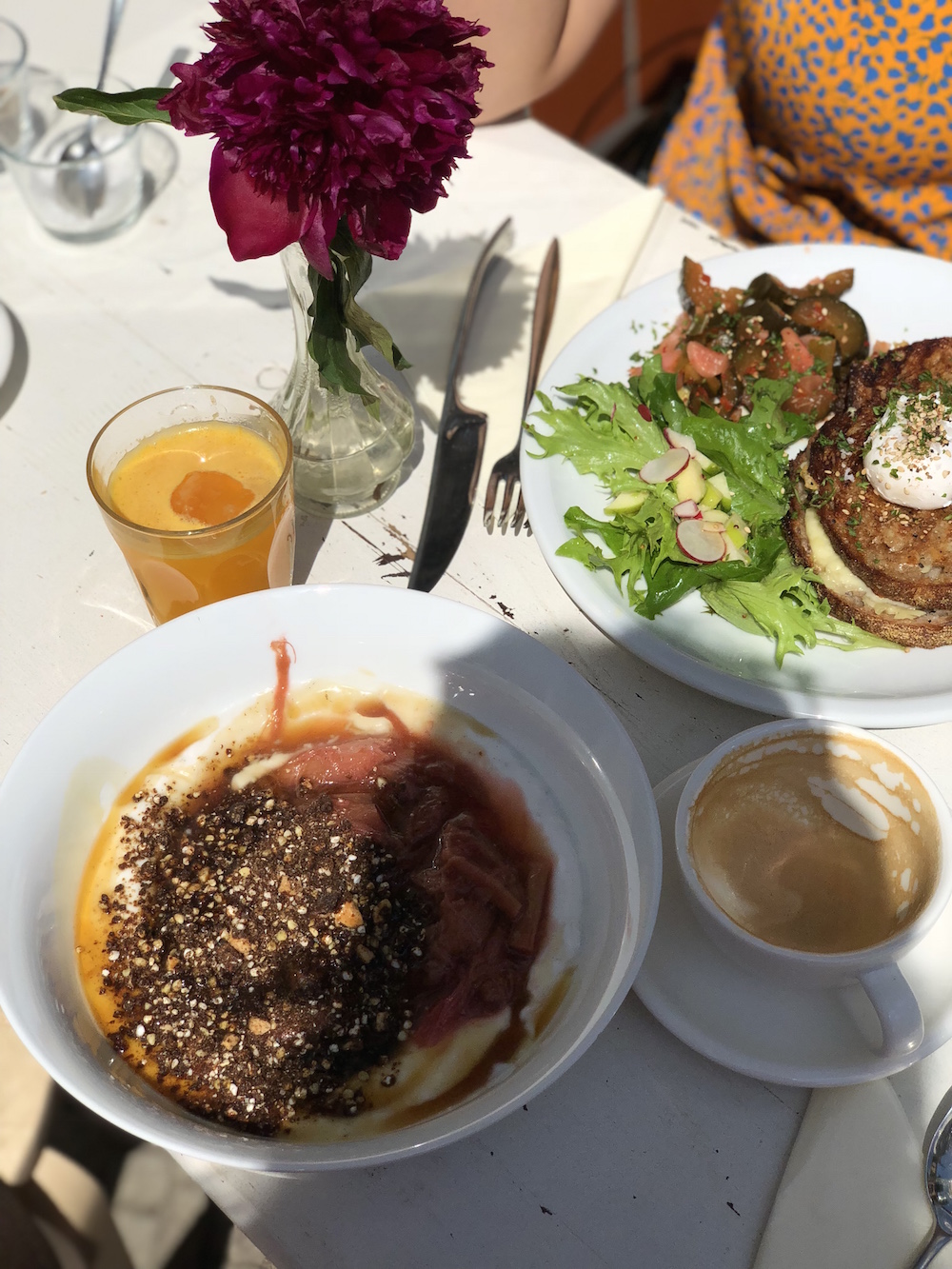 Sunday brunch and a cappuccino in the sun at The Future Breakfast (the breakfast we dreamt of last night) in Neukölln. The perfect combination. 
Søndagsbrunch hos The Future Breakfast (the breakfast we dreamt of last night) i Neukölln. Helt perfekt.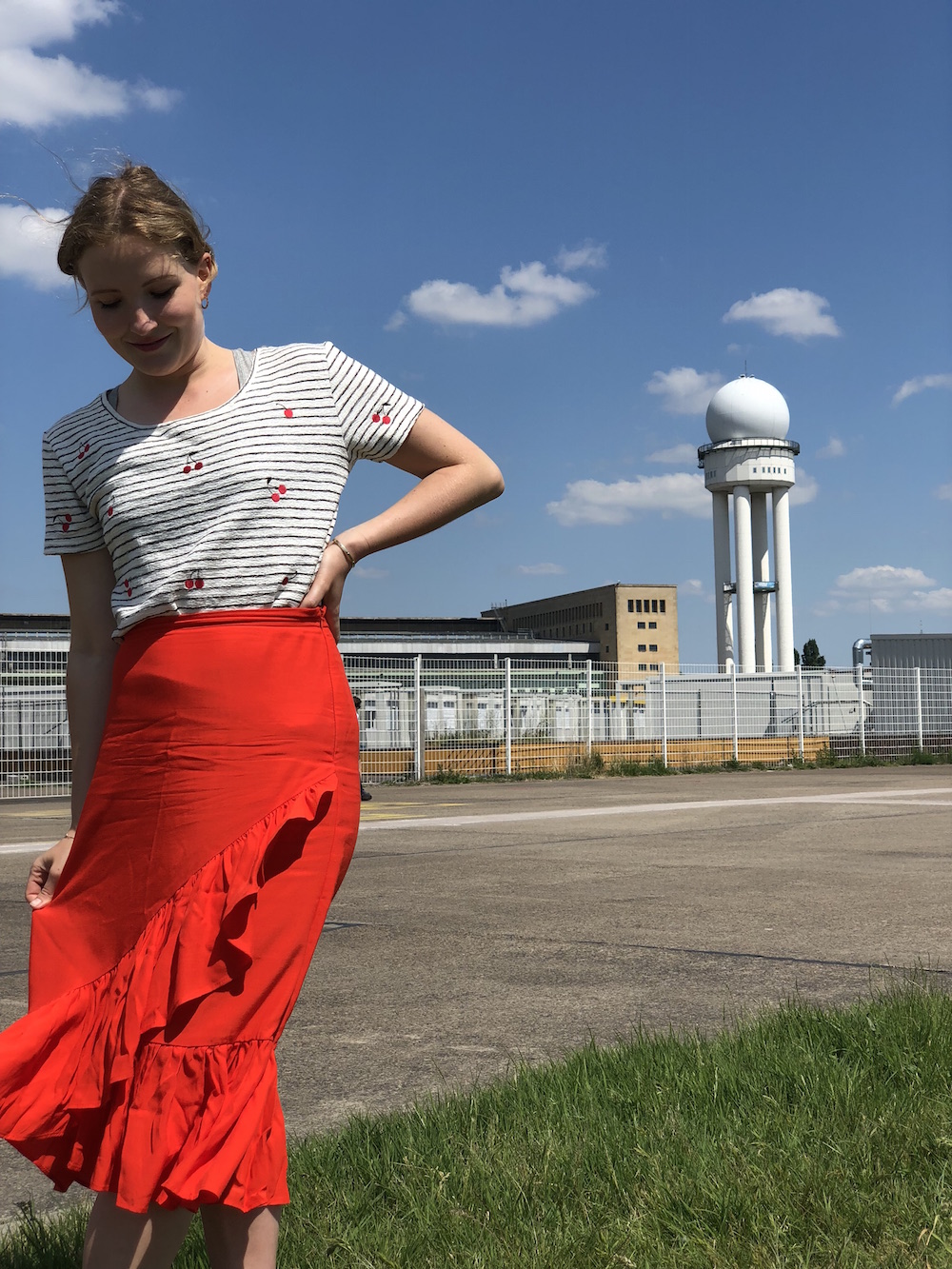 On Monday, I showed my friend the city by bike and I think we ended up biking 30 kilometers all over the city. I showed her one of my favorite spots, Tempelhof, the former airport in Berlin. I can't believe that planes actually landed here till 2008, only ten years ago. Today, the runway and the airport are still standing, however, it is being used as a park. I mean, how cool is that? Only in Berlin!  
Om mandagen tog jeg min guide-kasket på og viste min veninde rundt i byen på cykel. Vi cyklede fra sted til sted, og jeg tror, vi endte med at cykle 30 kilometer. Vi tog blandt andet til Tempelhof, den tidligere lufthavn midt i Berlin, hvor der landede fly indtil 2008. Jeg fatter ikke, at det kun er 10 år siden, at det stadig var en fungerende lufthavn. I dag står lufthavnen som før, men der lander altså ikke nogen fly. Istedet bruges landingsbanen som en offentlig park, hvor der er masser af plads til alle former for adspredelse. Her er skønt, og det er så typisk Berlin. Lad os bygge en lufthavn midt i byen, lukke den og gøre den til en offentlig park.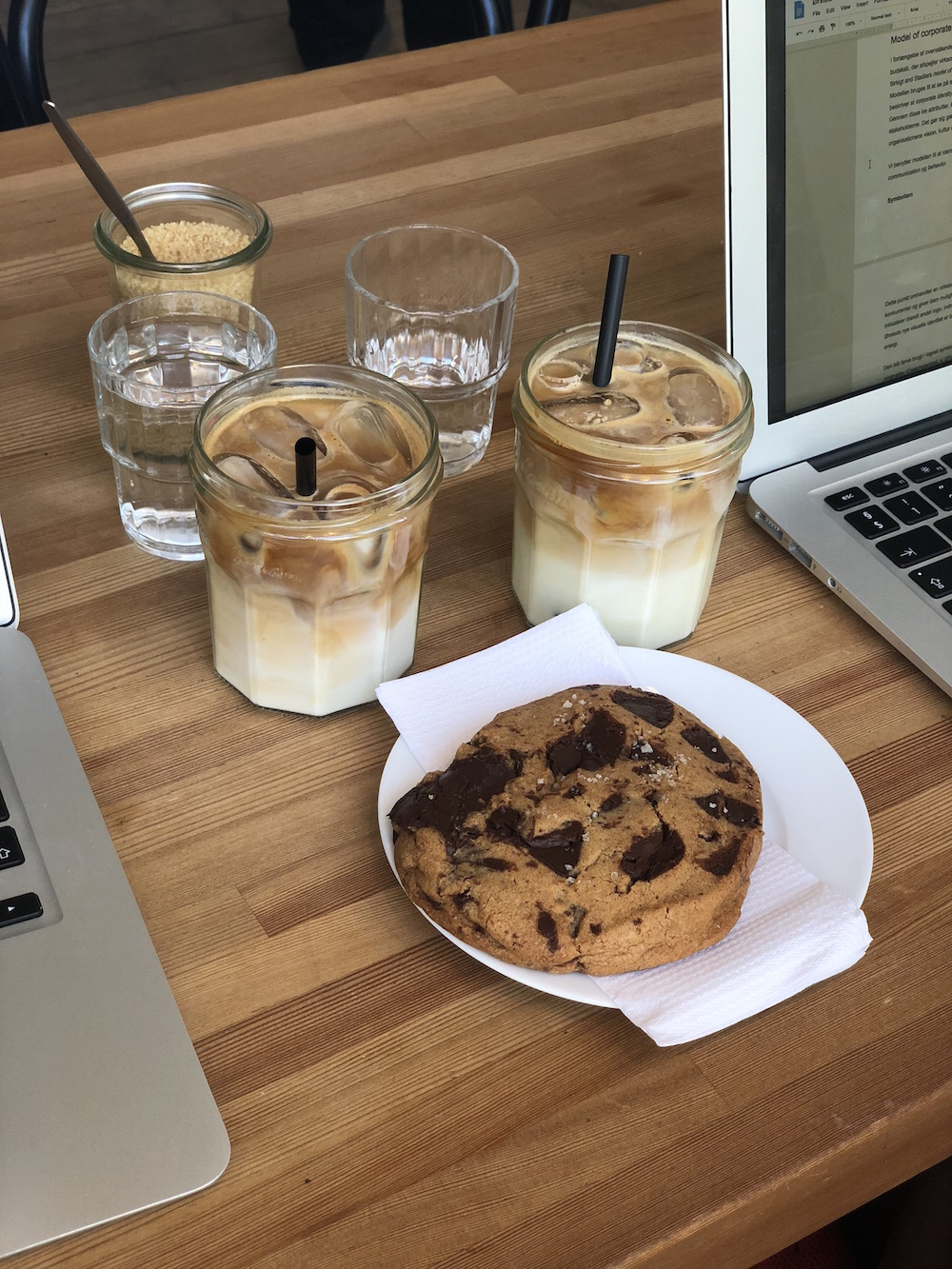 And then the exam started. My friend and I were actually in Berlin for the purpose of writing an exam. Three days to write a 30-page exam paper, just her and I. Funnily enough, her name is Caroline too, and whenever we have to introduce ourselves to people we meet at the same time, it gets a little awkward. Our exam began, and we made sure to work at lovely cafes and staying hydrated and energized with ice coffee and cookies. 
Og om tirsdagen begyndte vores eksamen! Den var faktisk grunden til, at min studiegruppe-veninde og jeg var taget til Berlin. For når man har tre døgn til at skrive 30 sider, hvorfor så ikke gøre det i Berlin? Det holdt hårdt, især da vi fandt ud af, at vores eksamen skulle handle om DONG/Ørsted. Vi klarede den, selvom det var tre hårde døgn, og vi huskede på at holde os hydrerede og mætte med iskaffe og cookies.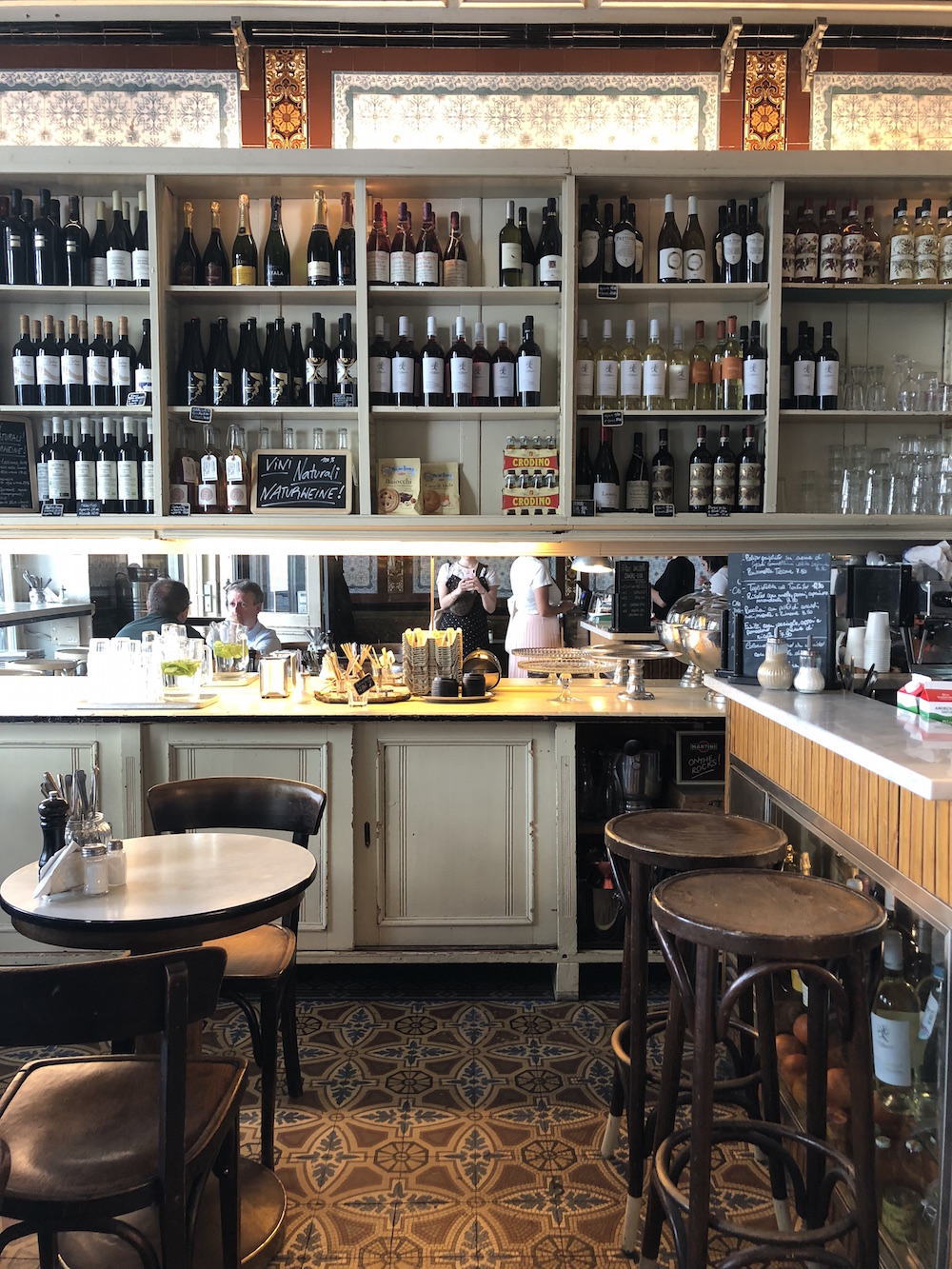 And more breaks from the exam writing. Lunch at Salumeria Lamuri, one of my favorite spots in Kreuzberg, Berlin that serves great pasta (and natural wine which Caroline loved!)
Og flere pauser fra eksamensskrivningen. Det er vigtigt ikke at blive sulten 😉 Vi spiste frokost på Salumeria Lamuri, et af mine yndlingssteder i Kreuzberg, helt autentisk italiensk, hvor der bliver serveret to-tre forskellige dagens pasta og naturvin, til min venindes store glæde.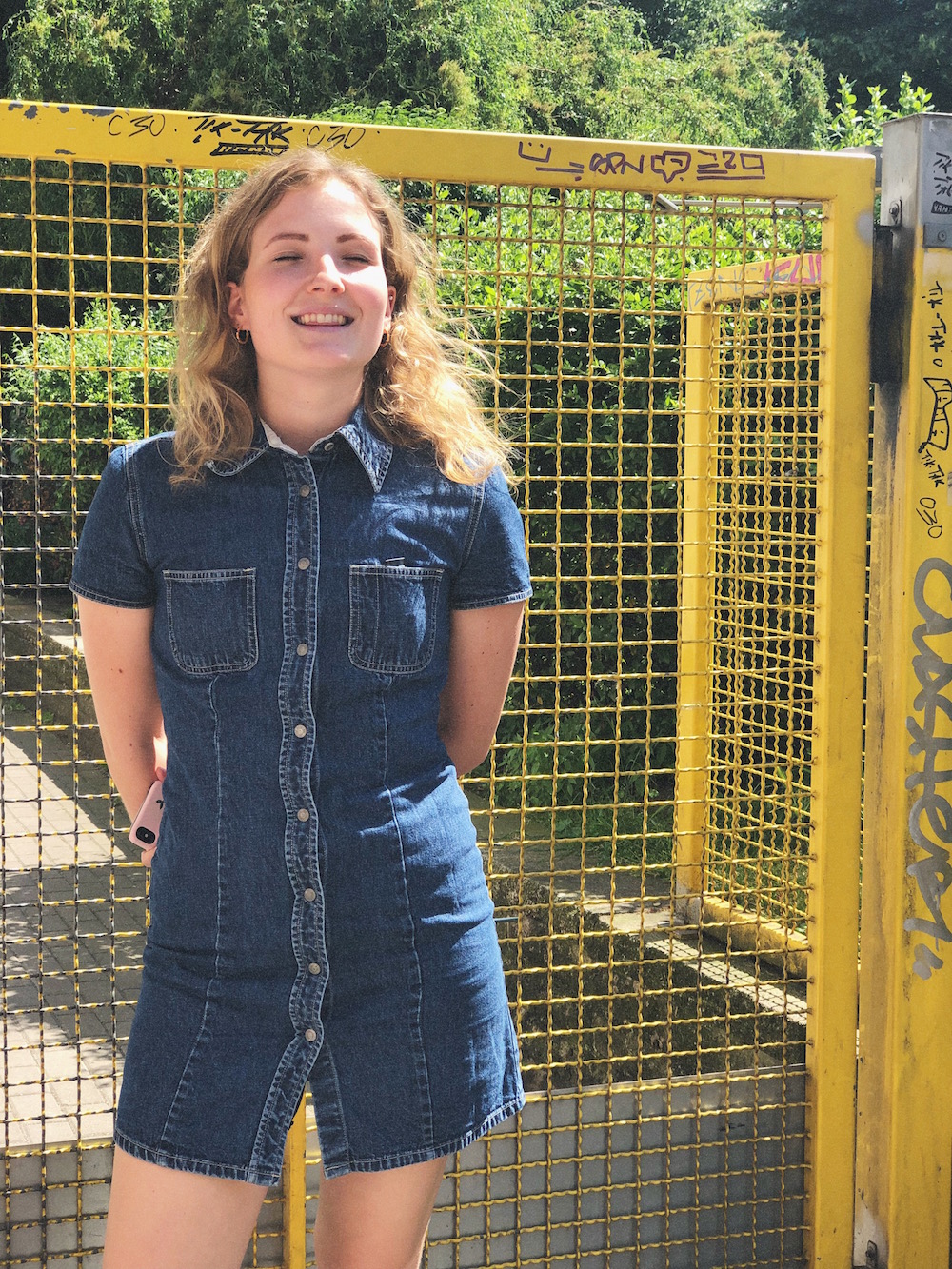 And this is my new vintage denim dress. A little tight but very cute! Caroline and I spent a lot of time sourcing at flea markets and in second-hand stores. She owns the vintage store Passage 21 in Nørrebro, Copenhagen, and we found a lot of great stuff for the store. 
Her i min nye denim-kjole fra loppemarkedet. Så skøn. Lidt stram. Men det skal den vel være. Caroline (som min (studie)veninde hedder til det store grin, når vi skal introducere os selv til nye mennesker på samme tid), ejer vintage-butikken Passage 21 på Nørrebro, og vi brugte tid på at gennemsøge samtlige genbrugsbutikker i Berlin og fandt de skønneste ting til butikken.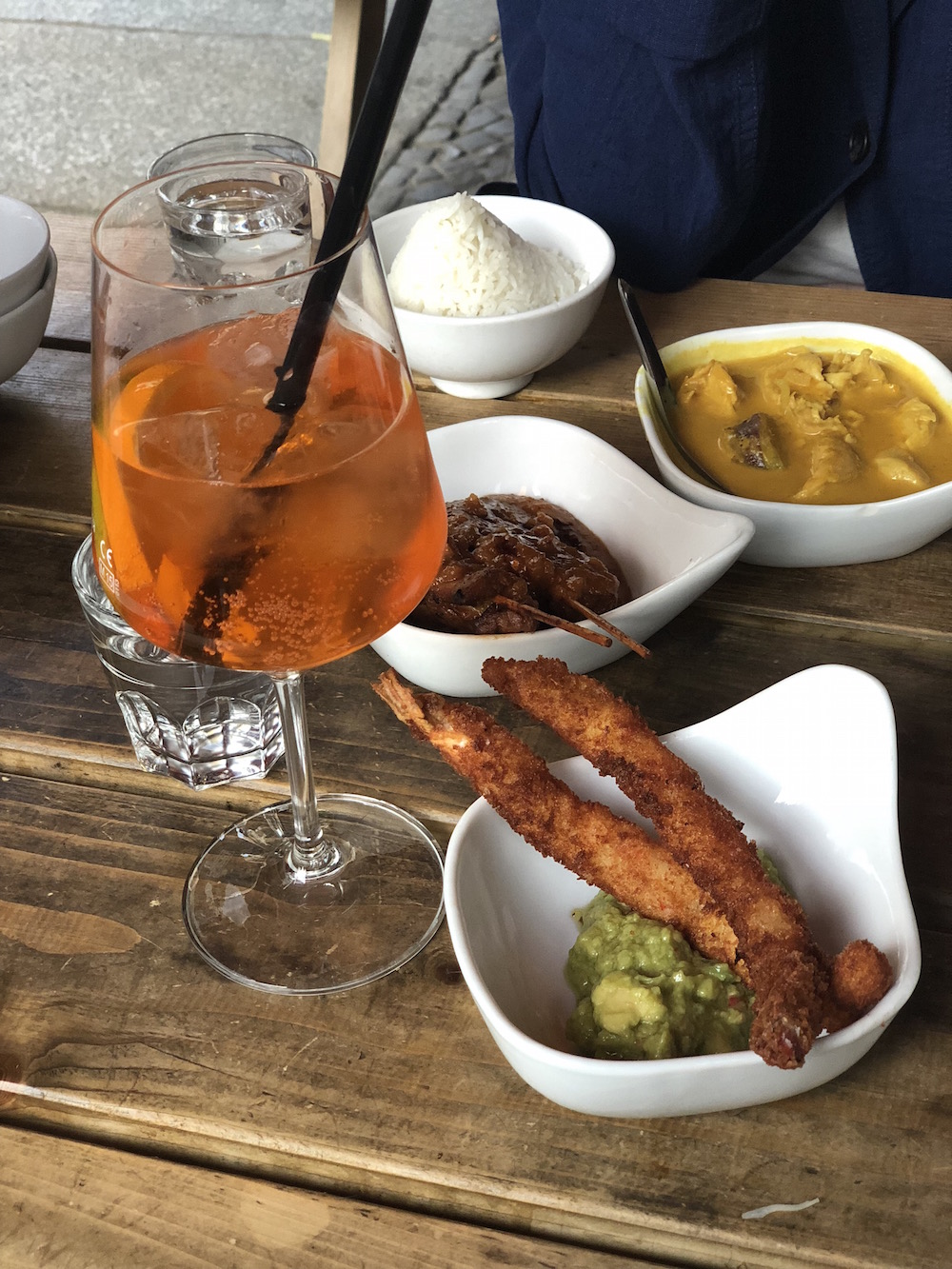 More eating! Berlin has so many amazing restaurants, though I seldom try new ones as I have a list of around 20 favorite spots that I always come back to…. Not good. No, I actually try always squeezing in a visit to one or two new restaurants whenever I'm in Berlin. This time it was The Future Breakfast. Here, dinner at Transit, another favorite. It is Asian tapas and you get to choose between around 20 dishes, 3,5 euros each. Amazing concept! Oh, and an Aperol spritz after a long day of exam writing 😉 
Mere mad! Der er så mange fantastiske restauranter i Berlin, og det er så billigt at gå ud at spise. Jeg har omkring 20 yndlingsrestauranter i Berlin, som jeg altid vender tilbage til. Ikke så godt. Derfor har jeg en aftale med mig selv om, at når jeg er i Berlin, skal jeg prøve mindst én ny restaurant. Denne gang var det morgenmad hos The Future Breakfast. Her spiste vi aftensmad hos Transit, der er en af mine yndlingsrestauranter i Berlin. Her får man asiatisk tapas serveret i små portioner. Du vælger mellem cirka 20 retter, det er oplagt til at dele, og hver ret koster 3,5 euro – altså omkring 25 kroner…. Vi skyldede maden ned med en velfortjent Aperol spritz efter en lang eksamensskrivnings-dag.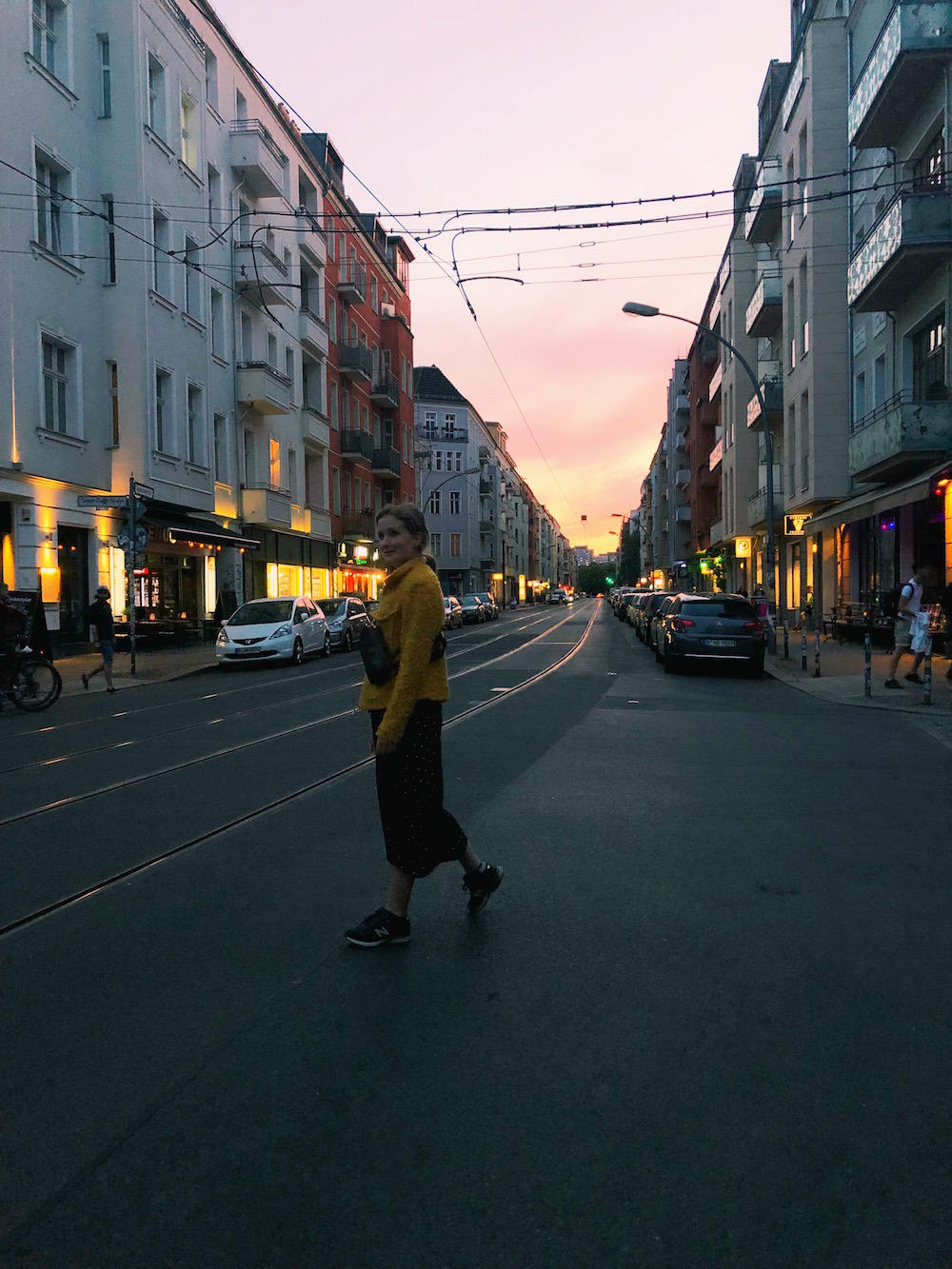 Sunset in my street in Berlin <3 
Solnedgang på min gade i Berlin <3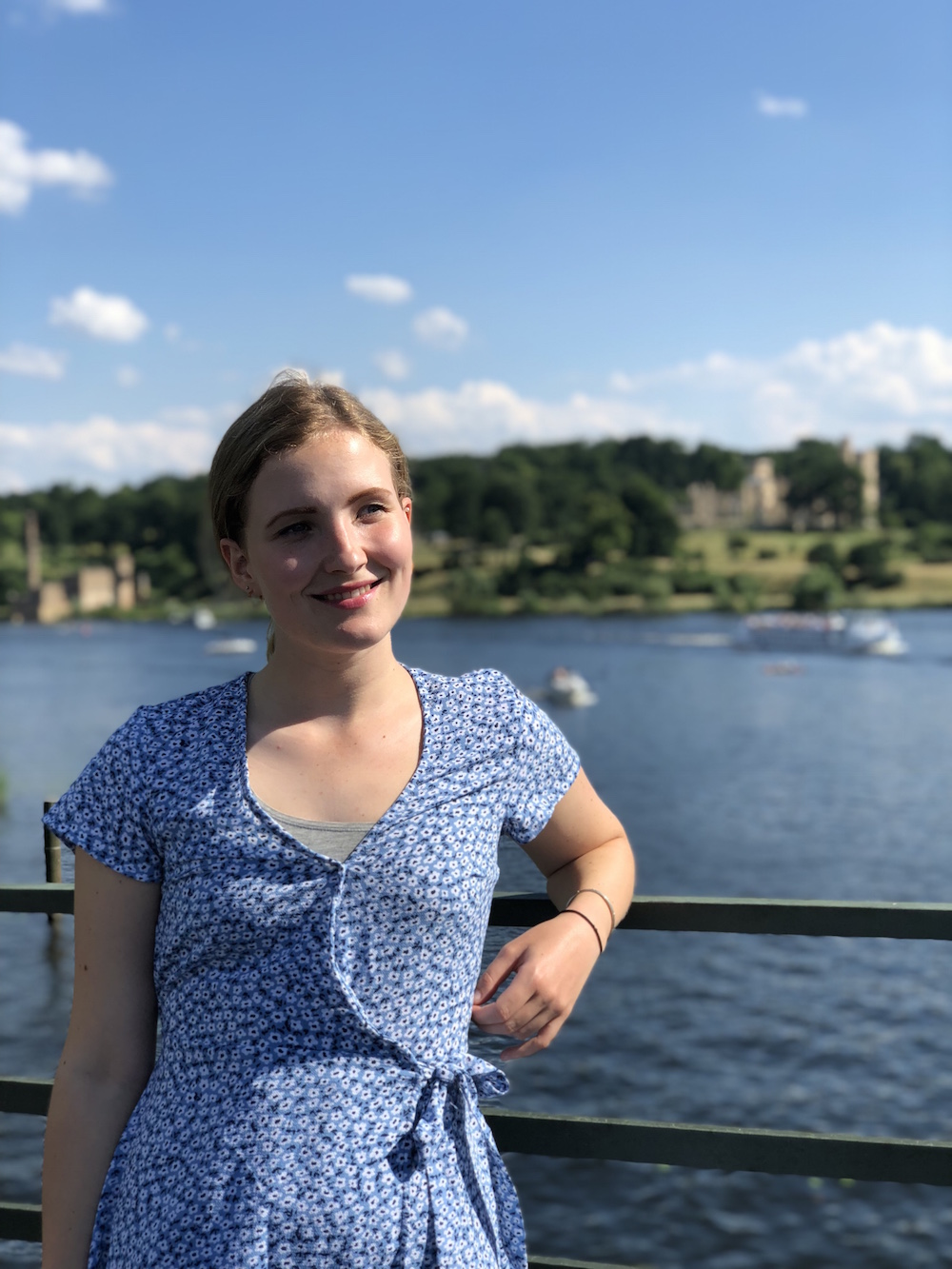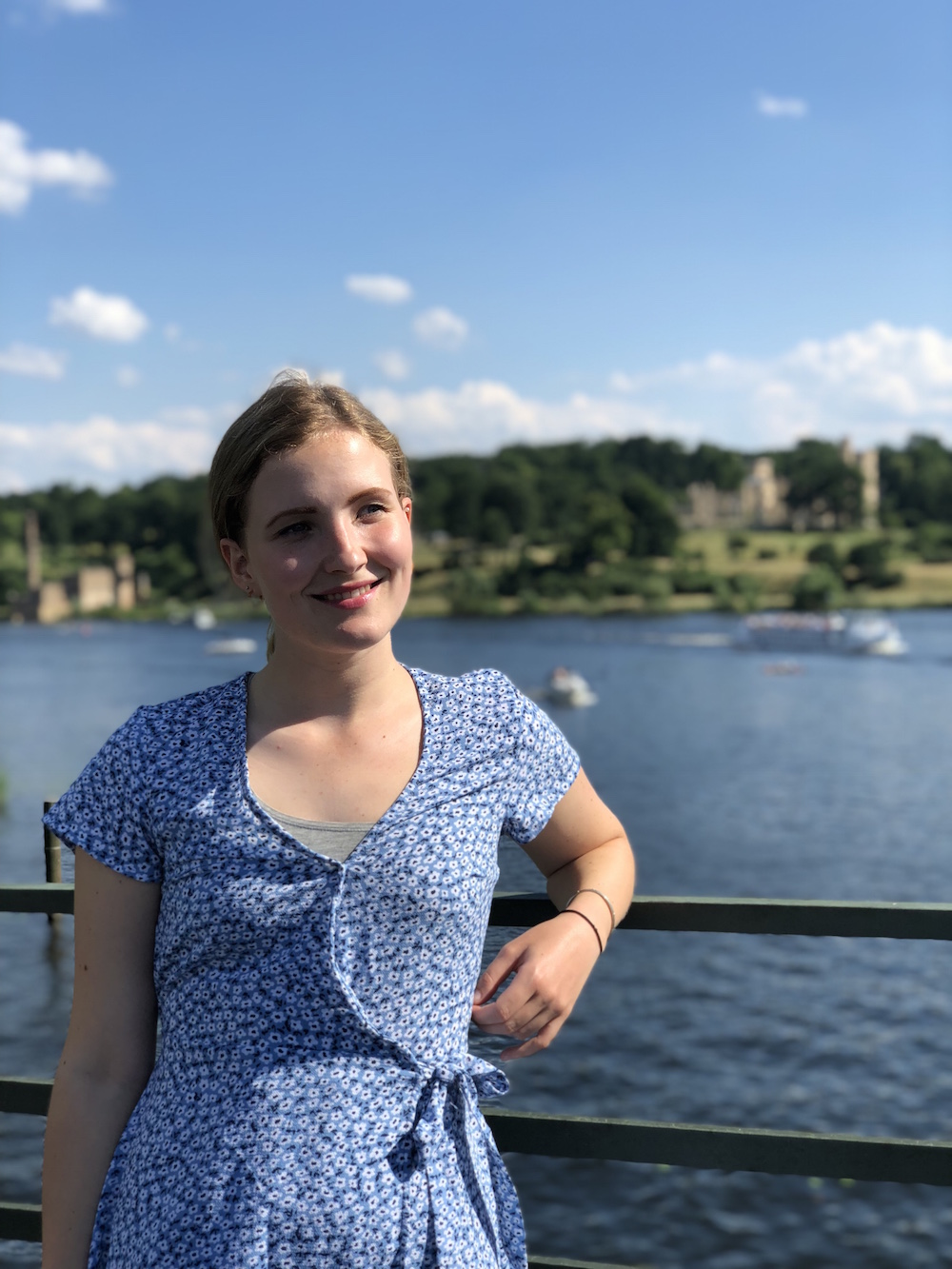 When the weekend came, Caroline went back to Copenhagen and swapped with my parents that drove down to Berlin. They love Berlin and have visited at least 20 times while I lived there. Whenever they visit, we always make sure to explore something new. I don't understand how we can keep exploring new places and things, but it is possible! Berlin has so much to offer. This day, we drove to Potsdam and Wannsee, and it was such a good day. 
Og da det blev weekend, tog Caroline hjem og byttede plads med mine forældre. De elsker Berlin og har været på besøg i hvert fald 20 gange, mens jeg boede der. De kommer altid i bil, og derfor er det oplagt, at vi kører ture og oplever noget nyt af Berlin, når de er her. Denne gang var ingen undtagelse. Jeg er også forbløffet over, hvordan jeg efter tre år som bosat i byen og et utal af besøg, kan blive ved med at opleve noget nyt. Vi kørte på dagstur til Wannsee og Potsdam, og det var helt vidunderligt.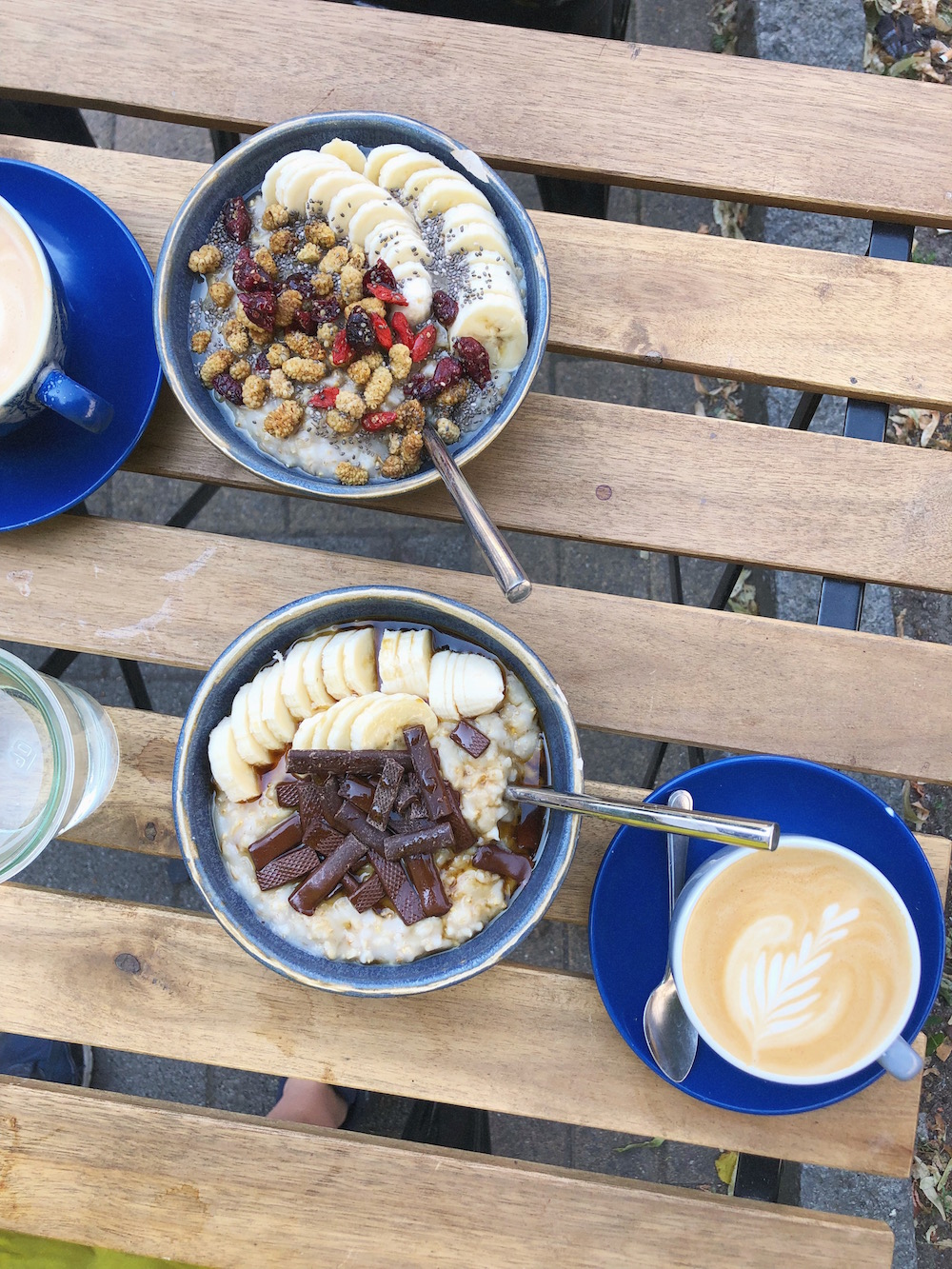 Time to eat yet again; breakfast at another favorite, Haferkater in Friedrichshain. 
Tid til endnu et måltid. Morgenmad hos en anden favorit, Haferkater i Friedrichshain, der serverer grød i GRØD-standard og god kaffe.
Saturday in Berlin with my parents has a strict routine, and it always starts with a walk around the Saturday market at Boxhagener Platz. This time was no exception. 
Lørdag morgen når mine forældre er i Berlin, er helt fastlagt. Vi skal nemlig altid forbi lørdagsmarkedet på Boxhagener Platz, hvor lokale sælger økologiske grøntsager og frugt, blomster, hjemmestrikkede strømper og andre yndige ting. Et must i Berlin!