One month late, but better late than never, right? I arrived Friday night a bit nervous if they were gonna let me in on my new, shiny visa (always a reason to be a bit paranoid about American customs, right?), and could finally breathe when I was both let into the country and my suitcase arrived! After having experienced that my suitcase never arrived a few times, I am always a tad scared that it will not arrive at the destination at the same time that I do, haha!
I was excited to get to the new apartment my boyfriend found for us, only to have him tell me to go to a different address. I find out that the apartment is not ready for us yet. We are staying at a hotel instead. I got a bit upset with him after finding out because I was excited to go to the apartment and as a person who likes to be in control, I wasn't happy with the last minute change of plans, wishing he had told me that the apartment wasn't ready yet before the moment I land in NYC. He thought I should just be happy to stay at a hotel. A classic conflict because we couldn't really understand each other's point of view. We got over it and were so happy to be reunited after 2,5 months, a cafe opening and a melanoma surgery later.
Here are a few photos from my first days in NYC!

En måned forsinket, men bedre sent end aldrig, ikke? Jeg er nu i New York, yeeessss! Jeg ankom fredag aften, lidt nervøs og stresset. Dagene op til havde været vilde. At være rask for nu efter en måneds modermærkekræft-behandling, for så derefter at have to dage til lige at flytte til New York, købe flybillet, sygeforsikring, være til tandlægen og få en større behandling (ups! Husk at gå til tandlægen regelmæssigt er alt jeg kan sige…) pakke og ompakke, fordi jeg i sidste øjeblik finder ud af, at jeg kun må have 20 kilo med i min kuffert hos Norwegian, og det var for sent at booke flere kufferter.
Så landede jeg i New York, indrømmet var jeg lidt nervøs for om de ville lukke med ind med mit nye, skinnende visum, og derefter om min kuffert ville ankomme. Jeg har tilpas mange gange oplevet, at min kuffert ikke dukkede op, og derfor er jeg altid lidt bange for, om den kommer frem.
Jeg var så spændt på at køre mod den lejlighed, min kæreste havde fundet til os. Men da jeg står og venter på bilen, skriver han, at jeg skal tage til en anden adresse i stedet. Jeg undrer mig og kommer frem til et hotel. Lejligheden er åbenbart ikke klar endnu. Jeg bliver skuffet og fortæller ham, at jeg ville ønske, at han havde givet mig besked i lidt bedre tid. Jeg havde virkelig glædet mig til endelig at kunne slappe af og flytte ind efter ni måneder hver for sig. Og jeg kunne egentlig heller ikke helt overskue at leve i en kuffert mere, for det havde jeg jo allerede gjort i knap seks uger. Han blev fornærmet og kunne ikke helt forstå, hvorfor jeg ikke bare kunne nyde at bo på hotel. En typisk konflikt hvor vi ikke helt kunne forstå hinandens synspunkter. Nå, jeg kom over det og glæder mig nu til at vi forhåbentligt snart kan flytte ind. Derudover var det helt fantastisk at være forenede igen efter 2,5 måned væk fra hinanden.
Her er lidt billeder fra mine første dage i New York. <3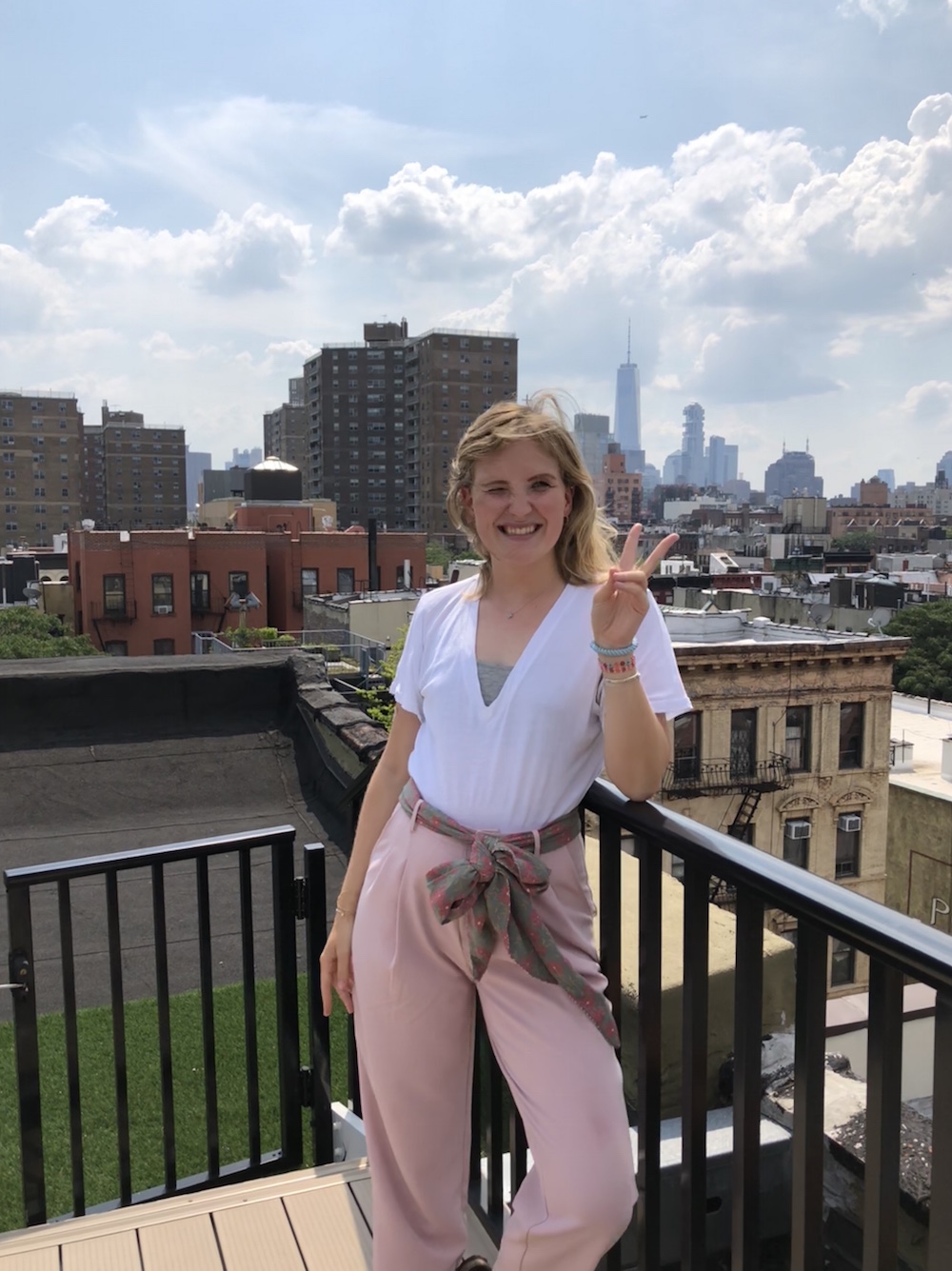 A happy girl that arrived in NYC. It is crazy hot here, but at least they have air-condition. My best friend from high school is here for the summer too, and she is staying in East Village with the craziest rooftop terrace views. 
En meget glad udgave af mig, der endelig er ankommet i New York og kan trække vejret liiiiidt dybere ned i maven. Selvom det tager tid at komme sig over det chok, juli-måned serverede mig. Det har på mange måder ændret mit liv. Jeg skal lige lære at deale med de tanker, det har ført mig sig, at jeg skal være ekstra-ekstra opmærksom på min hud og mit helbred, og så skal jeg lære at deale med, at jeg går og er bange for, at der skal ske mig og mine noget.
Min bedste veninde fra gymnasiet er også i New York over sommeren. Hun tager et skuespillerkursus og bor i East Village med den sejeste udsigt fra bygningens rooftop.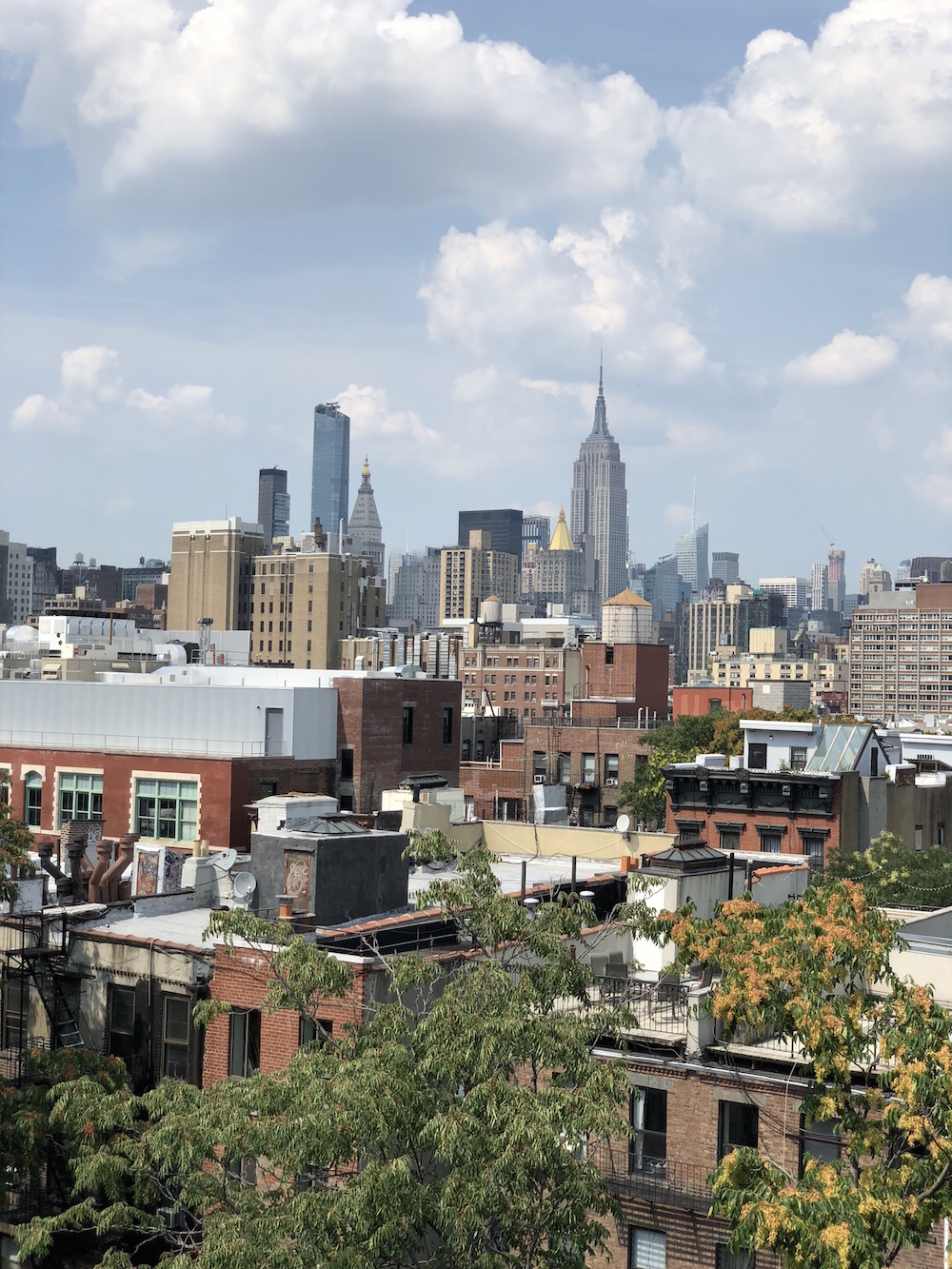 I mean, look at this view….. Is this real? 
Altså, se lige! Der er altså en grund til, at jeg nogle gange føler, at jeg er med i en film herovre.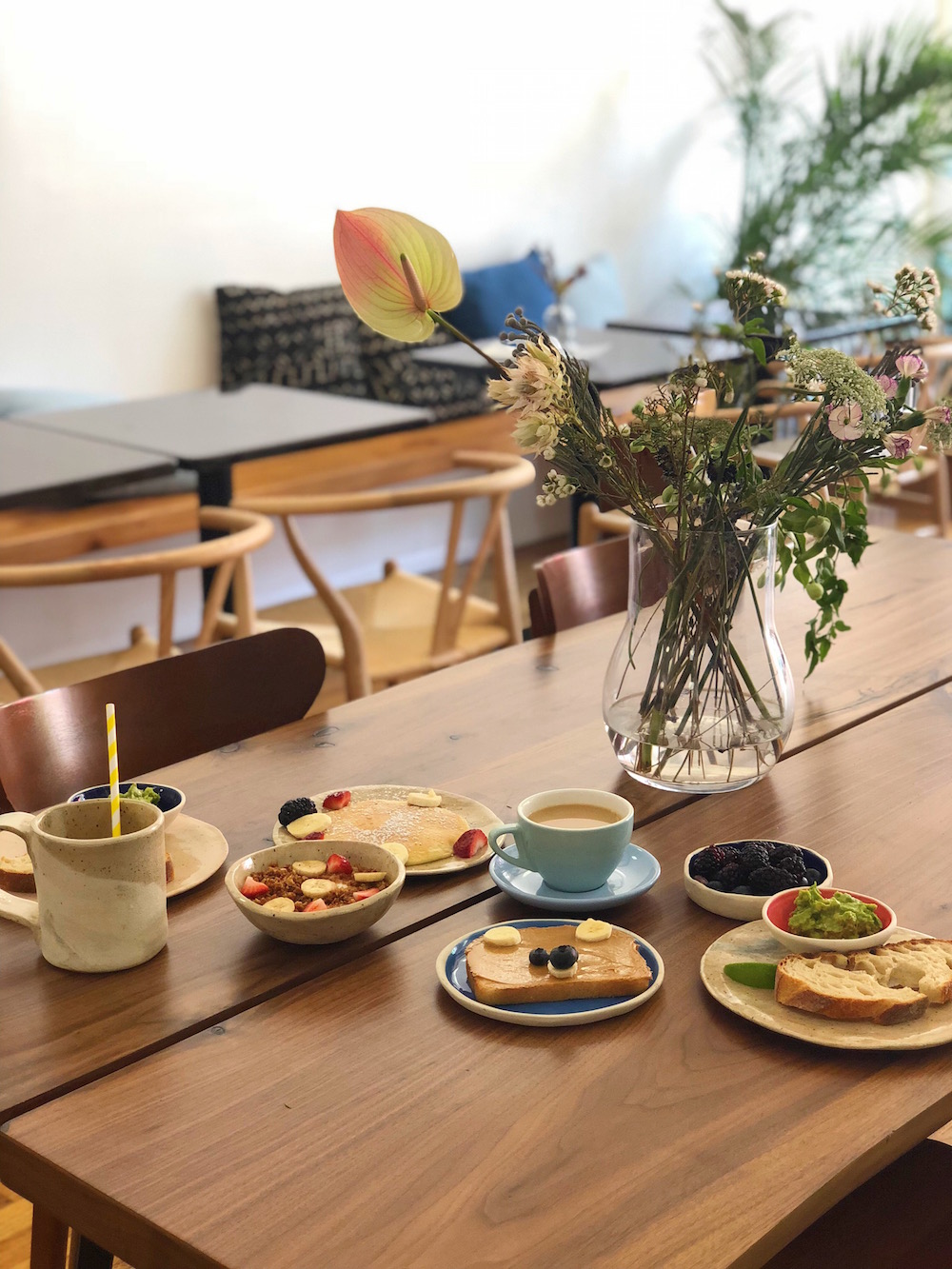 And then I finally got to see my boyfriend (or our!) cafe, Skål. I have a hard time saying 'our', but my boyfriend keeps correcting me. It was so surreal. It's done, it's open, and it's full of the nicest guests. And when I was at the cafe all weekend, they kept complimenting me for the decoration, and I sort of had to pinch myself because 'I actually did this! I actually decorated a NYC cafe. How crazy is that?! I am so happy and so proud of my boyfriend for having done all of the work it takes to open a business, a cafe, and I am so happy that it is going so well with the business already a month in. Also, the food tastes amaaaaazing. 
Og så besøgte jeg endelig min kæreste (eller vores) café, Skål. Jeg har det mærkeligt med at sige "vores" café, men han retter mig, når jeg siger 'hans'. Det var helt surrealistisk at træde ind i cafeen, der nu er åbnet, indrettet efter mit hoved, men bedre end jeg nogensinde kunne have drømt om. Den er åben, det er vores, den er fuld af søde gæster, og maden smager helt fantastisk. Jeg er nødt til at nive mig selv i armen, især når de søde kunder roser indretningen og stedet generelt. Jeg siger til mig selv "damn, jeg har faktisk indrettet en café i New York", men det er som om, jeg stadig ikke helt tror på det eller kan forstå det.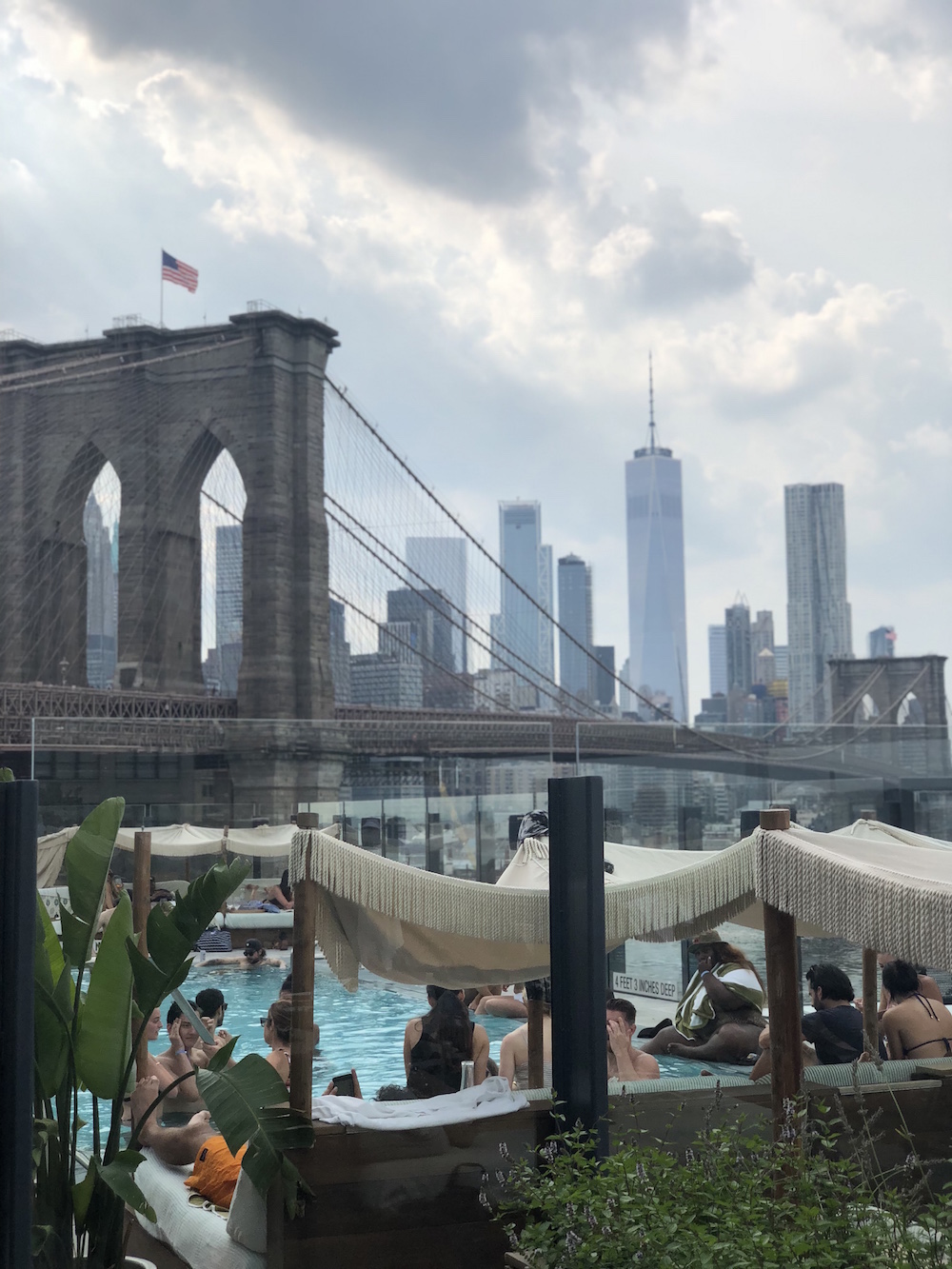 My boyfriend is working around the clock. It is no easy job running a café. He gets there at 6.30 in the morning and works till the evening depending on what time they close. On Monday, he did make time for a 30-minute break, so we met up by Dumbo House for an ultra quick dip in the pool. Again, it was like being in a movie. 
Og min kæreste knokler derudaf. Det er hårdt arbejde at have en café. Han er i cafeen kl. 6.30 om morgenen til om aftenen. I mandags mødte jeg ham dog til en halv times badning i Dumbo House, hvorefter han skulle tilbage til cafeen, og jeg skulle arbejde. Det gør dog ikke så meget med denne udsigt!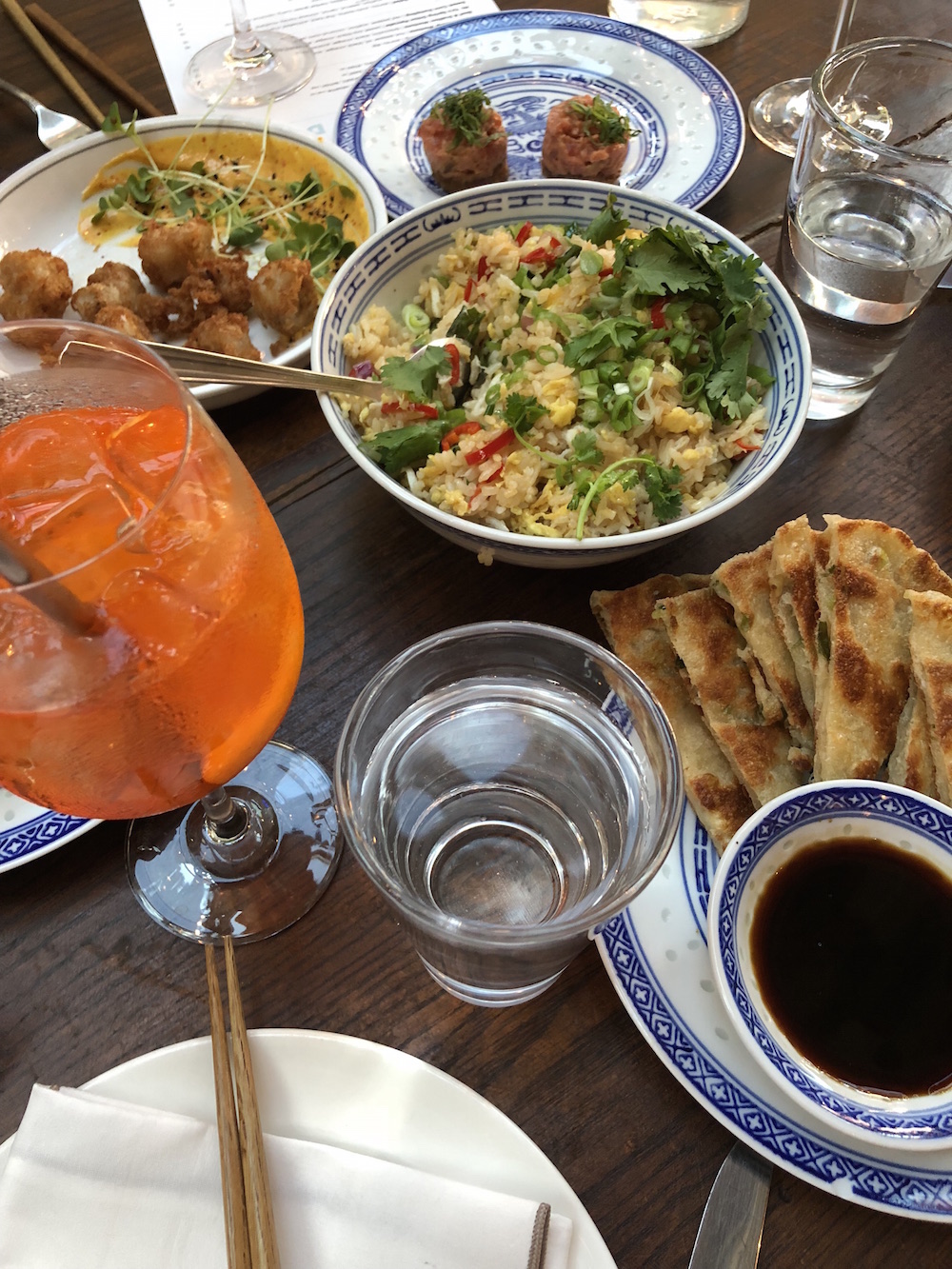 I can't eat all my meals in the cafe, so I've also enjoyed a few visits to other restaurants. Chinese food with my friend. So good! I'll likely try a lot of amazing NYC restaurants, as I am working for Tipster. Tipster is a Danish company that recently opened in NYC too. It is a combination of a food guide and a campaign site that offers food experiences at the best restaurants at a lower price. Check it out! 
Jeg kan jo ikke spise alle mine måltider i byen, så lidt andet god NYC-mad er det også blevet til. Her spiser jeg kinesisk med min veninde. Generelt får jeg nok oplevet en overflod af god mad i byen. Jeg arbejder nemlig for Tipster herovre, som jeg har introduceret her før. En dansk virksomhed der for et par måneder siden udvidede til NYC. Det er en hip madguide og kampagne-side, der giver tilbud til de fedeste restauranter og cafeer i både København og New York.