Phewwww…. And before I knew it, three weeks had passed and no update from me. Shame on me! I really, really, really need to step up this blogging game a little bit, and I want to! But then (and not to be all 'ohhh, let the whole world know how busy I am'). But I must say that moving to New York, starting a new 9-5 office job, running a café and decorating an apartment left me not prioritizing my 'write new blog post' on my to-do-list.
Time for a little update.
Og så gik der lige tre uger uden nogen som helst update eller nyt blogindlæg på Silverstories. Shame on me! Jeg skal virkelig steppe up mit blogging-game, især fordi jeg savner det! Og nu vil jeg ikke være den der "men jeg har bare såååå travlt", men imellem mit 9-5 kontorjob, caféen, at flytte til New York og indrette en tom lejlighed, har jeg nedprioriteret bloggen lidt. Der er ikke nok timer i døgnet, og det er svært at finde energien og inspirationen, når mine dage mest af alt består i at være på et kontor. Men det handler bare om, at jeg skal vænne mig til at finde inspiration på andre måder, for jeg holder så meget af mit lille hjørne af internettet.
Det er tid til en update!
To mark my move to NYC, I decided to get my hair braided. And I loved the result! Not only because of how it looked but because how easy it made my life. My hair was on fleek any time of the day. I took the braids out after 2,5 weeks, and I miss it! I'm definitely going to get it done again. 
For ligesom at markere min flytning til New York, gik jeg til en braid salon i Brooklyn og fik lavet fletninger. Det nev i hovedbunden og var lidt smertefuldt at sove med den første nat, men udover det så eeeeelskede jeg frisuren. Det var så rart ikke at skulle tænke på at sætte hår men bare at kunne stå op med hair on fleek. Og at have det væk fra ens svedige ansigt i +30 grader. For ikke at tale om hvor nice det var at fjerne make up – håret er automatisk væk fra ansigtet. Jeg tog fletningerne ud efter 2,5 uge, og jeg savner dem. Jeg skal helt sikkert have dem lavet igen!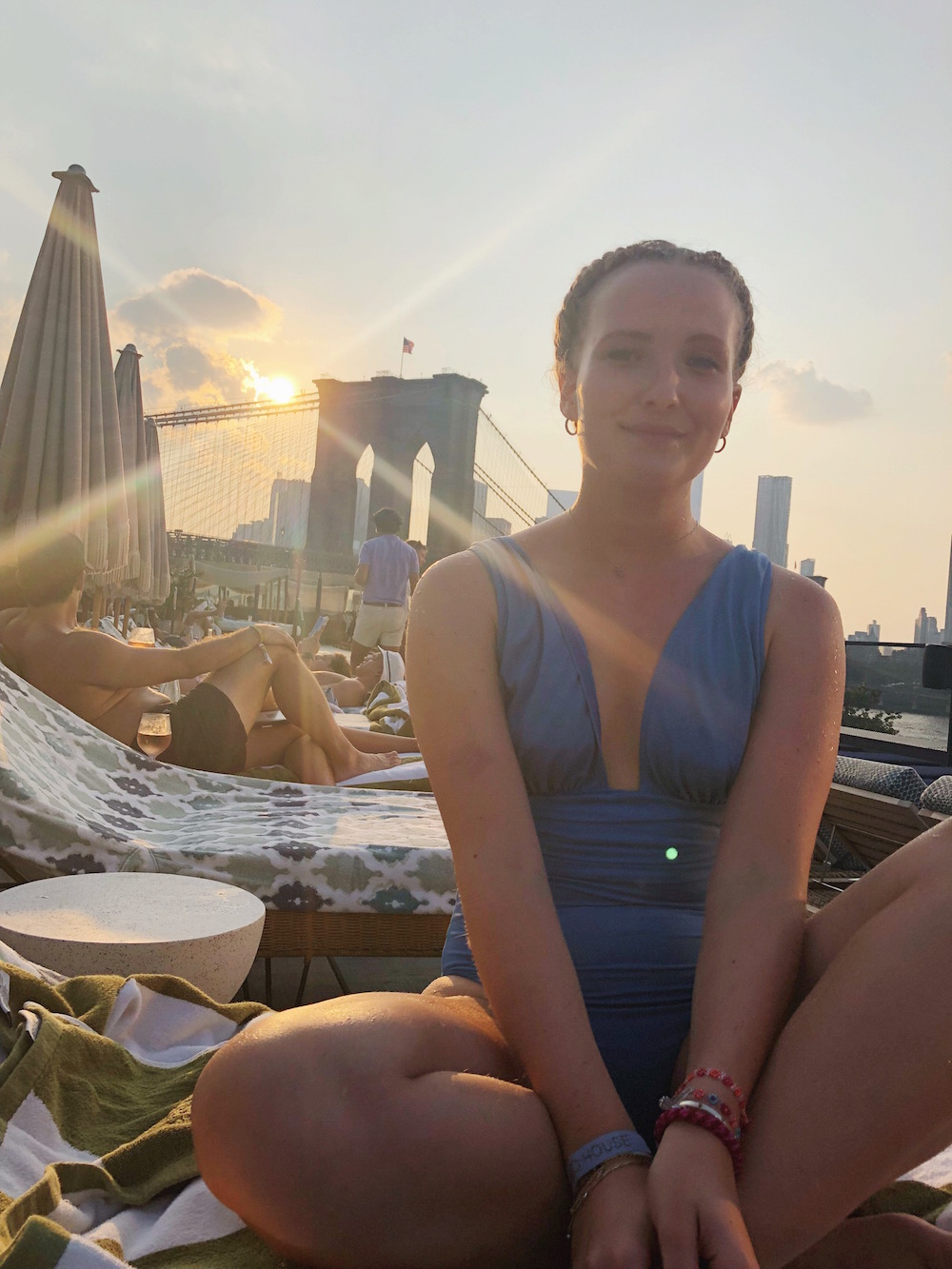 I'm enjoying NYC although it is still way too hot here. +30 degrees Celcius just isn't a good match for a Danish girl. Luckily, Jesus and I have access to a pretty awesome pool. We've been able to sneak in 30-minute after-work breaks and gone there for a quick dip in the pool.
Jeg nyder New York, selvom jeg brokker mig over, at her er alt for varmt. +30 grader og at være dansker går bare ikke hånd i hånd. I hvert fald ikke for mig. Jesus og jeg har dog en pool lige ved Brooklyn Bridge, som vi har fundet tid til at tage 30-minutters pauser ved. Lige tid nok til et 'quick dip' i poolen og så videre i programmet.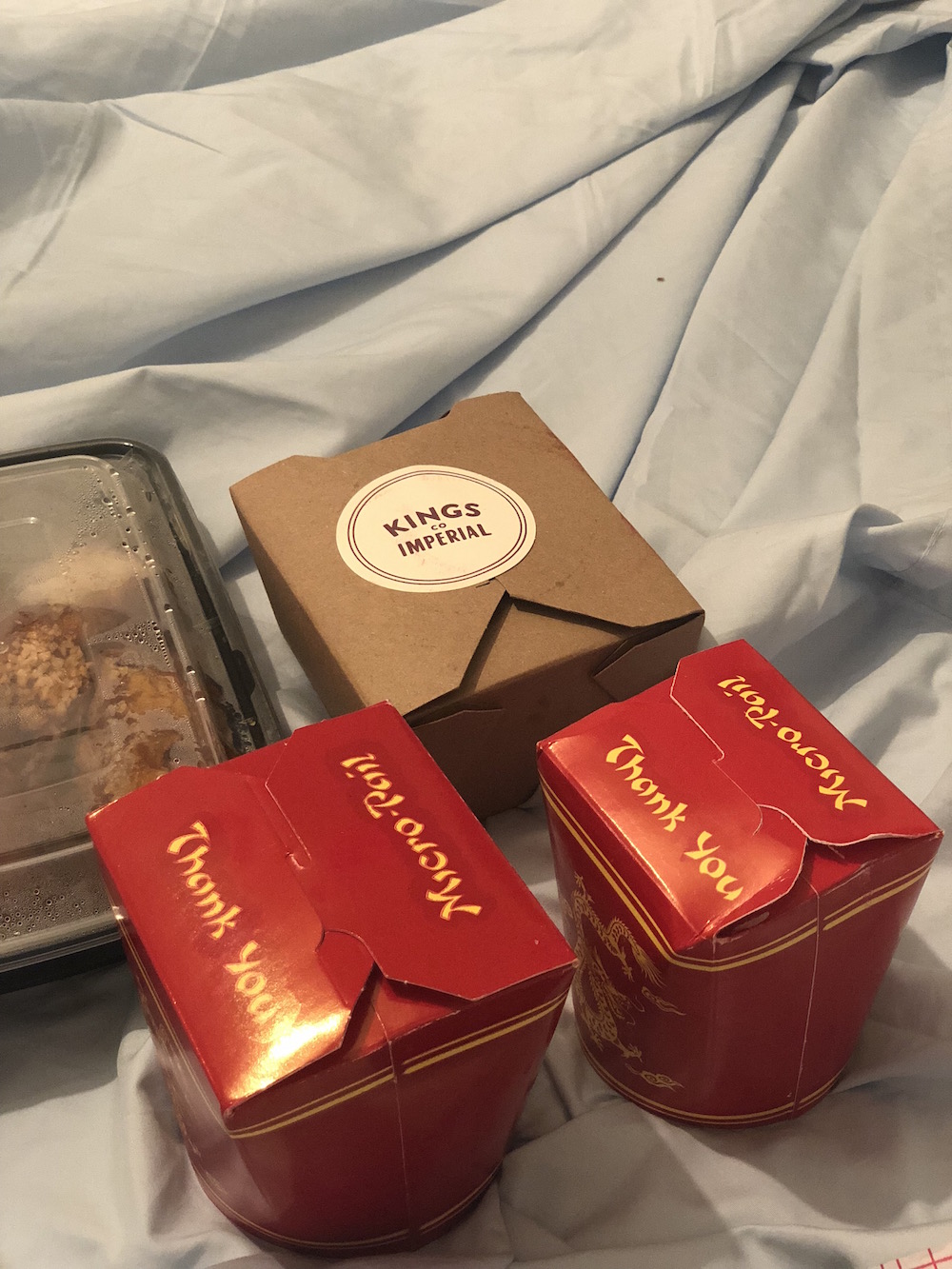 New York eating habits. There is soooo muuuuch good food in this city! Since I got here, I haven't been cooking a single time. Who am I kidding, I never cook – the thing is – Jesus hasn't been cooking a single time. We go to restaurants, eat with friends or order in. It's a bad habit but I understand he doesn't feel like cooking after being at the cafe +12 hours a day. I think once winter comes, we might need to change our eating habits a little bit and start cooking. 
New York-spisevaner. Der er så meget god mad i den her by! Mens jeg har været her, har jeg ikke lavet mad en eneste gang. Sjovt – for jeg laver aldrig mad. Det gør min kæreste – men han har hellere ikke lavet mad en eneste gang. Vi spiser ude, er sammen med venner eller bestiller mad. Ikke det sundeste og det kan jeg både se og mærke på min krop. Jeg går for tiden og tænker over en lidt smartere løsning, for jeg kan godt forstå, at Jesus ikke gider lave mad, når han har været i caféen hele dagen. Skal jeg mon til selv at lave mad?!…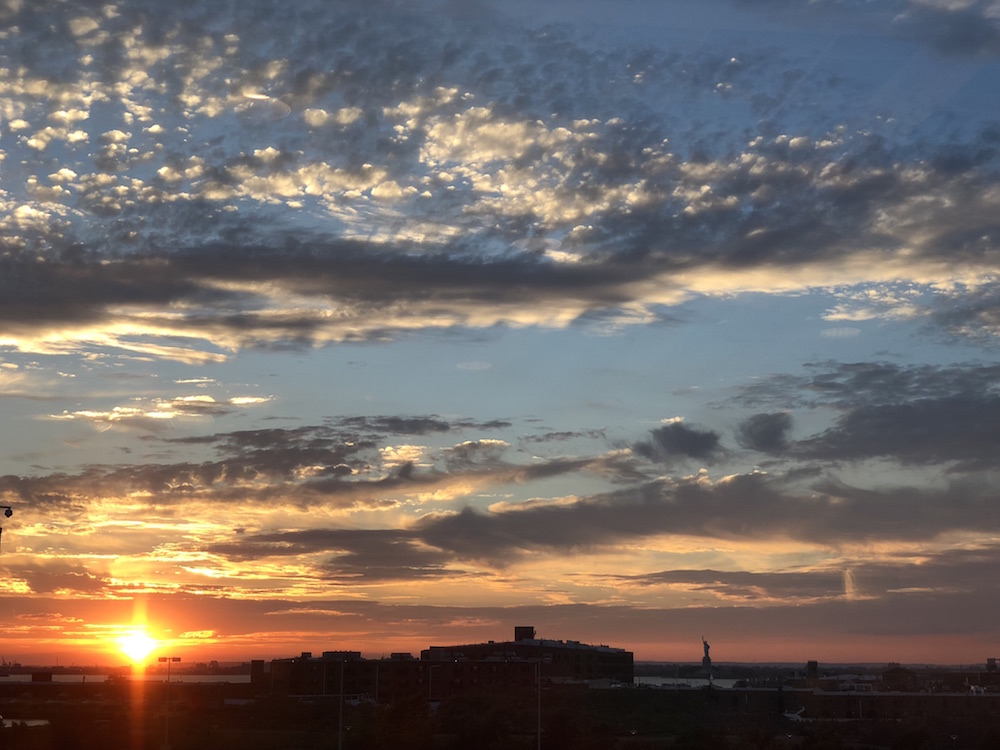 We are still in a very long not-really-getting-anywhere process of decorating our new Brooklyn home. The apartment is absolutely gorgeous, I love it here, but it doesn't feel like a home. As social as I am, I am still a person that needs a place where I can feel at home, so I can't wait to get to that point. On a Saturday night after closing the cafe, I forced Jesus to go to IKEA with me. He could definitely think of other things he'd rather do and made that very clear to me. We survived, although I got to think of a blog post I wrote 3,5 years ago about that same subject. The IKEA-test which turns out to be one the ultimate relationship test. Let's just say, we've survived a fair amount of IKEA tests by now. We got a few things for our bedroom, and so far, only our bedroom is decorated. We have a huge living room and a third half-room that are completely empty. At least, the NYC IKEA has a crazy view. Can you spot the Statue of Liberty? 
Vi er midt i en meget langvarig vi-kommer-ikke-rigtigt-nogle-vegne-indretningsprocess af vores nye Brooklyn-lejlighed. Lejligheden er så smuk, og jeg er glad for at være her, men det føles ikke som et hjem. På trods af at jeg er social, så har jeg i den grad brug for et sted, der føles som hjem. Hvor jeg kan slappe af og være mig selv. Jeg glæder mig altså helt vildt til at nå dertil, hvor jeg føler, at den nye lejlighed er et hjem. En lørdag aften efter vi havde lukket caféen, tvang jeg Jesus med en tur i IKEA. Der var mange andre ting, han heller ville have brugt aftenen på. Det fik mig til at tænke på et blogindlæg jeg skrev for over 3,5 år siden, da Jesus flyttede ind i min lejlighed i Berlin. IKEA-testen, som er den ultimative test et kærestepar kan gå igennem. Vi har overlevet en håndfuld IKEA-tests efterhånden, denne inklusiv. Vi fik købt nogle ting og sager, og nu har vi fået indrettet vores soveværelse. Vores stue og det tredje værelse, et mini-værelse, står stadig gabende tomme. I det mindste var der en helt vidunderlig solnedgang og udsigt fra NYC-IKEA. Kan du spotte Frihedsgudinden?
A picture from our bedroom. We moved into a classic Brooklyn brownstone on a beautiful street with all brownstones. They are beautiful and more than 100 years old. I grew up in a Copenhagen version of a brownstone in a house where my parents still live, so I feel at home in this kind of house. We have the top floor of the house and it includes a bathroom, bedroom, kitchen, living room, and a small room. From our bedroom and bathroom, we have a full Manhattan skyline view to remind me where I am 😉
Et billede fra vores soveværelse. Vi bor i en klassisk Brooklyn brownstone – de er vel egentlig New Yorks udgave af kartoffelrækker. Så smukke og over 100 år gamle rækkehuse. Vi har den øverste etage i lejligheden, der råder over badeværelse, soveværelse, køkken, stue, et lille værelse og en gang. Og selvom vi bor i Brooklyn, har vi den vildste udsigt over hele Manhattans skyline, inklusiv Empire State Building og Freedom Tower.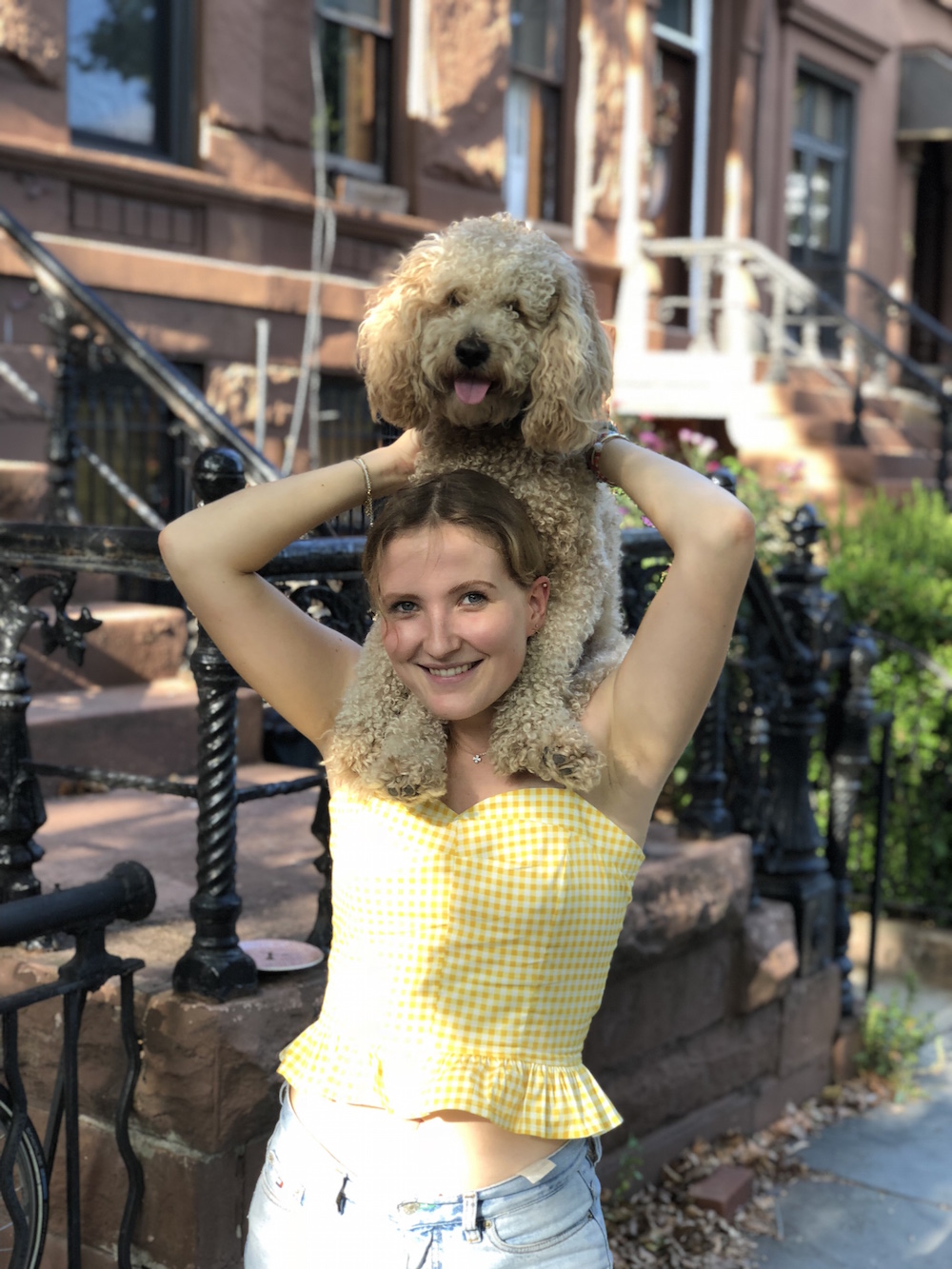 Choco, the cutest little golden doodle that I got to dog sit for a long weekend, while his owners were in Copenhagen. He was full of energy and I got my share of a workout by walking him. 
Her er Choco, en skøn krøllet energibombe af en hund. Han er en goolden doodle, og jeg passede ham i nogle dage, mens hans ejere var i København. Jeg fik gået nogle lange ture og mærkede hvor meget jeg savnede min egen hunni, Carla, der døde som 13-årig for snart et år siden </3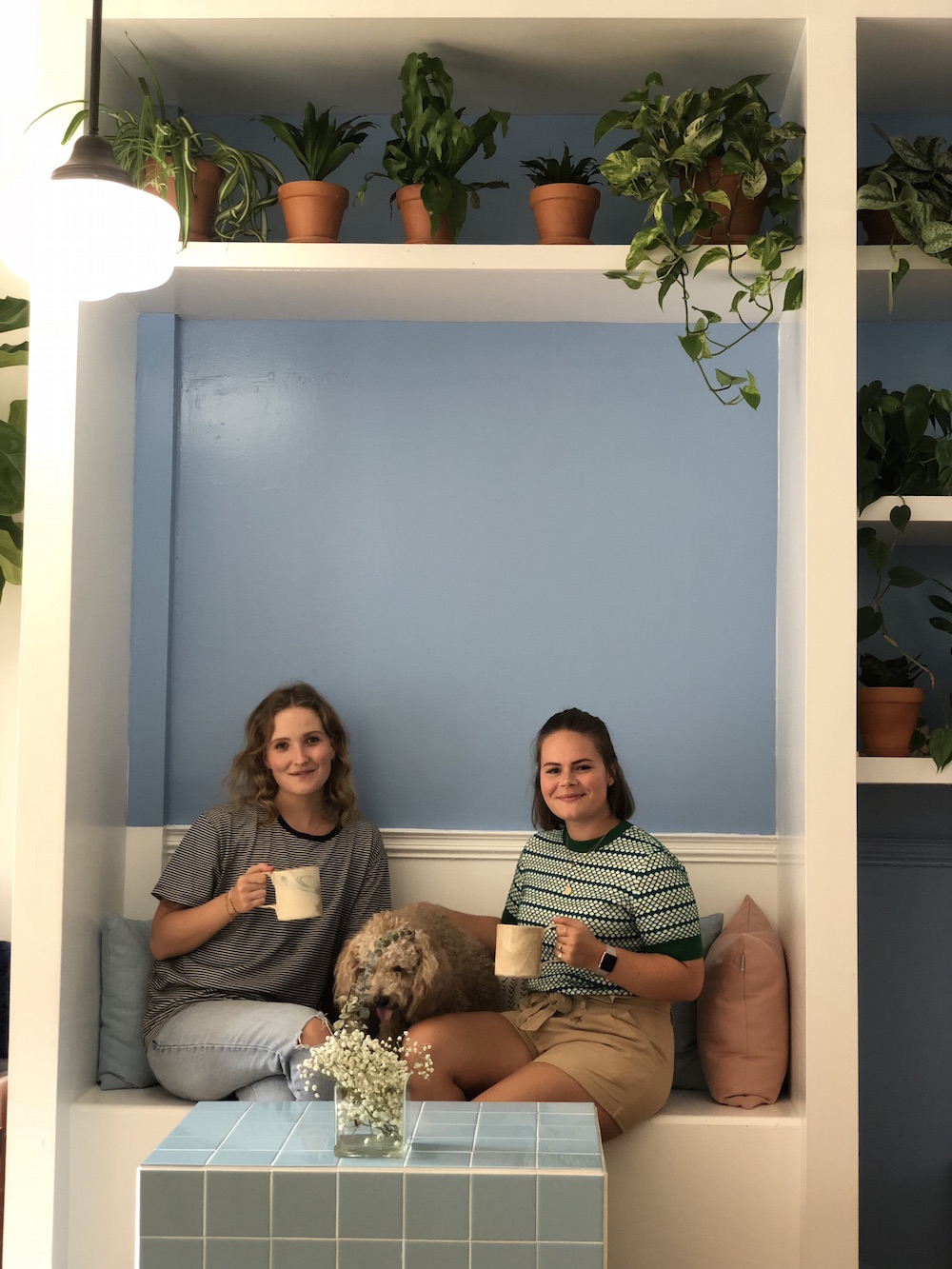 And Christina is back! My best NYC friend. We met just a few months ago, but we instantly clicked and it feels like I've known her forever. I think we became close so quickly because we are in the same boat. We share interests, both come from Denmark, and are both dating NYC men. When I am having difficulties with the NYC culture or what goes hand in hand with being with someone from another culture, she just gets me in a way that some of my other friends wouldn't. 
Christina er tilbage! Min bedste ven i NYC. Vi har kun kendt hinanden i et par måneder, selvom jeg egentlig føler, at jeg har kendt hende meget længere, fordi vi bare klikker. Vi er hurtigt blevet tætte. Jeg tror det har noget at gøre med, at vi på mange måder er i samme båd. Danske piger, der bor i New York og er kærester med real New Yorkers dog med familier fra Karibien og Sydamerika. Når man er i et interkulturelt forhold er det rart med en veninde som hende, der fuldstændig forstår mig, fordi hun selv er igennem det samme. <3 Og ikke mindst er det rart at have en at tale dansk med, når man er så langt hjemmefra 😉