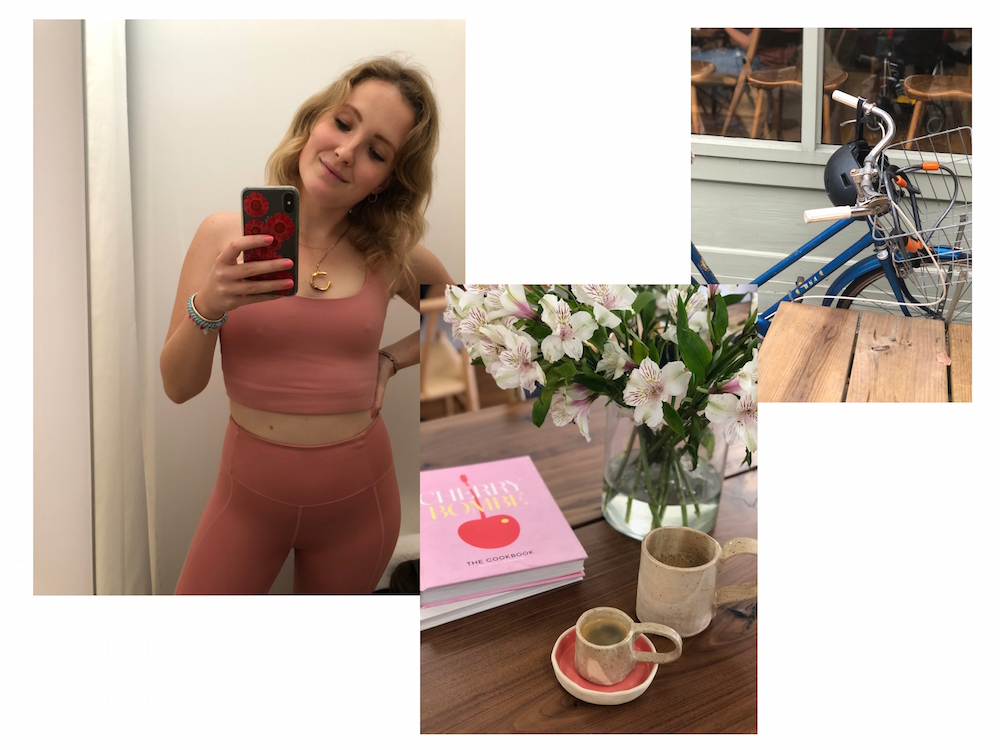 The week where NYC went from being +30 degrees, humid and sweaty to raining non-stop, still humid though. Lots of work like always, wouldn't want it any other way. But I also did other things. Here are 8 things I did this week.
♥ I did yoga! After not working out for two months, I've done two classes of sculpt yoga. I can tell that I need to get back in the game of working out and that my scar from surgery hurts when I move, so I have to be careful, but working out again felt so good.
♥ 'Married at first sight' season 5 is back on Danish TV and I looooooove it. When the last season was on a year ago, I would spend hours at school discussing everything that happens on the show and the different personalities with my schoolmates.
♥ Read this article that R'el and Marcus did on our cafe, Skål. It makes me immensely happy, frankly, I can't quite understand it and need to pinch myself.
♥ Went to King's County Imperial, a genius Chinese restaurant in Williamsburg. I didn't go just once, I went twice. That's how good it is.
♥ Added on my to-do list that I have to do a blog post about my favorite NYC restaurants.
♥ Wrote a personal blog post about finding myself after moving to a new country.
♥ Decided that I really want to commit to only buy vintage and second hand. I haven't shopped for two months through July and August, and then a few days ago, I bought four items in Zara. I do think that I will return it because honestly, it doesn't feel good to me to shop there.
♥Bought a bike and a bike helmet! I miss biking so much, and the 50-minute commute I do every day to get 4,5 kilometers just seems stupid. Wish me luck biking in crazy NYC!

En uge i New York hvor vi gik fra +30 graders ekstrem hede og overdrevet luftfugtighed til non-stop regn, dog stadig mega fugtig-klamt. En uge der har stået på en masse arbejde, men selvfølgelig også plads til andet sjov. Her er otte ting, jeg har lavet denne uge.
♥ Jeg trænede! Efter knap to måneder uden. Jeg har været i det lækreste yoga-studie, der havde en gratis uges træning, og jeg har været af sted hele to gange. Træningen var en kombination af yoga og hård træning – perfekt for mig. Jeg glæder mig til at komme tilbage til min gamle form, selvom jeg kan mærke, at jeg er nødt til at tage den lidt med ro efter min operation. Bevægelse gør nemlig ondt i mit ar.
♥ Gift ved første blik! Enough said. Mit yndlingsprogram er tilbage med en ny sæson, og jeg elsker det. Sidste år brugte jeg timevis på studiet på at diskutere programmet og de medvirkende ned til mindste detalje med alle mine medstuderende. I år har jeg ikke nogle at diskutere programmet med 'live', men jeg nyder det stadig alene!
♥ Læste denne artikel, som 'The Place I Was Telling You About' har skrevet om vores café, Skål. Det er stadig sådan 'niv-mig-i-armen'-agtigt, når jeg ser flotte billeder og andre mennesker, der skriver om caféen.
♥ Spiste hos King's County Imperiel, en kinesisk restaurant i Williamsburg, ikke bare én gang, men to gange. Så godt er det! Det mindede mig om, at jeg skal skrive et blogindlæg om mine absolut yndlingsrestauranter i NYC. Det er tilføjet til to-do-listen.
♥ Jeg var i biografen i Brooklyn og så 'Fucking Åmål'. Kan I huske den film? Så sjovt et gensyn.
♥ Jeg skrev et meget personligt indlæg om at finde sig selv efter at være flyttet til et nyt land. Noget jeg gennemgår for tiden.
♥ Besluttede mig for at jeg fremover vil købe størstedelen af mit tøj brugt. I april holdt jeg en måneds shoppestop, og det gik overraskende let. I juli og august gjorde jeg det igen. For et par dage siden shoppede jeg fire items i Zara, og da jeg kom hjem og kiggede på tøjet, fandt jeg ud af, at mine køb ikke gjorde mig glad. Jeg tror, at 'now is the time', at jeg begynder at shoppe genbrug og vintage. Det er bedre for miljøet og bedre for pengepungen.
♥ Købte en cykel. Og en cykelhjem hvilket er ret stort for mig! Jeg har haft mine betænkeligheder ved at skulle cykle herovre, men jeg blev så træt af min daglige subway-tur på 50 minutter, på trods af at der kun er 4,5 kilometer til mit kontor. Nu er jeg en brugt havelåge og en cykelhjelm rigere, og jeg er så småt begyndt at vænne mig til at cykle herovre.