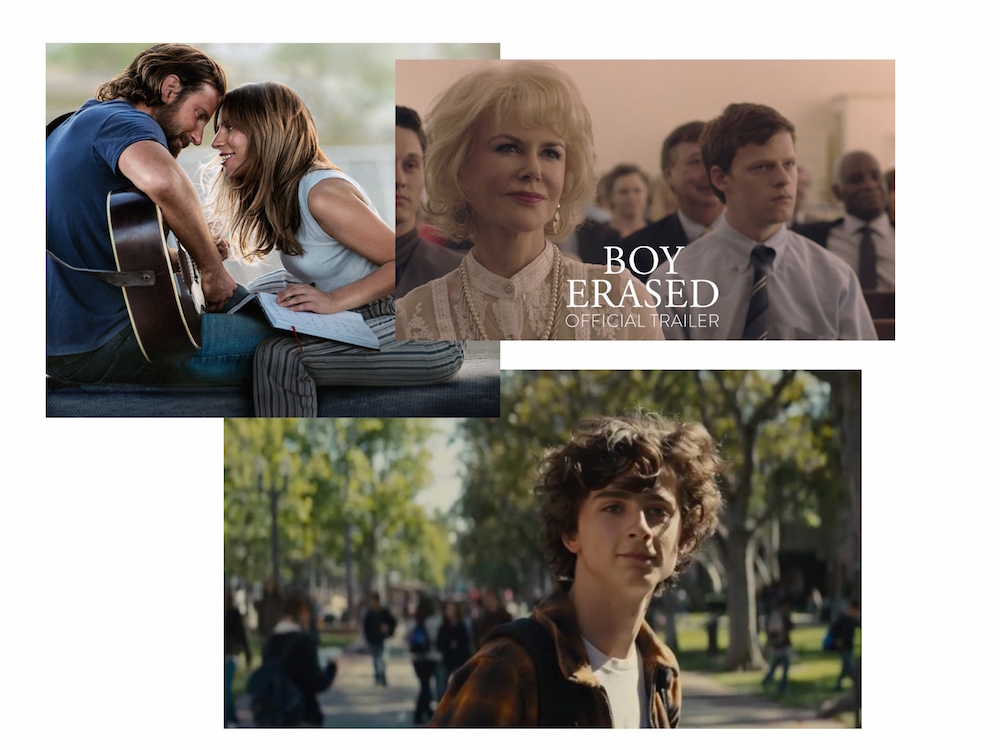 Up until just four months ago, my boyfriend and I had been to the movies twice. After dating for almost four years. And then it completely changed, and the past four months, we have sort of become movie-addicts. And not only Netflix, but actually going on movie theater dates. With a busy cafe-schedule, our nights are usually off and while being low on energy, going to the movies is the perfect activity. We've watched 'I, Tonya', 'Tully', 'Mamma Mia' (I did watch this with my friends and not my boyfriend, haha!) 'Eight Grade', 'Crazy Rich Asians' and 'Fucking Åmål' (Show me love) to name a few. We go to theaters in Brooklyn, either Alamo Drafthouse in DT Brooklyn or Nighthawk Cinema in Williamsburg. What they have in common is that they serve food — can you imagine something better? Watching movies in the cinema while being served food and drinks? So perfect.
Here are three movies that are coming out in the next month that we are definitely going to watch!
A star is born (out October 5)
I am not quite sure I can get my boyfriend to watch this one with me as it is a musical. As big a fan of musicals I am, he isn't. Maybe it helps that the cast contains Bradley Cooper and Lady Gaga. Not only does Cooper play in the movie. He also wrote, produced and directed it. I saw the trailer and it gives me Dream Girls vibes, which is one of my all-time faves. My birthday is on October 6, so maybe I can talk him into taking me if that is my argument 😉
Beautiful boy (out October 12)
Did you watch 'Call me by your name'? Did you love it? And did you particularly love the actor, Timothée Chalamet? I did! He stars in Beautiful Boy (I have a feeling we will all be seeing him in a ton of movies in the future) together with Steve Carell. The movie is based on the book and true story by the same title and depicts Nic (Chalamet) a well-functioning boy that falls into a meth addiction. Critics say it is beautiful and emotional, and I look forward to seeing Chalamet shine again.
Boy erased (out November 2)
Also based on a true story, 'Boy erased' is a powerful coming-of-age movie starring Lucas Hedges who plays Jared and Nicole Kidman as Jared's mom. Jared and his family are religious, the father is the Baptist pastor. It doesn't quite fit with their values and religion when Jared's parents find out that he is gay. He is confronted with an ultimatum – attend a gay conversion therapy program or to leave his family, friends, and faith. I have a feeling that this is the kind of movie that will leave you tearing up.
De første tre år med min kæreste, var vi i biografen sammen én gang. Vi så Hunger Games (jeg tror den tredje eller fjerde i rækken), var begge jetlagged og faldt i søvn. Ikke den største succes. Og derefter droppede vi biograf-dates. Det har dog ændret sig de sidste fire måneder, og vi har været i biografen rigtig mange gange. Vi er faktisk blevet lidt afhængige. Vi har set 'I, Tonya', 'Tully', 'Mamma Mia' (den sprang min kæreste dog over, og jeg så den med mine veninder i stedet, til hans store glæde, haha!) 'Eight Grade', 'Crazy Rich Asians' og 'Fucking Åmål'.
Når vi har været i caféen og på arbejde hele dagen, er vi trætte om aftenen og orker ikke de store aktiviteter. Her er en tur i biografen perfekt. At synke tilbage i de store, bløde sæder og drømme sig væk fra en travl hverdag og ind i filmens univers. Og vi har to biografer, vi besøger. De ligger begge i Brooklyn, den ene Downtown og den anden i Williamsburg. Og det helt vilde er, at to biografsæder deler et bord, og at der er en mad- og drikkemenu, man kan bestille fra. Således får man dinner + a movie i sin ægte form, og det er helt perfekt. Gode film og mad på samme tid, så bliver det altså ikke bedre.
Her er tre film jeg glæder mig til at se i biografen dette efterår 
A star is born (out October 5)
You had me at musical! Jeg eeeeelsker musicals, min kæreste knap så meget. Men måske jeg kan hive ham med på grund af castet – i hovedrollerne er Lady Gaga og Bradley Cooper, der desuden også har skrevet, instrueret og produceret 'A star is born'. Jeg så traileren, der giver med 'Dream Girl'-vibes – Lady Gaga i rollen som struggling sanger, og Cooper som manager, der skal vise hende vejen til stjernerne. Jeg glæder mig!
Beautiful boy (out October 12)
Fik du set Oscar-darlingen 'Call me by your name'? Var du vild med den? Og hvad med skuespilleren i hovedrollen, Timothée Chalamet, der hurtigt stjal alles hjerter? I 'Beautiful boy' får vi gensyn med ham i rollen som Nic, en velfungerende ung mand, der ryger ind i et meth-misbrug. I rollen som hans far er Steve Carrell, og kritikere roser dem begge. 'Beautiful boy' er baseret på bogen af samme navn, der dækker en sand historie.
Boy erased (out November 2)
En anden 'based on a true story'-film. 'Boy erased' er en stærk coming-of-age film med Lucas Hedges i hovedrollen som Jared og Nicoline Kidman som hans mor. Jared kommer fra en religiøs familie, og med en far, der er præst i den lille bys kirke, er der bestemt ikke plads til, at han springer ud som homoseksuel. Jared bliver stillet et ultimatum. Han skal deltage i et 'gay conversion therapy program', hvis formål er at kurere ham, eller hans familie, venner og religion vender ham ryggen. Av. Jeg tror, det er en slags film, der bringer tårer frem.