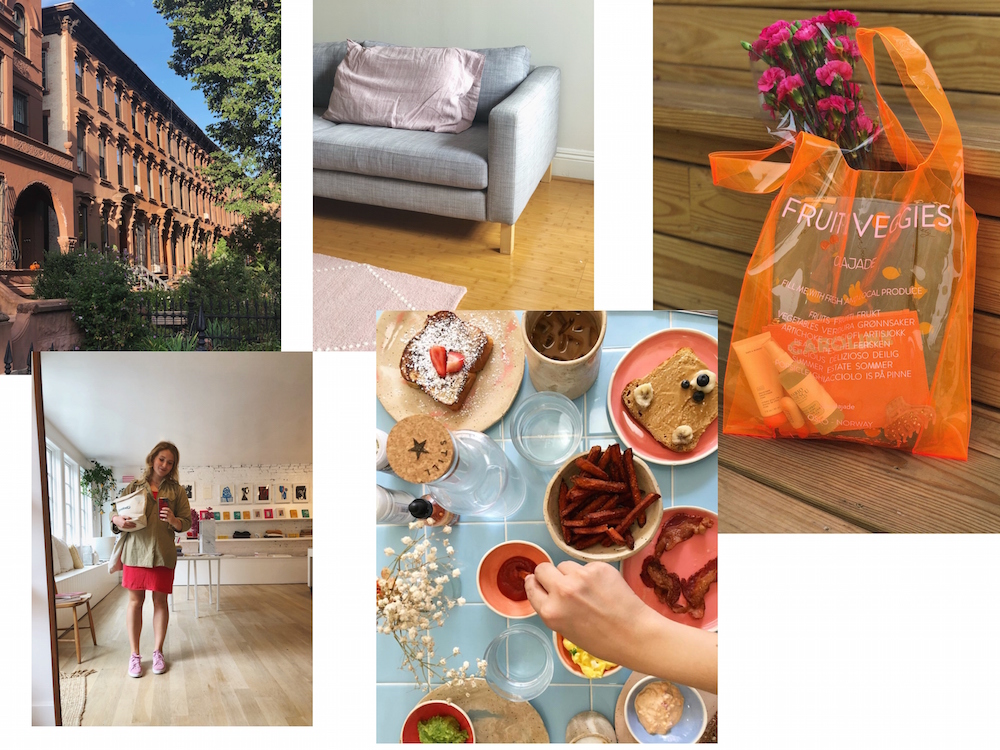 New week, new blog post. I've really gotten my joy back for checking in here so I'm on a roll which pushing out new blog posts at the moment. Can you follow up? Here are eight things I did this week:
♡ Enjoyed an amazing sunny afternoon on my stoop. I feel so grateful to be living the Brooklyn dream on an amazing Brownstone-lined street.
♡ Made progress in decorating the new apartment. I mean, it's been 1,5 months 😉 Progress means we got a couch and a rug! I got the couch completely unused on Craigslist for 80 dollars, and funnily enough, I have the exact same couch in Copenhagen.
♡ Inaugurated my new cool-AF bag from the Norwegian brand Cala Jade. It gives me Offwhite x Rimowa vibes and fits all my stuff.
♡ Finally joined the gym! It's right by my apartment and so far, I've been three times in eight days. Not too bad!
♡ Went to a meeting at Chobani's offices in Soho. It was one of those wow-pinch-me-I've-made-it kinda moments. Beautiful offices — and a perk? They sent me home with a bag full of Chobani products.
♡ Spent all weekend at SKÅL. I went to see what pictures we'd been tagged in on Instagram and this one came up. Speaking of another pinch-me moment. This is definitely one, seeing other people taking photos of the cafe and sharing them on Instagram. Photo by @emmahcodee. 
♡ Had not one, not two, but three slices of pie. Alone. They were from Petee's Pie Company and soo good that I couldn't help it. Ok, I did bring some home and ate it in bed with my boyfriend later on.
♡ Finished the second season of 'Ozark' on Netflix. If you haven't already, watch it! So good. Jason Bateman and Laura Linney are in it, so what's not to like?
Hope you had a great week too <3

Ny uge, nyt blogindlæg, og det er tid til numero dos indlæg i min nye serie "eight things I did this week". Læs sidste uges indlæg her. Jeg har virkelig fået masseproduceret blogindlæg for tiden, jeg er inde i en god rytme. kan I mærke det? Og kan I følge med i alle indlæggene? Det håber jeg. Her er otte ting jeg lavede denne uge:
♡ Nød en eftermiddag med denne fine udsigt på min gade. Hvor  vildt er det lige, at vi snart er i oktober, og det stadig er 23 grader i New York? Og hvor fin er den gade jeg bor på lige? Jeg bliver glad helt inden i, når jeg går på min gade, der er så smuk og klassisk Brooklyn.
♡ Fik sat flueben ved endnu et punkt i projekt indret lejlighed. Nu har vi også boet her i halvanden måned, haha. Vi har fået tilføjet en sofa og et fint tæppe, og jeg er glad. Sofaen købte jeg brugt-ubrugt til 80 dollar, og sjovt nok har jeg en magen til i København. IKEA, det spiller bare.
♡ Indviede min nye seje gennemsigtige plastisk-taske fra norske Cala Jade. Den giver mig Offwhite x Rimowa vibes (den sejeste kuffert nogensinde), der er plads til alle mine mere eller mindre vigtige sager, som jeg altid slæber rundt på, og så er det så nemt at finde de førnævnte sager i tasken.
♡ Fik jeg også krydset endnu et punkt af på flyt-til-NYC-listen. Jeg er nu officielt medlem af et fitnesscenter. Tjek! Og indtil videre har jeg været forbi tre gange på otte dage. Klap på skulderen til mig. Fitnesscenteret har ikke nogle hold, men det er billigt og virker fint til træning. Så må jeg supplere med hold fra andre studier. Heldigvis ligger der masser af fine yoga-studier, hvor jeg bor.
♡ Var til møde hos Chobanis kontor i New York. Chobani er mit yndlingsyogurt-label i NYC. Det var sådan en niv-mig-i-armen-I-did-it-oplevelse. Og så gik jeg derfra med en Chobani-hørpose fyldt med Chobani-godter. Ja, tak!
♡ Brugte hele weekenden på SKÅL. Det kører, og jeg og vi er så glade. Det er stadig helt vildt, når vi bliver tagget på billeder på Instagram, som caféens kunder har lagt ud. En anden slags niv-mig-i-armen-oplevelse. Billedet ovenover af maden på vores lyseblå tile table er taget af @emmahcodee.
♡ Spiste ikke et, ikke to men tre stykker pie fra Petee's Pie Company. Så gode var de! Jeg fik coconut custard, whisky maple walnut og lemon merengue pie. Ok, jeg spiste ikke helt op. Midt i måtte jeg kapitulere og bede om en æske til at tage resterne med hjem. Et par timer senere fik jeg revance og nød resterne med min kæreste, mens vi så serier i sengen.
♡ Der er stor sandsynlighed for, at vi så Ozark, en Netflix-serie. Vi er lige blevet færdige med anden sæson. Jeg har én ting at tilføje. Smid alt hvad du har i hænderne og se Ozark lige nu! Vild med den serie. Og med Jason Bateman og Laura Linney i hovedrollerne giver det god mening, at jeg er vild med den.
Det var min uge. Jeg håber også, at jeres uge var god <3