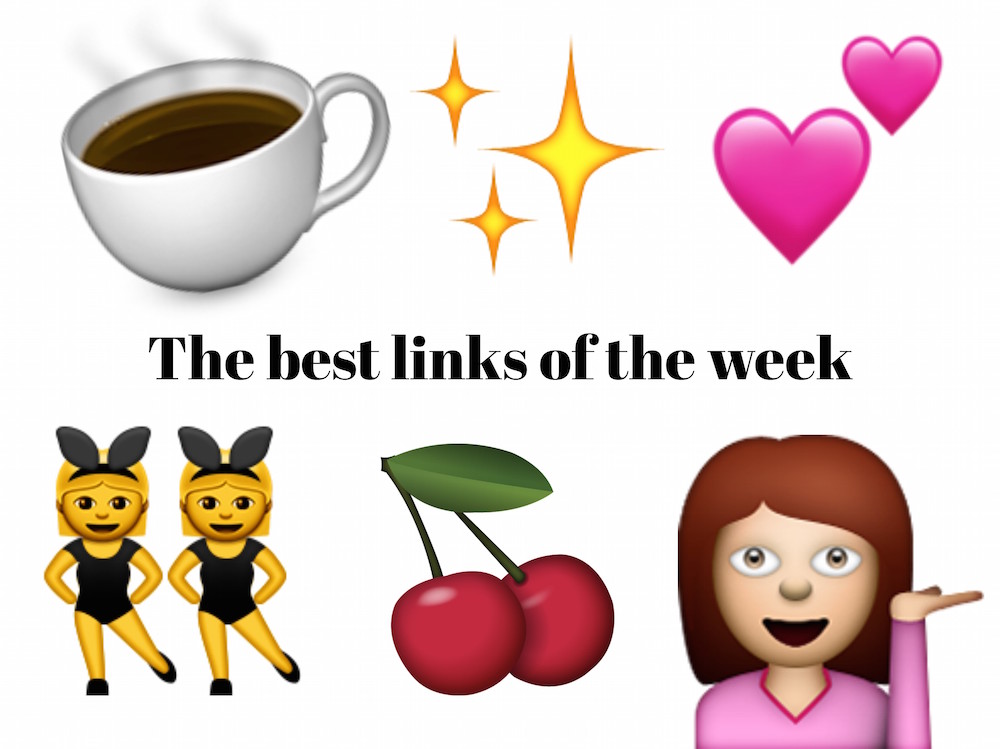 I love when other blogs do the 'here are some great reads for your week' and feature a list of links with amusing, fun or interesting stuff, so here is my version! It's a new week and a great time to fill up your safari reading list with a few links.
♡ I'm so guilty of this. Time famine — adding too many things to my to-do-list so I end up paralyzed, not knowing where to start. With a full-time job, a blog, a cafe, studying for my bachelor, a part-time job and freelance gigs, there's plenty to look after! Luckily, I also have tools to juggle everything.
♡ 29 Unspoken Rules of Living in New York. Just re-read this article, and it is true like ever! Besides the one of not making a scene when you see a rat. I don't think I could not make a scene if I see a rat. I am terrified of rats, and rats are definitely the worst part about living in NYC.
♡ I think this lamp is so cute. I waver between whether I should get it or whether it's too much.
♡ A book I want to pre-order. Just like I want to book a table at The Village Den in East Village. I am head over heels in love with the Fab Five and Queer Eye.

Indlæg proppet med gode links, sjove  artikler, mærkelige sager, fede items. Yes, det er lige mig. Jeg elsker, når andre blogs laver disse indlæg, så nu forsøger jeg at tage stafetten og føre den videre her på domænet. Hermed et indlæg med lidt læsestof til en ny uge. For du har helt sikkert brug for overspringshandlinger, når du keder dig på arbejdet, når du har en opgave til studiet, du skal lave, eller når du sidder på toilettet. Hehe. Her er en håndfuld links med læsestof fra mig til dig. <3
♡ Jeg kender dette alt for godt. Konceptet hedder 'time famine'. Du tilføjer så meget til din to-do-liste, at du slet ikke ved, hvor du skal starte og bliver overvældet, lammet og går i tomgang. That's me. I hvert fald en gang i mellem. Med fuldtidsjob, studie, deltidsjob, café, blog og privatliv, kan to-do-listen godt blive rigtig overvældende og svær at gå i gang med nogle gange. Heldigvis har jeg også gode værktøjer til at nå det hele.
♡ 29 unspoken rules of living in New York. Jeg har linket denne artikel noget før, men den er endnu sjovere og sand nu, hvor jeg bor i New York mere permanent. Dog er jeg stadig ikke enig med den rotterne – at man ikke skal lave en scene, når man ser dem. Jeg er hunderæd, ja, nærmest angst for rotter, så jeg tror, der vil gå mange år, før jeg ikke laver en scene, når jeg ser en. Det er absolut det værste ved New York. Rotterne.
♡ Denne fantastiske samling over fantastiske film, du kan se kvit og frit på Filmstriben, som Sidsel og Lasse står bag.
♡ Se lige en fin lampe. Jeg kan ikke helt beslutte, om den er sød men kikset, eller om den vil være helt perfekt i min lejlighed. I så fald, hvor?
♡ En bog der ret gerne må komme hjem til mig. Hvilket minder mig om, at jeg oså meget snart skal spise på The Vilage Den. Jeg elsker The Fab Five og Queer Eye og alt, hvad de rører ved. Altså, glæder jeg mig både til bog og restaurantåbning.