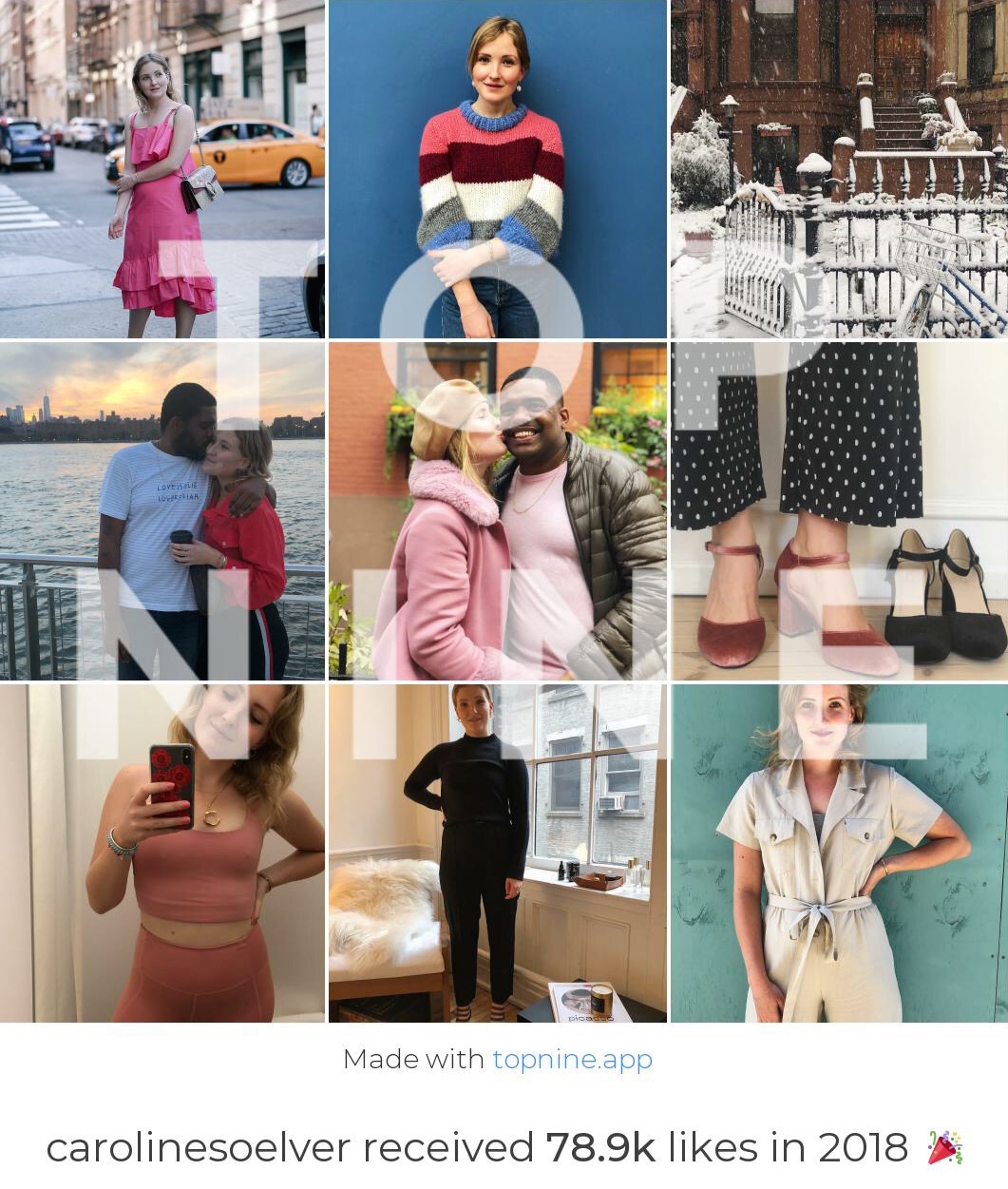 In just a couple of hours, 2019 will arrive – and if you're lucky enough to spend NYE on a beach in Thailand, the new year has already arrived! In New York City, I am six hours behind my friends and family who are already in the middle of their NYE celebrations, and in a few hours, it's my turn. Ironically enough, we have no clue what we are doing – yet. All we know is that we are opening the cafe tomorrow at 10 am, so being hungover is out of the question.
But before the celebration begins, I am sitting down to think about my 2018 – and my goals and wishes for 2019. And later on, I'll sit with J and do the same with him, so we can set up some goals, dreams, wishes and wants for the both of us for 2019. I think that's a great way to utilize the New Year – to use as a way to evaluate where you are and where you wanna be. I hope you'll have a great NYE wherever you are, and whatever you are doing, and thank you so much for checking in on Silver Stories for yet another year! <3
What happened in 2018…
♥ The craziest, noteworthy event is without a doubt opening Skål, our cafe in Brooklyn. It's been a rollercoaster but so so so amazing!
♥ I juggled studying full time at CBS, blogging, opening a cafe in NYC, working for Spiir, CBS Wire and Tipster and trying to maintain social relationships. It's safe to say I like being busy 😉
♥ And of the less bright events of 2018, I underwent surgery for melanoma which was definitely a hard time for me, but it also made me remember to be grateful for the health of me, my family and friends <3
Important learnings of 2018… 
♥ Everything will work out! One way or the other – it might not work out right away and how you planned it to work, but in the end – it will.
♥ Learning to say no, especially in professional contexts. It's work in progress, but I've definitely had my share of times in 2018, where was forced to stand up for myself and say no.
♥ I'm privileged and I need to remind myself of being grateful and thankful on the bad days!
Goals of 2019… 
♥ It's not set in stone, but I am currently thinking about where I wanna head professionally — start my own company, write another book….. Stay tuned 😉
♥ Become a bachelor in Intercultural Marketing and Communication from Copenhagen Business School!
♥… and after receiving my Bachelor degree, start my Master's degree…. (OMG?!)
♥ Less stress, less procrastination, and more efficient work.
♥ Spend more time in Berlin!
♥ Come to a solution about our living situation. Where is home? Not quite sure it's possible, as J must spend the majority of his time in NYC with the cafe, and I have to be on/off in Copenhagen for school, but hoping that we'll be able to find a more sustainable solution than flying back and forth every month.
♥  Travel. Always travel! Hoping to add a few new destinations to my list of travels.
HAPPY NEW YEAR'S AND THANK YOU SO MUCH FOR READING SILVER STORIES <3

Om et par timer slår klokken tolv, og kalenderen skriver 2019. Er det ikke for vildt? Jeg synes, at det føles som et par måneder siden, at vi gik til 2018, og jeg bliver nostalgisk, fordi jeg føler, at tiden går så hurtigt, at jeg ikke kan følge med.
Jeg har absolut ingen planer for nytårsaften – vi har været sent ude og travlhed på caféen og min juleferie gjorde, at vi ikke lige har tænkt over at planlægge noget. Ikke desto mindre har vi hinanden, en flaske champagne på køl, og så kan det ikke blive helt kedeligt, vel? Vi holder åbent i caféen i morgen, så tømmermænd og 1. januar i sengen er i hvert fald ikke en mulighed.
Men før nytårsfejringerne begynder, sidder jeg og resumerer 2018. Hvad er der sket, hvad har jeg lært? Og hvad drømmer jeg om for 2019? Selvom jeg bliver nostalgisk over nytårsaften og synes, det er angstprovokerende, at et nyt år ruller ind over os, så synes jeg også, at det er oplagt at bruge årsskiftet til at tænke over, året der snart er forbi, og året der er på vej. Hvor er jeg, og hvor vil jeg gerne hen?
Så det har jeg gjort! Og på samme tid vil jeg bruge muligheden til at ønske jer alle et fantastisk nytår og sige tak fordi I følger med her <3
Mit 2018…
♥ Den vildeste begivenhed i 2018 var uden tvivl, at vi åbnede Skål, vores café i Brooklyn. Når jeg tænker over det, skal jeg stadig lige nive mig i armen…
♥ Jeg jonglerede med fuldtidsstudie på CBS og overvældende mange eksaminer, åbne caféen i New York, bloggen og mine freelancejobs hos Spiir, CBS Wire og Tipster. Det er 'safe to say', at jeg godt kan lide at have travlt 😉
♥ Og af de lidt mere triste begivenheder i 2018, var det også året, hvor jeg gik til lægen og fik beskeden om, at jeg skulle opereres for modermærkekræft, og fire dage efter skete det så. Det var ikke sjovt, men det fik mig til at huske på, at det allervigtigste er vores helbred! Og heldigvis, 7-9-13, er jeg rask og skal nu til tjek hver tredje måned de næste mange år. Det er rart at vide, at dem, der har rigtig godt styr på det, holder øje med mig.
Det lærte jeg i 2018… 
♥ Det hele skal nok gå. På den ene eller anden måde – måske går det ikke den første gang, og måske går det heller ikke på den måde, du allerhelst vil have, at det skal gå, men i sidste ende, så skal det hele nok gå!
♥ At sige nej. Især i professionelle sammenhænge. Jeg er en pleaser, og "hvad går der af mig for bare at sige ja og gøre det, jeg bliver bedt om, selvom det egentlig ikke er ok at bede mig om?" Jeg lærer stadig, og jeg har stadig svært ved det, men 2018 var klart et år, hvor jeg fik et par muligheder, hvor jeg var nødt til at stoppe op og sige nej.
♥ Jeg er privilegeret, heldig og det husker jeg mig selv på at være taknemmelig over, især på de dårlige dage!
Mål for 2019…
♥ Det er langt fra fastlagt, og jeg har ikke en decideret plan, men jeg går og tænker over, hvad der skal ske for mig professionelt. Hvor vil jeg hen? Skal jeg starte min egen virksomhed, skrive en bog til?… Et eller andet kommer der i hvert fald til at ske i 2019!
♥ At blive bachelor i Interkulturel markedskommunikation fra CBS. Jeg føler lige, at jeg er startet, og nu er der næsten gået tre år. Jeg skal dog lige skrive, aflevere og forsvare min bacheloropgave først 😉
♥… og når jeg så er blevet bachelor, så skal jeg starte på min kandidat…. (OMG?!)
♥ Mindre stress, færre overspringshandlinger, mere fokuseret arbejde…. Jeg skylder skylden på den ultimative tidsrøver, Instagram!
♥ Bruge mere tid i Berlin.
♥ Finde på en løsning til vores situation – hvor er hjem? Jeg ved ikke, om det er muligt, for J skal, alt andet lige, være meget i NYC i caféen, og jeg skal være i København på grund af studiet. Og det er ikke så holdbart at flyve frem og tilbage hver måned.
♥  Rejse! Det er altid et mål. Jeg håber, at tilføje et par af mine 'bucket list'-destinationer til min liste over lande, jeg har besøgt.
GODT NYTÅR OG TAK FOR AT I FØLGER MED <3