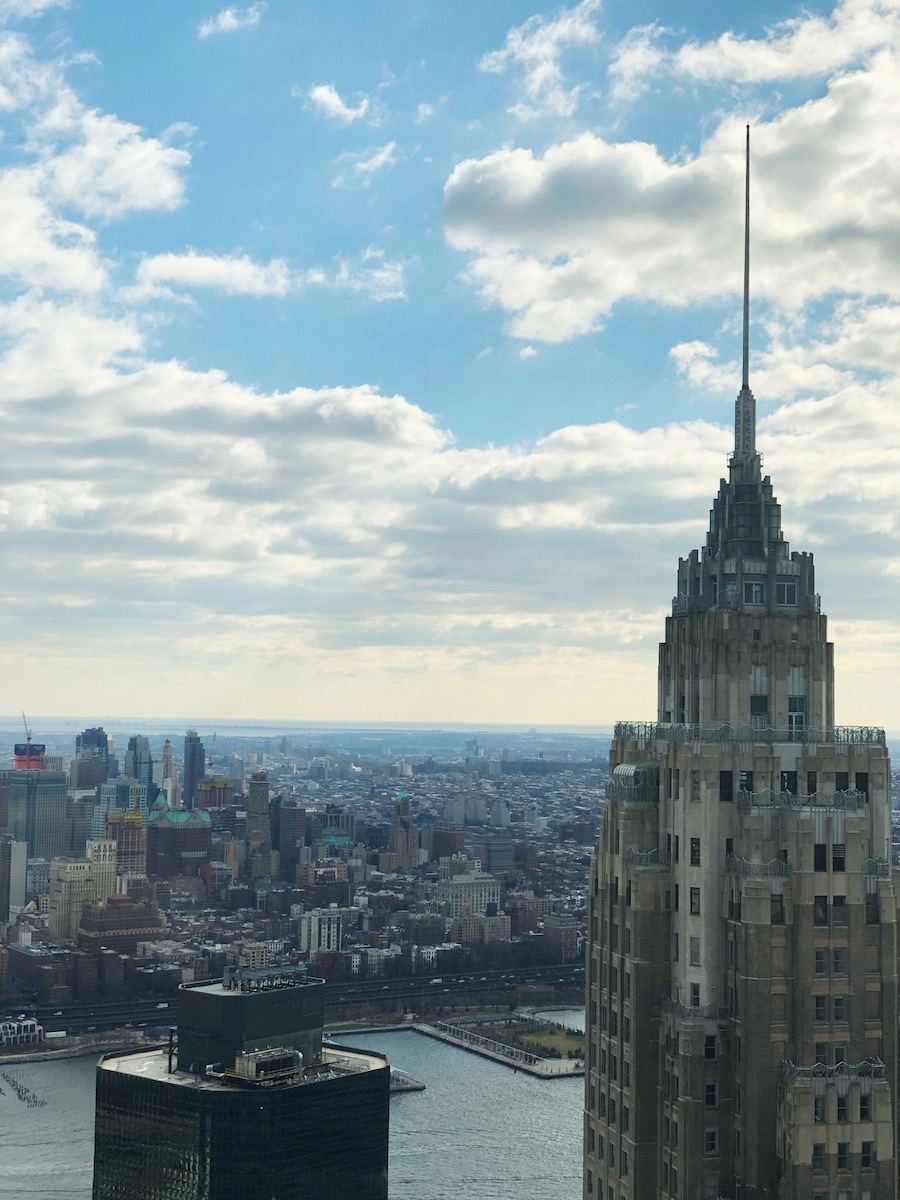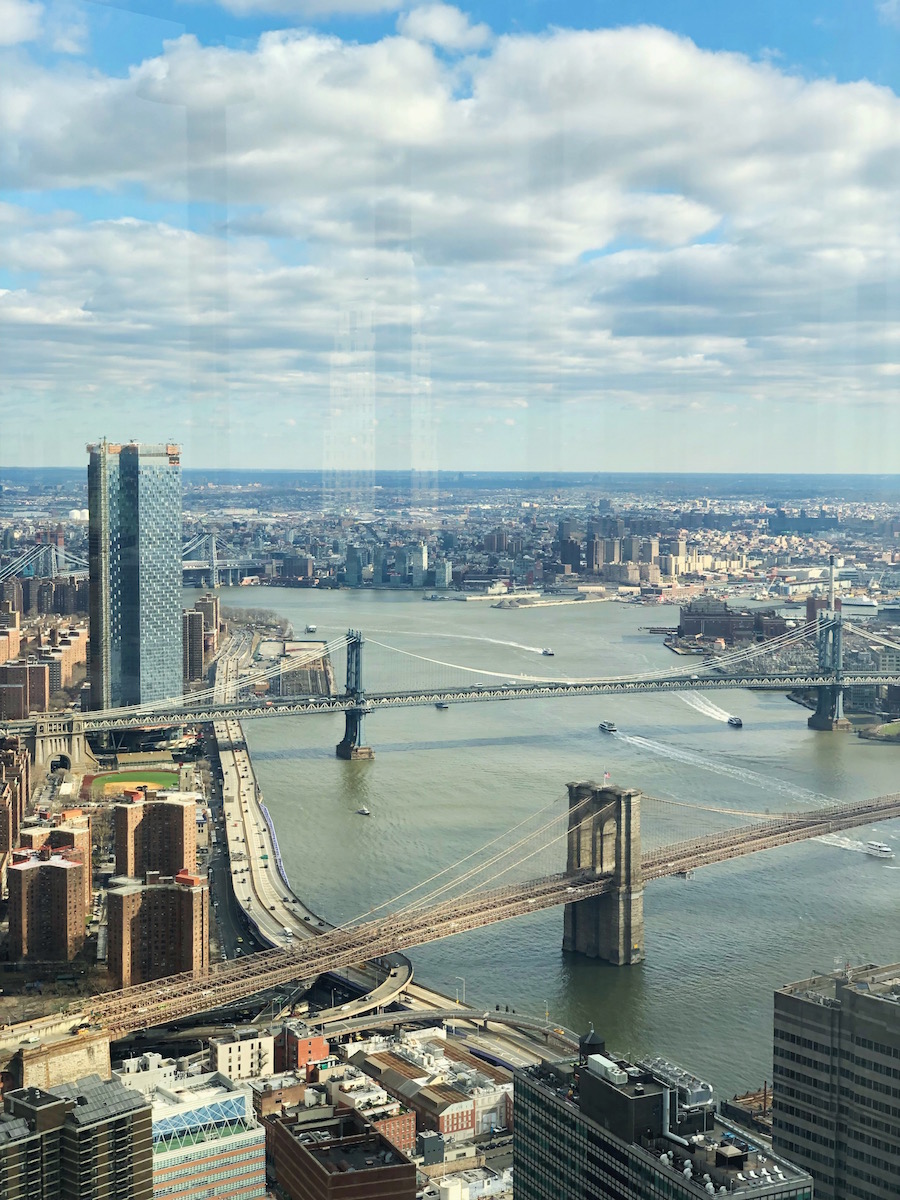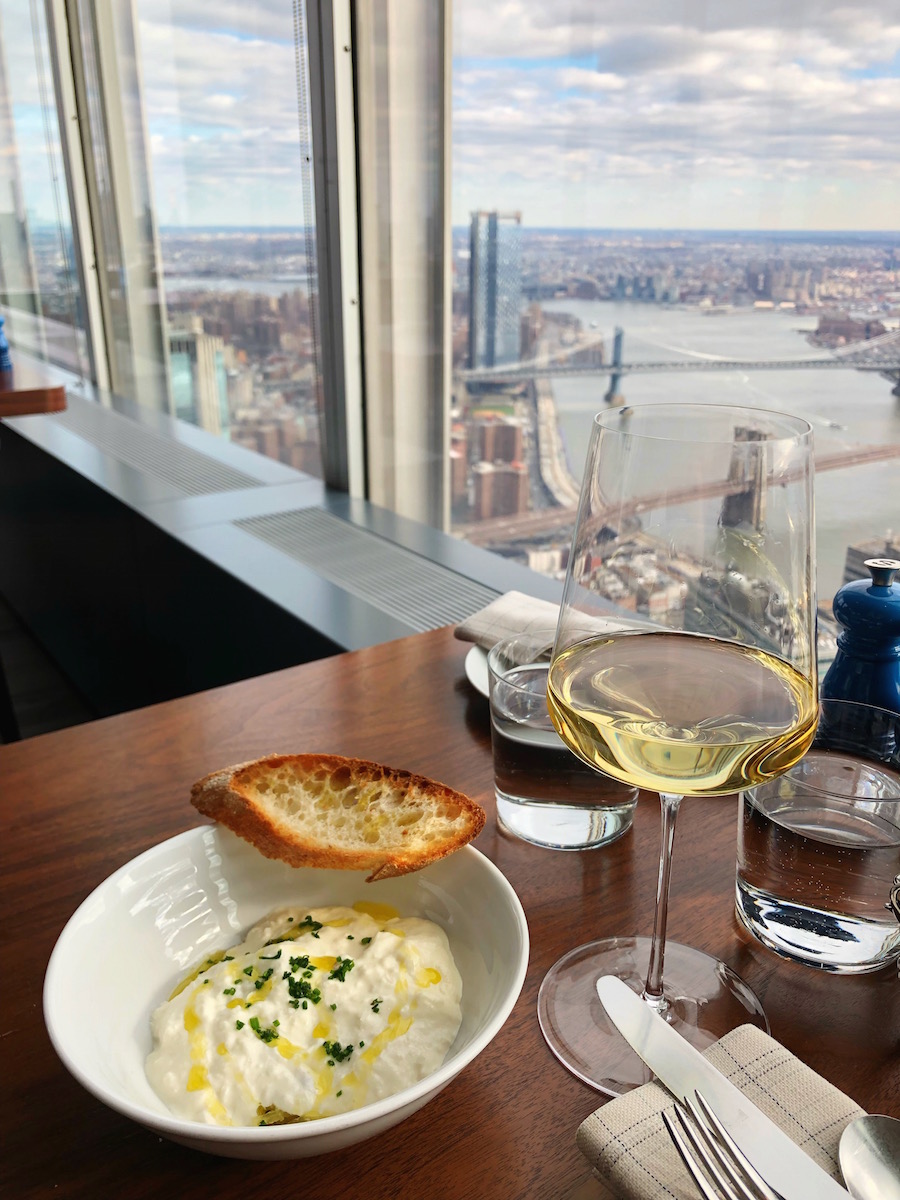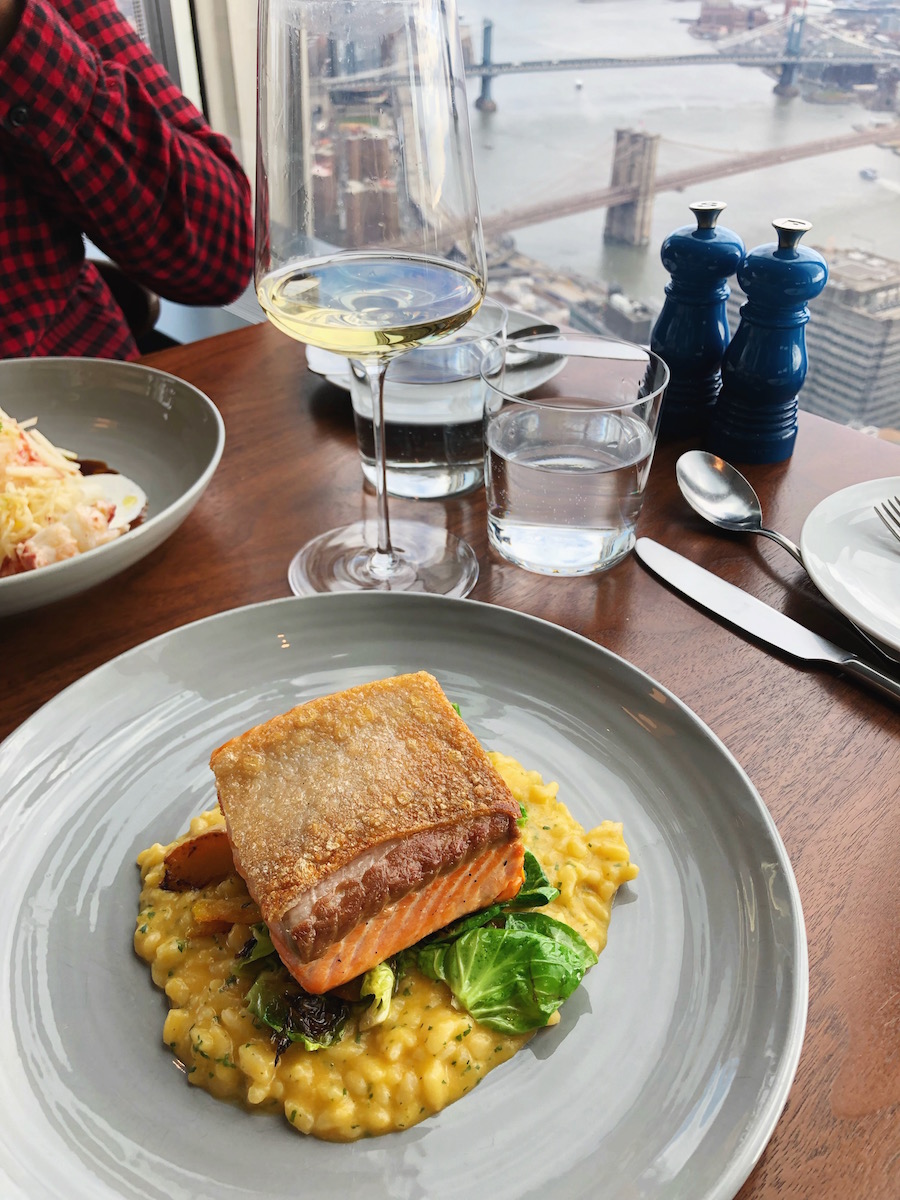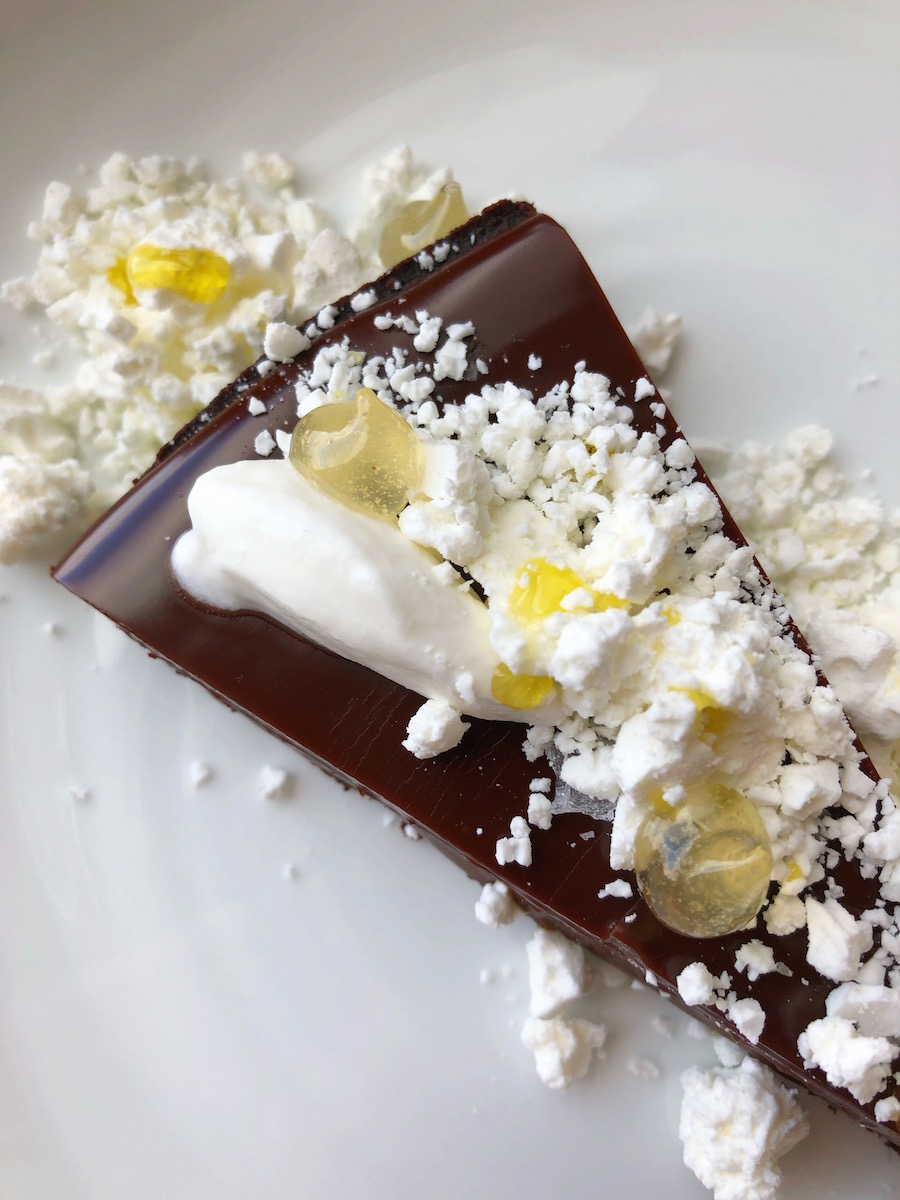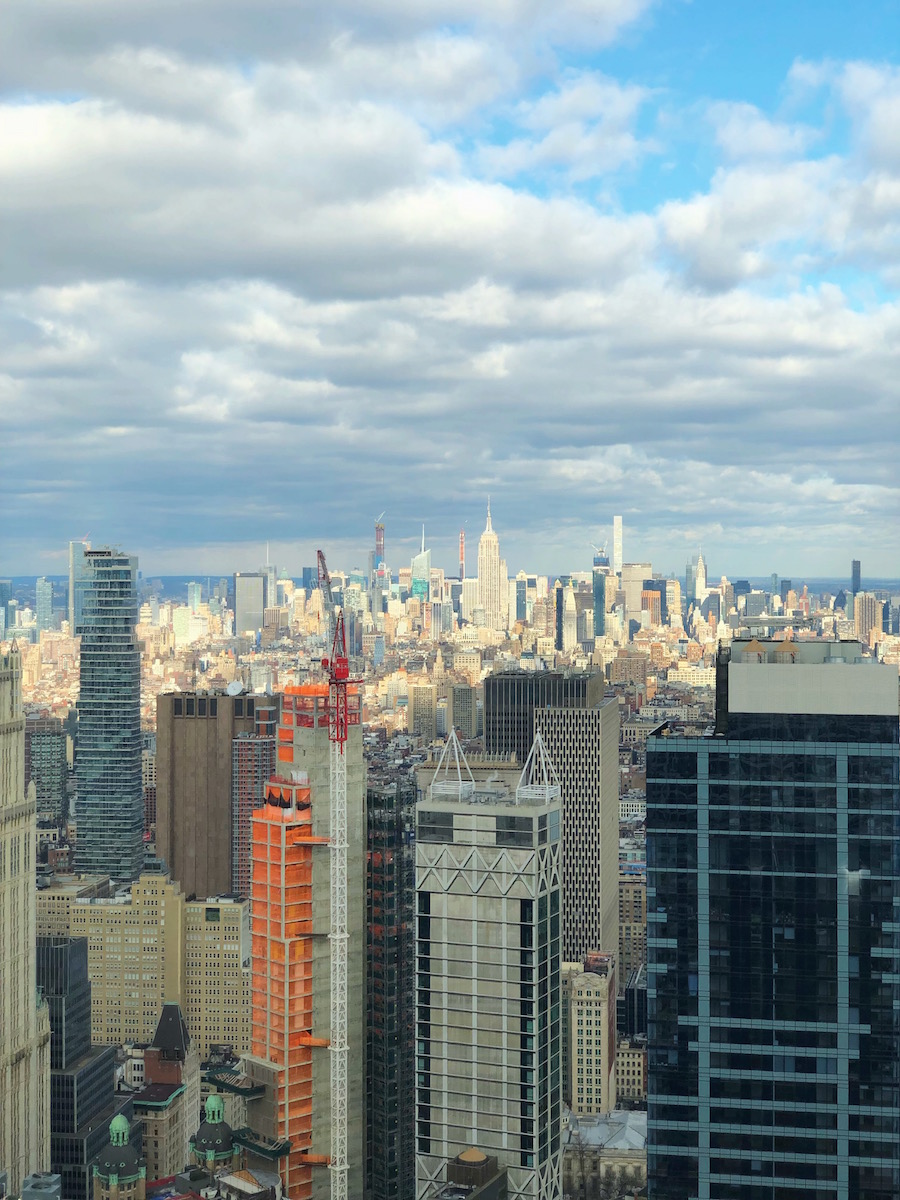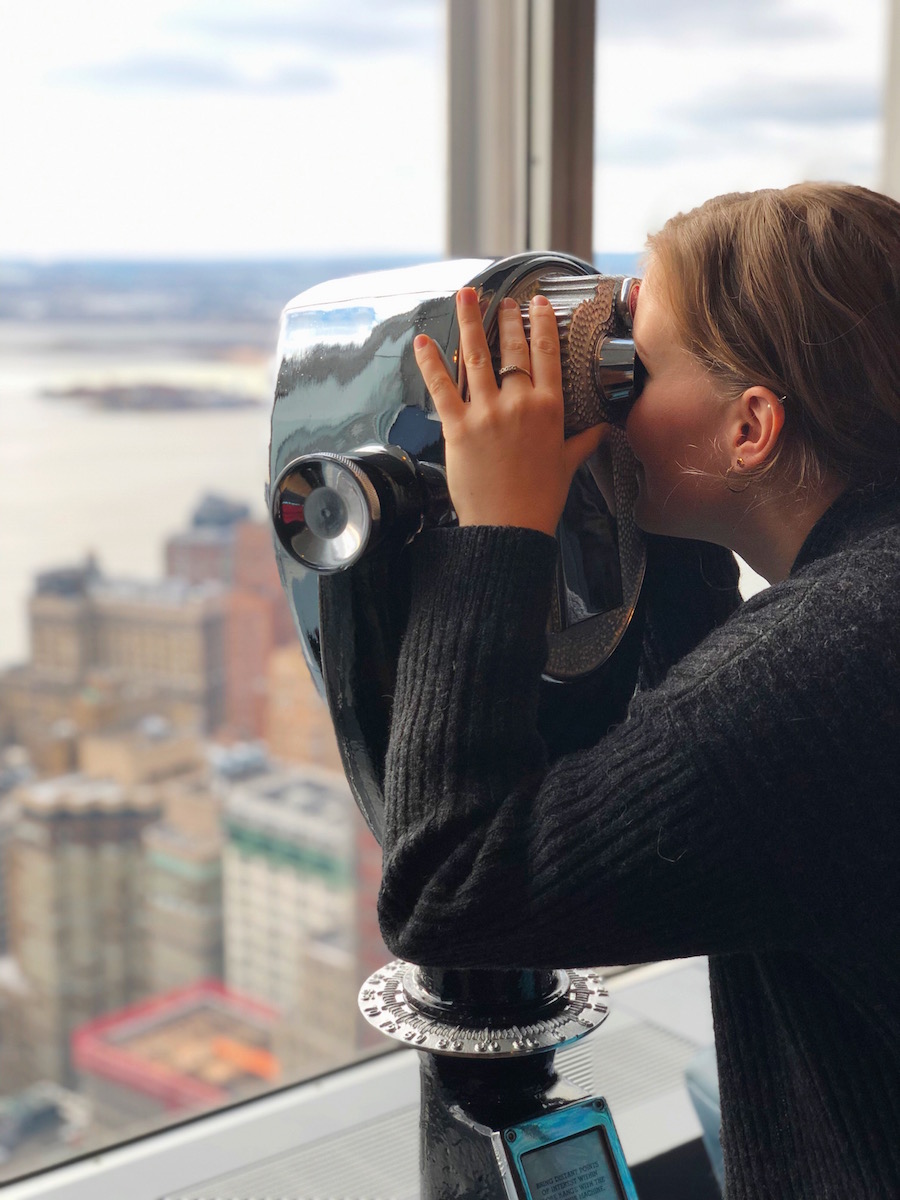 If you've read my recent blog post with the list of things I wanna do in NYC this month, you'll know what place I am talking about. And I can now cross one of the items off the list, as I went to visit Manhatta for lunch. I had such a great experience that I decided to dedicate a full blog post to the restaurant because it simply deserves it.
Manhatta is located on the 60th floor in the Wall Street area in Lower Manhattan. You enter the lobby, take the elevator directly to the 60th floor. As you get out of the elevator, you're immediately met by the panorama windows that show the most incredible views of NYC. If you look one way, you'll see Brooklyn and the bridges. Look out the other side of the restaurant, you see North of Manhattan and are able to detect Empire State Building, Chrysler and all the other iconic NYC buildings. The third direction shows you the Hudson River and New Jersey, and last but not least, the Statue of Liberty. That means you get a full, undisturbed 360-degree view of NYC, and it's astonishing.
The menu is simple, consisting of 5 items for appetizers, mains, and desserts as well as an extensive wine and drink menu. I had the stracciatella that was to die for and the squash risotto with trout as a main. Both were delicious. For dinner and weekend lunch, Manhatta offers a three-course menu for $78/$68, and best of it all – Manhatta is a non-tipping restaurant, just like Skål.
It still makes me happy when I come across non-tipping restaurants in NYC, because I'd rather spend money supporting restaurants that see the issues connected to the tipping culture in NYC and decide to eliminate it and own up to their responsibility of paying their own employees, just like other companies do!
With that being said, Manhatta is a very affordable place to have a fine dining experience combined with astonishing views of the city. Be sure to reserve a table in advance and have a great time ❣
Mahatta
28 Liberty Street, 60th Floor,
New York, NY 10005

Hvis du fik læst mit seneste indlæg om steder i NYC, jeg vil besøge i januar, så husker du måske Manhatta. Den nyåbnede restaurant på 60. etage med fantastisk udsigt? Nu kan jeg i hvert fald krydse det punkt af listen, for nu har jeg oplevet Manhatta. Det var så god en oplevelse, at jeg besluttede mig for, at stedet kræver sit helt eget indlæg her på bloggen.
Manhatta ligger i Wall Street, finansområdet i Lower Manhattan. For at komme til restauranten, går du ind i bygningens fine lobby, hvor der bliver taget imod din jakke. Service allerede her, og spændingen stiger! Elevatoren tager dig direkte til 60. etage i ekspressfart, og så snart du stiger ud, bliver du mødt af den overvældende udsigt!
Den ene vej kan du se alle broerne over til Brooklyn samt Brooklyn. Kigger du nord, kan du se resten af Manhattan, hvor alle bygningerne står som tetris-brikker. Her kan du gå på jagt og tælle, hvor mange ikoniske NYC-bygninger, du kan finde. Empire State Building er en sikker vinder! Vest ser du Hudson River og New Jersey, og sidst men ikke mindst, kigger du syd, kan du se Frihedsgudinden. Du får altså et uforstyrret, fantastisk 360-grader view over hele byen. Jeg fristes til at sige, at hvis du er turist i byen, kan du næsten tage på Manhatta og spise i stedet for at bruge penge på at komme op i Empire State Building 😉
Menuen hos Manhatta er simpel, lækker og består af fem foretter og fem hovedretter samt en håndfuld lækre desserter. På drinkmenuen finder du et enormt udvalg af vin og cocktails. Jeg fik stracciatella med squash til forret og squash-risotto og ørred. Det var helt vildt lækkert! Om aftenen kan du få tre retter for $78, og i weekenden, serverer Manhatta tre-retters frokost til $68. Priserne er altså meget fair  for den fine service, de smukke omgivelser og ikke mindst udsigten. Derudover er Manhatta en 'non-tipping'-restaurant, hvilket er ret væsentligt i New York, hvor det forventes, at man lægger 20% i tips oveni regningen, når man betaler. Et koncept jeg ikke bifalder.
Skål er også en non-tipping-restaurant, så jeg bliver glad, når jeg besøger andre restauranter, der tager det samme politiske standpunkt og indfører no-tipping. Jeg vil hellere støtte restauranter, der ser de problematikker, som tipping medfører, og derfor vælger at droppe tipping og i stedet tage ansvar for rent faktisk at betale løn til deres ansatte, som det selvfølgelig bør forventes af alle virksomheder!
Derfor er Manhatta faktisk mere end rimeligt i deres priser, fordi man får så fin en madoplevelse i fantastiske omgivelser (den udsigt!!!!) Husk at reserver bord og hav en fantatisk oplevelse ❣
Mahatta
28 Liberty Street, 60th Floor,
New York, NY 10005