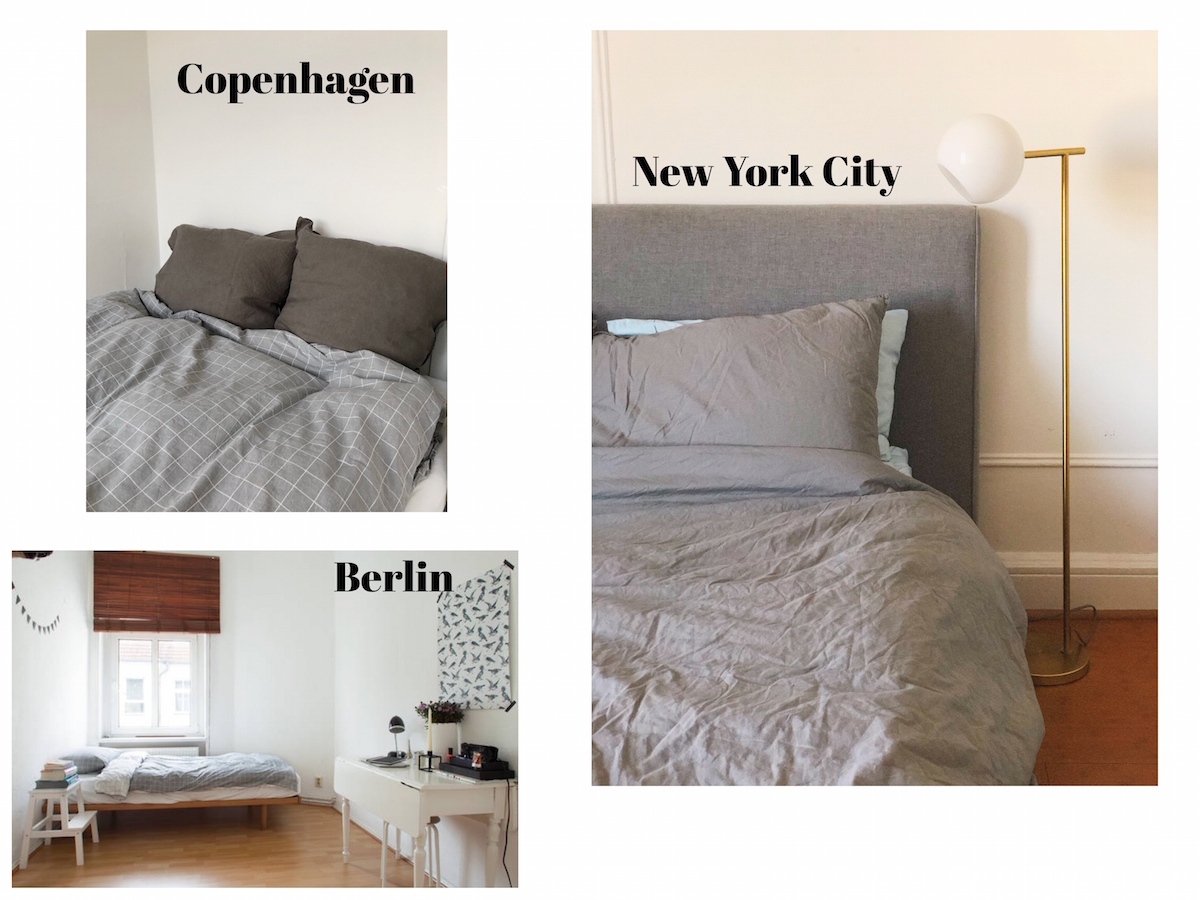 My bedrooms in three cities – Berlin, Copenhagen, and NYC. Apparently, I have a thing for gray linen bedsheets? 


In the month of January, it seems like everyone is involved in the themes around getting organized (who's watched the Marie Kondo-show on Netflix?!), reinforcing good habits (new years resolutions anyone?!) and just becoming the best version of themselves for 2019.
I thought I'd pitch into this theme with the one super simple habit I start every day with. It's one of my favorite habits because it's so quick, so easy yet it gives me a great start of the day and gives me a sense of 'accomplishment'.
So what is this great habit? It's actually something as simple as making my bed every single day. And after having done it with no exception for the past few years, the habit of making my bed has become such a natural thing to me. Like an ingrown habit. It would feel just as weird to leave my home without making the bed first than to leave without having brushed my teeth.
It's a tiny habit of mindfulness and a ritual of starting a new day. Grabbing the comforter, shaking the night out of it. Like putting the lid on the bed to close it and start the day on a good note of accomplishment – because I just got up, but I already made my bed! That's a great trade-off for taking 20 seconds to make the bed.
Besides how making the bed makes me feel personally, there are also scientific reasons behind making the bed. It will get you more productive, lower your stress level and basically just set the tone right for the rest of your day. The habit is also used in the military where soldiers are trained to make their bed perfectly every single morning.
Do you make your bed? Or are you inspired to start this great, simple habit? Give it a try and before you know it, you won't leave your home without making your bed first! 

Det er januar, og det flyder med artikler med metoder til, hvordan du kan blive den bedste udgave af dig selv i det nye år. Med fokus på nytårsforsæt, tip til hvordan du holder dem og Netflixs nye Marie Kondo-program (har du set det endnu?) er der altså masser af inspiration til, hvordan du bliver en super-effektiv-organiseret udgave af dig selv i 2019.
Og jeg vil da være med i det tema! Mit tip er dog lidt anderledes, for det handler ikke om, at du skal træne 10 gange om ugen, leve af gulerøder og bruge en hel weekend på at smide alle dine ejendele ud. Derimod vil jeg dele den nemmeste, hurtigste vane, der dog har stor effekt!
Hvad kan det så være..? Faktisk er det noget så enkelt, at jeg reder min seng hver morgen. Uden undtagelse! Det har jeg gjort i et par år, og faktisk er det nu blevet så naturligt for mig, at det vil være ligeså underligt at lade være, som at lade være med at børste mine tænder, når jeg står op.
At starte min dag med at rede sengen er blevet et 20-sekunders ritual, der indikerer overgangen fra nat til dag. Jeg ryster natten ud af dynen, lægger låg på sengen, gør den pæn og ordentlig at se på. Så er jeg klar til en ny dag. Det er en god måde at sætte tonen for resten af min dag på. Og det behøver hverken være hårdt eller tidskrævende. Jeg ryster puderne, stiller dem pænt, ryster dynen og lægger din lige over sengen. Mere skal der nødvendigvis ikke til!
Og helt videnskabeligt bevist er det en perfekt måde at starte dagen på. Det er også derfor, at man i miliæret lærer at rede sin seng til perfektion hver morgen – for så snart du står op har du allerede gjort præsteret med et smukt resultat. At rede din seng gør dig altså mere produktiv, og kan hjælpe til at du føler dig mindre stresset. Du er nu klar til at gribe dagen!
Reder du din seng? Eller er du klar på at bruge denne simple vane? Giv det et forsøg. Inden du ser dig om, er det måske helt naturligt for dig at rede sengen hver morgen.