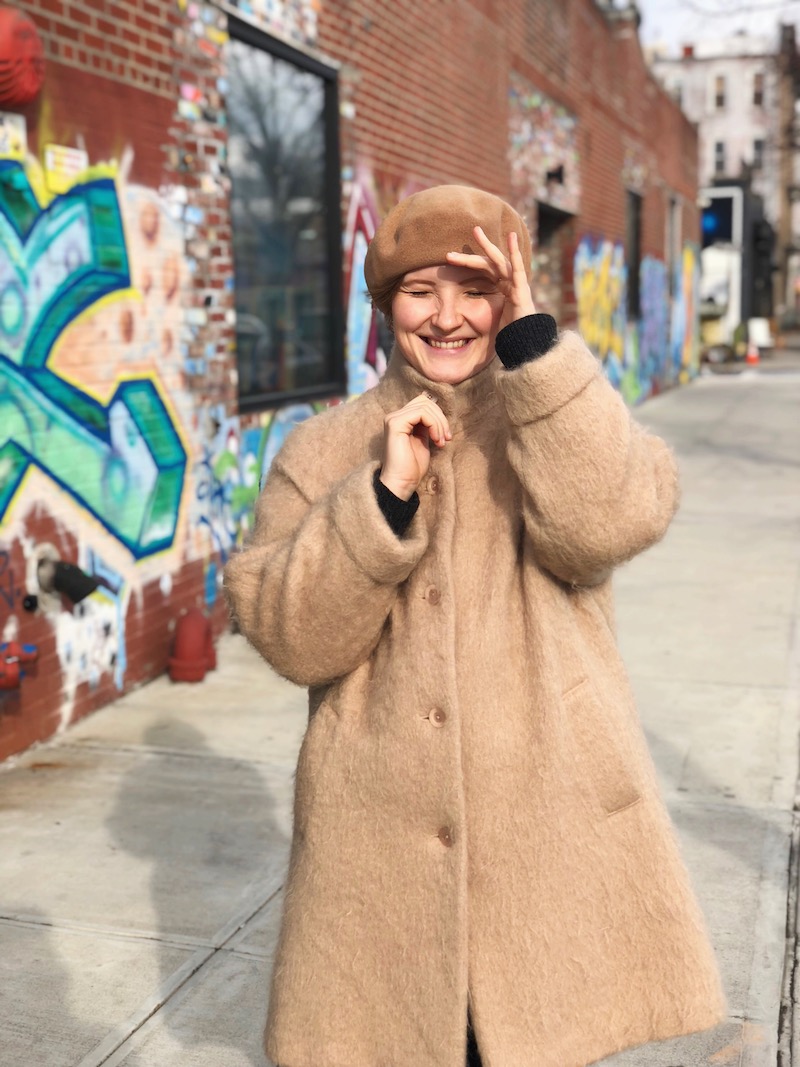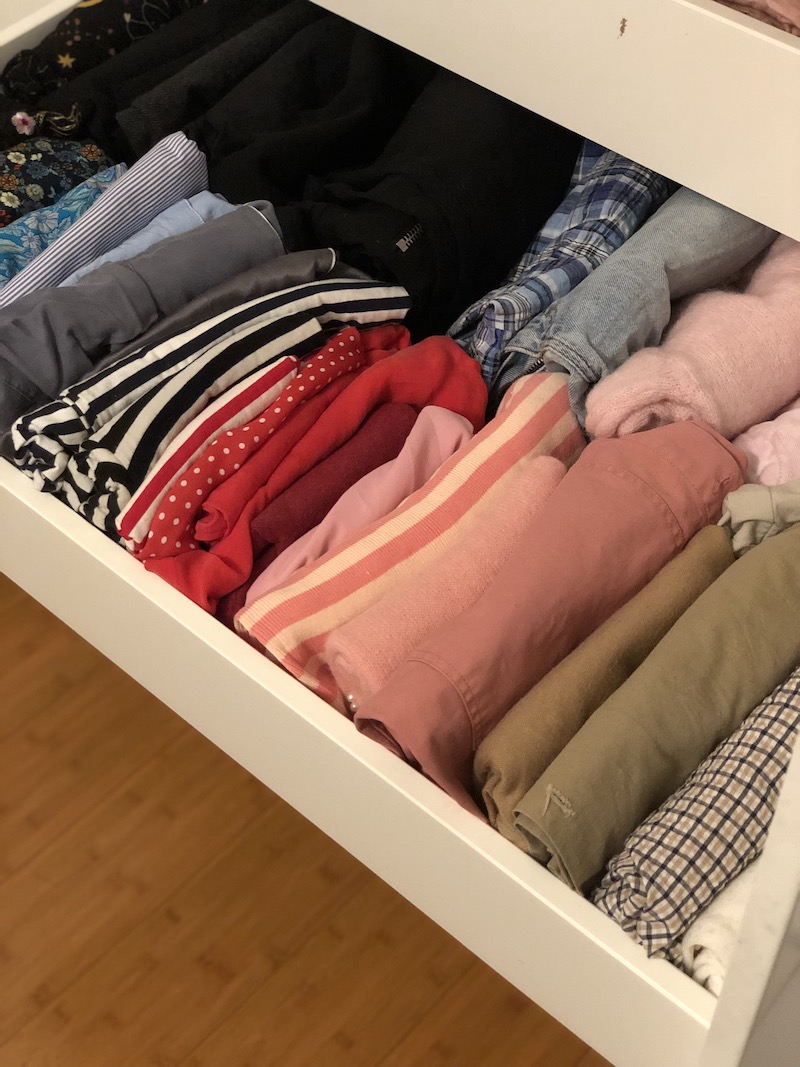 What my closet has looked like since I adopted a Marie Kondo-inspired folding technique. Life-changing and I've influenced my parents and a handful of friends to fold the same way <3  


I am back in Copenhagen after six months in NYC. I've replaced Skål with Copenhagen Business School, my boyfriend with friends and family. It's bittersweet, and as much as I miss him and the cafe, I love my hometown and being close to my friends and family. It's not always desirable living across two continents… I am making the best of it, and here are my plans and intentions for February! <3
What I want to do in February…
♥ Start my sixth (and last!) semester of my bachelor's at Copenhagen Business School. How crazy is that?! Before I even know it, I'll have my bachelor's degree in Intercultural marketing and communication.
♥ Go to the hospital in Copenhagen for my three monthly-hospital melanoma check-up.
♥ Clean up, donate, sell everything! I am fed up with tons of stuff around me and feel a need to purge everything, so cleaning up and organizing is the way to go.
♥  Take my last class at CBS seriously. It's a class on CSR – responsible management, something I am genuinely interested in, which is a good starting point to actually study 😉
I especially look forward to…
♥ Inaugurate my new balcony in my Copenhagen apartment. Can't wait!
♥ Go to Berlin. Leaving on Friday and staying for three weeks. Can't wait to be back in my third hometown for a longer time <3
What I am watching and reading… 
♥ 'You' on Netflix. OMG. Have you watched it yet? All I can say is 'creepy'!
♥ Reading 'The Life-Changing Magic of Not Giving a Fuck'. First up was Marie Kondo's book 'The Life-Changing Magic of Cleaning up' that I loved, let's see if this one is as good 😉 I can definitely use a lesson on how to give less fucks…
I am grateful that…
♥ I live in a country that doesn't only offer free education for all, we even get paid to study. If only more countries (USA, I am particularly looking at you!) could adopt a welfare system inspired by the Scandinavian systems…

Jeg er atter tilbage i min fødeby, dejlige København, efter et halvt år i New York. Jeg har erstattet caféen med Copenhagen Business School og min kæreste med min familie og venner. Det er bittersødt, for ligeså meget som jeg savner min kæreste, så elsker jeg København og at være tæt på mine forældre og venner. Det er ikke altid drømmen at bo mellem to kontinenter og at døje med at være væk fra siden kæreste i længere perioder. Jeg får det bedste ud af det og husker at være taknemmelig. Her er således mine planer for februar <3
I februar vil jeg…
♥ Begynde mit sjette (og sidste!) semester af min bachelor på CBS. Synes det er så vildt, for jeg føler, at det var i går, jeg startede. Inden jeg ser mig om, er jeg bachelor Interkulturel Markedskommunikation.
♥ På Rigshospitalet til mit andet tjek, som jeg skal til hver tredje måned. Nervøs men også meget taknemmelig for vores fantastiske sundhedssystem i Danmark.
♥ Rydde op, smide væk, donere, sælge. Jeg er i et sindssygt Marie-Kondo-mode, og jeg har lyst til at leve med det absolut nødvendige. Realiteten er lidt en anden, men jeg er godt i gang med at gennemgå alle mine sager og tøj, så jeg får ryddet godt og gevaldigt op.
♥ Komme godt igang med mit nye fag på CBS. Det er CSR – responsible management, noget jeg oprigtigt brænder for, så det er helt perfekt, at det er et fag på mit studie. Det gør det langt federe at studere 😉
Jeg glæder mig især til…
♥ At indvie min nye altan, som kommer op i min lejlighed på Vesterbro i løbet af februar. Jeg planlægger allerede utallige sommeraftenener i godt selskab med en aperol i hånden på min skønne altan!
♥ At jeg på fredag tager til Berlin, mit tredje hjem, hvor jeg skal tilbringe hele tre uger. Heldig banan! Jeg skal alene af sted, og undervejs får jeg besøg af både venner og familie, der var hurtige til at lægge billet ind på et par dage i den fantastiske by. Så krydser jeg fingre for, at min kæreste også kan komme, men det er ikke så nemt at tage væk, når man ejer en café.
Hvad jeg skal se og læse…
♥ 'You' på Netflix med vores allesammens Lonely Boy, Dan, i hovedrollen. Den er så creepy. Har du set den?
♥ Jeg skal læse 'The Life-Changing Magic of Not Giving a Fuck'. Først slugte jeg Marie Kondos 'The Life-Changing Magic of Cleaning up' for et par år siden, der må siges at have inspireret mig. Forhåbentlig kan 'no fucks'-bogen gøre det samme, for det kunne jeg i den grad bruge en øvelse i…
Jeg er taknemmelig for…
♥ det danske velfærdssystem. Jeg kan få gratis uddannelse i topklasse og endda blive betalt for det. Og min cancer-scare bliver taget mere end alvorligt, således at jeg skal til tjek de næste fem år. Der bliver taget godt af os, og jeg føler mig meget heldig over at være født i Danmark.