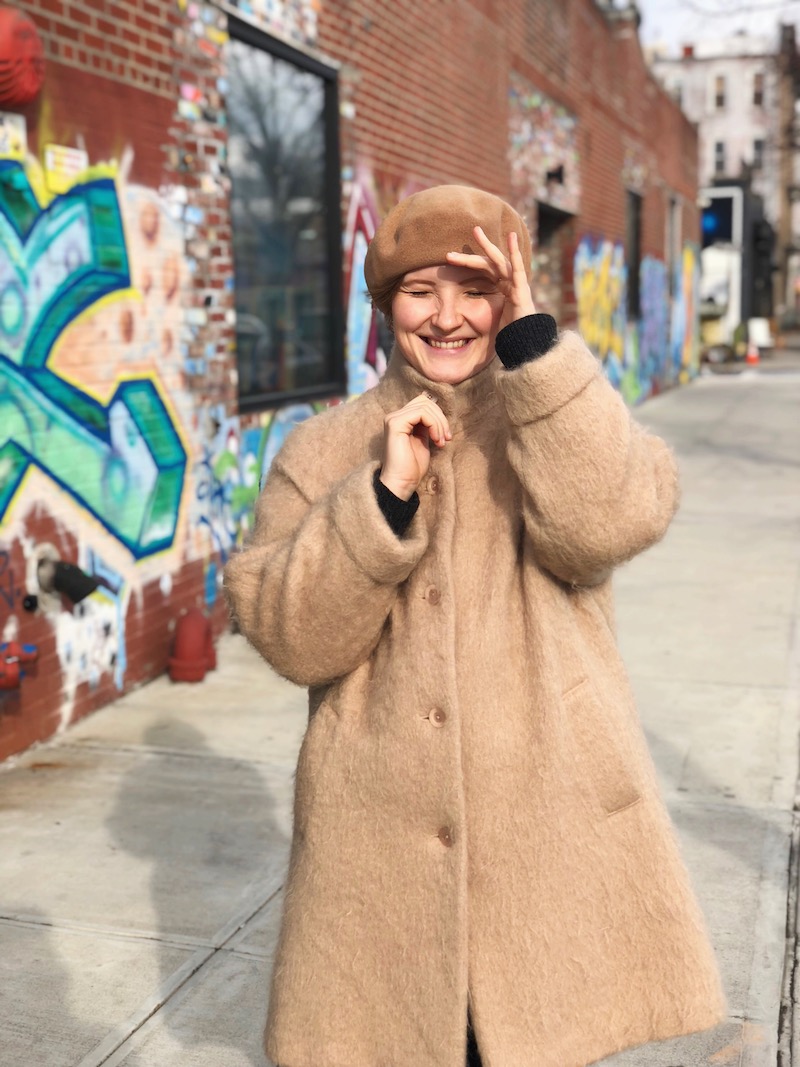 In my 20-something dollar second-hand jacket and hat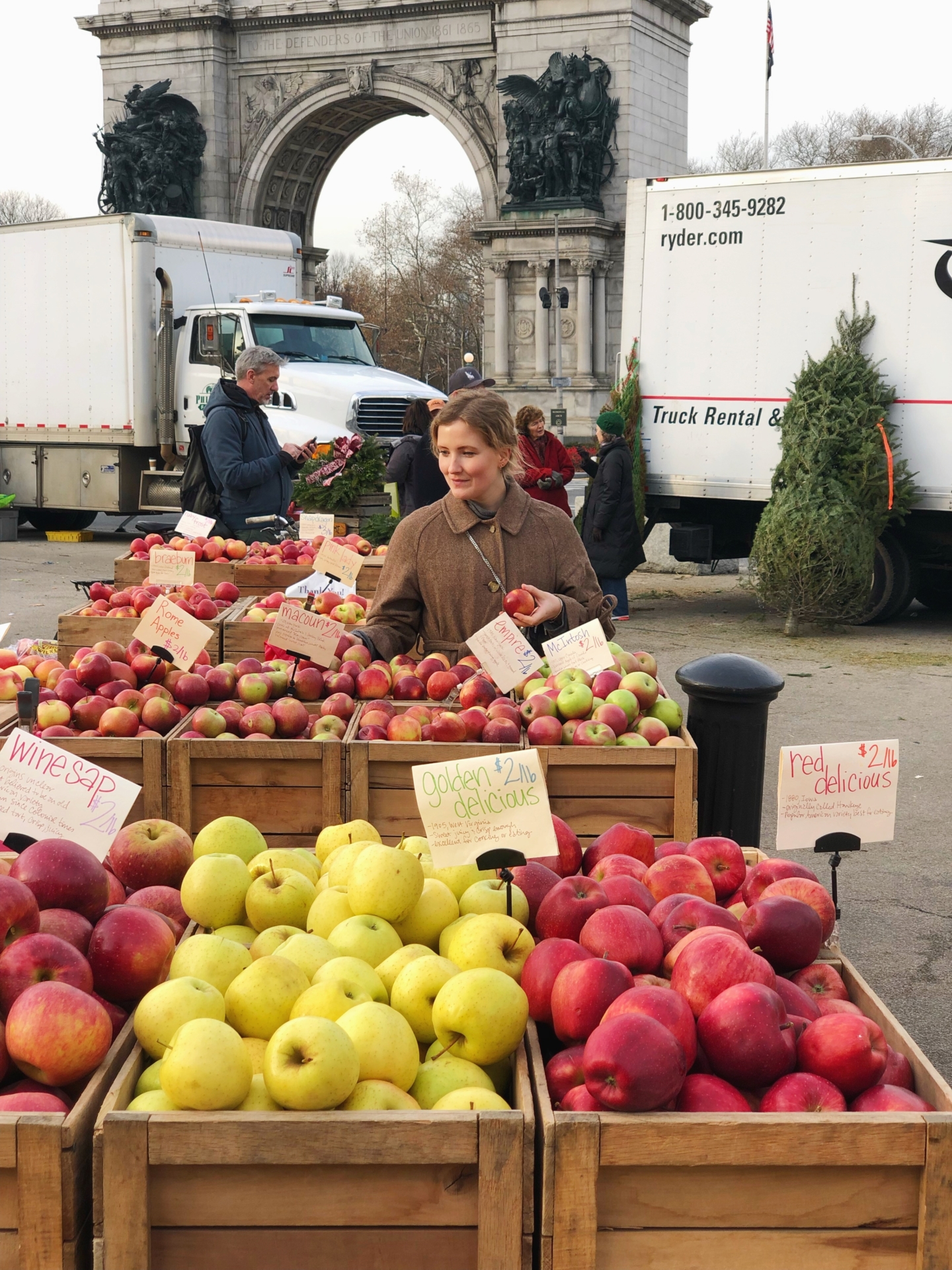 🍎 over 🐥

2019 har allerede sat tydelige spor i mit liv. Jeg er nemlig stoppet med at spise kød. Kød har aldrig virkelig været min kop te, men jeg har da nydt en god cheeseburger flere gange end jeg kan tælle og spist det kød, jeg har fået serveret. Så startede jeg 2019 med at sluge dokumentaren 'Eating animals' og siden det, har der været no pork om my fork eller noget andet kød for den sags skyld. Fisk er jeg stadig på, men så lidt som muligt. De fleste mælkeprodukter er røget ud og så vidt muligt udskiftet med plantebaserede udgaver (hej havremælk og nødde-yogurt). So far so good, og heldigvis er mit fravalg af kød ikke hårdt for mig. Det kan jeg så være glad for, og det er derfor jeg tænker, at jeg netop aktivt bør sætte ind her – fordi jeg kan! Og ifølge The Guardian, er en vegansk livsstil, det allerbedste vi kan gøre for jorden.
Mens 2019 bliver året for mit fravalg af kød (og året hvor flyrejser for alvor skal bashes – det kommer jeg til lidt længere nede!), så var 2018 mit tøj-år. Det gik op for mig, hvor mange penge, tid og energi jeg brugte på tøj og shopping. Det var ikke godt for mit helbred – mange ting omkring mig stresser og bruger mental capacity), det var ikke godt for min pengepung eller for miljøet. Derfor købte jeg rigtig meget genbrug, og jeg havde tilmed tre måneder, hvor jeg slet ikke shoppede. Det gav mig blod på tanden. Dertil slugte jeg også dokumentaren 'The true cost', der stiller skarpt på tøjindustrien, særligt i Bangladesh. Her slider og slæber kvinder med total mangel på gode vilkår for, at vi kan købe unødvendige t-shirts til 60 kroner i highstreet-butikker. Kvinderne tjener måske $3 (18 kroner) på en dag. Og en dag svarer ikke til en 7-8 timers arbejdsdag ala Danmark, nej, måske nærmere 20-timers arbejdsdage.
Derfor har jeg dette år sat mig i selen for, at jeg generelt ikke skal shoppe. Jeg er et privilegeret menneske, der lever i overflod. Jeg har ikke brug for noget. Hvis jeg absolut skal købe noget, skal det være genbrug. Jeg må højst købe 10 ting fra ny hele året, og hvis jeg køber noget fra nyt, skal jeg sørge for, at det kommer fra en virksomhed med gode værdier og en transparent produktion.
Selvom jeg er vokset op med den evige kommentar: "SPAR PÅ VANDET!" i staccato sagt af min mor, der prædikede om at slukke lyset og spare på vandet længe før, klimasnakken blev rigtig seriøs, så satte disse dokumentarfilm, tanker og initiativer for alvor gang i det, der er blevet til galoperende klimaangst; "Åh nej! Kan jeg blive ved med at leve det her luksus-liv?!?!? Hvad skal jeg gøre?!"
Bruge min stemme, var svaret. Jeg har en værdifuld følgerskare af folk fra hele verden, og her er min mulighed for at gøre noget. At dele, at inspirere. Men tør jeg? Det spørgsmål stillede jeg mig selv. For når man stikker næsen lidt for langt frem, er der sikkert nogen, der er klar til at daske den. Var jeg klar på mulig kritik? Hvad skulle mit modargument være – for nej, jeg er ikke perfekt! Bare fordi jeg ikke spiser kød og ikke shopper mere, gør det mig ikke perfekt. Sandheden er, at ingen af os er perfekte hverken i klima-snakken eller i andre snakke. Medmindre vi flytter til Sverige og bor i en skov og producerer alt selv, måske?
Men frygt for et dask over næsen bør ikke holde mig fra at bruge min stemme. Jeg delte således nogle tanker på  min Instagram-story, holdt vejret og trykkede 'del'. Inden jeg så mig om, strømmede det ind med støttende beskeder og rigtig gode input. Jeg kunne trække vejret igen og var glad for min beslutning om at dele. Derfor vil jeg forsøge at åbne op for inspiration til grønne tiltag. Vi skal oplyses, og vi skal hjælpe hinanden mod et bedre sted. Og bare fordi det er nemt for mig at droppe kød, betyder det ikke, at du er et dårligt menneske, hvis du ikke kan droppe kød. Men måske kan du skære ned og spise færre dyr? Alt tæller.
Og hvis kød eller shopping er din last, så er flyrejser min. Det skjuler jeg ikke, for landet ligger sådan, at min kæreste gennem 4,5 år bor og arbejder i New York. Hvis jeg skal se ham, så involverer det en flyvetur, fordi tog eller bus simpelthen ikke er et alternativ. Det er øv, men lidt en tabt kamp nu. Dog flyver jeg altid med Norwegian, da deres fly er de mest energivenlige, man kan flyve med. Kryds fingre for at visa-guderne skænker os en tanke, så vi kan løse vores bopæl-i-to-kontinenter-problem på et eller andet tidspunkt. Og til vores flyve-forsvar, har vi ikke rejst sammen med fly siden oktober 2017. Hvis jeg skal mødes med et "jamen, du flyver jo hele tiden", når jeg taler højt om grønne initiativer, hvor ender vi så henne? Det ene tiltag udelukker jo ikke det andet, og der er altid noget, vi kan gøre bedre.
Det handler altså om, at vi ikke behøver at kritisere hinanden. Vi skal tage et skridt ad gangen, og det er sejt nok! Vi er ikke perfekte, men bare det, at vi ændrer vores vaner, og bliver bevidste om det, er nok. Og jeg vil gerne give meget mere taletid til emnet på min blog og Instagram, netop fordi det er noget, der betyder meget for mig. Sustainability skal tænkes på mange måder. Det handler ikke udelukkende om klimaet. Det handler om vores helbred og om vores medmennesker, herunder også dyr. Skal kvinder i Bangladesh slide under ikke-eksisterende vilkår, så de kan efterkomme Vestens efterspørgsel på absurd billigt tøj? Skal dyr tortureres og gen-udvikles, så de kan møde Vestens efterspørgsel på billigt kød i store mængder? Nej, og måske, men så lad os da vænne os til at værdsætte det kød, vi spiser og de t-shirts, vi køber.
Jeg har mange indlæg oppe i ærmet. Jeg vil skrive om komplekset i at være influencer, der egentlig tjener penge på at promovere forbrug hos læserne og samtidig snakke højt om klima og gode miljø-vaner. Skrive om nemme, grønne tiltag, du kan gøre i hverdagen (jeg har modtaget mange tips fra jer på Instagram til dette indlæg!). Så vil jeg dele mine yndlings-"grønne"-bloggere og brands, så du kan få endnu mere inspiration,  og jeg vil skrive lidt om det med at rejse og flyve…. Jeg håber, I vil følge med, så vi kan åbne for tovejskommunikation og dialog frem for envejskommunikation og prædiken <3


2019 has already turned out to be an epoch-making year for me. I've stopped eating meat! Meat has never really been an important part of my diet, but I've definitely enjoyed a cheeseburger once in a while, and ate the meat I'd be served. Then I watched the documentary 'Eating Animals' by Jonathan Safran Foer and Natalie Portman which changed everything, and since then, there has been no pork on my fork, or any other meats for that matter. Fish and seafood, yes, but as little as possible. I've cut out many dairy products too, and I am still learning to replace them (hello oat milk and cashew yogurt!). It's definitely a process! So far, so good, and I'm so happy with my decision and luckily for me, cutting out meat is not that challenging for me. That's a benefit for me and why I think it's only right that I make an active stance on this matter because I can! And according to The Guardian, avoiding meat and dairy is the single biggest way to reduce your impact on the word.
While 2019 will indicate the year I quit meat (and the year where flights will for real get bashed – I will touch upon that later!), 2018 indicated the year I drastically changed my shopping habits. I am bringing those habits into 2019 as well. Last year, I realized how much money and energy I was spending on clothing and shopping. It wasn't good for my health (having too much stuff around me stresses me and takes up mental capacity). It wasn't good for my wallet, and lastly, it wasn't good for the environment. I started shopping second hand, and I even did three months without shopping at all. That gave me a taste for changing my habits for real! I watched the documentary 'The True Cost' that focuses the clothing industry, in particular, the production sites in Bangladesh. Women work absurd hours so we can buy unnecessary t-shirts for $5. A price that equals more than what these women get paid for a day of working up to 20 hours…
Those are some of the reasons behind that this year, I will spare no efforts to doing no shopping. I am an overly privileged person living in an abundance of consumption. I will do my very best to buy second hand, if I must buy something. The 'rule is', I can buy 10 things from new the whole year, and I will make sure that the companies that I choose to buy from have good values and a transparent production.
Growing up, I always heard my mom yell "SAVE THE WATER!" and telling us to turn off the lights every time we leave a room. That was before the environment became a serious agenda. But these documentaries have really sparked my thought process on these subjects that have almost turned me into a walking bundle of 'environment anxiety'. Oh no! What will become of us?! Can I keep living this privileged life?! What should I do!?
Use my voice, was the answer. I have a valuable following of people from all over the globe, and this is my opportunity to use this for something important. Sharing, inspire. But do I dare to? That was a question I asked myself, and with advice from my boyfriend and a friend. When you decide to share, there will always be people ready to latch out after you. Was I ready for this? And for criticism? What is my counter-argument, for no, I am not perfect. Just because I chose to stop eating meat, cutting down on dairy products and not shopping, doesn't mean that I am perfect. The truth is that none of us are perfect, and that also goes in the talk about the environment and our consumption.
Although fearing backlash, this shouldn't keep me from using my voice the way I want to do it. I decided to press 'publish' and shared my concerns and thoughts in an Instagram story. The reaction was overwhelmingly positive. A lot of you wrote long, heartfelt messages with amazing inputs.
That confirmed that I wanna turn up with more green initiatives and share them across my channels. We need to help each other, inform each other to make the world a better place. And just because it's no big deal for me to cut out meat, doesn't mean that you're a bad person for not doing that, because you like meat. Just cutting down will make a positive change!
And if meat or shopping is something that would be difficult for you to quit, getting on airplanes is what would be difficult for me to quit, and something I fear getting backlash on. I don't hide that I fly more than the average person, because my boyfriend through 4,5 years lives and works in NYC. If I want to see him, it involves a flight as other means of transportation simply aren't an alternative. It sucks, but it's also a lost battle right now. However, I do choose to fly with Norwegian as their planes are the most energy sufficient available. Fingers crossed that the visa gods will help us solve our 'living across two continents'-issue sooner than later. And to our defense, we haven't been on a vacation that included an airplane since October 2017. And if me sharing green initiatives will lead to a "who are you to talk, you fly all the time", where do we end? One initiative doesn't exclude the other, and again, none of us are perfect.
It's really about that we don't need to criticize each other. We need to take one step at a time, and that's great! We aren't perfect, but just the fact that we become aware, try to do better and change our habits, is great. I would like to add more focus to these subjects on my channels as it is something I care about and would like to shed light on. It's not just about the environment. It's about us, it's about the animals, and it's about our fellow men in Bangladesh slaving to satisfy our need for ridiculously cheap clothes.
I have a lot of posts up my sleeve. I want to write about the complex being an influencer that might make money by promoting consumption while still 'being green'. Inspire with easy, green initiatives you can use in your everyday life. I'll share my favorite 'green' bloggers and brands, and I'll share something about traveling and flying… I hope you'll follow along so we can all get better and help each other out! <3