Everything is as close to being perfect as can be. I am in Berlin! The weather is amazing! I've spent so much time with friends and family! I don't feel too far behind my university stuff and I am in the midst of an exciting project. The only downside (there always has to be one, right?) is that Jesus is not here but busy in NYC with Skål.
I've been in Berlin for two weeks, and the time has literally flown by. I've enjoyed myself so much, revisiting all my favorite Berlin spots, eaten lots of vegan food (Berlin is the ultimate spot for vegans), adored all the Berlin dogs (Berlin is the ultimate spot for dog owners and lovers, as you're allowed to bring your dogs ANYWHERE!), and I've gone to some awesome workout spots with Urban Sports Club.
Over the years, I've turned not only myself but all of my close friends and family into avid Berlin fans. That resulted in back-to-back visits from Copenhagen in these two weeks. First, my friend Waleria and her boyfriend came to visit. They left, and 24 hours later, Asta arrived. She left for the airport, and my parents landed. Then my bonus grandmother joined me, and tomorrow my twin brother will arrive. I've taken my job as a Berlin guide very seriously, but luckily all of them have already been to Berlin multiple times which makes my job more exciting and gives the ability to keep exploring Berlin. Here are a few Berlin pictures from the past two weeks.

Mit liv lige nu er så tæt på at perfekt, som det kan være! Jeg er i Berlin! Vejret er fantastisk! Jeg har haft så meget kvalitetstid med venner og familie! Jeg føler mig ikke alt for langt bag ud i forhold til mit studie, og jeg er i gang med et meeeeeget spændende proejkt. Det eneste jeg mangler, er Jesus ved min side, men han har travlt med Skål i NYC, hvilket jo ikke er en dårlig ting.
Berlin har haft mit selskab i to uger, og tiden er fløjet af sted. Jeg har nydt det så meget, genbesøgt alle mine yndlingssteder- og restauranter, spist en masse vegansk mad (Berlin er et mekka for vegansk mad, og samtlige restauranter og caféer har mindst en vegansk ret på menuen!), sukket efter alle de skønne hunde, der findes i Berlin (Berlin er også et mekka for hunde, der er tilladt alle steder), og så har jeg trænet og dyrket yoga i nogle virkelig seje træningsstudier med Urban Sports Club.
Igennem årene er det ikke bare mig, der er vild med Berlin. Jeg har også fået alle mine venner og familie til at blive kæmpe Berlin-fans, og de besøger mig hver gang, det er muligt. Denne gang var ingen undtagelse, og det betyder, at jeg har haft back-to-back besøg, siden jeg kom. Først af Waleria og hendes søde kæreste. 24 timer efter deres afrejse, landede Asta. Hun tog mod lufthavnen, og mine forældre landede. Og en dag efter de tog af sted, kom min pap-farmor. Nu er det min tvillingebrors tur. Han kommer i morgen, og vi skal have en skøn weekend sammen. Her er lidt om, hvad jeg har fordrevet tiden med i Berlin <3
Ps. Hvis du har brug for tips til den dejlige by, så forglem ej, at jeg har skrevet en printet guidebog til byen. Den kan du tjekke ud lige her.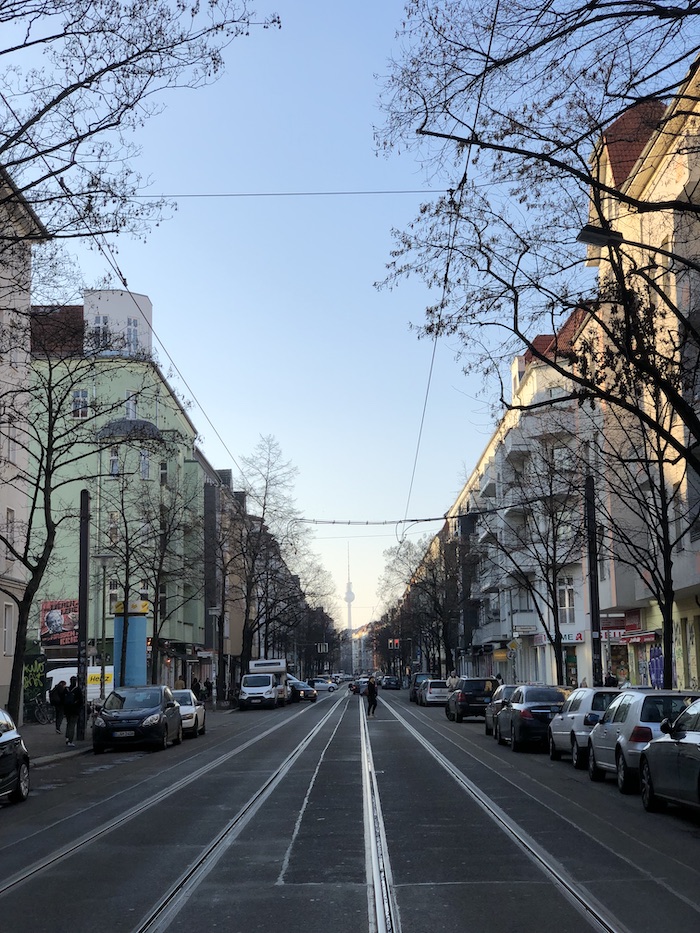 Mit elskede Berlin. Lige dele grimt, smukt, vidunderligt og vanvittigt.
My beloved Berlin. Equally ugly, beautiful, crazy and wonderful.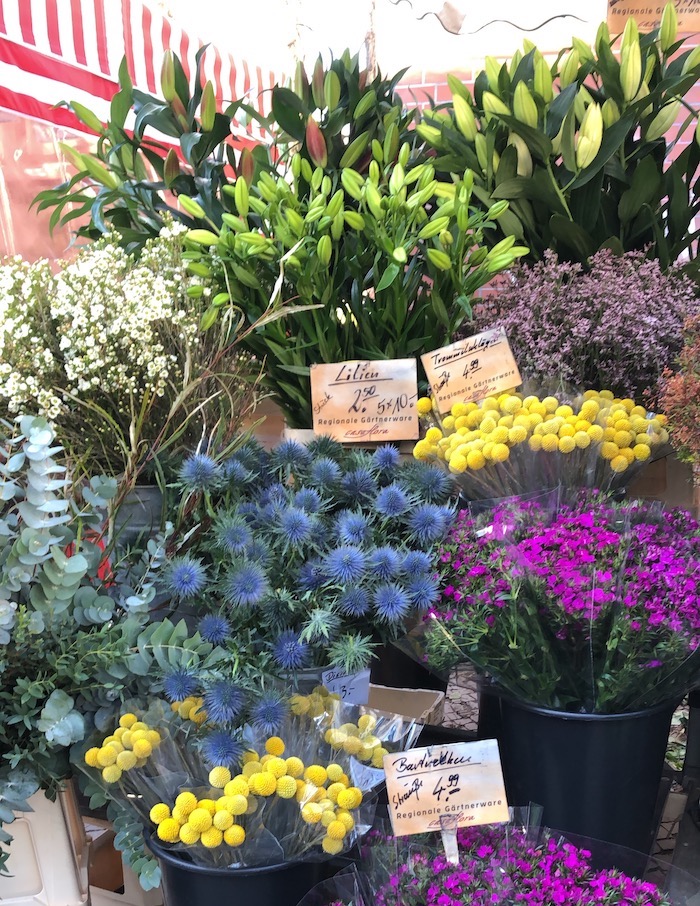 Når vi taler om mine yndlingssteder i Berlin; lørdag morgen på Boxhagener Platz Wochenmarkt. Her kommer landmænd til Berlin med deres lækre frugt og grøntsager, og berlinerne der er så grønne, har selv deres egen tupperware med, som varerne bliver pakket ned i.
Speaking of my favorite spots in Berlin; Saturday mornings at Boxhagener Platz Wochenmarkt. It's a Berlin equivalent to a farmer's market. I love watching the green Berliners bringing their own Tupperware to store their zero waste, locally sourced fruit, veggies, eggs, and cheese.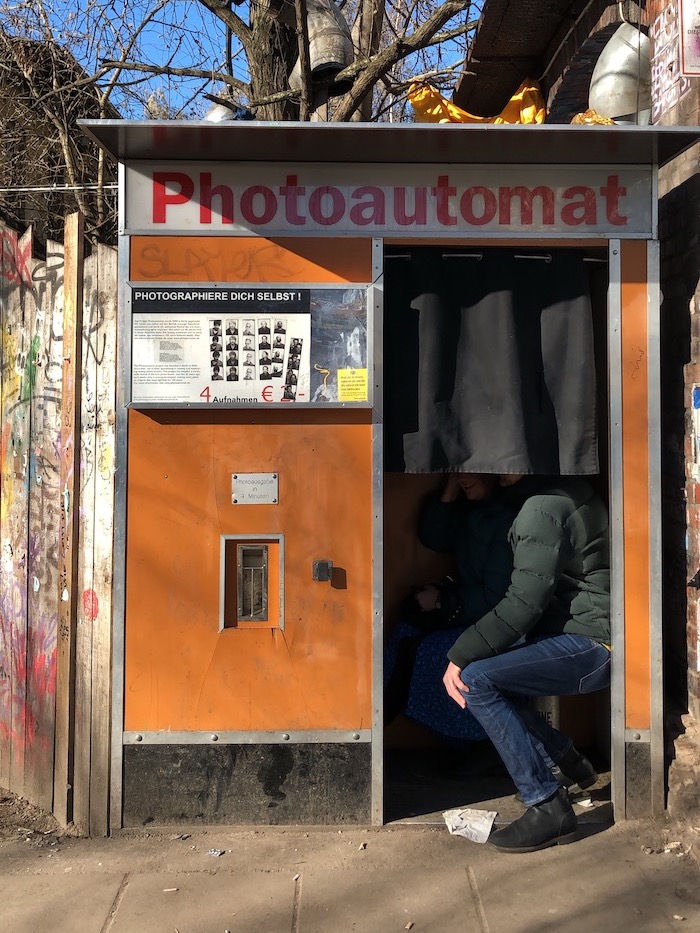 En sjov ting jeg har gjort, siden mit Berlin-eventyr begyndte i 2010. Tvunget mine venner, familie og gæster ind i en 'photoautomat' for at tage en samling af fire pasbilleder i analog-stil til 2 euro. Et must i Berlin. Jeg har en skøn samling af alle billederne i min lejlighed, og det er en skøn tradition.
A thing I've been doing since 2010 when my Berlin love story began. Forcing all my friends, family and visitors to enter a 'Photoautomat' to take a four-strip analog photo for me. I have a dear collection of these photos in the apartment.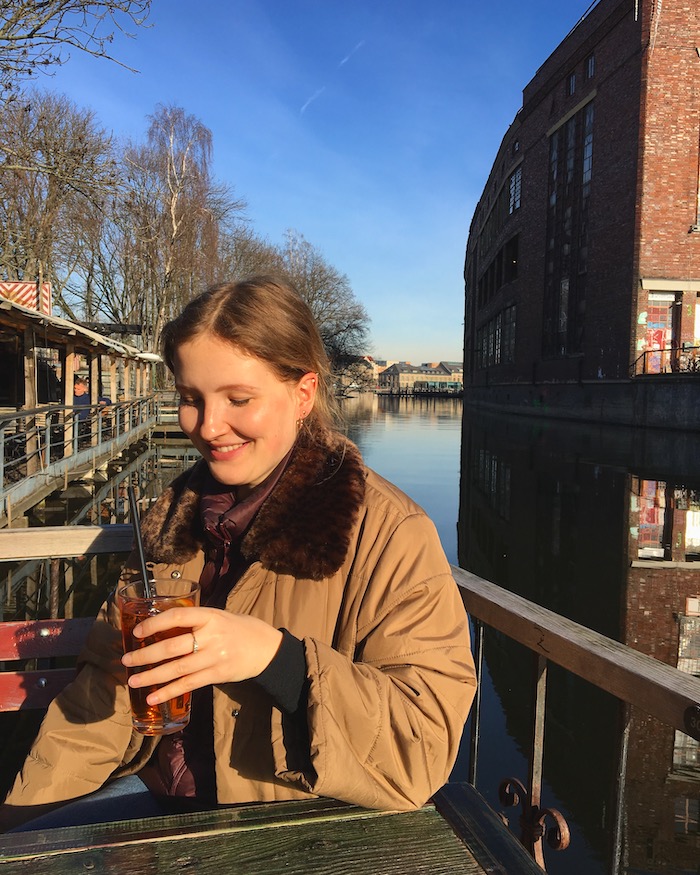 Vejret har været helt fantastisk! Og med en halv liter Aperol Spritz i hånden til 5 euro, kan man da især ikke klage. Netop da jeg skriver dette, går det op for mig, at drinken på billedet er dyrere end jakken på billedet. Den er også ny (selvfølgelig brugt!) og jeg gav 4€ for den. HAHA! Apropros – jeg er i gang med at brygge på en video til Instagram, hvor jeg deler mine bedste råd til genbrugsshopping.
The weather has been impeccable! And with half a liter of Aperol Spritz in my hand that cost me 5 euros and this view, life couldn't be better. As I am writing this, I realize that the drink was more expensive than the jacket, I am wearing in this photo. It's new (but of course bought second-hand!) and cost me 4 euros. Speaking of, I've filmed a video that I will edit and post on Instagram sharing my best tips and tricks for second-hand shopping. Stay tuned.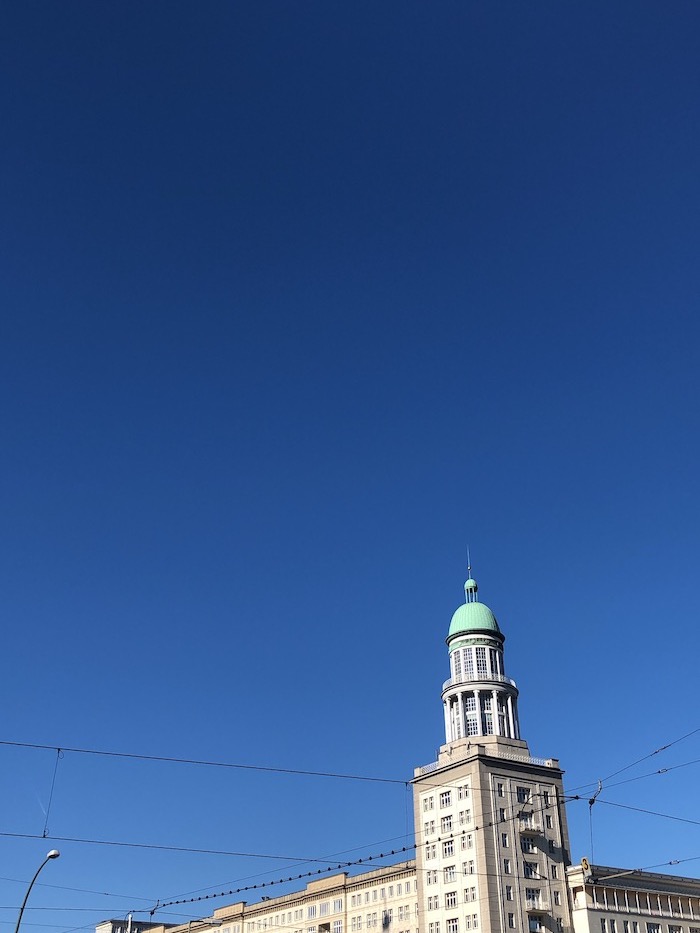 Se lige det vejr altså! Den blå himmel! Så kan man da ikke andet end at mærke lykke gennem hele kroppen. Tilsæt så min, muligvis, yndlingsbygning i Berlin, tårnene (ja, det er to overfor hinanden!) på Frankfurter Tor. Den er også beskrevet i min guidebog.
I mean 😍😍😍 This is btw, one of my favorite buildings and streets in Berlin; Frankfurter Tor on Karl-Marx-Allee. So much history and so unusual.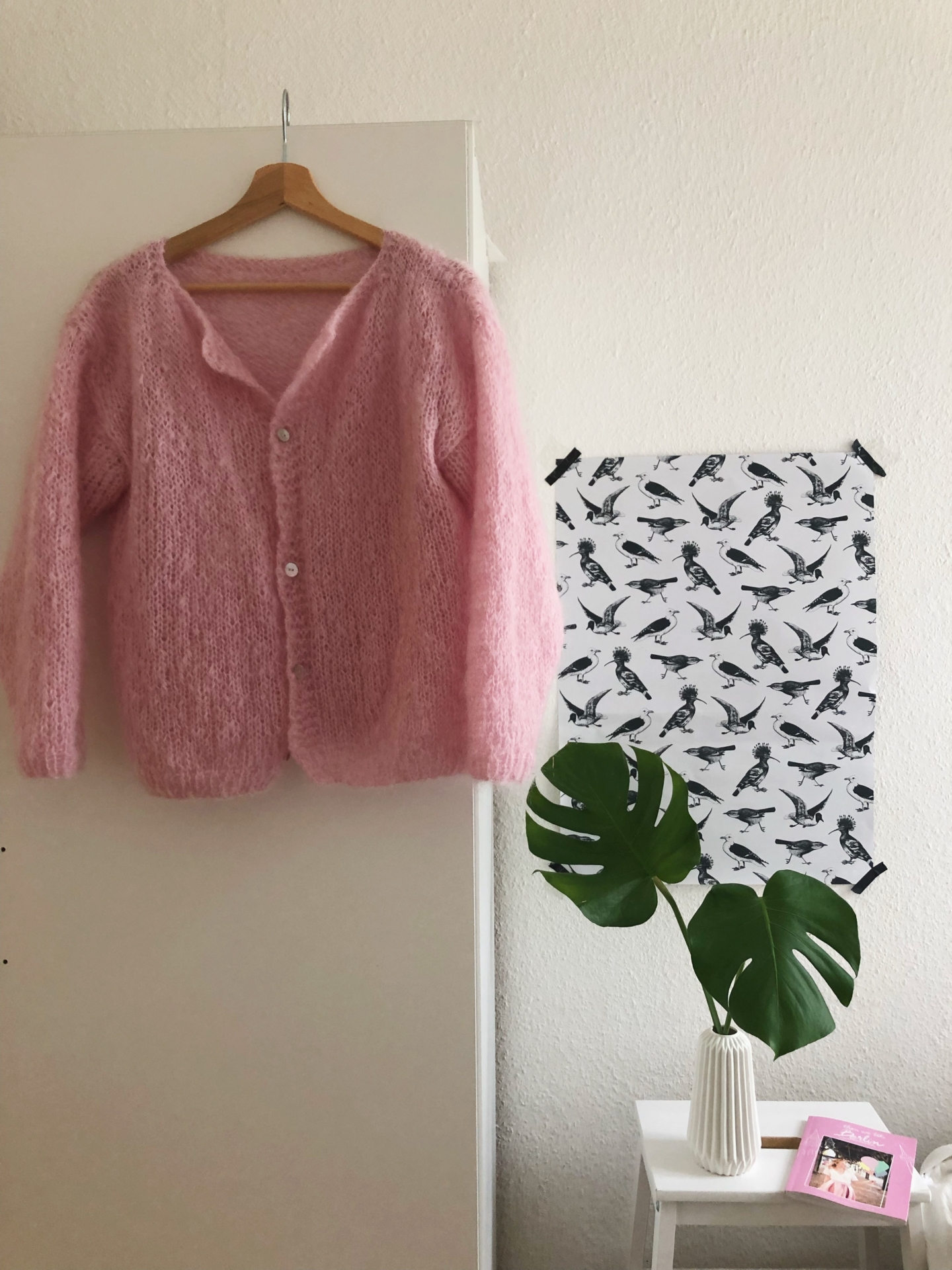 Sødeste Anne havde en ny strik-cardigan med til mig i 'Caroline-farve'. Den er så fin, og hun strikker på bestilling, så tjek hendes skønne profil. Se hvor fint den matcher min guidbog <3
My dear bonus grandmother brought me a knit cardigan in 'Caroline-color'. It's so soft, beautiful and in the perfect pink color, that btw matches my Berlin guidebook perfectly.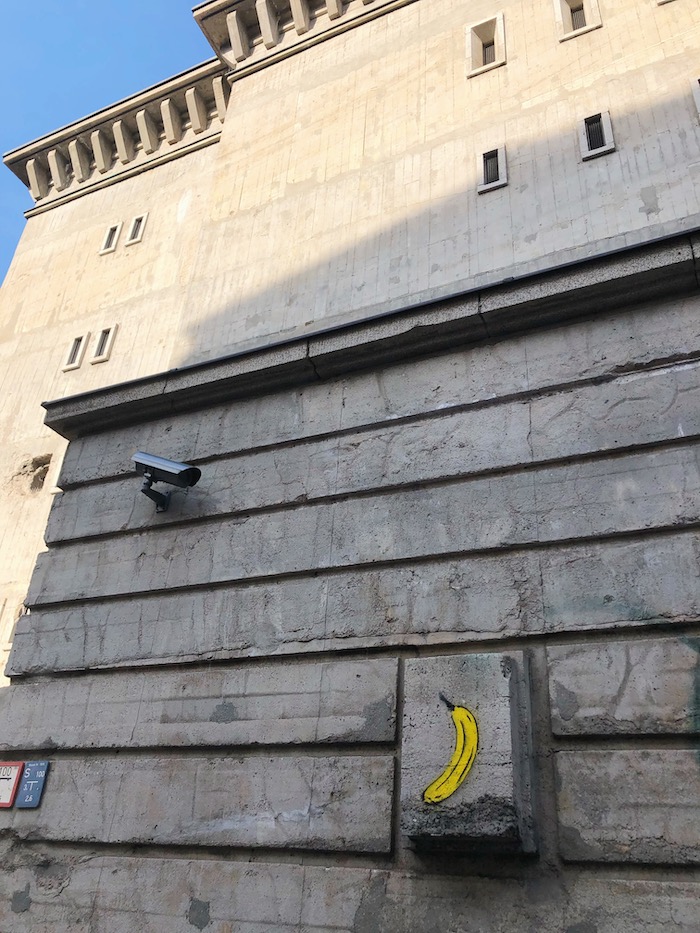 Mine forældre har besøgt Berlin flere gange, end jeg kan tælle. De har efterhånden også deres yndlingssteder, så derfor har vi lavet en aftale om, at hver gang de kommer, skal vi alle opleve noget nyt. Det skal altså også være nyt for mig! Denne gang var ingen undtagelse. Min far havde bestilt en rundvisning på Bunker Boros, som er det mest vanvittige sted. En kæmpemæssig bunker bygget i 1941. Den var lavet til 1200 mennesker, men op mod 4000 mennesker, gemte sig her, når bomberne bragede over og hærgede Berlin. Efter krigen bruget russerne kortvarigt bunkeren som fængsel, og siden blev den opbevaring for de værdifulde eksotiske frugter fra Cuba, bananer. DDR og Cuba havde et godt kommunistisk fælleskab.
Da muren faldt, blev klubben, som så mange andre tidligere DDR-steder, brugt som ekstrem, fetich- og technoklub, og kondensen drev af væggene, hvor der kun var 2 meter til loftet. Det var farligt, og klubben blev lukket. Bunkeren stod tom, indtil mediemanden og kunst-interesserede Christian Boros købte bunkeren. Han bor i en tilbygget panorama-penthouse på toppen, og rundt i bunkeren er der en fantastisk moderne kunst. I den grad en anbefalelsværdig oplevelse. Guidet rundvisning koster 15 euro og tager 1,5 time, og der skal bookes på forhånd, for bunkeren er selvklart populært.
My parents have visited Berlin more times than I can count. The definitely have their favorite spots and know the city very well. So do I. So we made an agreement. Every time they visit Berlin, we must do something that none of us have done before. This time was no exception, and we visited Bunker Boros. A bunker built in 1941 for 1200 people to hide when the bombs were terrorizing Berlin, but more than 4000 people ended up hiding here! After the war, the bunker was briefly used as a jail, then turned storage for the exotic and valuable bananas from Cuba.
When the Berlin Wall came down, the bunker, like many other GDR spots, was turned into a crazy techno club. It was closed down and left empty, until Christian Boros, an art lover and media mogul bought the bunker. He lives in a sick penthouse built on top of the bunker, and the bunker has been turned into an interesting art museum that also takes the history into account. A remarkable place and definitely something you should add to your Berlin bucket list!