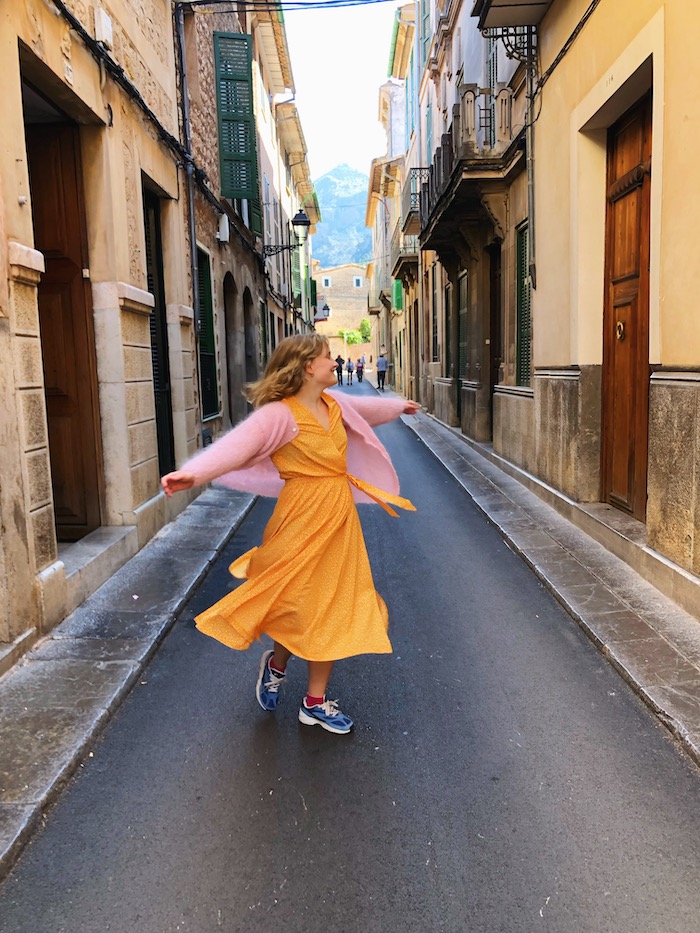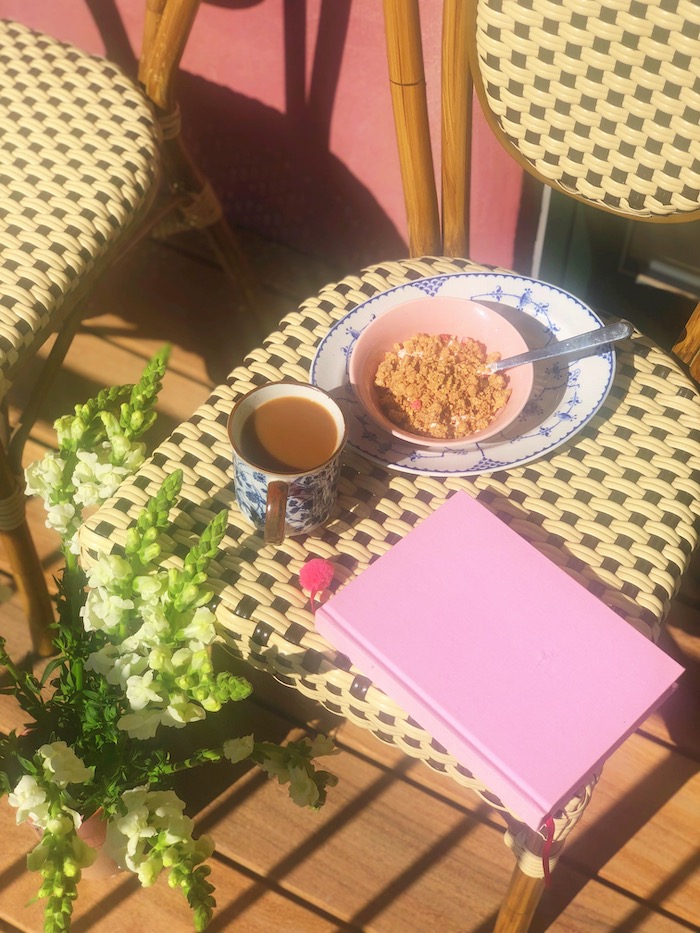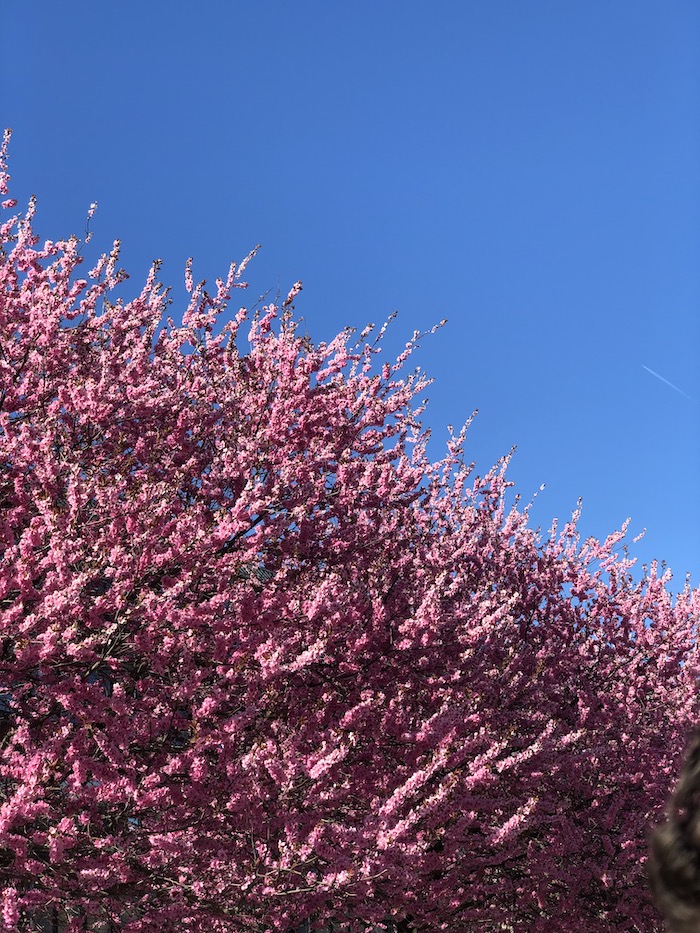 It's May, hooray! I can't believe that 25% of the year is already gone. Good thing is that we are entering one of my favorite months. May is the month where summer starts knocking at the door, it's allowed to eat ice cream every day and the Scandinavian summer nights seem endless.
I forgot about writing this post last month because I was preoccupied with the kitchen process that swallowed all of my time, energy and capacity. I'm trying to make up for it by being early with this month's plans and intentions. Here we go!
What I want to do in May…
♥ Eat tons of ice cream. A Danish vegan company just launched 14 different ice creams, and so far, I've tried the hazelnut one and it was yummy. I'll make it my May goal to try all 14 😉
♥ Decorate and furnish my new balcony. I am in two minds about it – I can't really decide whether I want it to be chill and loungy or if I want a dining table and chair. Or maybe both?!
♥ Write my bachelor thesis. It has to be 60 pages long. Luckily, I am writing it together with a great study partner, so we'll be fine, although I am sure we'll work hard closer to the deadline.
I especially look forward to…
♥ Celebrating my grandfather's birthday. He is turning 80, but he looks and acts way longer. One can only hope to be like him at 80 years old!
♥ To go back to NYC. I am leaving mid-May for a whole month, and I can't wait to be back.
♥ To hand in my bachelor thesis on the 27th of May. In June, I'll have my oral exam and then I can finally call myself a bachelor!
What I am watching and reading… 
♥ Currently watching 'The Act' on Hulu. A show based on true events about mother DeeDee and daughter Gypsy Rose. I saw the documentary and read the Buzzfeed article last year, and I was so intrigued and scared by the crazy story. The show is so good!
♥ Reading 'A little life' by Hanya Yanagiraha. Everyone's been talking about how good it is, so I am excited to dig in.
I am grateful that…
♥ My apartment has turned out so beautiful, although it was hard work renovating it. The floor, the kitchen and the balcony are gorgeous and I feel so lucky and grateful to have this space.
♥ To, soon, finish three years of studying at Copenhagen Business School. I survived! (almost).

Det er maj, hurraaaa! En af de skønneste måneder – sommeren banker for alvor på, det er is-tid, og så er det måneden hvor jeg skal aflevere min bacheloropgave. Af god gammel glemsomhed, sprang jeg dette indlæg over i sidste måned, men nu vender jeg stærkt igen.
Jeg er vild med at læse disse månedsindlæg, blandt andet hos Emily Salomon, og så er de også hyggelige at skrive. I en travl hverdag føles det godt at sætte sig ned og tænke over, hvad jeg gerne vil lave af rare ting i den kommende måned, og ikke mindst at skrible ned, hvad jeg taknemmelig for. Det er et genialt trick til mere glæde i hverdagen! Lad os komme til sagen:
I maj vil jeg…
♥ Spise is i stor stil! Jeg vil igennem alle Naturlis nye veganske 'ice dreams'. Indtil videre har jeg smagt deres hasselnød, og den er helt genial! Deres sortiment tæller intet mindre end 14 forskellige is, og så har jeg fundet ud af, at Naturli har deres egen biks med hele deres sortiment lige rundt om hjørnet. Så bliver det da ikke bedre! Derudover vil jeg også smage Magnums nye veganske is. Har du prøvet dem?
♥ Indrette min nye, skønne altan. Jeg er i syv sind over, hvad jeg gerne vil have på den. Drømmer jeg om en stor, loungy sofa med bløde hynder? Vil jeg gerne have et spisebord til fire personer og stole til? En jacuzzi? Ej, det sidste bliver nok et nej…
♥ På loppemarked og forhåbentlig omsætte en sæk med tøj og sko. Kom med! Den 4. maj på Århusgade på Østerbro.
♥ Bruge en masse tid på at skrive bachelor. Heldigvis har jeg en skøn bachelor-makker, så selvom det helt sikkert bliver hårdt, så er vi også gode til at gøre det sjovt.
Jeg glæder mig især til…
♥ At fejre min farfars 80-års fødselsdag. Han har inviteret til stor fest, og jeg er sikker på, at det bliver lige netop det!
♥ At flyve til New York. Jeg tager nemlig af sted midt-maj og er væk en hel måned. Min bachelor-makker tager med, og så er planen, at vi skal skrive en masse bachelor og nyde New York, når vi ikke skriver.
♥ At klikke 'send' og få min bachelor sendt af sted på afleveringsdatoen den 27. maj. Det bliver så vildt! Så skal jeg bare forsvare den i juni på et tidspunkt, og så er jeg done – og et bachelorbevis i Interkulturel Markedskommunikation rigere.
Hvad jeg skal se og læse…
♥ Jeg er i fuld gang med at sluge 'The Act' på HBO. Serien er baseret på virkelige hændelser, som der både er skrevet artikler og lavet dokumentarer om, blandt andet 'Mommy, dead and dearest'. Serien handler om en mor og datter. Moren lider af Munchausen by proxy, en sygdom hvor man sygliggør én omkring sig for at få medlidenhed og opmærksomhed. Det er simpelthen sådan en vanvittig og sørgelig sag, men serien er så god!
♥ 'Et lille liv' af Yanya Hanagihara, som jeg har hørt så meget godt om. Derudover har jeg netop færdiggjort 'Syv sind' af Lotte Kaa Andersen, som er den tredje i serien om de rige, ulykkelige familier fra Hambros Allé i Hellerup. Den tredje bog var mindst lige så god som de to andre. Jeg håber og tror på, at serien bliver gjort til en tv-serie en dag…
Jeg er taknemmelig for…
♥ Mit nye gulv, mit nye køkken og min nye altan. Jeg føler mig så heldig over min lille, skønne lejlighed.
♥ At have færdiggjort og holdt ud i tre år på CBS. Jeg synes, at tiden er gået meget, meget hurtigt.
Hvad skal du lave i maj? ♥