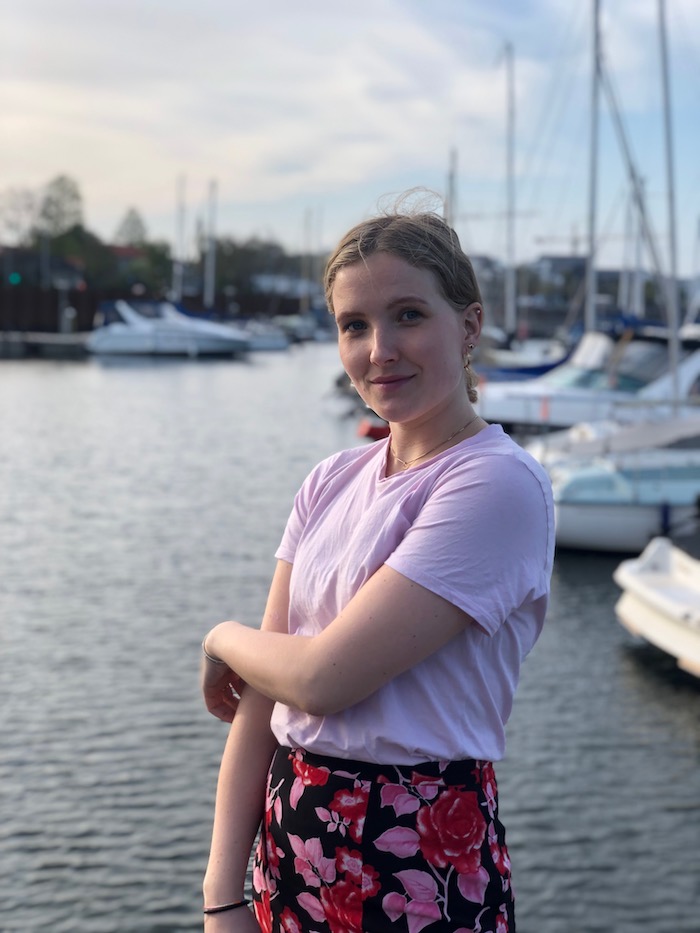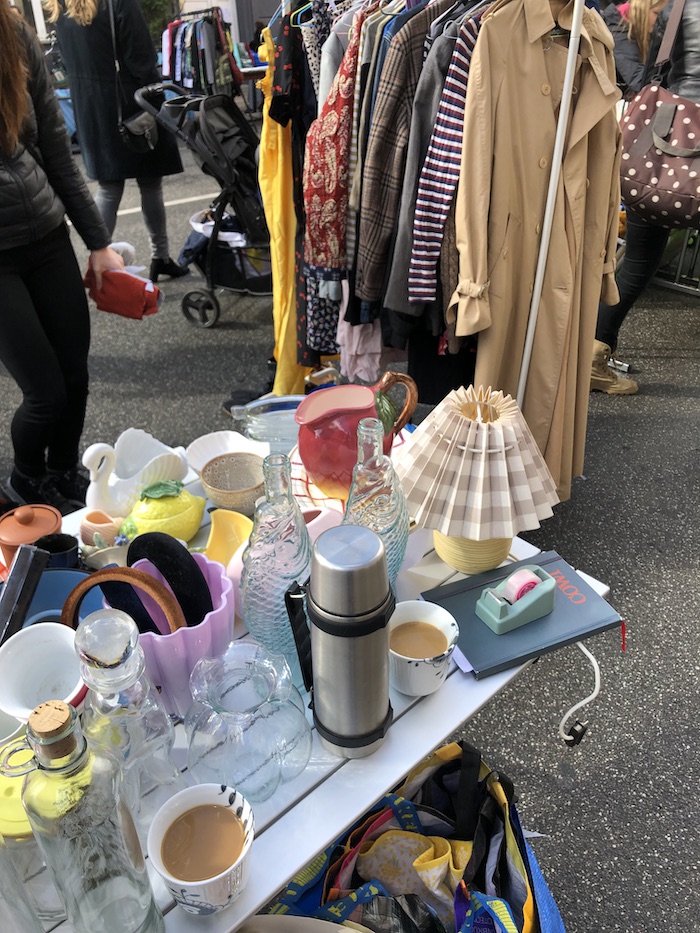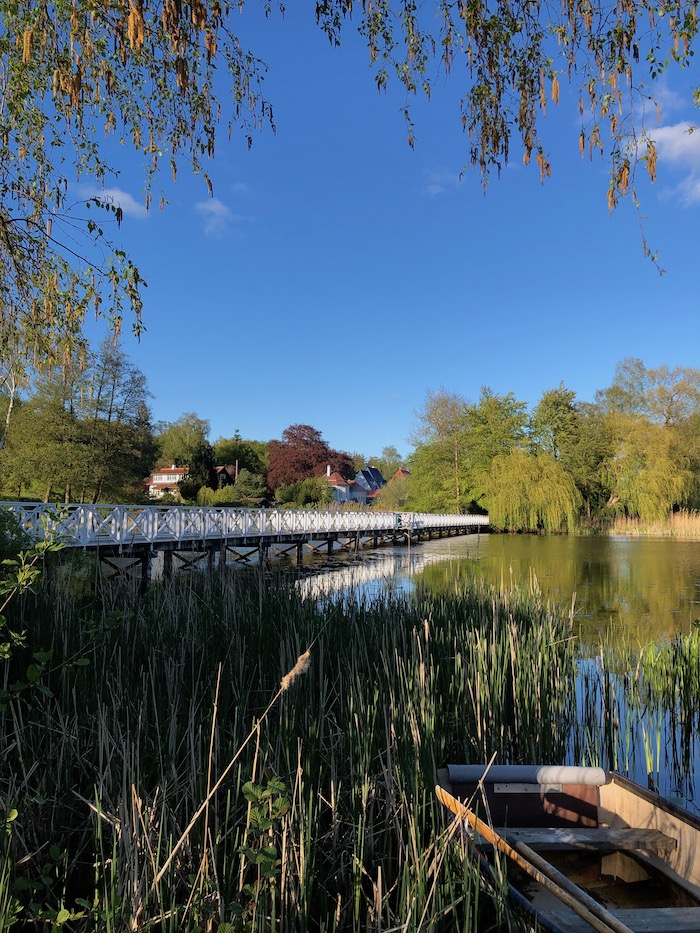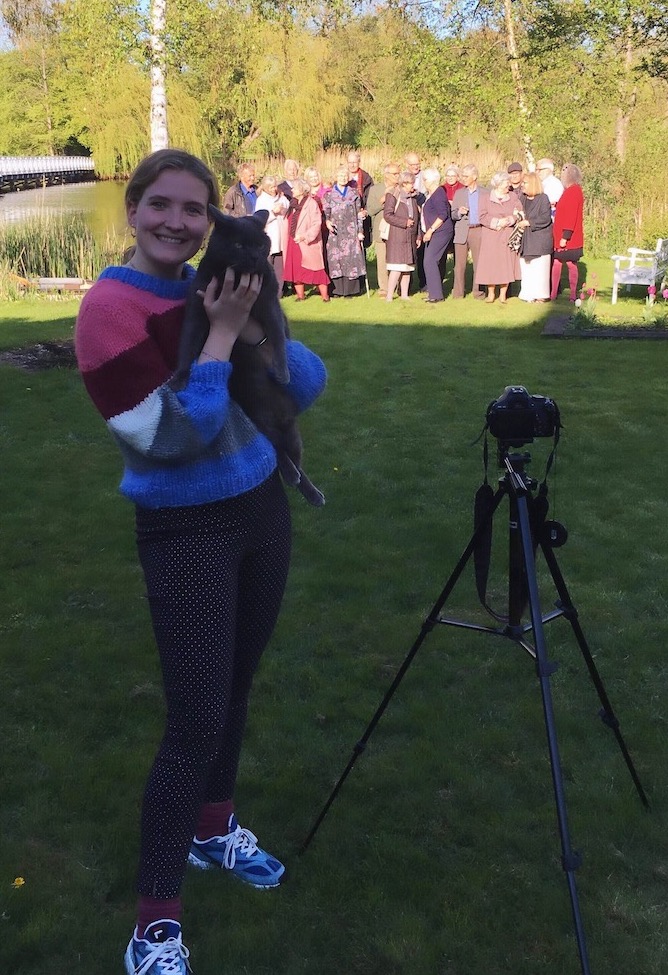 Last week, I spent two days in the countryside in the company of my bachelor thesis partner. We got a nice share of our thesis done, besides from the first day where we spent a fair share of hours going in circles with a theory that we didn't quite catch. It's all part of the writing process, we told ourselves while trying not to become too frustrated.
We had a good time, and while writing a bachelor thesis isn't all that fun, I was happy to get away from the city and to soak up nature and being able to focus a 100% on the thesis. Especially because I knew I had a busy weekend ahead!
When my thesis partner dropped me off in Copenhagen, she wished me good luck with my busy weekend.
I spent Friday morning working, and then running to my storage in the attic to prepare for the flea market, I was going to the day after. My Marie Kondo has paid off, meaning I had a good amount of stuff to sell. In the afternoon, Jesus arrived in Copenhagen from New York.
Soon after, it was time to go to a gallery in the center of Copenhagen to visit our friend's exhibition that opened that night. Afterward, we all had dinner at Babylon. Our reservation was 10 pm, but we ended up waiting around for two hours to get our table. Dinner at midnight – there's a first time for everything. After our late dinner, we went for a quick dance at the newly opened club, Søpavilionen, and then it was time to go home. I was a bit anxious to get home, as I was already stressing myself out because I knew I had an early morning and a day full of flea market, and then straight on to serve at my grandfather's 80th birthday dinner for his music friends.
Then the craziest thing happened. We biked home from the club in a snowstorm. A SNOWSTORM ON MAY 3RD?!?!?! Check my Instagram for proof on the snow… Although I went to bed at 3 am, I made it up at 7 am to get ready for the flea market. It was absolutely freezing, but luckily that didn't scare the customers. I had my most successful fleamarket sale ever, and I feel relieved and so does my attic. I also survived serving drinks and food at my grandfather's dinner and I was more than beat when I got home at midnight.
After a good night's sleep, I managed to have a nice breakfast with lots of coffee with my parents and Jesus. Then a quick trip to the gym, home to get ready and off for my aunt's 50th birthday girl's lunch. She served the cutest mini versions of Danish smørrebrød.
Phew. One busy, but great weekend! The funniest, ironic part is that last weekend, I spent all alone with no plans and nothing to do. I was bored out my mind and I even got to feeling a little melancholic as I scrolled through Instagram and felt like a loner with no friends and no life. I tried to rationalize and tell myself to chill because I knew that the coming weekend would be very busy, and by then, I would wish back to this weekend of no plans.
The grass is always greener in those situations. On the weekend, where I have no plans, I wish I had tons of plans and vice versa. Morale? Mindfulness and to be happy and grateful in both ends of the spectrum. So I'll try to embrace my weekends with no plans as well as my weekends with too many plans. It's all about balance!

Jeg havde to dejlige dage på landet sidste uge. Min bachelormakker og jeg kapitulerede nordpå i hendes mors sommerhus med målet om at fokusere 100% på vores bacheloropgave. Det gik ok med koncentrationen, men vi nåede at blive frustrerede, da vi kørte rundt i en form for misforstået teori i mange timer den første dag. Vi prøvede at trække vejret og fortælle hinanden, at det er en del af skriveprocessen. Og så forkælede vi os selv med vegansk is fra Naturli'. Den er så god!
Vi hyggede os selvom bachelorskrivning ikke nødvendigvis er det hyggeligste, man kan foretage sig. Det var rart at komme ud af byen og fokusere på opgaven. Især fordi jeg vidste, at jeg havde en travl weekend foran mig.
Min makker satte mig af i hjemme i København og ønskede mig held og lykke med min travle weekend. Fredag morgen brugte jeg på at arbejde og gennemgå mit loft for at gøre mig klar til lørdagens projekt, der stod på loppemarked. Min Marie Kondo-oprydning og efterlevnet på loftet kaldte efter et loppemarked, og der havde hobet sig en del op. Om eftermiddagen landede Jesus fra New York.
Han nåede lige at stille sin kuffert, inden vi cyklede mod et galleri i Indre By, hvor en af vores fælles venner havde stor premiere på sin kunstudstilling. Herefter gik turen mod middag på Babylon. Vi endte med at vente to timer på vores reservation og spiste således middag ved midnatstid. There is a first time for everything. Jeg nåede lige en hurtig dans på Søpavillonen, inden jeg måtte kapitulere, fordi mit rationelle jeg huskede på, at jeg skulle tidligt op og på loppemarked og efterfølgende servere til min farfars 80 års-fødselsdagsmiddag for hans musikvenner.
Så skete det mest sindssyge – på vej hjem på cyklen blev vi ramt af en snestorm. Det gjorde ondt på fingrene og i ansigtet, når sneen ramte, og mest af alt føltes det fuldstændig vanvittigt, at den rammer København den 3. maj?! Se Instagram for bevis på den frygtelige cykeltur. Jeg var i seng klokken tre og havde allerede skrækscenarier for, hvor hård lørdagens loppetjans ville blive. Klokken 7 ringede væggeuret, og jeg havde det egentlig ganske udemærket. Jeg klarede også serveringen heldigvis med hjælp fra min veninde, og vi hyggede os. Det gjorde dem på +70 heldigvis også.
Efter en god nats søvn, stod jeg op til kaffe, croissanter og boller med ost, som min kæreste havde hentet til mig og mine forældre. Jeg nåede en hurtig tur i fitness, og så var det atter tid til søndagens program. Pigefrokost til min tantes 50 års-fødselsdag. Hun serverede Danish minies, de kæreste mini-smørrebrød.
Puha. En tætpakket men skøn weekend. Det sjoveste og ironiske er, at forrige weekend havde jeg absolut ingen planer. Jesus var i New York, mine forældre i New Zealand og alle mine veninder havde travlt med alt andet end mig 😉 Jeg var altså rimelig meget alene og følte mig pænt melankolsk, når jeg scrollede igennem Instagram og følte mig som verdens mest lonely type uden et liv og uden nogle venner. Jeg prøvede at være lidt mere rationel. For selvfølgelig har jeg et liv og venner. Jeg huskede mig selv på, at jeg burde nyde denne stille weekend, for næste weekend ville være alt andet. Der ville være knald på, og der ville jeg ønske mig tilbage til den rolige weekend. De er en ægte græsset er altid grønnere på den anden side-situation.
Og hvad er så historiens moral? At huske at nyde hver ende af spektrummet i forskellige situationer, for der er gode ting ved begge. Det er livets balance og yin og yang, at der skal være plads til begge dele. Det vil jeg blive bedre til at huske mig selv på!