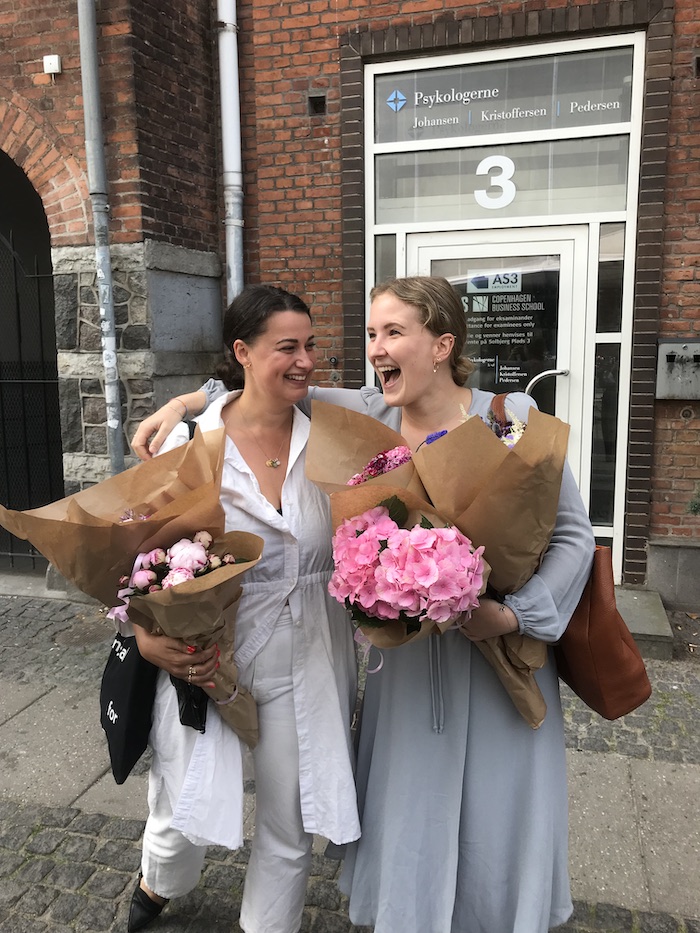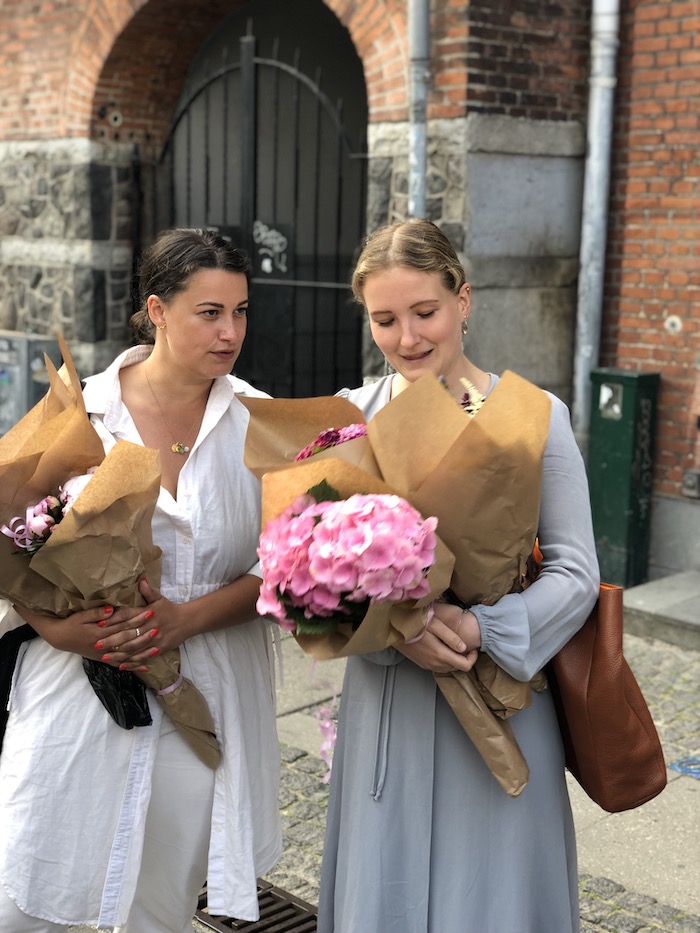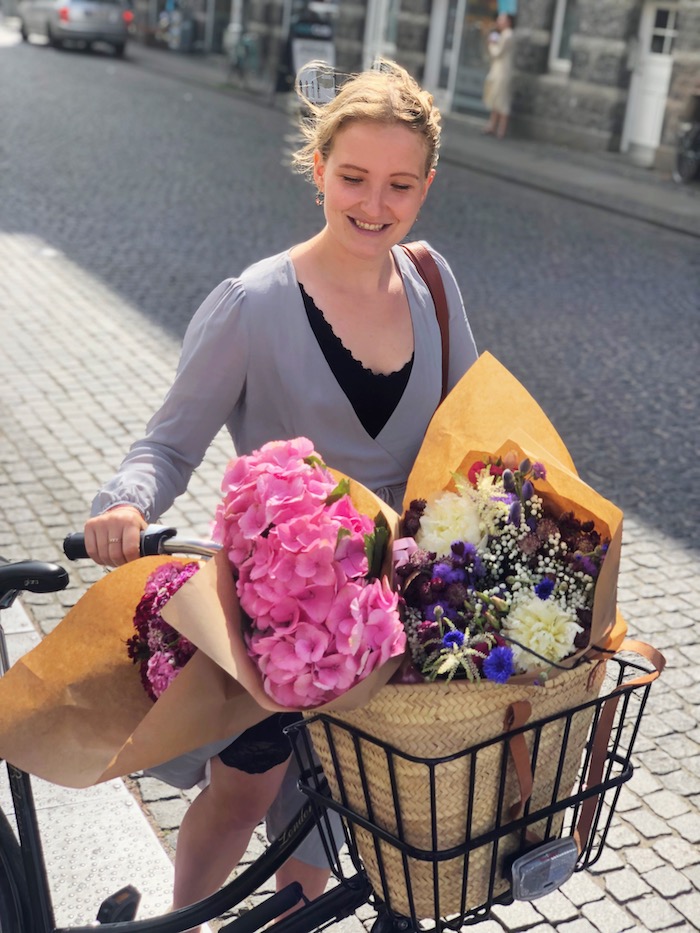 I still quite can't believe it, but Thursday a couple of days ago, I did the oral defense of my bachelor thesis, which means I graduated and now have a bachelor's degree! Wuhuuuuuu!
My bachelor thesis partner and I had spent 2,5 months writing a 60-page thesis on the successful luggage company, Away. Writing it was definitely fun but also hard work. May 27th we handed in the thesis and a month later, it was time for the 30-minute oral defense. I was extremely nervous about this one. While I usually do good at oral exams, it doesn't make them any less terrifying.
Despite waking up with a pounding heart due to nervousness, I made it to Copenhagen Business School, ready for the 9.30 am oral defense. And not only did I survive, I even got a 10, which is the second highest mark in the Danish mark system. As I left the building with butterflies in my stomach due to the happiness of not only surviving but doing so with a great mark, my parents, grandfather, boyfriend, and friends were waiting outside.
I was so happy! We had coffee at a cute cafe nearby and I got gorgeous flowers and gifts and enjoyed my newfound freedom of Copenhagen Business School with friends and family. We kept celebrating the rest of the day.
After sleeping around 12 hours (if you ever deserve 12 hours of sleep, finishing your degree is the right time!), I woke up with an empty feeling. What now?
I still have this feeling. It is a weird anti-climatic feeling of being finished with something that has had a high priority and taken a lot of time in your everyday. How and with what do I now fill that void? I need to figure this out and to shake the feeling of not doing enough.
I have a year off school before I go back in August next year to pursue my master's degree. I'll be back soon with a blog post about what I will do this coming year. Have a great Sunday night ♥

Selvom jeg stadig har svært ved at tro det, så blev jeg bachelor i torsdags, hvor jeg havde mit mundtlige forsvar af min bacheloropgave!
Min bachelormakker og jeg har brugt to en halv måned på at skrive en 60 sider lang opgave om kuffertvirksomheden Away. Vi havde det sjovt, og det hjalp en del, at vi havde valgt et emne, vi hver især er interesserede i. Men det trak  også tænder, for når man skriver 60 sider, er det altså svært at holde hovedet koldt og være sikker på, at der er en rød tråd gennem opgaven, og at det hele hænger sammen og giver mening. Den 27. maj afleverede vi opgaven, åndede lettede op, og så skulle der gå en måned før vi skulle forsvare den. Selvom jeg plejer at få gode resultater til mundtlige eksaminer, så synes jeg, at de er skræmmende, og jeg er altid så nervøs op til.
I torsdags kom dagen endelig. Jeg vågnede op med et bankende hjerte takket være nervøsiteten og cyklede mod CBS på Frederiksberg, hvor eksamen skulle finde sted klokken 9.30. Klokken 10 var helvedet overstået, og ikke nok med at jeg havde overlevet og kunne ånde lettet op, så fik jeg 10! Og oplevelsen i sig selv havde næsten været hyggelig, takket være vores søde vejleder og vores ligeså søde censor. Det betyder bare så meget.
Jeg hoppede ned af trapperne, ud af hoveddøren, og på den anden side stod min bachelormakker og hendes familie, mine forældre, farfar, kæreste der var hoppet på en flyver fra New York i dagens anledning og veninder, og jeg følte mig lykkelig og meget heldig! Tænk sig at bo i et land, hvor man kan gå i skole, tænk sig at jeg har overlevet tre års studie med fine resultater og at jeg nu har en bachelorgrad fra et anerkendt universitet og tænk sig at jeg har så mange fantastiske mennesker i mit liv, der dukker op med favnen fyldt med lyserøde blomster og fine gaver.
Vi drak kaffe på en fin café i området og fortsatte med at fejre og nyde livet resten af dagen. Dagen efter vågnede jeg op efter 12 timers søvn. I stedet for at blive sur på mig selv, som jeg plejer at blive, når jeg sover for længe, besluttede jeg mig for, at det var okay efter alt det hårde arbejde. Da jeg endelig vågnede, var det med en mærkelig, tom fornemmelse. Hvad nu?
Den følelse sidder stadig i mig. Det er en mærkelig, antiklimatisk følelse af, at jeg har overstået noget stort i mit liv, der har fyldt så meget i mange år. At jeg skulle gå i skole i tre år og få min bachelor, og nu er det klaret. Det har både været identitetsskabende i mit hoved og taget meget tid og energi fra mit skema og min hverdag. Nu er tavlen visket ren og alle bachelor-projekter er væk fra rummet. Hvad skal jeg nu fylde det tomrum med? Det skal jeg bruge det næste stykke tid på at klarlægge for mig selv, og så skal jeg af med følelsen af, at jeg ikke gør nok.
Nu har jeg et år fri, før jeg starter på kandidaten cand.merc.komm. næste år i august. I mellemtiden brygger jeg på et indlæg over, hvad jeg skal bruge det næste år på… God søndag aften ♥