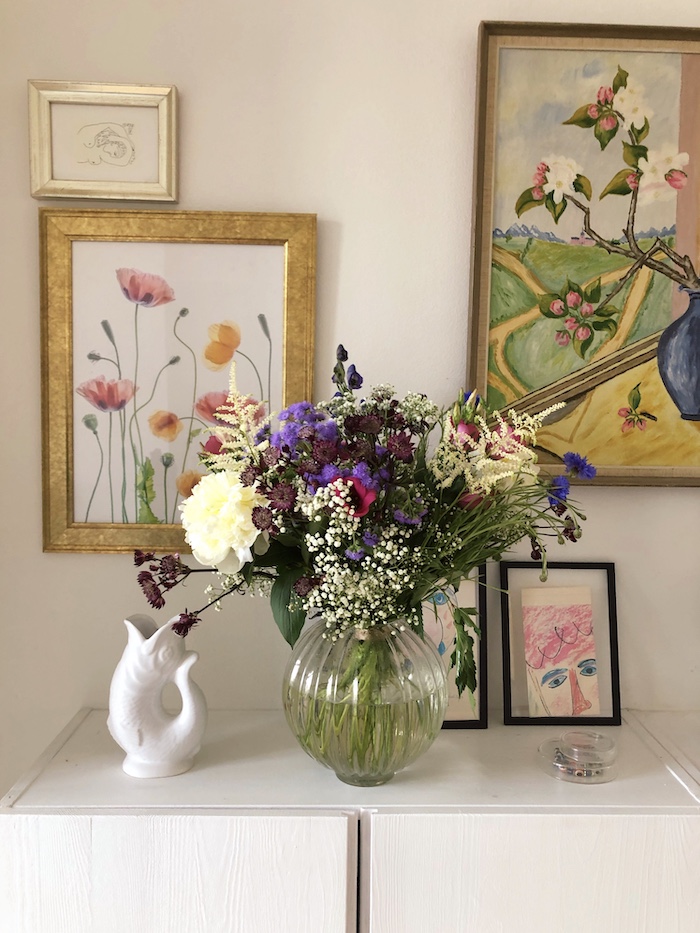 Phew, I can't quite believe it has been a year since I went to the doctor and came home with the bad news that shook my world. Being treated for melanoma definitely changed my life, and in two directions. It made me realize that bad things definitely happen to good people, it made me terrified of losing, and I suddenly find myself dealing with catastrophic thinking about myself and loved ones. Like when I scratch my nose in the shower and it starts bleeding, and I am terrified of dying of loss of blood alone in my sleep. And on the other hand, it made me grateful for living, especially in a country like Denmark that takes good care of people.
It's still crazy to think about last year – what actually went down and that it went down in my life, not someone's you read about in a magazine. From having a normal, happy and healthy life, being ready to move to NYC, and then receiving the breaking news. Undergoing a few hours of surgery just a few days later, to now being left with some pretty large scars and having to visit the melanoma department at the hospital a couple of times a year for a checkup. I am grateful that they're checking me, so I can rest knowing that they got me.
I still try to share the word that we need to get better at checking your moles. Don't hesitate to pay the doctor a visit and have him take a look, and stay out of the sun + use tons of mineral sun lotion <3

Inden jeg fik set mig om, er det pludselig et helt år siden, at jeg sidste sommer tog til lægen og fik nogle dårlige nyheder, der kom som lyn fra en klar himmel og rystede hele min verden. At gå i behandling for modermærkekræft har helt sikkert ændre min verden og i to retninger. På den ene side ved jeg, at der sker dårlige ting for gode mennesker. Det har også gjort mig bange for at miste, mere end jeg var i forvejen. Kræft har været et stort emne i min familie, hvor både min farmor og mormor døde af kræft, og min far har været syg af kræft. Nu også mig. Ikke bare dem man læser om i ugebladene. Det viser sig også i de katastrofetanker, der rammer mig fra tid til anden. Jeg kan for eksempel ikke lide, når min familie er ude at flyve. Eller en anden situation – når jeg river mig på indersiden af næsen, og det begynder at bløde, og jeg er bange for, at jeg skal dø af blodmangel i løbet af natten. Irationelt og usandsynligt, men ikke desto mindre nogle af de katastrofetanker, der rammer mig i korte øjeblikke engang i mellem.
På den lysere side, har sidste års sygdomsforløb og operation lært mig at være taknemmelig for mit liv, og ikke mindst at være født i et land som Danmark, der sætter så effektivt ind i denne situation. Det er stadig nærmest surrealistisk at tænke på, hvad der skete sidste år. Det skete så pludseligt, så hurtigt og ud af det blå – og for mig! Det der er tilbage nu er et håndfuld halvstore ar, som jeg skal leve med. Og som lægen sagde på Riget, uden at jeg selv havde nævnt det: "Nå, jeg kan se, at du er en af dem, der danner grimme ar". Jamen, tak for det 😉 Som min mor siger, så fortæller ar en historie. Jeg lærer at leve med dem.
Jeg skal stadig på Rigshospitalet et par gange om året for at blive tjekket op på. Det er rart at vide, at jeg har specialister, der holder øje med mig. Det hjælper også på frygten, om jeg kunne blive ramt igen.
Jeg er okay, jeg er i live, og jeg er taknemmelig – og ikke mindst bange for, hvad der kan ske for mig selv og dem, jeg holder af… At dele min historie har heldigvis gjort, at der er mange, fra nær og fjern, der fortæller mig, at de også har været til lægen og få tjekket deres modermærker. Det gør mig glad, så hermed endnu en gang: gå til lægen og få tjekket dine modermærker! Hold dig fra overdreven solbadning og brug rigtig meget mineralsk solcreme <3