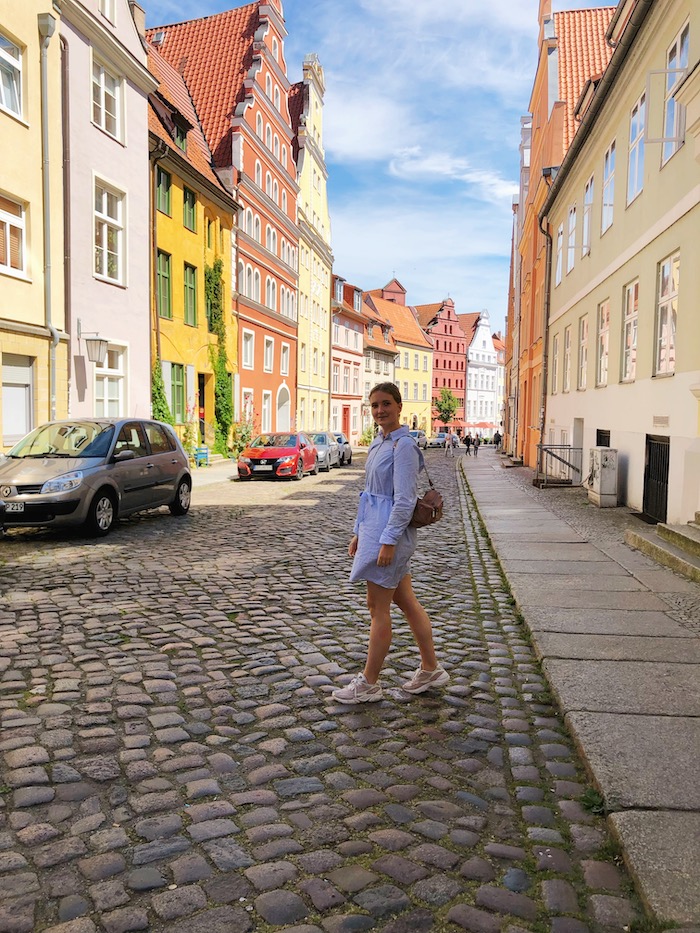 Tiden flyver fortsat, og jeg sidder tilbage og aner ikke, hvor den flyver hen. Jo ældre man bliver, jo hurtigere går tiden. I og med at jeg er 24 år, så kan jeg slet ikke forestille mig, hvor hurtigt den vil gå, når jeg en dag er rigtigt voksen. Hmmm..
Det er en måned siden, at jeg blev bachelor. Jeg har haft en dejlig måned med en smuttur til Toscana, 12 dages sejlads med mine forældre og et par ture til landet.
Og så er det august, inden vi ser os om. Den sidste officielle sommermåned, inden efteråret banker på. Jeg tager hul på mit friår, da jeg har valgt at udskyde min kandidatstart, og det er lige dele spændende, at verden står åben, og lige dele angstprovokerende, fordi jeg er vant til altid at have noget jeg skal. Det er mærkeligt pludselig ikke at have. Nok om det, her er mine planer for august.
I august vil jeg…
♥ Bruge hele måneden i Berlin. Jeg tager af sted 1. august og hjem 1. september. Det bliver så skønt at være tilbage.
♥ Besøge samtlige badesøer, som Berlin byder på. Jeg tror, det bliver en varm måned. Berlin har hverken hav eller strand, men heldigvis en masse skønne badesøer.
♥ For alvor påbegynde mit store projekt, som jeg har udskudt siden februar. Jeg skal nok dele, hvad det er, meget snart!
♥ Skrive et indlæg om mine planer, nu hvor jeg er blevet bachelor.
Jeg glæder mig især til…
♥ At nyde livet i Berlin, hvor jeg igen vil udnytte Urban Sports Clubs medlemskab. Derigennem kan jeg tage hundredvis træningstimer i seje yogastudios, dansetimer, HIIT-timer i Adidas Runbase seje kompleks og så på stand up paddle board i Spree. Det bliver skægt!
♥ Alt det gode mad, jeg skal spise i Berlin. Bagels fra min yndlingscafé lige ved lejligheden, sushi og pizza. Og nå ja, en masse vegansk mad – der er Berlin langt fremme. Jaaaaa <3
♥ At mit projekt forhåbentligt er færdigt på en måned. Det er målet, men også vildt, hvis det kan lade sig gøre. Jeg vil gøre et forsøg!
Hvad jeg skal se og læse…
♥ Efter anbefaling fra min papfarmor, er jeg gået i gang med at læse 'De syv søstre' af Lucinda Riley – men på tysk. Jeg kan mærke, at jeg er ved at miste meget af mit tyske sprog. I et forsøg på at holde det ved lige, læser jeg på tysk. Det går lidt langsommere, end når jeg læser på dansk, men det er okay.
♥ The Society på Netflix. Nogle kalder det en moderne udgave af Lord of the Flies. Jeg har set halvandet afsnit indtil videre, og den er god. Der er nogle ting, der ikke giver mening, såsom buschaufførene, men jeg ser videre. Mangler du inspiration til hvad du skal se, så læs her, hvor jeg har delt ni af mine yndlingsserier fra det seneste år.
♥ Jeg genser Girls på HBO – stadig en af mine yndlingsserier!
Jeg er taknemmelig for…
♥ Og stolt over: at jeg har færdiggjort min bachelor. Det føles lidt vildt, at jeg på den måde er 'færdig'.
♥ En skøn sommer med mine forældre og gode venner.
Hvad skal du lave i august? ♥


Time's still flying and I sit back wondering where it's flying to. They say the older you get, the faster time flies. Being 24, I really wonder what time's going to feel like once I am a legit grownup. Slightly scary, hmmm…
Nonetheless, it's been a great month. I finished my thesis and did my oral defense and now hold a Bachelor's Degree. Wow. I spent a couple of days in Italy, went sailing with my parents and took a few quick trips with friends and family around Denmark.
And August is here! It's the last official month of summer before fall steps in. I have a great year coming, which is also slightly anxiety-provoking. I am not going to school for the next year. I am so used to always having a plan and 'something to do', so not having a fixed plan feels weird. Enough said, here are my plans and intentions for August.
What I want to do in August…
♥ Spend the whole month in Berlin. I am leaving August 1st coming back September 1st.  It's going to be so great to be back! So far, my parents and my brother will visit me, and who knows, maybe I'll have a few other guests as well.
♥ Visit tons of lakes in Berlin. There is no ocean or beaches in Berlin, so lakes will do. Luckily, there are tons of them!
♥ Start the big project that I've postponed since February. Once I get started, I'll share it.
♥ Write a post about my life plans now that I've graduated.
I especially look forward to…
♥ Enjoy summer life in Berlin.
♥ All the good food I'm going to eat in Berlin. My favorite bagels from my favorite cafe down the street. Sushi. Pizza. Ice cream. And oh yeah, lots of vegan food – Berlin does vegan so well.
♥ That my project will hopefully be done in a month. That's my goal but also an optimistic one. I'll do my best.
What I am watching and reading… 
♥ I've felt that I am losing my German language after not speaking it frequently. I bought a German book, The Seven Sisters by Lucinda Riley. It takes me a little longer to read than if I read in Danish, but I also feel my German coming together quickly. Like the brain remembers, you just have to dig a little for it.
♥ The Society on Netflix. By many called a modern version of Lord of the Flies. I've binged 1,5 episodes so far. It's good, but I also have some serious burning questions, like what about the bus drivers?! If you're looking for inspiration on what to watch, here are nine of my favorite shows from the past year.
♥ Rewatching Girls on HBO. It's like Sex and the City – the show never gets old.
I am grateful that…
♥ And proud to having finished my Bachelor's Degree. Phew, it feels good!
♥ I've had an amazing summer with friend and family <3
What are your plans for August?