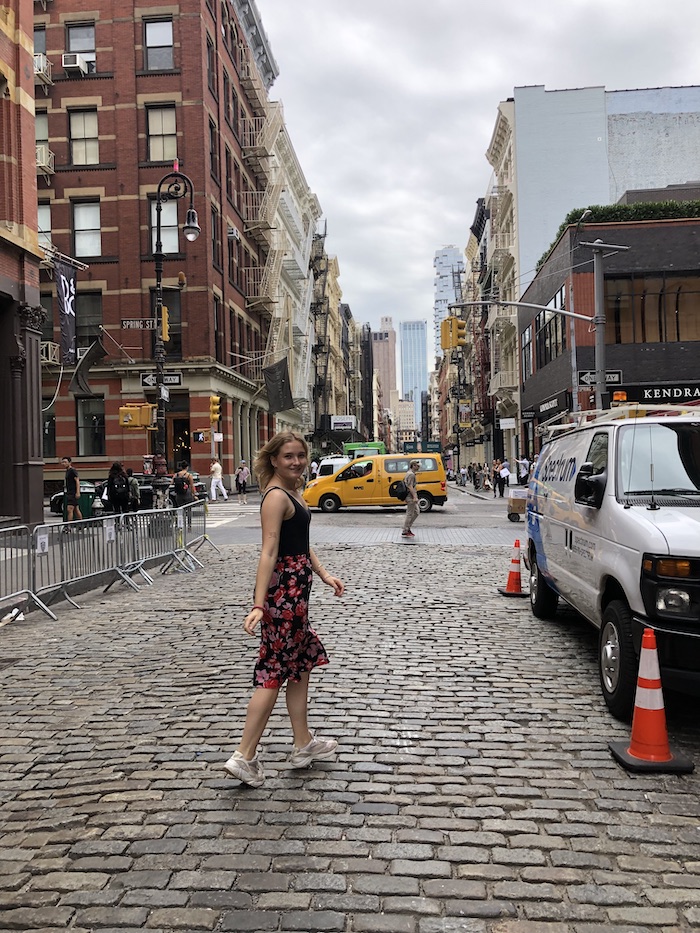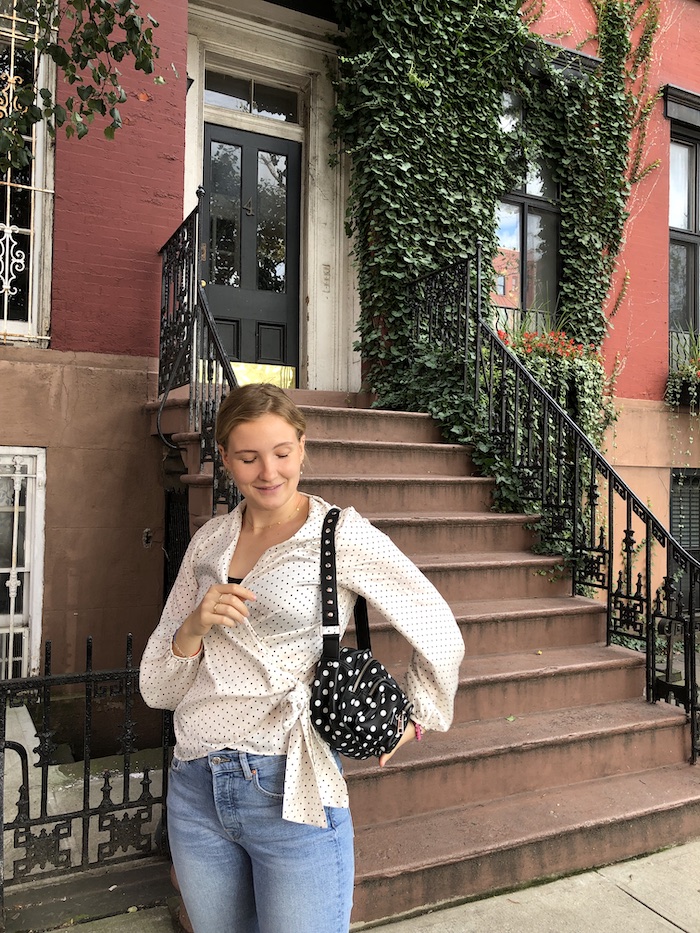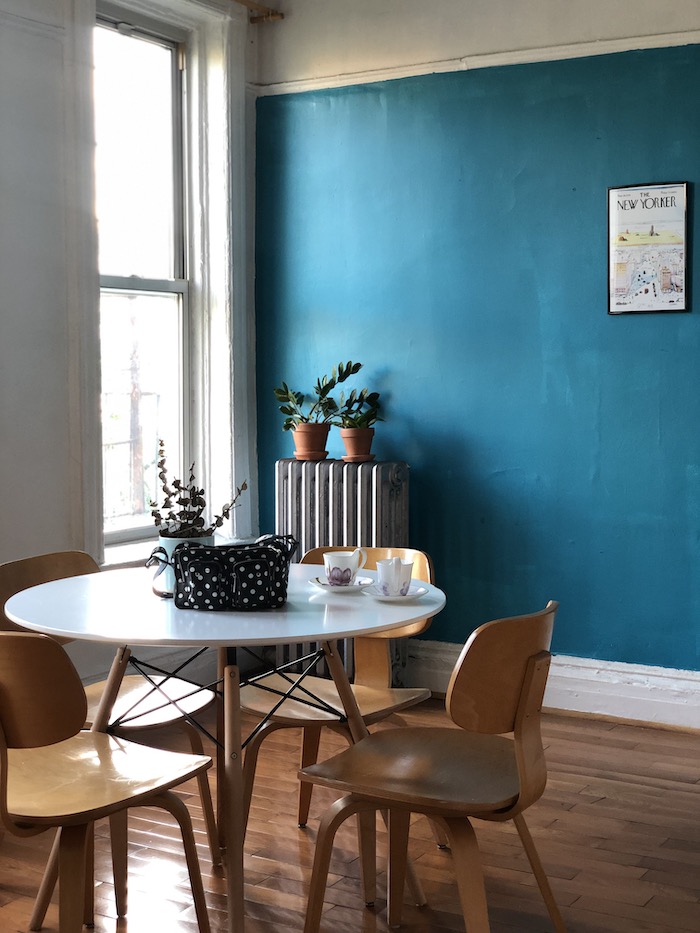 Jeg var ikke verdens gladeste mandag aften i København, dagen før, jeg skulle flyve til New York. Jeg besøgte min farfar på hospitalet – han er faldet og har brækket foden, og da jeg sagde farvel til ham og gik mod bilen med mine forældre og bror, kunne jeg mærke, at tårerne pressede sig på. Ikke kun fordi at min elskede farfar er på hospitalet, men også fordi at jeg netop var kommet hjem fra en måned alene i Berlin og kun havde to dage sammen med venner og familie, inden jeg igen skulle af sted en måned til New York. Jeg er klar over, hvor priviligeret jeg er at kunne bo mellem København, Berlin og New York. Men med den livsstil hører også kendsgerningen til, at lige meget hvor jeg er, så vil jeg altid savne nogen. Om det er min kæreste, forældre, familie eller venner. Og det er ikke altid lige nemt at håndtere.
Vækkeuret ringede kl. 3 om morgenen, og tre timer efter sad jeg på et fly mod München. 13 timer efter det, landede jeg i New York. Det må siges at være en lang rejsedag, men jeg fik læst en god håndfuld artikler, gennemgået og slettet nogle af mine tusinde billeder på min telefon, set en film, sovet, spist og endda arbejdet en smule. Jeg er nu stadig ikke fan af at flyve – det er dræbende kedeligt.
Og inden jeg så mig om, var den lange rejsedag overstået, og jeg landede i Brooklyn. Mine triste tanker fra aftenen før var næsten forsvundet, for nu glædede jeg mig bare til at se Jesus. Fik storkysset ham, som jeg har undværet i to måneder, og han bød mig velkommen i vores nye lejlighed, han flyttede ind i fra den 1. september. Den er skøn. For at undgå slemt jetlag var jeg nødt til at holde mig vågen, og jeg brugte derfor min første aften på at sortere alle mine skønhedsprodukter på det nye badeværelse, og senere alt mit tøj i mit nye skab. Det bedste ved den nye lejlighed er næsten, at der er et kæmpe walk-in-closet. Sådan et har jeg altid drømt om!
Inden jeg så mig om, er der allerede gået tre dage i Brooklyn. Min navnesøster og gode veninde og fra CBS, som jeg skrev bachelor med, er også herovre og vi hygger. Jeg har også spist brunch med mit søde Nunoo-hold. Pigerne bag brandet var i New York i forbindelse med et New York fashion week event, som jeg var med til at arrangere. Desværre kunne jeg ikke være med, men Nunoo-pigerne var så glade for eventet, der vist havde overgået alle deres forventinger. Det er jeg så glad for (og lidt stolt over). Caféen har det godt, og jeg deler min tid mellem at arbejde videre på min guidebog, der nu er i korrekturfasen, nyde New York og tage mig af mine freelance- og blogprojekter. Alt er godt.
I morgen skal jeg til et træningsevent hos Outdoor Voices, mit yndlingsmærke inden for træningstøj. Så arbejde nogle timer og derefter møde min gode veninde, der er herovre med sin søster og deres kærester. De kommer til brunch på caféen, og jeg glæder mig så meget.


I made it back to New York! Honestly, the night before leaving, I visited my grandfather who's in the hospital because he fell and broke his foot. Saying goodbye to him and walking to the car with my parents, I felt my eyes tear up. I'd just come back to Copenhagen after spending a month in Berlin, and two days after, I was already leaving again to go to New York for a month. I could feel how I was already missing my parents, family, and friends immensely before having even left.
Although I am aware of how privileged I am to split my time between Copenhagen, Berlin and New York, living like this also comes with the consequence of always missing someone. Regardless of where I find myself, I'll be missing someone.
After a +16 hour travel day, I was finally reunited with Jesus after missing him for two months. He moved into a new apartment on September 1st and it's great. Walking distance from the cafe and best of it all – it has a walk-in closet, something I've always dreamt about. That's how I stayed up fighting jetlag on my first night – got my closet and clothes in order and the same for my beauty products.
So far, it's been three great days in Brooklyn. My good friend, whom I wrote my bachelor thesis with, is also in NYC. She also freelances and works remotely and makes a great work wife for me, so we're doing work dates, visiting cute cafes around Brooklyn to work at. Skål is doing great and tomorrow, my good friend from Copenhagen, her sister and their boyfriends are in NYC for the first time. Tomorrow, they're coming for brunch, and I'm so excited to see them.