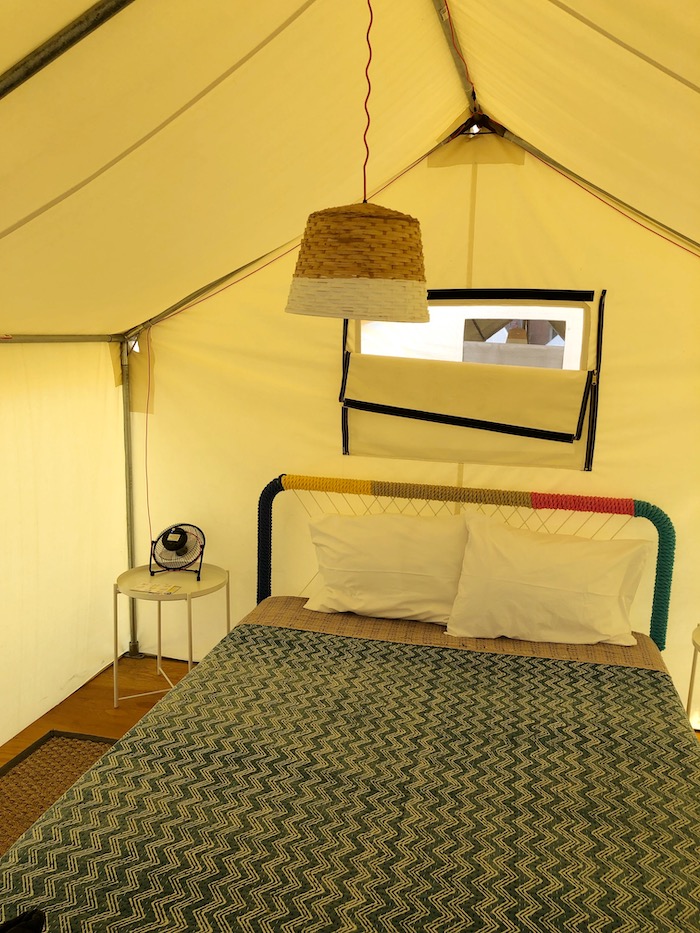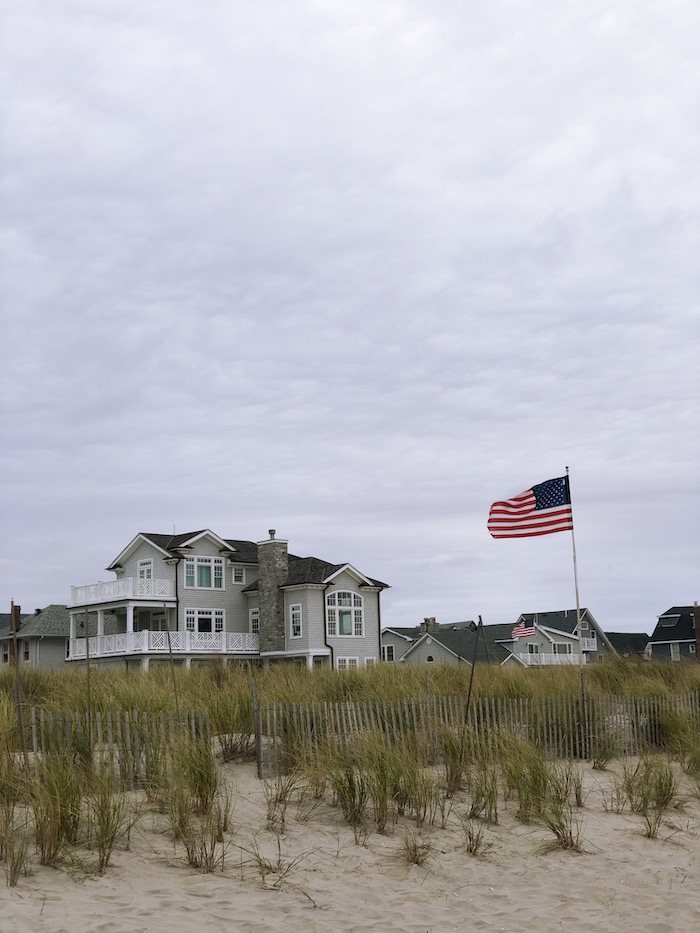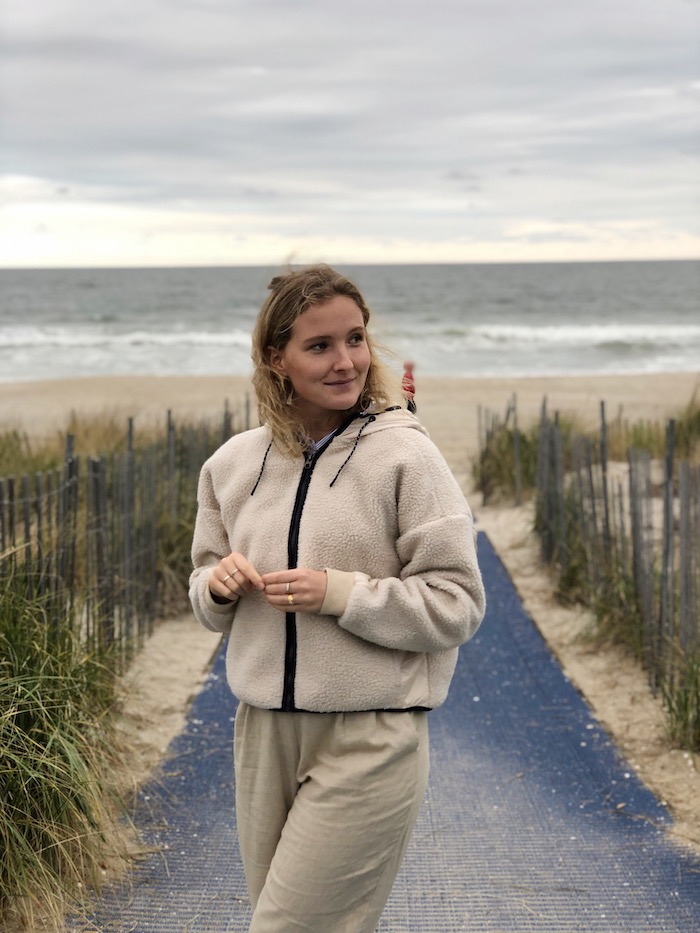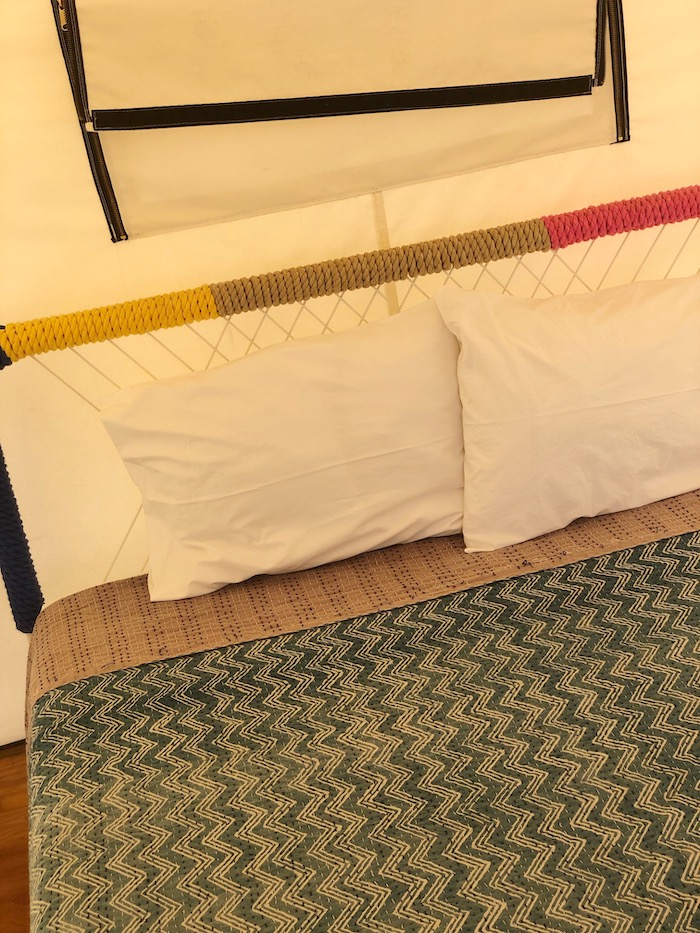 Overnatningen hos Camp Rockaway er modtaget i gave
SCROLL DOWN FOR ENGLISH VERSION
For at byde efteråret velkommen med maner tog Jesus og jeg på en velfortjent overnatning væk fra caféen og væk fra arbebjde. Turen gik mod Rockaway Beach, og det var tid til en omgang glamping. Lyder glamping som en by i Rusland; glamping er sammentrækningen af glamorous og camping – glamourøs camping, ja tak. Vi var nemlig blevet inviteret til Camp Rockaway.
Det er ikke første gang, vi glamper. Vi fik taget vores glamping-mødom for nogle måneder siden, da vi glampede på øen Governors Island i New York. Det var en skøn oplevelse, så det var med glæde at vi gentog succesen, dog ved en anden beliggenhed.
Selvom vi var af sted 1. oktober, som i Danmark vil betyde gedigent efterårsvejr, er NYC lidt anderledes. Det var nemlig intet mindre end 26 grader. Det betød, at Jesus hoppede en tur i bølgen blå, og vandet var varmt som på en sommerdag. Jeg nøjedes med at stikke tæerne i Atlanterhavet.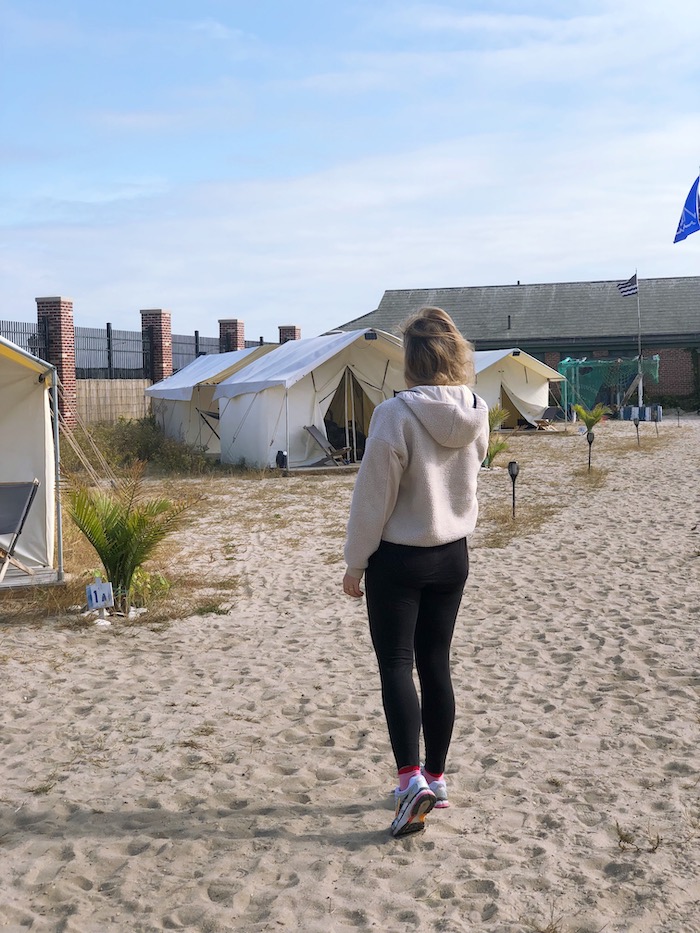 Glamping i Rockaway Beach
Rockaways er et sjovt sted. Selvom det officielt ligger i NYC og kun er en halv times køretur fra vores lejlighed, så er det en helt anden verden. Her er ægte surburban, i den ene ende hersker der beach og surfer vibes, og i den anden ende ligger millionærkasserne med friserede haver og perfekte græsplæner side om side. Til den ene side ligger Atlanterhavet, og det føles næsten som om, at man er ved verdens ende, for der er intet at sigte i horisonten. Sejler du langt nok, når du til Sydeuropa eller Afrika. På den anden side herimod, kan du skue Manhattans skyline, hvis man et kort moment skulle glemme, hvor man var.
Nu til Camp Rockaway. Soveposer og liggeunderlag? Nej, ikke her. Vores fine telt, hotelværelse for natten, var nemlig udstyret med en rigtig seng, en lækker memory-foam-madras, fin indretning samt en bænk fra IKEA, som jeg drømmer om. Desuden går Camp Rockaway i den grad op i miljøet, og derfor findes der ingen plastikflasker – gæster bliver i stedet udstyret med en kande og to kopper, og så kan man hente vand i fællesområdet. På samme måde er teltene ikke udstyret med stikkontakter, men man kan ligeledes oplade sit gear i fællesområdet. På den måde bliver der også opfordret til, at du tager en lille pause fra telefonen. Sådan følte jeg det i hvert fald.
Gæsterne har adgang til to bade og to toiletter. Badene er skønne med lækre kokos-produkter til krop og hår, og så er vandet selvfølgelig opvarmet af solens stråler.
Hver aften sørger camp-lederen for, at der bliver sat gang i bålet. Her kan man grille sin aftensmad, eller som vi gjorde, riste skumfidusser. Det var så hyggeligt, og jeg blev i et splitsekund taget tilbage til fritidshjemmet på Østerbro, hvor vi yndede at lave snobrød. Mine forældre var knap så glade, når min bror og jeg kom hjem og stank af lejrbål. Da vi havde hældt et utal af ristede skumfiduser i os, tog vi et spil Scrabble, og lejrstemningen havde for alvor indtruffet sig hos os.
Det blev sengetid. Det var næsten som, når jeg sover på mine forældres båd. At blive lullet i søvn af lyden af vind og bølger. Ret magisk.
Morgenen efter vågnede vi op til kaffe serveret i fællesområdet og til et vildt hav med meget høje bølger. Rockaway er et yndet sted for surfere. Jeg benyttede øjeblikket til at fyre et par yoga-poses af og fik Jesus til at forevige det. Så var det tid til morgenmad. Heldigvis er Rockaway udstyret med en lang række lækre restauranter. Mere om dem nedenfor.
Hvordan kommer man til Camp Rockaway
For at sætte scenen, ligger Rockaway 23 kilometer fra Times Square. Der er flere måder at komme dertil.
Færge – En gang i timen kan du hoppe på en færge fra Manhattans Wall Street. Turen tager en time, koster $2,75 og er meget fotogen. Du får nemlig lov til at nyde synet af skylinen, Governors Island, Brooklyn, Staten Island og Coney Island på din vej. Når du er fremme ved færgen, kan du tage en shuttle-bus, der kører dig ud til campingområdet.
Bil – Har du selv bil, kan du køre til Rockaway og endda få lov a parkere lige ude foran camping-området. Du kan også booke en Lyft eller Uber gennem din app og blive kørt lige til døren. Det gjorde vi, det tog en halv time og kostede $30.
Tog og bus – Flere toge og busser kører til Rockaway. Det vil tage cirka halvanden time, alt efter hvor din tur starter. Tjek Google Maps, der viser dig den bedste rute.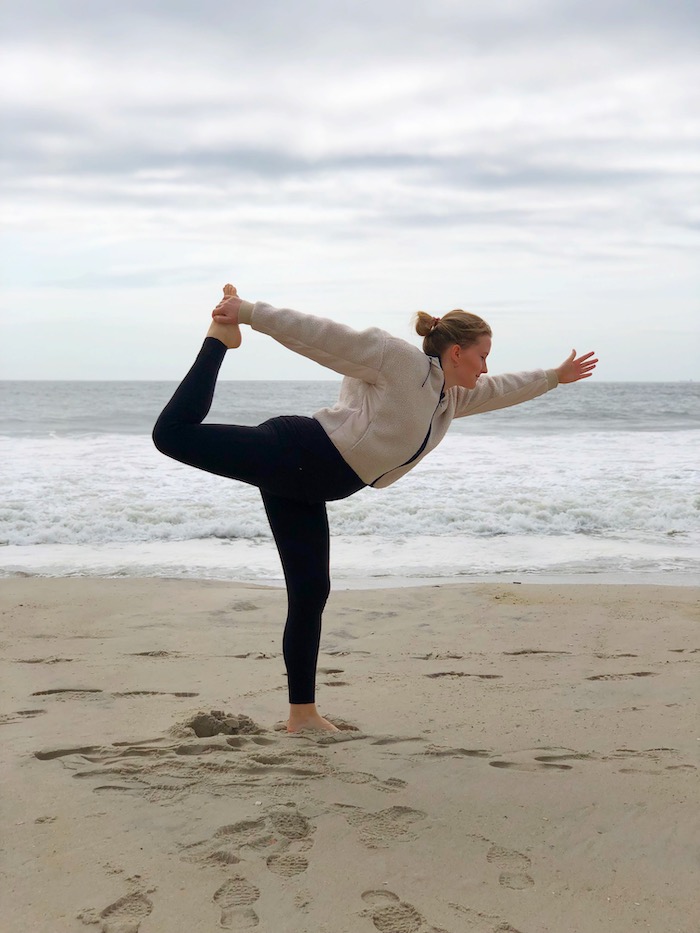 Hvad kan man lave i Camp Rockaway
Svømme og surfe – Duh, Rockaway er kendt for at være et paradis for surfere, for her kan godt være godt gang i bølgerne.
Cykle – Du kan tage din cykel med på færgen, og du kan endda cykle hele vejen til Rockaway. Det vil jeg prøve en dag. Vi havde ikke cykler med, men til vores held, var der Lime bikes, som man lejer gennem en app på samme måde, som man kan leje løbehjul i København. På den måde var det nemt for os at komme rundt og at udforske området.
Der er masser af sjove, spændende aktiviteter at tage sig til i Rockaway. Fra surfing til lange gåture, sejlads eller whale watching. Camp Rockaway har lavet en god guide, som du kan tjekke lige her.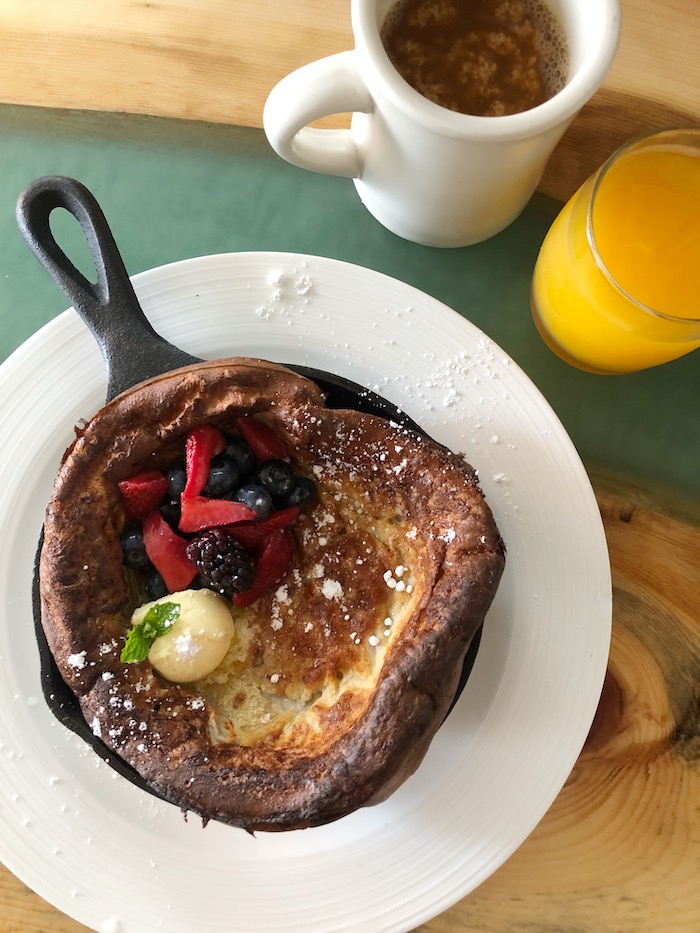 Fire fantastiske spisesteder i Rockaway Beach
Cuisine By Claudette – Et vegansk paradis med et kæmpe menukort, der fik min mund til at løbe i vand. Cappuccino med Oatly, kager, chia- og smoothiebowls, hummus, sandwich, laks og alt i mellem.
Bernadette's – En lillebitte restuarant i bedste surfer-shack stil der udelukkende serverer morgenmad langt op ad eftermiddagen. Vi fik pandekager og en breakfast sandwich, og det smagte skønt.
Pico – Mexicansk i bedste amerikansk stil, for portionerne er kæmpestore.
Rockaway Beach Bakery – Et skønt lille bageri og café ejet af en sej kvinde, der sagde stop til det hæsblæsende newyorker-liv og flyttede til stranden, hvor hun cykler og surfer, når hun ikke bager. Hun er især sublim til sidstnævnte.
Edgemere Farm – Dette sted har jeg til gode, men jeg tør godt at nævne det alligevel, for der ser så fint ud. En urban farm, hvor du kan komme til farm-to-table-middagsselskab, forskellige events eller købe ind af de lækre grøntsager og frugter, som gror på gården.
________________________________
Camp Rockaway er et oplagt sted til en staycation, for newyorkere, der godt kunne bruge et pusterum, men ikke har tid til at flyve til Hawaii. Det er også et fedt sted for turister, der ønsker en helt særlig oplevelse i New York. Jeg tror, det er de færreste turister, der har Rockaway på deres liste over seværdigheder, de skal opleve. Det er en skam, for her er skønt, fascinerende og anderledes. Jeg kan kun sige go' for det – book din overnatning her.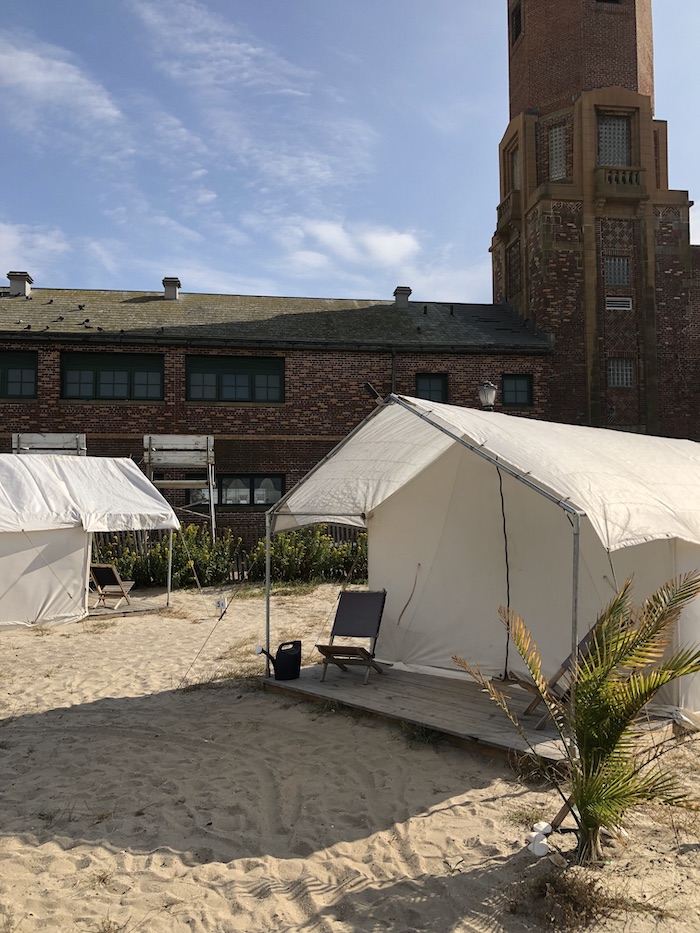 We were invited to stay at Camp Rockaway as part of a blog post
To celebrate the beginning of October, Jesus and I went on a little trip to Rockaway Beach. Rockaway Beach is located a 30-minute drive from our Brooklyn home, close to the JFK airport, and as the name implies, it's a beach! We were invited to spend a night glamping at Camp Rockaway.
Glamping isn't new to us as we spent a night glamping in NYC's Governors Island a few months ago. As Instagramming millennials, we loved the experience and were excited to go glamping again, however this time by the beach. With the perfect fall weather in NYC, Jesus was even able to get a swim in. I decided to just dip my feet and the water was still warm.
Glamping at Rockaway Beach
I've been two the Rockaways twice before. It's amazing because there's a beach, and as a Dane, being by the ocean is so calming to me. Also, the Rockaways are fun because although you're still in NYC, it feels like a completely different world out there. You get surfer-beach-vibes as if you were in a more fascinating and exotic location, and in the other end of the Rockaways, by Jacob Riis Park, where Camp Rockaway is located, the neighbors are huge, fancy houses. All the way west, you can still see the NYC skyline to remind you that you are, in fact, still in NYC.
Sleeping bags and thin mats as mattresses? No, not in Camp Rockaway! The cute tent we stayed in had a great bed with a Casper mattress, cute interior including the rattan bench from IKEA that I am dying to get my hands on, little chairs cups and a carafe for water. Camp Rockaway goes the extra mile to be sustainable, meaning that there are no plastic water bottles and no outlets in the tents. You can charge your phone in the check-in area.
The campsite offers two showers as well as two toilets in a shared restroom. In a sustainable manner, the water for the shower is heated by the sun. The showers also feature lovely coconut soap, shampoo and conditioner products.
Every night, a campfire is lit and guests can bring their own food to grill. We had one of the camp site's s'mores kit and it was magical roasting marshmallows by the fire while the sunset. I almost felt like I was a kid again. After devouring our s'mores, we chilled in the common area for a game of Scrabble. We laughed because most of our words consisted of three letters.
Falling asleep to the sound of the wind and the waves, listening to how it got calmer and calmer as the night entered, was magical.
The morning after, we woke up and went straight to the beach. It was the perfect timing for a few yoga poses, and after that, it was time for breakfast. Luckily, Rockaway has an abundance of great places to feet your hunger and cravings. More about that later on.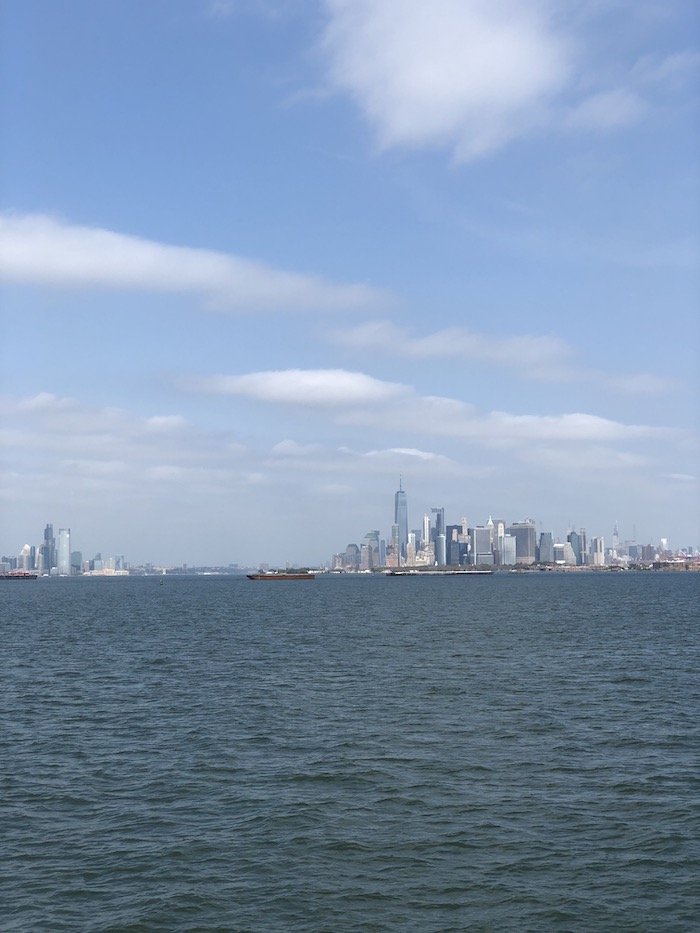 How to get to Camp Rockaway
Getting to Rockaway Beach is fairly simple. Going out there, we jumped in a Lyft and getting back the day after, we took the ferry.
Ferry – The ferry runs every hour from Wall Street Manhattan to Rockaway Beach and back. From the ferry dock, you can jump on a shuttle bus that takes you to Camp Rockaway. The ferry ride will cost you $2.75.
Car – You can go by car – if you're in your own car, you're able to park right by the campsite. You can also order a Lyft or Uber to take you all the way, which is what we did. From Brooklyn, the drive took about 30 minutes.
Train – Both NYC subways and buses can take you straight to Camp Rockaway. Look up Google Maps for the fastest directions. The trip will be around 1,5 hours.
What to do in Camp Rockaway
Swim – Duh, the Rockaways are particularly known for their beach. With its fairly wild waves, the Rockaways are also a surfer's paradise.
Bike – Lots of people bring their own bikes that are allowed on the ferry. Some even bike all the way to Rockaway Beach, which is something I want to do one day. We didn't bring bikes, but to our luck, we have the Lime app that lets you rent bikes on the go. You get the app, find the bike, unlock it through the app, and you're good to go. Once you're down, you simply lock the bike, and your time is up. This way, we were able to bike whenever we wanted and it made it easy breezy getting around.
In short, there are plenty of activities and exciting things to do in the Rockaways from surfing to hiking, and whale watching. Check out Camp Rockaways' activity guide right here.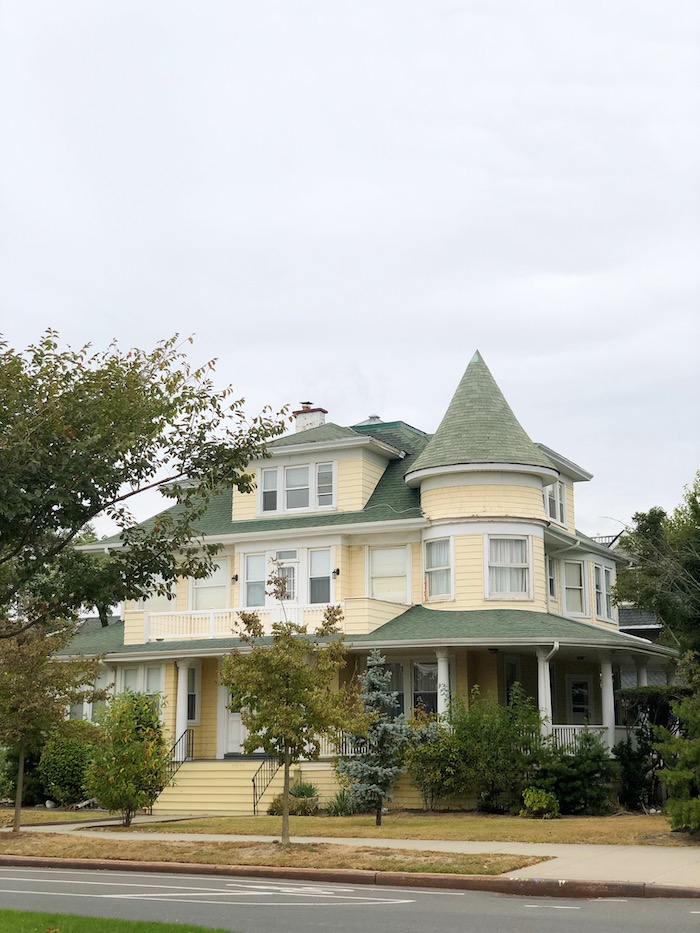 Four great spots to eat at in Rockaway Beach
Cuisine By Claudette – A vegan paradise featuring a huge menu with everything you could dream of. From Oatly cappuccinos, cake, chia and smoothie bowls, hummus, sandwiches, salmon and you name it. I wanted everything!
Bernadette's – A breakfast and brunch paradise inside a cute, family-owned restaurant that gives you surf-shack feels. A small menu featuring everything breakfast with eggs, pancakes, fried chicken and waffles.
Pico – Tex-Mex at its best with huge portions and yumminess.
Rockaway Beach Bakery – Everything pretty and baked, from fluffy croissants to oozing breakfast biscuits.
Edgemere Farm – Raincheck on this one, but I am dying to go. An urban farm with farm-to-table dinners, fresh produce, and events.
________________________________
Camp Rockaway is the perfect staycation for New Yorkers that feels like a short getaway. Camp Rockaway is also the perfect tourist experience for people traveling to New York who want more, something out of the ordinary. I bet not many NYC tourists even step foot in the Rockaways. Now they will! Book your stay right here.