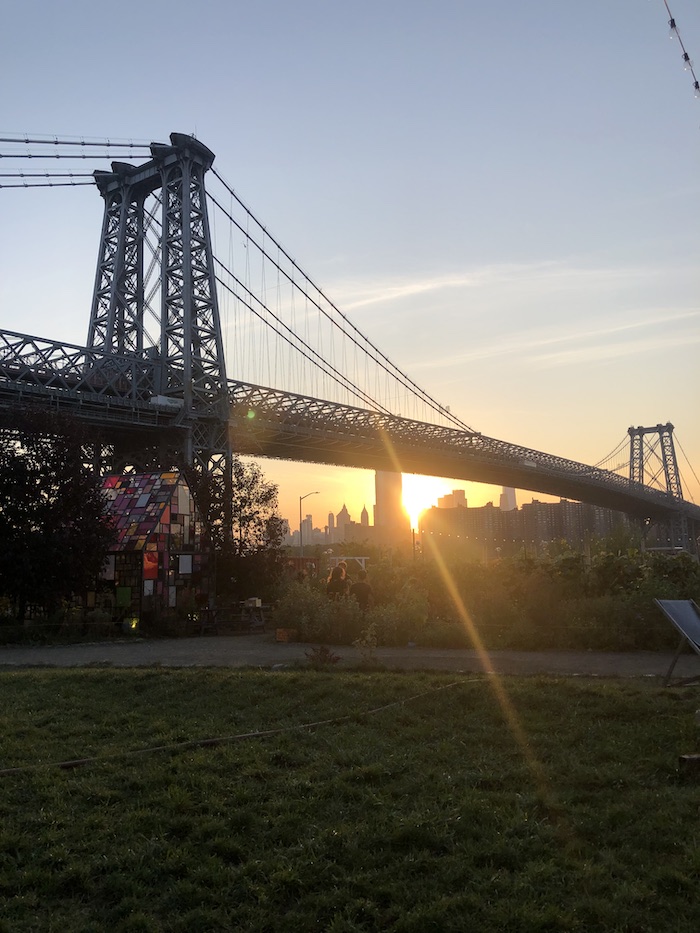 ♥ Bestilte Margaret Atwoods nye bog, en fortsættelse af The Handmaid's Tale. Den hedder The Testaments, og jeg glæder mig til at læse den.
♥ Deltog i et awardshow, Community Spirit Awards i Bed-Stuy, hvor Jesus blev æret for at åbne Skål for et fællesskab af ældre kvinder, der holder events i caféen en gang om måneden. To politikere var med, gav ham en fin præsentation og tale, og Jesus gav en takketale. Jeg var stolt!
♥ Var til en hardcore træning hos Gritbxng. Jeg havde planlagt brunch bagefter, og at se frem til det, hjalp mig igennem træningen. Brunchen blev serveret på Floret, hotelrestauranten i det nyåbnede hotel Sister City, der er så fint.
♥ Havde min anden glamping-oplevelse, denne gang i Rockaways. Det var virkelig en oplevelse!
♥ Var med til åbningsfesten af Evil Twins nye bryggeri og bar. Synes det er så sejt med danskere, der satser stort og får succes i udlandet.
♥ Hoppede på et fly med København som destination. Skal være hjemme et par uger, blandt andet for at fejre min og min tvillingebrors 25 års fødselsdag.
♥ Nåede i biografen for at se Joker. Den var lidt langtrukken, handlingen lidt sløv om at komme i gang, men Joaquin Phoenix' skuespil er intet mindre end eminent.
♥ Var til udendørsyoga den 1. oktober i 26 grader (hvad sker der for efterårsvejret i NYC?!) med udsigt til Williamsburg Bridhe og den smukkeste solnedgang. Beliggenheden hedder North Brooklyn Farms, og der kan du med glæde tage forbi, hvis du er på de kanter. Der er så fint.


♥ Ordered the new Margaret Atwood book, the sequel of The Handmaid's Tale, The Testaments. Can't wait to read it!
♥ Went to the Community Spirit Award, where Jesus and Skål were being honored for their community service to the elderly people who live in Bed-Stuy. Such a great night and I felt so proud watching my boyfriend being honored.
♥ Did a workout at Gritbxng followed by a great brunch at Floret, which is the newly opened restaurant at Hotel Sister City in LES.
♥ Went glamping in Rockaway Beach for one night.
♥ Welcomed a fellow Dane to NYC. Evil Twin opened their new brewery and bar in Ridgewood. We went to their opening party and it was a gorgeous space. If you're into beer, go!
♥ Jumped on a plane back to Copenhagen for a couple of weeks. And to celebrate my quarter of a century-birthday.
♥ Went to the movies to watch Joker. It was a little long, the action a little slow, but Joaquin Phoenix' acting was insane!
♥ Did outdoor yoga at North Brooklyn Farms in Williamsburg. It's a magical location, and the class is donation-based. Go, if you can!