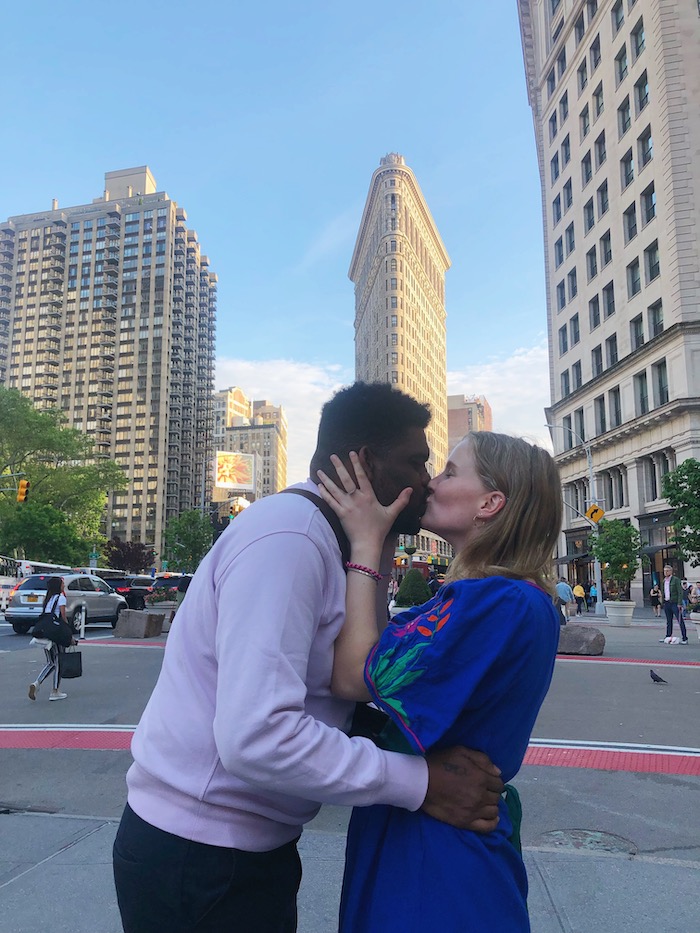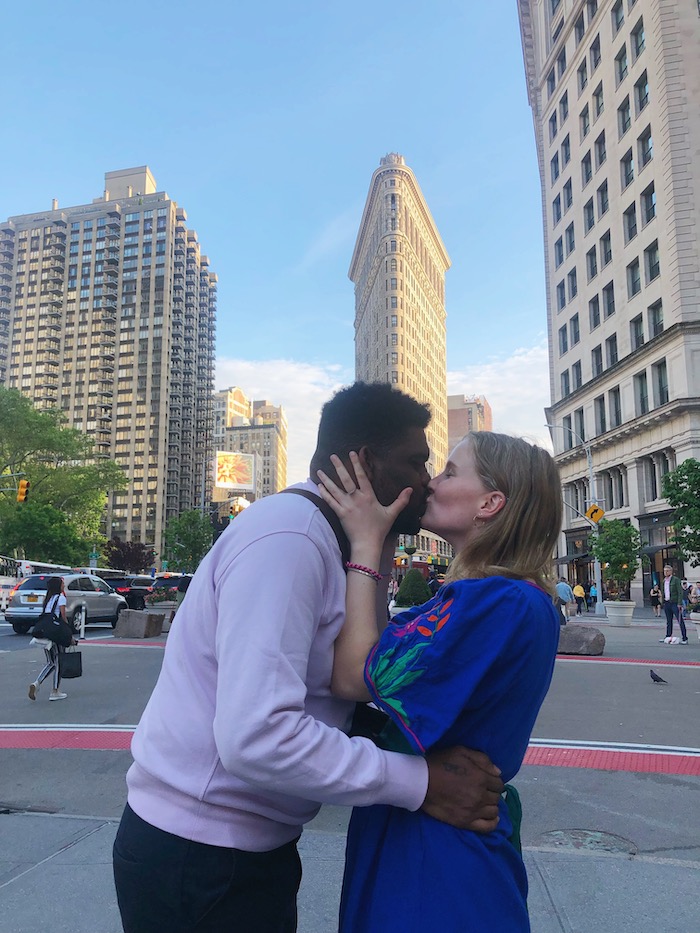 Næste måned har Jesus og jeg officielt været sammen i fem år. FEM ÅR! (Se det her klip og hop hen til 2 minutter inde i klippet. Haha!) Det er ret vildt og utroligt. På den ene side tænker jeg, "hvor er tiden blevet af?!" – fem år ud af mit 25 år lange liv, betyder det, at vi har været sammen i 1/5 af mit liv. Da vi mødtes, var jeg netop fyldt 20 år. Wow. På den anden side har jeg svært ved at forestille mig, at Jesus ikke er en del af mit liv.
Det har været fem år sammen gennem tykt og tyndt, fra at bo i Berlin til at flytte til København, jeg startede og afsluttede min bachelor-uddannelse, vi har boet i New York sammen, åbnet en café og lever nu som deltids-lang-distance-kærester og får det til at fungere. I løbet af fem år er vi på nogle måder smeltet sammen og blevet til "vi". Vi har skabt vores egen kultur, en måde at gøre tingene på, og delt en masse oplevelser, der siden er blevet til dejlige minder.
Og på mange måder er det også vildt, at vi er nået hertil. Vi er totale modsætninger på manger punkter. Det har været roden til en masse ondt, misforståelser, skænderier og konflikter. Men det har også muliggjort, at vi har kunnet lære af hinanden. Blive mere tolerante over for andre meninger og ideer (noget vi begge to har gavn af, da vi deler personlighedstrækket stædighed).
Helt uundgåeligt har vi lært en masse af hinanden. Og i anledningen af vores femårs-dag, blev jeg inspireret af at sætte nogle ord på, hvad jeg har lært af Jesus. Hvis jeg er heldig, får jeg Jesus til at skrive et lignende indlæg. Det ville være sjovt at læse. Indtil videre er her fem vigtige ting, jeg har lært af Jesus.
At bekymre sig på forhånd er at bekymre sig dobbelt
På dette punkt er Jesus et af de mærkeligste mennesker, jeg kender. Han har en helt særlig evne til ikke at blive stresset og ikke at bekymre sig. Han forholder sig altid rolig, selv i meget stresfulde scenarier. Her er jeg helt omvendt. Jeg bliver hurtigt overvældet, bekymrer mig og stresser op inde i mit hoved, hvis jeg skal noget, der kræver for meget logistik eller nå flere ting på en gang.
Et eksempel er, når jeg flyver fra New York til København og jeg har planer, så snart jeg lander. Så går jeg i flere dage op til og bekymrer mig om, hvordan jeg dog skal klare det. Så starter bekymringerne i mit hoved; åh nej, når jeg lander i København, har jeg sikkert ikke sovet i 24 timer, jeg har nok også hovedpine, har jeg nu pakket det hele, kommer min kuffert frem, og hvordan skal jeg klare mine aftaler uden søvn, og åh nej, hvordan skal jeg holde mig vågen, så jeg ikke gør mit jetlag endnu værre? Sådan cirka kører mine bekymringer nok inde i mit hoved.
Jesus? Han tager det, som det kommer, fuldstændig roligt og en ting af gangen. Jeg prøver at gøre ham det efter, for jeg har efterhånden lært, at 99% af tiden, så bliver bekymringerne gjort til skamme. Så det er virkelig spild af tid at bekymre sig på forhånd, for langt de fleste gange, er bekymringerne sket ikke nødvendige.
Du ved det ikke, før du prøver
Når Jesus vil noget, så kan man ikke skyde igennem ham. Sådan er jeg på mange måder også – hvis jeg først sætter mig for noget, så får jeg det også til at ske. Men i mellemtiden kan der godt komme lidt jantelovs-dansker op i mig. Jesus er vokset op i New York, USA, et sted hvor janteloven overhovedet ikke eksisterer.
Det gør altså, at han slet ikke forstår, hvad der stopper mig, hvis jeg vil noget. Hans råd? Tag til det event og mød den person, der kan hjælpe dig på vej. Skriv en mail til dem. Bare spring ud i det! For hvad er det værste der kan ske? At du får et nej – men i det mindste prøvede du! Den device har jeg taget til mig, og jeg har endnu ikke brændt nallerne.
Der er flere måder at gøre tingene på
Jeg tror, at denne læring gælder for mange, der er i et forhold med en, der kommer fra en anden kultur. Det har været et reality check for mig. Blot fordi jeg er vant til en bestemt måde at gøre noget på, betyder det ikke, at det er den rigtige måde. Der er ikke rigtigt og forkert, når man taler om kultur. Blot forskelle.
Det prøver jeg at huske mig selv på, når jeg synes, det er underligt, at jeg ikke er med til søndagsmiddag hos min svigerfamilie, hvor alle sidder om bordet og hyggesnakker, som jeg selv er vant til hjemmefra. I stedet bliver vi inviteret til en eller anden kusines tantes venindes nabos fest, hvor der bliver hørt høj musik og danset. Det ene er ikke mere rigtigt, end det andet. Og det er berigende at få et indblik ind i andre kulturer.
Tålmodighed er en dyd
Og ikke en af de dyder, jeg er specielt gode venner med. Sætter jeg mig for noget, skal det gerne ske nu, og jeg er ikke meget for at vente. Jesus har ventet hele sit liv. På sin familie, der konsekvent kommer for sent, fordi de har et mere afslappet forhold til tid. På at blive amerikansk statsborger. Og på at åbne café i New York efter at have forsøgt at få lov at åbne i både Berlin og København. Drømmen om at åbne en café, har han haft, siden han var helt lille.
Det betaler sig at være tålmodig, og selvom jeg ikke er vild med udtrykket, så gælder det en gang i mellem; at gode ting kommer til dem, der venter. Jeg skal huske mig selv på, at selvom noget ikke sker med det samme, så betyder det ikke, at det ikke er muligt. Nogle ting tager bare mere tid.
Giv ikke op
Og det ligger ret godt op af, at man ikke skal give op. Den styrke jeg så i Jesus, og stadig ser, når livet ikke er helt nemt, og han har meget modvind, så bliver han ved. Og så lykkes det hele for ham i sidste ende. Det er en råstyrke og et karaktertræk, jeg er glad for at have lært fra ham.


Next month, Jesus and I have officially been together for five years. FIVE YEARS (watch this clip 2 minutes in)! It's incredible. On the one hand, I can't believe it's been five years – that's literally 1/5 of my life. On the other hand, I can't really imagine not having Jesus in my life.
When you spend five years together, you're bound to melt together in some sort of way. And we for sure have. At heart, we're often completely opposites, which has definitely been the root of many problems, fights, and conflicts. But it has also given us the opportunity to get inspired by each other, to become more tolerant of other opinions and ideas (great as we both share the trait of being very stubborn). Inevitably, we've learned a ton from each other. Given some thought to our five years together inspired me to sit down and think about what I've learned from Jesus. If I'm lucky, I'll have him think about the same – what he's learned from me, and turn that into a blog post as well. Here are some valuable lessons I've more or less indirectly learned from being with Jesus.
Worrying means you suffer twice
Jesus is probably one of the least stressed and worry-free people I know. He has this superpower ability of not worrying or stressing out, even in situations where most people would probably find themselves quite stressed. I'm the complete opposite. I worry constantly. An example is when I fly from NYC to Copenhagen. I worry in advance; will I be able to sleep on the plane? Will I  remember to pack everything I need? And will I get one of my headache attacks? How will I manage to get through a day full of plans once I land in Copenhagen, without having slept in many hours? Will I manage to stay up in order to not worsen my jetlag?
That's an example of how my worries can sound inside my head. Him? He flies to Copenhagen, does what he needs to do, sleeps if he feels tired, wakes up whenever and just takes it all chill. I try to imitate him and his worry-free manner. In time, I've learned that 99% of the time, I manage what I have to get done. So really, worrying and stressing out about things in advance is a waste of time.
You won't know if you don't try
In Denmark, we have this thing called Law of Jante. It's ingrained in our culture, and the meaning of it is "don't think that you're better than anyone else". Americans are completely different, and having grown up in NYC, USA, so is Jesus. That means that if he wants to do something, he's determined and nothing will stop him.
I'm the same in many ways – if I set my mind up to something, it will happen. However, I might stop before reaching that point because of my ingrained Law of Jante-culture. Jesus has taught me to get rid of those thoughts and just do it. An example is if I want to work for a specific company – he'll say, just write to them! Because what's the worst thing that can happen? That I get a no. But that's not the end of the world.
There are more ways to do things
I think that this life lesson is especially relevant for people in cross-cultural relationships. It's certainly been a reality check and important life lesson for me. I studied Intercultural Market Communication and learning about cultural differences that are mainly very generalized, it's so great to be able to go out in the world and actually experience different cultures.
I try to remember that when I wonder why I'm not invited to Sunday dinners with nice table settings at my family in law's, where everyone sits down and have long, deep talks, as I'm used to from home. Instead, I'm invited to someone's cousin's neighbor's aunt's party where I'm treated as a close family member to people I meet for the first time, while we're dancing salsa too loud, Spanish music. It's so enriching to participate in other cultures. And most importantly, there is no right or wrong in cultures, simply differences.
Patience is a virtue
And not one of the virtues I particularly possess. I've I put my mind up to something, I'd rather finish it today than tomorrow. I don't like waiting. Jesus has been waiting all his life. On his family who are constantly late because they have a slightly more relaxed perception of time. To become an American citizen. To open a cafe, which has been a lifelong dream to him, and even efter trying to open in both Berlin and Copenhagen.
Being patient sometimes pays off. Although, I don't particularly like or find this expression true, sometimes it's valid; "good things come to those who wait". I try to think of that whenever I want something that just doesn't happen or is an option right away, it doesn't mean that it won't happen. Some things just take more time.  Goals, dreams, wishes and want's shouldn't come too easily.
Don't give up
Which brings me to this lesson of not giving up. Have faith in yourself. I saw that strength and still see it, in Jesus, whenever life isn't too easy and he's up against it. He keeps going, doesn't give up and in the end, he manages. One way or the other. That strength is a characteristic, I am happy to have learned from him.