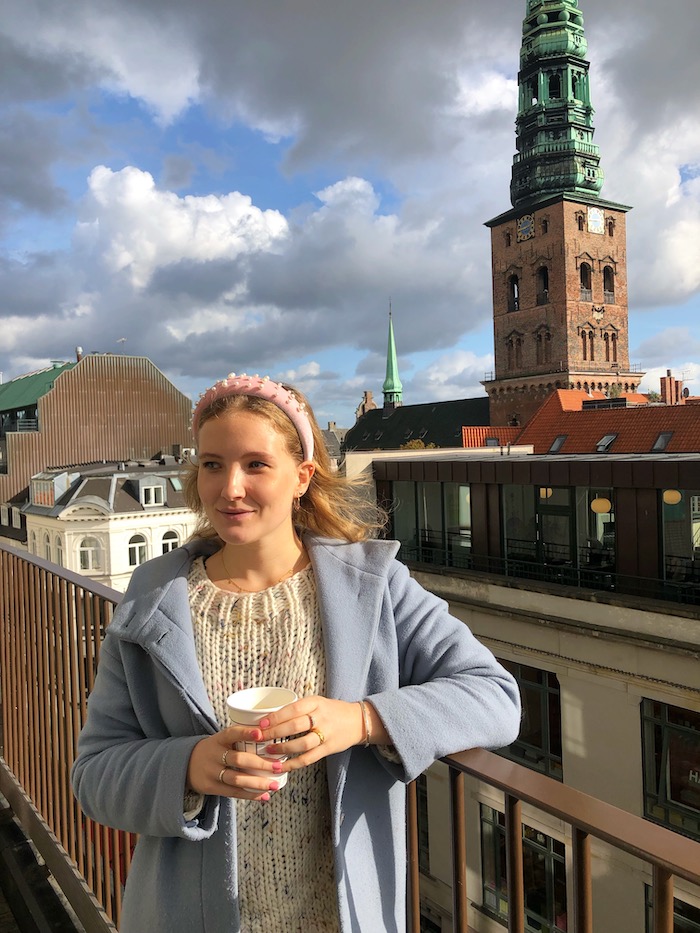 Lige nu sidder jeg i indre by på ExOffice med min dejlige veninde Waleria. Hun er netop startet på nyt studie og kæmper med årets første eksamensopgave, og jeg har en lang række opgaver, jeg skal tage mig af. Jeg holder af at mødes med mine venner til arbejdsdates. På den måde kan jeg både få noget fra hånden samtidig med, at jeg kan tage pauser med hyggesnak og kaffedrikning med veninder. To fluer med et smæk!
Dagens agenda…
Jeg brugte formiddagen på at give min lille lejlighed en ordentlig overhaling. Jeg skal nemlig vise lejligheden frem til et photoshoot og en lille video, som jeg deler meget snart. Nu arbejdstid, dagens tredje og sidste kop kaffe – cappuccino med havremælk og en minicroissant med abrikosfyld. Klokken 19 får jeg en veninde til middag. Solen skinner i København og jeg er i dejligt humør.
Dagens arbejdsopgaver…
♥ Rydde min lejlighed op.
♥ Oversætte et indlæg her på bloggen fra dansk til engelsk for en samarbejdspartner. Et samarbejde jeg forresten er henrykt over! Det er nemlig med en tysk-skole i Berlin.
♥ Planlægge et interview med Jyllands-Posten.
♥ Forberede mine svar til et interview hos RockPaperDresses – YES!
♥ Skrive dette blogindlæg.
♥ Aftale et event på Skål, som skal afholdes i november.
Dagens outfit…
Sorte vidde bukser, jeg har købt i genbrug. Sort bomuldstop og en nystrikket uldsweater, som min mor har kreeret. På hovedet har jeg et stor, tyk velourhårbøjle. Jeg kan ikke helt finde ud af, om den er cute eller lidt for meget af det godt.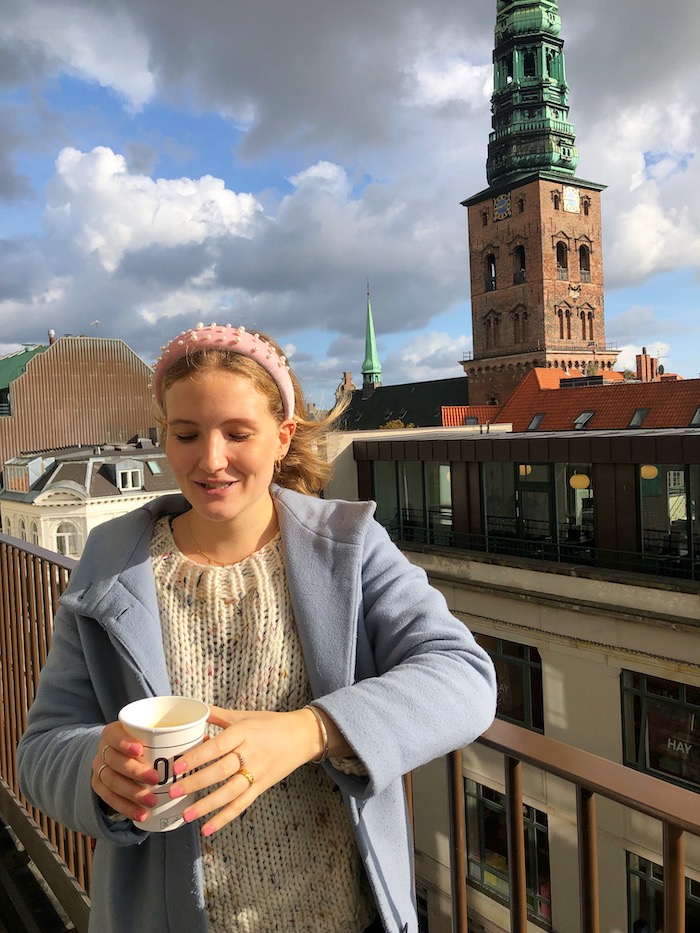 Right now, I'm sitting in an office space cafe in the center of Copenhagen with my friend Waleria. She just began studying and is busy writing her first exam of the year. I have a long list of tasks on my to-do list. I love meeting up with friends on a work date. That way, I am motivated to work myself and won't fall into the Netflix rabbit hole, and I'm able to take breaks to drink coffee and catch up with the friend I am working with. Two birds with one stone!
Agenda of the day…
I spent the morning cleaning and organizing my apartment to prepare the space for an upcoming photoshoot and video. I'll share it very soon! Now it's time to attack my to-do list with my third and last cup of coffee of the day – an oatmilk cappuccino accompanied by a mini croissant with apricot filling. The sun is shining in Copenhagen, and I feel good!
My tasks of the day…
♥ Clean up my apartment.
♥ Translate an upcoming partnership post on the blog from Danish to English for a review. I'm so excited for this collaboration – it's with a German school in Berlin and is such a great match!
♥ Plan an interview with a Danish newspaper.
♥ Prepare answers for an interview I'm featured in on my favorite blog.
♥ Write this blog post.
♥ Plan a creative event at Skål that we will host in November.
Outfit of the day…
Black wide pants that I bought second-hand last year, a black cotton top and a warm, wool sweater that my mom knit. On my head, I am wearing my new headband in pink velvet. I can't decide whether I hate it or love it.