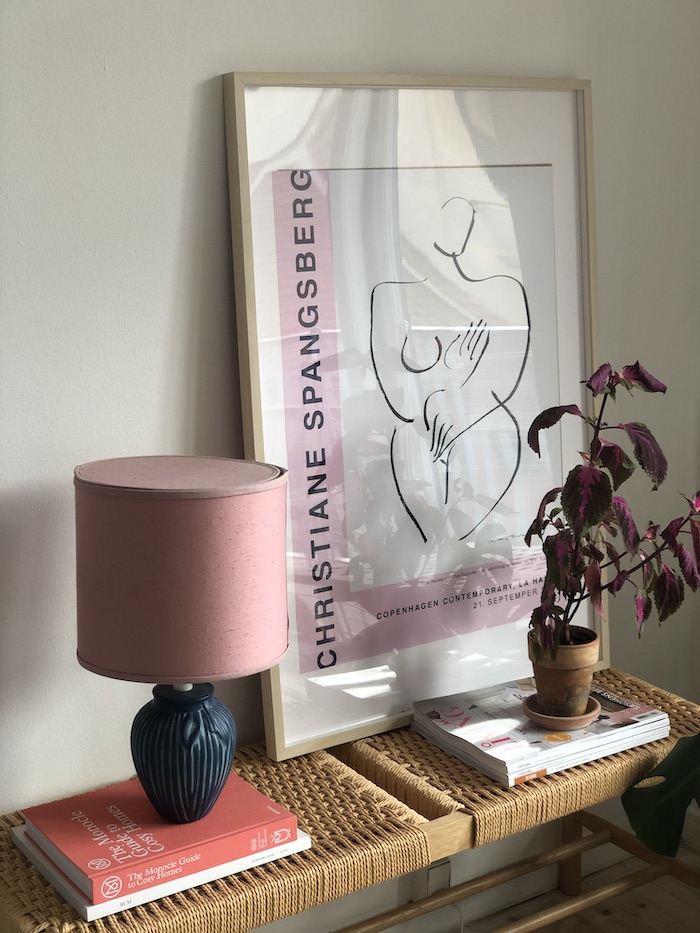 ♥ Lavede mad selv seks ud af syv aftener. Jeg er et helt nyt menneske! At lave mad er hverken min stærke side eller store interesse, men denne uges præstation har givet mig blod på tanden og mere selvtillid i køkkenet. Og så sparer jeg vildt mange penge og får også langt sundere mad! Win!
♥ Var til Formstilling-udstillingen med Bjarke Ingels Group hos Dansk Arkitektur Centeret i Blox. Det kan anbefales, især hvis du er vild med arkitektur og lego.
♥ Selvtilliden fra madlavningen bredte sig, og jeg formåede at samle min nye bænk helt selv. Jeg var lidt stolt af mig selv – jeg er ellers mega uhandy.
♥ Og selvtilliden fra bænk-projektet førte mig til hybris. Jeg tænkte, at jeg da også skulle give mig i kast med at installere en loftslampe, sætte fem meter ledning i et lampeudtag og koble det til en lampefatning. Det gik fint, indtil jeg tændte for strømmen, og det hele eksploderede og alt strømmen gik. Jeg ringede fortvivlet til min veninde, der gennem facetime lærte mig at skifte sikringer, som jeg først måtte ned i Føtex og købe. Der er nu gået seks sikringer, fordi lampefatningen stadig eksploderer, når jeg rører den. Jeg skifter sikringer på livet løs og rør ikke noget, før min far eller bror kommer og hjælper.
♥ Spiste brunch med gode venner hos The Sixteen Twelve på Jægersborggade med gode venner. Det var så hyggeligt.
♥ Sendte en tanke til hundehimlen den 18. oktober, da det var to år siden, min hund, Carla, døde. Jeg savner hende stadig.
♥ Viste min gode ven fra Aarhus rundt på Christiania, hvor han aldrig havde været før. Jeg gik på Christianshavns Gymnasium og hang meget ud på Christiania – det var blandt andet på Månefiskeren, at jeg lærte at drikke kaffe.
♥ Bestilte billetter til New York, og på onsdag tager jeg af sted igen!


♥ Cooked dinner six out of seven nights. That's a first! Who am I?! Cooking has never been a skill nor an interest of mine. But this week's cooking has enticed me to start cooking more and I already feel more confident!
♥ Went to see the BIG architecture exhibition at the Danish Architectural Center. So cool!
♥ The confidence from the kitchen spread to the rest of the apartment. That had me try to assemble my new bench with success, although I am the least practical and handy person.
♥ Because the bench-project went well, I thought I should try and hang up and connect a new lamp. That resulted in a power outage in my apartment… Not my proudest moment.
♥ Had delicisous brunch at a new spot in Copenhagen, The Sixteen Twelve, with friends.
♥ Sent my dog in dog heaven a thought on October 18th, as it's been two years since we lost her. I still miss her.
♥ Showed a friend from another part of Denmark around Christiania, the freetown in Copenhagen. I went to high school right by Christiania and used to spend a lot of time there. Going back was fun!
♥ Got tickets for NYC and am traveling back on Wednesday.