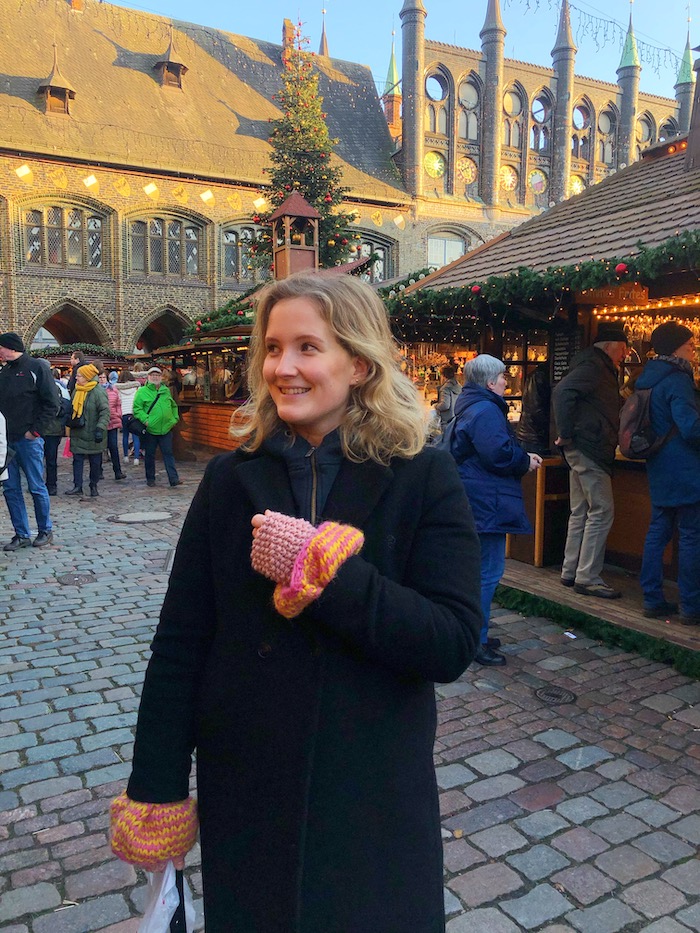 Christmas market in Lübeck, Germany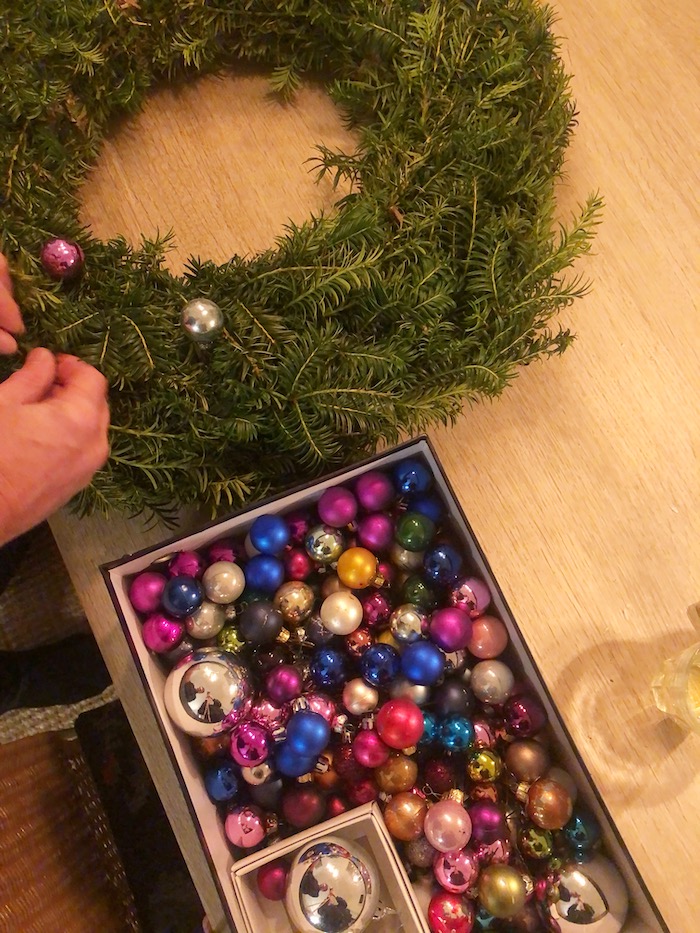 Making of my parents' famous Christmas wreath for their door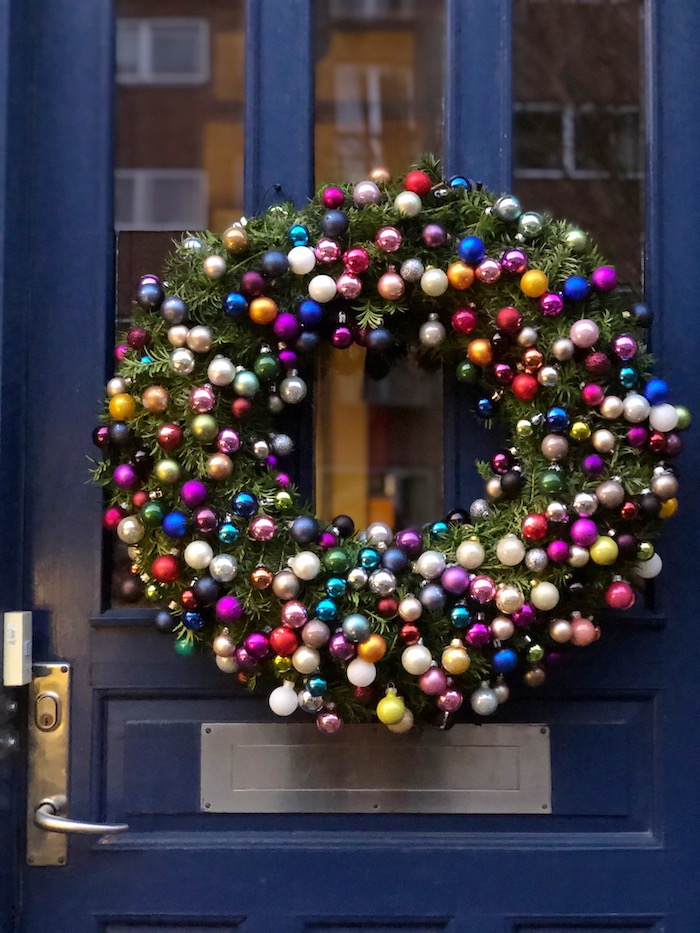 The finished result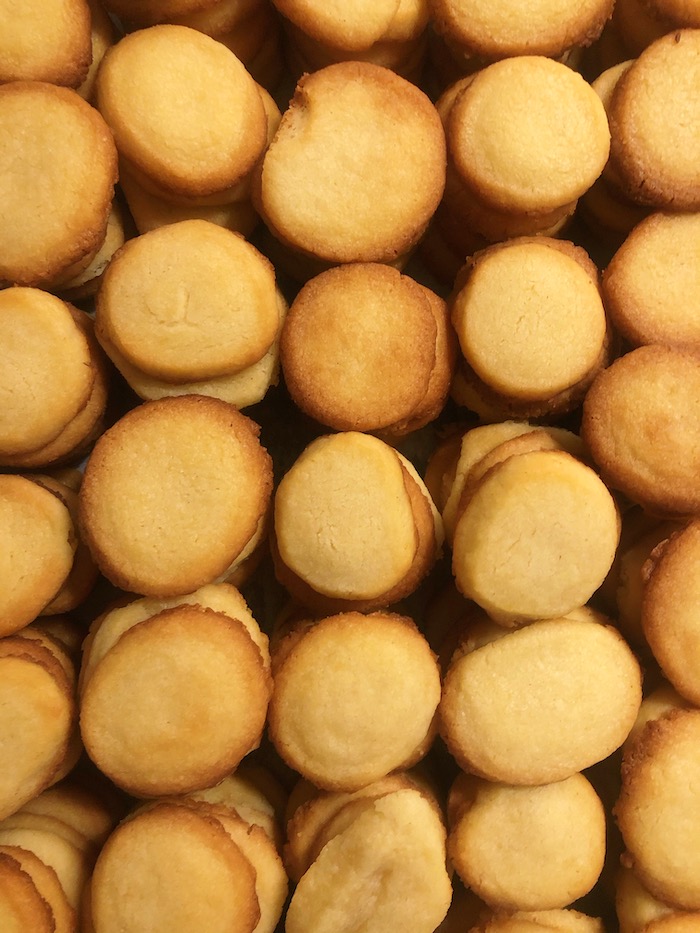 Christmas cookies (three ingredients – butter, powdered sugar and flour)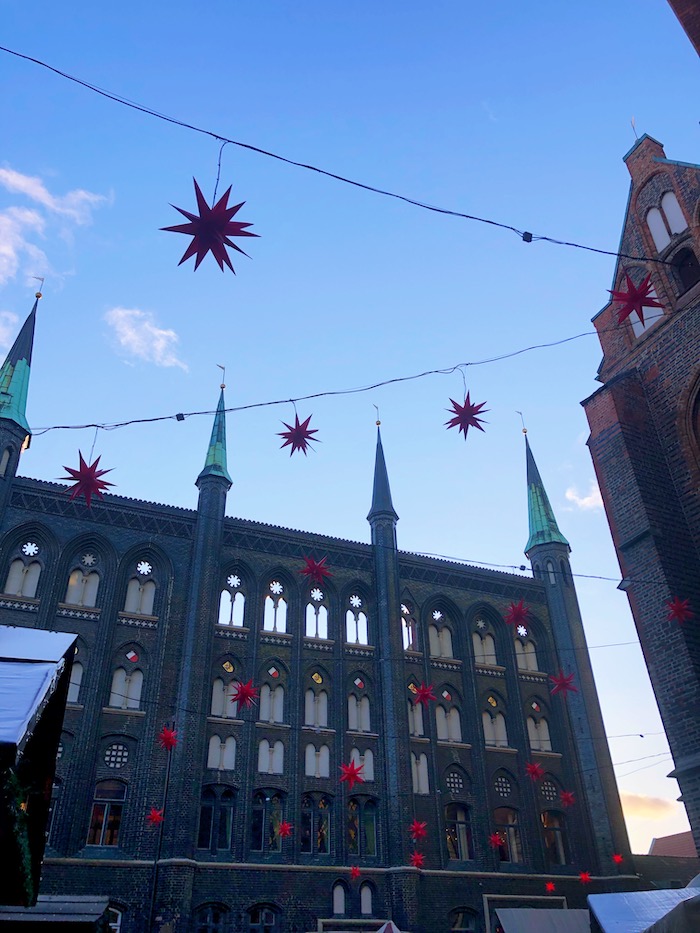 Lübeck in Germany

Det er 1. december, og det betyder, at det er tid til at byde julen hjertelig velkommen. Efter at have boet i udlandet og fordi jeg er kærester med en fra et andet land, er det gået op for mig, hvor meget danskerne går op i julen. Derfor takkede jeg også ja til at skrive en guide til CBS Wire om nogle af de sjove (og måske lidt mærkelige) juletraditioner, danskerne har. Pakkeleg… Kalenderlys?! Julehygge, julelys, julemarkeder – alt med jul som fortegn. Du kan læse mit skriv her.
I samme anledning tænkte jeg også, at jeg ville skrive lidt om mine planer for december samt mine faste juletraditioner. December er en dejlig måned, men det er også en måned med en masse voldsom trængsel og alarm. Lige fra da jeg gik i folkeskole på Sankt Annæ Gymnasium og sang i Sankt Annæ Pigekor, hvor december stod på den ene julekoncert og Luciaoptog efter det andet. Jo, december er en travl måned. Det har jeg igen fået bekræftet efter, at jeg har prøvet at lave en aftale med en veninde, der skal være med i min podcast. Det er først den 17. december, vi har formået at finde et tidspunkt, vi begge kan.
Nå, udover at december er en travl måned – så er det også en skøn måned. Med masser dejlige planer og traditioner. Her er nogle af mine planer og traditioner den næste måned.
♥ Julehygge og klippe-klistre. Jeg smugstartede og skød julen i gang sidste weekend med julemusik, æbleskiver, gløgg og klippe-klistre hos min veninde sidste uge. Jeg forsøgte forgæves at lave en julestjerne og opgav efter en halv time. I stedet lavede jeg nogle søde julehjerter.
♥ Juleshow med Naturli. Sidste uge var jeg inviteret i studiet med Naturli for at dele en juleopskrift, der udkommer i deres julekalender. Køkkenet var pyntet op, og det var en hyggelig oplevelse.
♥ Julemarked i Lübeck med min familie. En nystartet tradition på sit tredje år. Vi står tidligt op og kører til Lübeck i Tyskland, en yndig by med et endnu yndigere julemarked. Her drikker vi tysk gløgg, spiser julegodter og stocker op på alle de skønne tyske produkter, vi er vilde med. Det er en skøn tradition.
♥ Julemandens værksted hos mine forældre. Vi drikker æblegløgg, spiser æbleskiver, binder enebærkranse, laver konfekt og bager småkager.
♥ Julemarked i mit barndomshjems nabolag. En nyere tradition er, at der er julemarked i Komponistkvarteret, hvor jeg er vokset op, og hvor mine forældre stadig bor. Det er nu tredje år i træk, at vi har en bod, hvor vi sælger skønne julegaver, strik, enebærkranse og småkager, som vi forinden har kreeret til 'Julemandens værksted'-aften hos mine forældre.
♥ En tur i Tivoli. Hvad er jul uden en tur i Tivoli?
♥ Juleshow på Sankt Annæ Gymnasium. Min barndomsvenindes lillebror går i vores fodspor og er startet på vores folkeskole. Han skal lave krybbespil, og jeg glæder mig så meget til at se dem og tænke tilbage til 2003, da vi gjorde det samme. Jeg var desuden vært for juleshowet, da jeg gik i 7. klasse. Gode minder!
♥ Lucia-optog med mit gamle pigekor. Nostalgien stopper ikke her – den 13. december tidligt om morgenen synger mit gamle pigekor koncert i Helligåndskirken, hvor jeg også sang og tilmed blev konfirmeret.
♥ Juleaften. I år skal jeg holde den hos min farfar med mine forældre, bror, nogle familievenner og så kommer Jesus til Danmark den 24. og fejrer vaskeægte dansk jul for første gang. Det bliver så hyggeligt. Vi bliver 11 i alt.
♥ Familiejulefrokost 2. juledag. En fast tradition med min fars side af familien. Det bliver min første jul som vegetar, og det har jeg det helt fint med!
♥ Juleferie på Bornholm. Den 27. december stikker vi mod Sverige og hopper på færgen til Bornholm i tre dage – mine forældre, Jesus og jeg. Jeg glæder mig vildt til at vise Jesus skønne Bornholm og til at have tre dage, der bare skal stå på ultimativ jule- og familiehygge.
Hvad er jeres juleplaner og traditioner?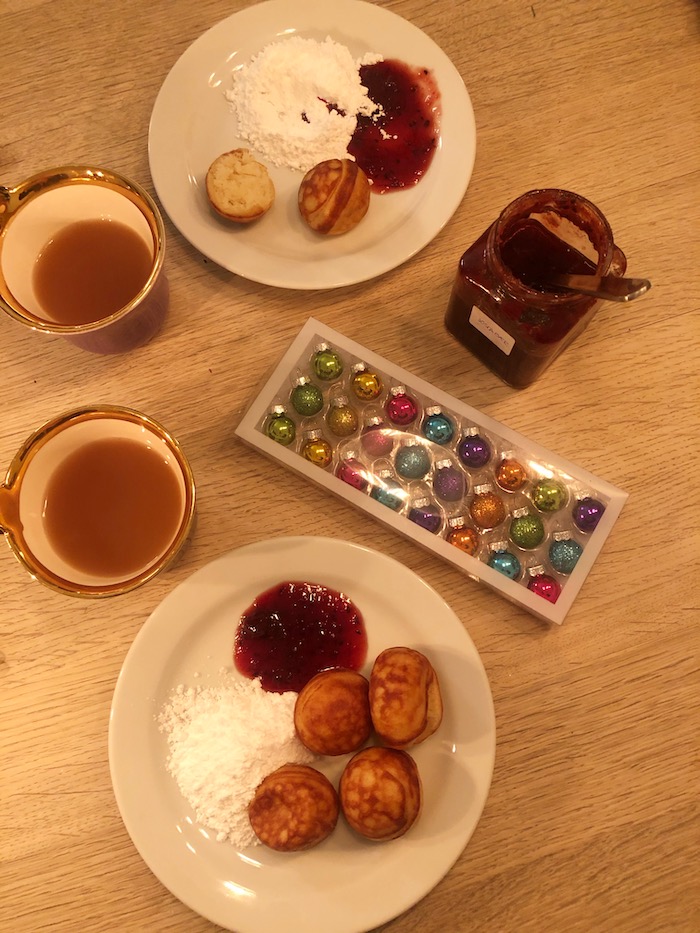 Danish Christmas snacks – æbleskiver and gløgg
Baking of the most delicious Christmas cookies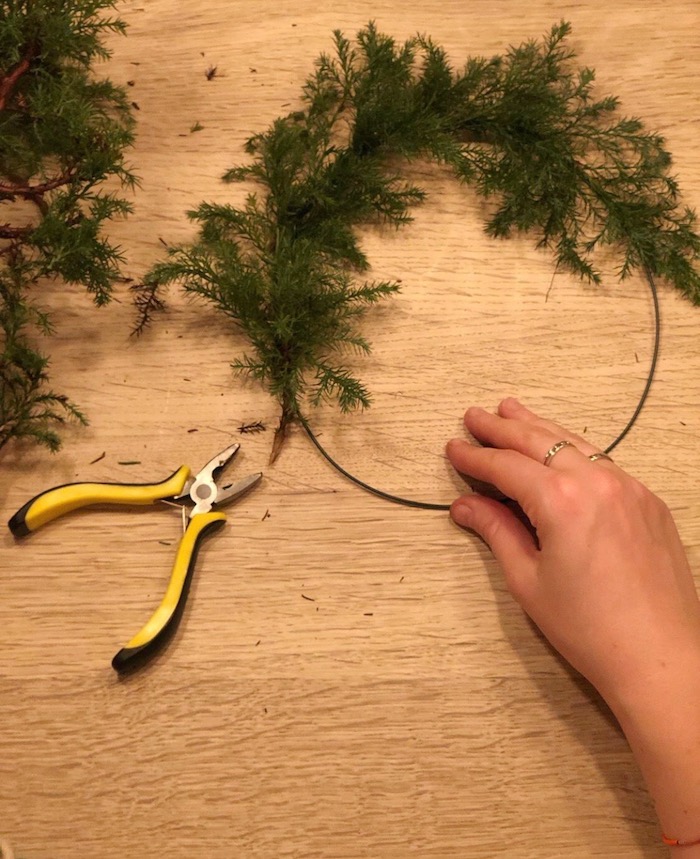 Fresh juniper wreaths
Danes take the Christmas season very seriously. There are tons of unwritten rules, traditions, and events around Christmas. I love it! December and Christmas are all about 'hygge'. I found that foreigners find some of the Danish Christmas traditions amusing which is why I collected 10 of the traditions in a guide for CBS Wire. Find it right here and learn more about the Danish Christmas traditions.
But besides being all about hygge, December is also jam-packed with events, things to do and family and friends to meet. For this months' plans, I figured I would do a rundown of my own Christmas traditions and what's in my calendar this month.
♥ Julehygge and crafting. A Danish tradition is to meet up with friends, bring lots of stuff for crafting Christmas ornaments for your house and listen to Christmas music and eating æbleskiver, another Danish tradition – a sort of puff pancake. My good friend invited us over for Julehygge last weekend and we had such a good time.
♥ Christmas show with the vegan food company, Naturli. I was invited to participate in this brands' Christmas show with a vegan Christmas recipe. Filming it was so much fun – I'll share once it's live!
♥ Christmas market in Lübeck, Germany with my family. For the third year in a row, we've taken the car and ferry to Germany to visit the beautiful town Lübeck that has a gorgeous Christmas market. Such a nice tradition!
♥ Christmas workshop at my parents'. We drink gløgg (mulled wine), eat æbleskiver, create juniper wreaths, bake Christmas cookies and caramelized almonds.
♥ Christmas market in my parents' neighborhood. For the third year in a row, we have a family shop at the market where we sell the creations we've made at our Christmas workshop. It's so nice!
♥ A visit at Tivoli, the amusement park in Copenhagen. They decorate the whole park for Christmas and it's magical.
♥ Christmas show at my old school. My friend's younger brother is now a student there and we're going to see him do the annual nativity play. I'll be nostalgic and think back to 2003 when my friend and I did it. When I was 14, I was actually the host of this Christmas show! Good memories.
♥ Santa Lucia parade and choir concert with my old choir – more nostalgia.
♥ Christmas eve! In Denmark, we celebrate Christmas on the evening on the 24th with dinner with our close family. This year, we'll be a total of 11 people celebrating at my grandfather's house. Jesus is flying in from NYC to celebrate Danish Christmas for the first time. I'm very excited!
♥ Christmas trip to the Danish island Bornholm. On the 27th, my parents, Jesus and I will take the ferry to Bornholm and spend three days there. It will be so nice!
What are your plans and traditions for the holidays?