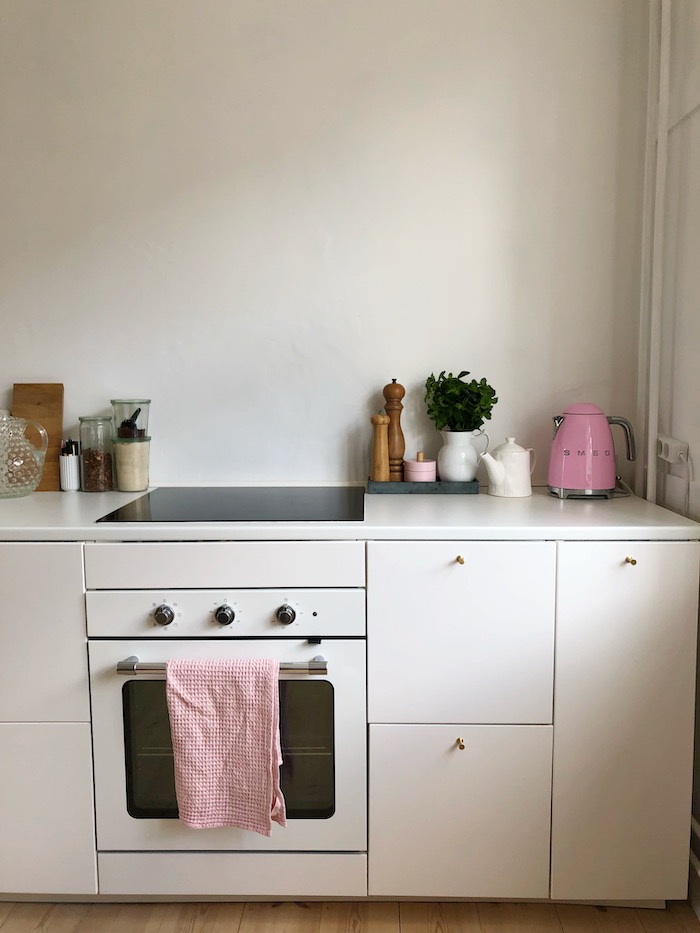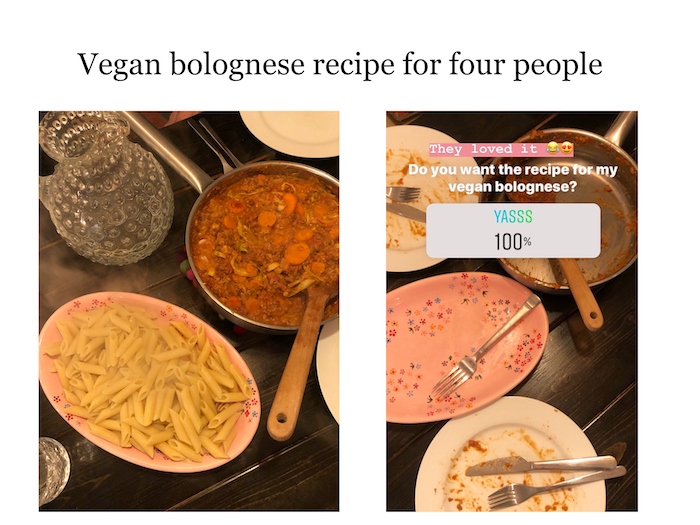 Det seneste år er der to ting, der har ændret sig. 1. Hvad jeg spiser. 2. Og hvor jeg spiser det. Jeg skød 2019 i gang med en ordentlig ændring i mine madvaner. Jeg besluttede mig nemlig for at droppe kødet. Desuden satte jeg mig for, at jeg ville forsøge at lave mere mad selv. Siden jeg flyttede hjemmefra til Berlin, har jeg aldrig lavet specielt meget mad. Det var nemlig langt nemmere at købe mig til en döner for 20 kroner end at købe ind, lave mad og vaske op.
Der skulle nye boller på suppen! Det er både dyrt og usundt at spise ude hele tiden, og så er jeg vild med at lære nye skills – for eksempel at blive ferm i køkkenet. Da jeg tilmed renoverede min lejlighed og fik et splinternyt køkken, var der ingen undskyldning for ikke at lave mad selv.
Jeg kan mærke, at det går fremad med mine kokke-skills. Jeg er blevet bedre til at eksperimentere. Senest har jeg kreeret en vegansk bolognese, som jeg serverede for mine veninder sidste uge. De var helt vilde med den. I går gentog jeg succesen og lavede den til mine forældre og min bror. De spiste rub og stub op. Det blev til en afstemning på Instagram – og mange af jer ville gerne have opskriften. Den kommer altså her – den første veganske middagsopskrift på bloggen nogensinde! Og selvom opskriften er vegansk, så kan den sagtens serveres for folk, der er vilde med kød. Man savner det ikke. Vi talte endda om, at vi kunne servere den for min farfar, og at han sikkert ikke engang ville vide, at der ikke er kød i. Det fede ved retten er, at den er idiotsikker. Du kan hælde nærmest hvad som helst i den, og den vil smage skønt. Veganer eller ikke veganer – her er opskriften til en mega lækker vegansk og proteinholdig bolognese.
Opskrift på vegansk bolognese til fire personer
500 gram spaghetti eller pasta
To dåser flåede tomater
En dåse linser
Fire gulerødder
Et stort løg
Soya cuisine (fra Naturli)
Valgfri protein (Minced fra Naturli eller veganske pølser fra IKEA)
Krydderier (salt, peber og hvad end du har, du godt kan lide)
Fremgangsmåde
Hak løg, gulerødder og IKEA-pølser. Sautér løgene i en varm sauterpande med olie. Når løgene er gyldne tilsæt så dit valg af protein, IKEA-pølser skåret i skiver eller Minced. Hæld derefter de to dåser flåede tomater, linser og gulerødder i gryden. Lad indholdet koge op og skru derefter ned på varmen, så retten kan simre. Tilsæt alle dine yndlingskrydderier. Du kan også tilsætte alle slags grøntsager, du har i skuffen. Gode ideer er spidskål og squash. Når retten har simret, hæld et skvæt soya cuisine i for at gøre bolognesen mere cremet. Kog vand til pasta eller spaghetti.
Server, spis og nyd dit lille mesterværk <3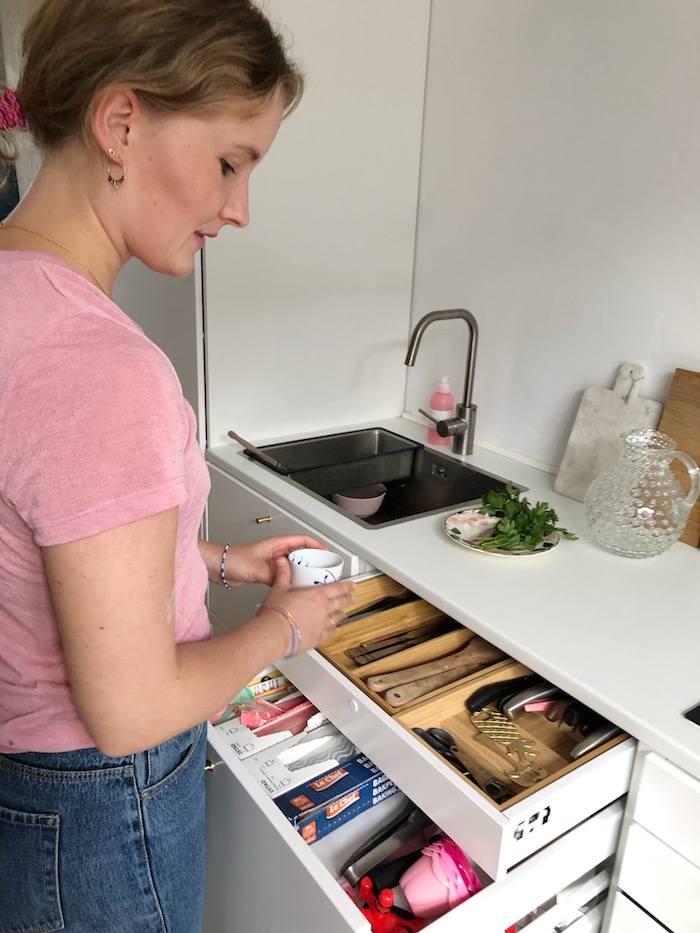 2019 has been the year where two fundamental things evolving around my eating habits have happened. 1. What I eat. 2. And where I eat it. I began 2019 by quitting meat and implementing as many vegan habits as possible. I also pledged to start cooking more at home. Since I moved out of home to Berlin, I never really got into the habit of cooking at home. It was easier and cheaper to pick up a 3€ kebab than to waste time grocery shopping, cooking and cleaning for myself.
But I wanted to start cooking more myself. Both to be healthier, save money and achieve cooking skills. As I renovated my apartment this year and got a new kitchen, there were no more excuses as to why I didn't cook.
I see an improvement in my cooking skills. I feel more confident and start exploring more in the kitchen. Most recently, I've created a hearty vegan bolognese that I invited my girlfriends to try last week. They loved it! That made me cook it a second round this week, this time for my parents and my brother. They loved it as well, and they ate the huge portion up completely. I asked you on Instagram if you'd like me to share the recipe, and so many of you responded with a yaaasss. So here we go – the first-ever dinner recipe on my blog!
Although the recipe is vegan, it's bullet-proof for meat-eaters and -lovers as well. My family and I agreed that if we were to serve the food for my grandfather, he wouldn't notice the missing meat. Another perfect thing about this stew kinda cooking is that you can add whatever vegetables or protein to it, and it will still taste great. Bullet-proof in many ways!
Vegan bolognese recipe for four people
500 gram of spaghetti or pasta
Two cans of tomato sauce
A can of lentils
Four carrots
A large onion
Soy creamer
Your choice of protein (I used a vegan minced meat product and vegan sausages from IKEA)
Spices (salt, peber, garlic and any spice that you like)
Method
Chop onions, carrots, and sausages (in case you're adding them). Sauté the onions in a sauté pan with oil. Once they're golden, add your choice of protein. Pour the tomato, lentils and carrots into the pan. Let it boil and turn down the heat to low to let it simmer. Add your favorite spices. You can also add whatever vegetables you have lying around such as cabbage or squash. Once the dish has simmered, pour in the soy creamer to make it creamier. Boil water, add the pasta and serve once it's al dente. That's it! Incredibly easy, delicious and healthy.
Serve, indulge and enjoy your little masterpiece <3