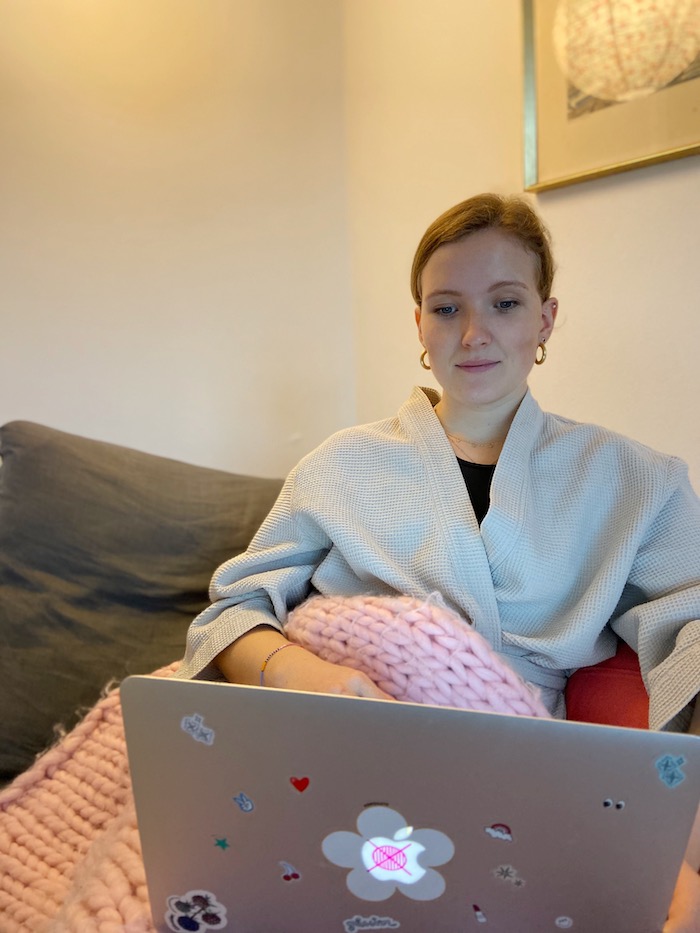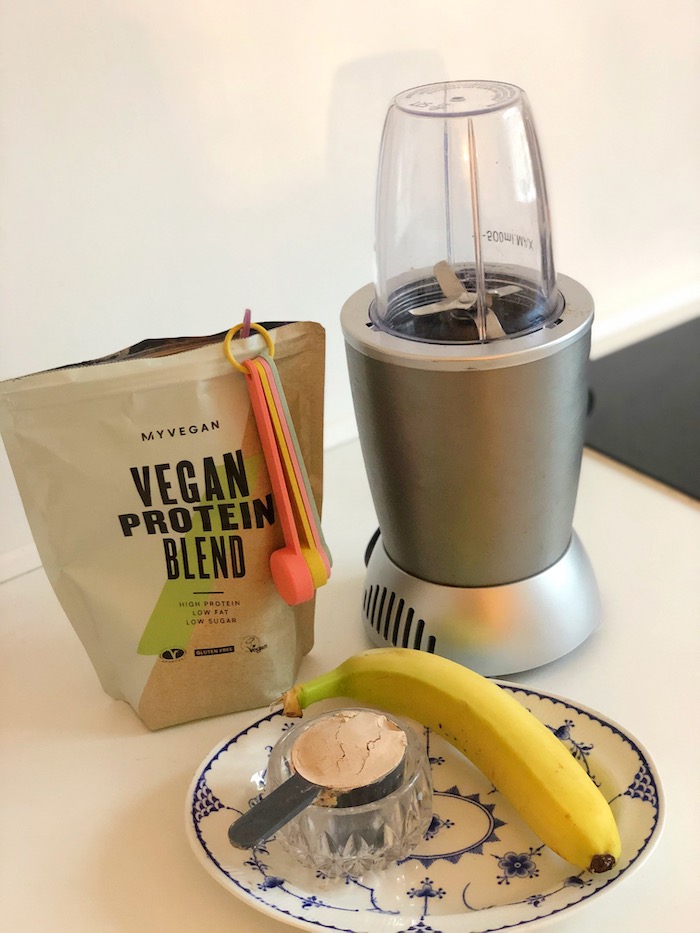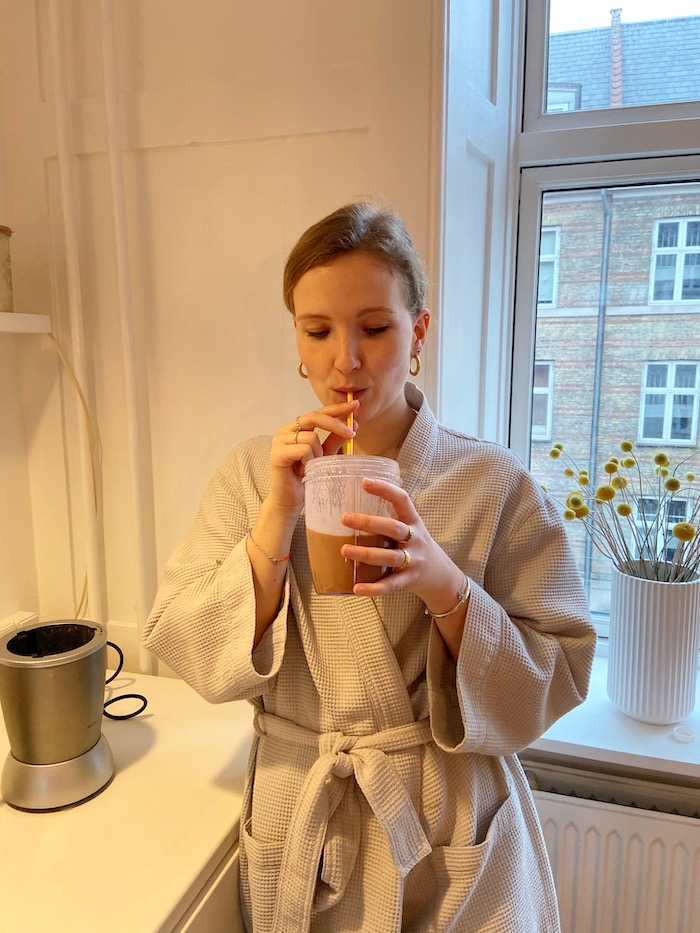 Jeg har alle dage været et ultra b-menneske. Mine forældre siger, at jeg var den perfekte baby, for jeg vækkede dem aldrig, før fanden fik sko på om morgenen. Det har holdt ved. Jeg sover snildt 12 timer, hvis min alarm ikke vækker mig, og jeg ikke har noget, jeg skal op til. Det kan være ret frustrerende, når jeg arbejder hjemmefra og derfor ikke har et sted, jeg skal være. Jeg kan godt blive rigtig frustreret og vred på mig selv de morgener, jeg kommer til at snue, fordi jeg simpelthen sover igennem mine alarmer (ja, flertal!). Det lyder nok vildt for nogle udefra, men alle der kender mig ved, at det egentlig er et decideret problem for mig, at jeg ikke kan stå op om morgenen. Det er endda endnu værre nu, da jeg er på medicin grundet min hovedpine, der gør mig endnu mere søvning og zombie-agtig.
Løsningen?
Min løsning har været, at jeg gør mit bedste for at holde min aftenrutine og min morgenrutine. Min aftenrutine går blandt andet på, at jeg slukker for telefon og computer, fjerner makeup, laver afspænding og udstræk (mod min hovedpine!), går i seng og læser en bog. Et par minutter efter går jeg kold. At læse i en bog og droppe det dumme lys fra skærme er den ultimative sovepille.
Men det skal nu mere handle om min (optimale!) morgenrutine. Jeg vil være ærlig at sige, at det er ikke hver morgen, jeg formår at holde mig til min ideelle morgenrutine, men jeg prøver så godt, jeg kan.
Min morgenrutine
Klokken 8 ringer min alarm
Det er sikkert ægte chef-tid for nogle, men det er altså mit kompromis som b-menneske og som min egen chef. Min mobil ligger til opladning i mit køkken over natten, og det betyder, at jeg skal gå 20 skridt for at slukke min alarm. Det er mit trick til at komme ud af fjerene og ikke blot snooze alarmen og sove videre.
Vand og opdatering
Jeg sætter mig i sofaen med min telefon for at undgå at gå tilbage i seng. Her er jeg en groggy zombie i 10 minutter, hvor jeg scroller min mail, Instagram og Facebook igennem for nattens eskapader. Imens drikker jeg et stort glas vand. Vand om morgenen har været en vane for mig i mange år. Så er dagen ligesom skudt i gang med et indvendigt brusebad. Derefter reder jeg min seng (genialt life hack!) og børster mine tænder.
Kaffe og smoothie
Jeg går i køkkenet, hvor jeg sætter vand over til kaffe. Imens det koger, laver jeg min protein-morgensmoothie med én banan, tre isterninger, lidt vand, lidt havredrik og 30 gram vegansk protein i chokoladesmag fra Myprotein (reklamelink). Jeg bruger en smart blender, der laver smoothien direkte i et drikkeglas. På den måde er der minimal opvask og oprydning, og det gør bare hele smoothie-projektet nemmere. Eftersom jeg spiser meget få animalske produkter, intet kød og træner forholdsvis meget, forsøger jeg at få protein fra andre kilder. Derfor er denne smoothie genial. Jeg laver den også med spinat og banan, hvor jeg så bruger proteinpulver uden smag (reklamelink). Mens jeg drikker den og min kaffe med havredrik, hiver jeg computeren frem og arbejder på nogle småopgaver, såsom at besvare mails og beskeder.
Så er dagen i gang
Alt efter hvad dagens planer står på, går jeg enten rigtigt i gang med at arbejde, jeg cykler ud til møder og aftaler, eller jeg tager til træning.
Denne morgenrutine er et forsøg på at få mere ro ind i min hverdag. I mange år (og det sker stadig!), snoozer jeg til sidste øjeblik, har måske et kvarter til at gøre mig klar, jeg suser rundt i lejligheden lidt halv-stresset, kaster noget tøj over hovedet og løber ud af døren. Ovenstående morgenrutine giver mig muligheden for at komme langsomt og godt i gang med dagen, mens jeg kan trække vejret. Som sagt er jeg ikke en superhelt, der formår at gennemgå ovenstående morgenrutine hver morgen. Træerne vokser ikke ind i himlen. Men når jeg formår at gøre det, så har jeg for det meste sikret, at jeg får en god start på dagen.
Hvordan ser din (ideelle) morgenrutine ud?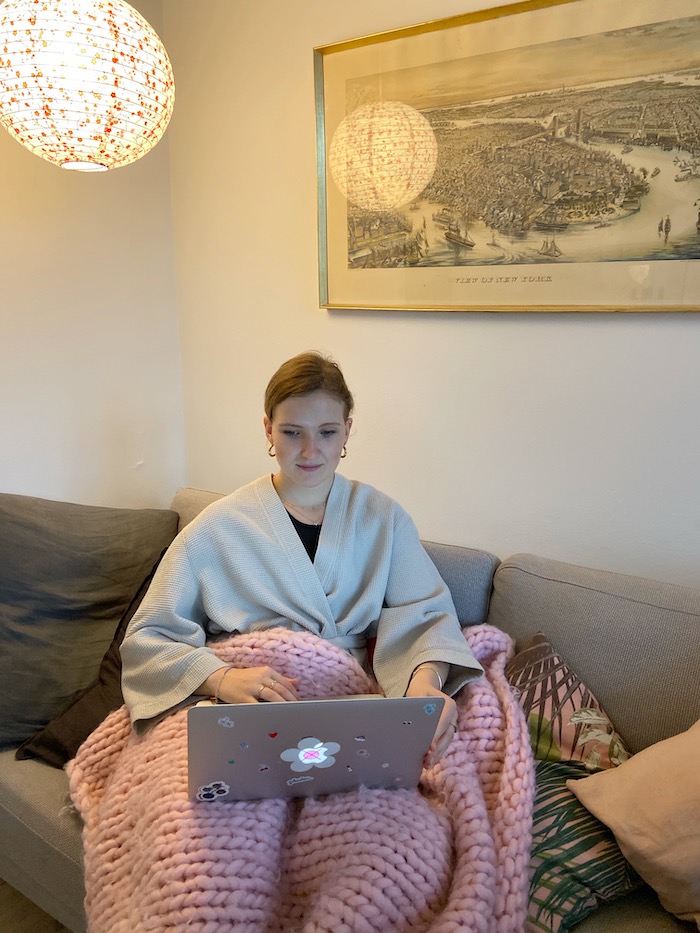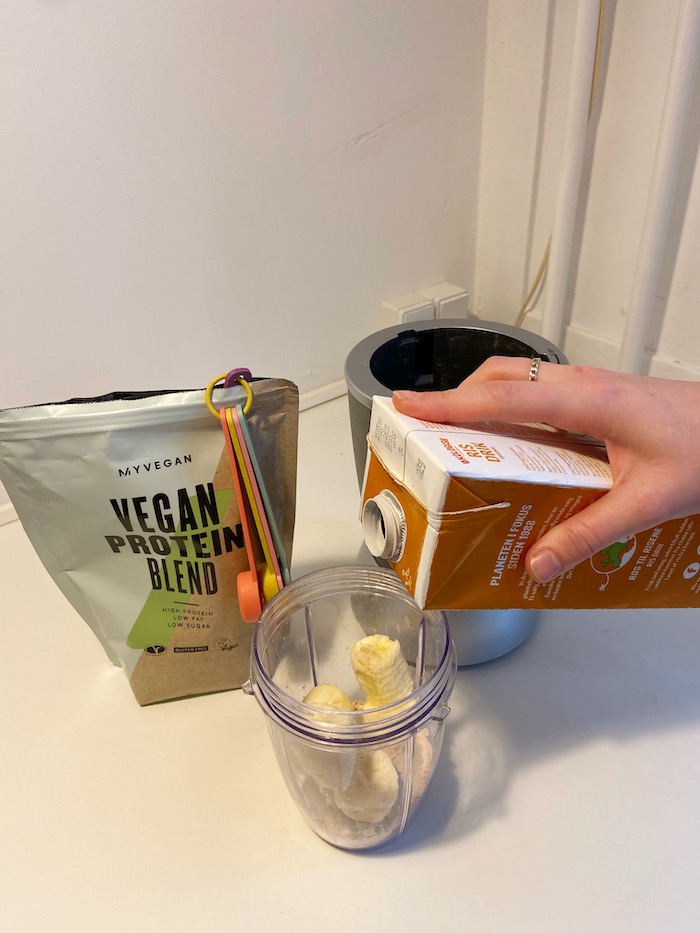 I've always been a night owl and a late sleeper. To the point where my parents said I was the perfect baby because I never woke them up in the middle of the night or before dawn. Not much has changed. I easily sleep for 12 hours if no one or my alarm doesn't wake me up and I don't have anywhere to be. It can be frustrating at times – because most days I don't have anywhere to be because I work from home and I am my own boss. That means that the days I wake up too late because I've simply slept through my alarm, I get really upset and frustrated with myself.
The solution?
My solution to waking up at a decent time is to focus on my evening and morning routine. They both play an important roll in getting the most optimal sleep and waking up instead of snoozing away in the zombie mode I turn into in the morning. My evening routine is about that at 10.30 pm, I turn off my laptop and my iPhone and leave it to charge in the kitchen. I remove my makeup, do my skincare routine, and brush my teeth. I go to the living room and do 13 minutes of savasana relaxation and breathing on the floor. This does wonder to my stress level, headache, and overall wellness. I go to bed and read between 5-20 minutes in my book before I doze off. Not bringing my phone to bed is the ultimate sleep hack!
Enough about my evening routine. It's about my (ideal and optimal!) morning routine. I'll be honest and disclose that it's not every morning that looks like this. But I try my best!
My morning routine
My alarm wakes me up at 8 am
Some might think that that's late, but for me, as a night owl and late sleeper, this is a compromise. My phone alarm wakes me up from the kitchen – and that's key! that I have to walk 20 steps to turn it off and this way, I avoid going back to bed and snooze because I am already up. At least, that's the goal. The lengths I have to go through to wake up in the morning are ridiculous…
Water and updates
To avoid going back to bed and falling asleep, I sit on my couch. Here, I'm sort of a zombie for 10 minutes. I scroll through my emails, Instagram, and Facebook. While doing so, I drink a glass of water. Water first thing after waking up has been a habit of mine for years. I make my bed (genius life hack!) and brush my teeth.
Coffee and smoothie
After waking up, I go to my kitchen and boil water for coffee. While it's boiling, I make my protein morning smoothie with a banana, three ice cubes, water, oat milk and 30 grams of vegan protein powder with chocolate (ad link). I use a great blender that makes the smoothie in a drinkable glass and saves me a lot of cleaning. As I am eating very few animal products and no meat, I try to do my best to get in enough proteins. A protein smoothie helps a lot! I also make one with spinach where I just use unflavored vegan protein powder instead (ad link). While drinking my smoothie and my coffee, I grab my laptop to start working on some quick tasks.
The day's begun!
Depending on what I have planned that day, I get to work, I bike to meetings or I head to the gym.
This morning routine is an attempt to get in more calmness into my everyday life. For mange years (and it still happens!) I snooze to the last minute and end up running around for 10 minutes to get ready in no time. Not fun, actually, those mornings are quite stressful. The above morning routine lets me start the day in peace, while I'm able to breathe.
What does your (ideal) morning routine look like?