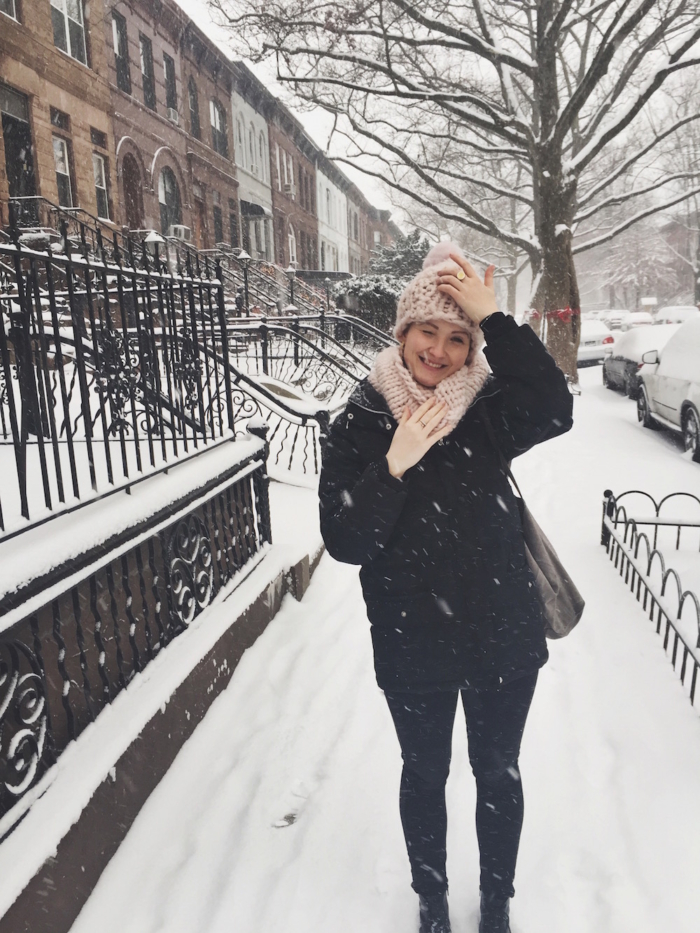 Waking up to a snowstorm in Brooklyn, 2017

Forleden dag faldt jeg over denne artikel. Den gik ud på, hvorfor folk i Norge ikke får vinterdepressioner. Den sætning er så lidt søgt, for vi er vist ret mange i skandinavien, der bliver vinterdeprimerede. Mig selv inklusiv.
Men som svar på, hvorfor nordmænd ikke bliver deprimerede over kulde og mørke, var svaret;
"people view winter as something to be enjoyed, not something to be endured,"
For mange år siden siden, da jeg gik i gymnasiet, følte jeg mig dybt vinterdeprimeret. Jeg skulle møde i kl. 8 om morgenen, op før fanden fik sko på, der var så urimeligt koldt uden for dynen, og det var sort uden for. Så op på jernhesten og cykle 5 kilometer til skole i slud, regn og mørke. I skole og forsøge at holde sig vågen til otte timers undervisning. Når jeg fik fri, var det atter mørkt uden for, og de fleste dage kom solen ikke engang igennem vinterens tunge, grå tæppe. Det var en kamp at komme igennem vintrene i gymnasiet. Når foråret bankede på, og vi nåede til sommeren, var jeg ikke til at skyde igennem.
Så kom hygge
Engang var jeg tit træt og deprimeret. Så kom hygge. Tak hygge. Da jeg blev student, lagde jeg også lidt af min vinterdepression bag mig. Det er der flere grunde til. Jeg skulle ikke møde kl. 8 om morgenen mere. Om vinteren har vi, i gennemsnit, brug for en times mere søvn. Det er ret svært at få, når man har travlt, er b-menneske og har et sted at være kl. 8 om morgenen. Fordi jeg nu mere eller mindre er herre over min egen tid, kan jeg sove længere og undgå de kolde, mørke morgener. Det hjælper helt utroligt meget.
Vejret skal ikke bestemme mit humør
Jeg fandt også ud af, at jeg ofte lod vejret bestemme mit humør. Skinner solen, så er jeg i fuld hopla. Er det gråt, så bliver jeg selv grå. Og er det iskoldt, så fryser jeg også. Jeg er det ultimativt mest kuldskære menneske, jeg kender med kronisk kolde tæer og fingre. Men jeg kan ikke kontrollere vejret, så hvorfor lader jeg vejret kontrollere mig? Ved bevidst at forsøge ikke at lade vejret bestemme, hvordan mit humør og energiniveau skal være, tager jeg kontrollen lidt tilbage. Desuden har jeg langt om længe fået mig en vinterjakke, der holder mig varm. Det har gjort en verden til forskel!
Nyd det, så længe det varer
Som artiklen skriver, så undgår nordmænd vinterdepressioner ved at nyde vinteren. Det tror jeg også, vi er gode til i Danmark. Det er delvist det, vores nu verdenskendte, 'hyggekultur' handler om. At blive inden for med tæpper, stearinlys, varm kakao og godt selskab. At bruge hygge til at komme igennem vinteren og nyde den i stedet for at hade den. Og på den måde kan jeg faktisk godt tage mig selv i at sidde en varm sommerdag og glæde mig til vinter, når jeg kan blive inden for i sengen med Netflix uden dårlig samvittighed.
Jeg prøver også at huske på, at vinter ikke er for evigt. Foråret kommer igen. Det bliver atter sommer, lyse nætter og solskin. Og tænk hvis vi ikke havde vinter – så ville vi slet ikke værdsætte de andre sæsoner, lyset, solen og varmen, som vi gør nu, fordi vi kender kontrasten så godt. Jeg nyder det, der er tilbage af vinteren her i februar. Det er i dag -8 grader i New York, men solen skinner. Jeg glæder mig til foråret så småt begynder at sætte sine præg <3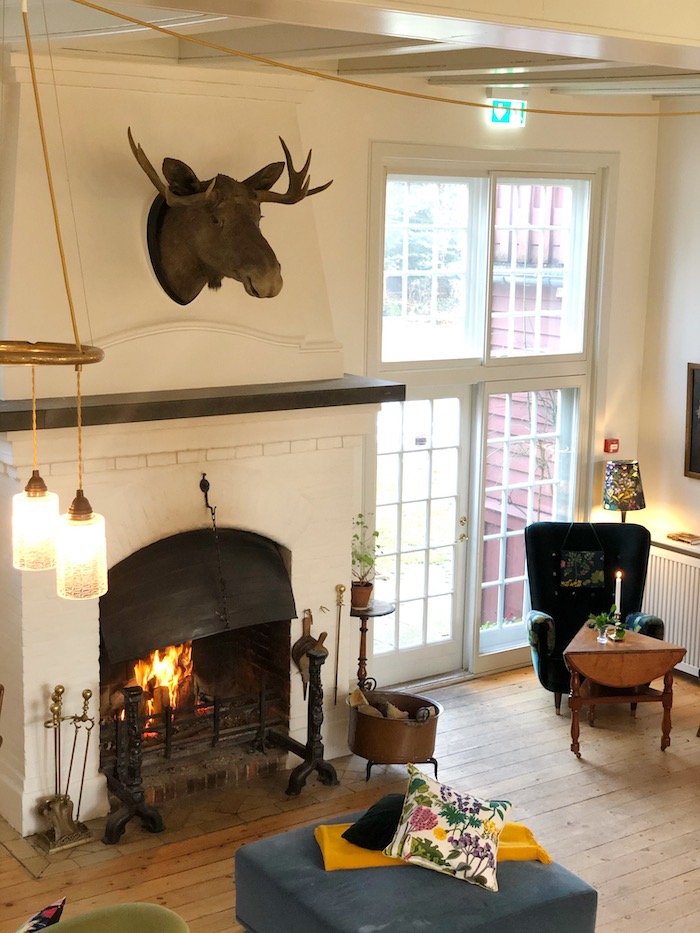 True winter 'hygge' – a lit fireplace, staying indoors and getting cozy
The other day, I stumbled upon this article. It touched upon how Norwegians endure long, dark and cold winters without getting winter depressions. The answer is great – however, I do want to argue that plenty of Scandinavians get winter depressions, myself included.
But back to the answer as to how Norwegians keep winter depressions out the door;
"people view winter as something to be enjoyed, not something to be endured,"
Many years ago, when I was in high school, as winter arrived, so would my depressive state of mind.  I had to be in school by 8 am. Get up unreasonably early, while it was pitch black outside. Get out in the freezing cold outside my bed. Bike five kilometers to school. Focus and concentrate from 8 am – 4 pm and try to learn whatever the teacher was teaching. As I was off from school, it was dark again. Keep in mind, in Danish winters, the sun rises at 8.45 and sets at 3.30 if it even shows that day! Most days are just grey. Doing this routine felt unbearable. But as soon as the slightest signs of spring came knocking on the door, off went my winter depression.
We can't control the weather
So how do Scandinavians survive these dark, dark winters? It's all about hygge – and the mindset. As I graduated high school, I left my winter depressions as a closed chapter together with high school. I said goodbye to 8 am morning classes. I was now able to get more sleep during winter. Scientifically proven, we need an average of one-hour of extra sleep during winter. Because I almost work solely on my own terms, no more early hours for this night owl.
Further, I found out that my moods were often dependent on the weather. The sun's out? I'm full of energy and smiles! It's grey? I'm low on energy, on the verge of a headache. Rain, cold and snow? Forget it. One day I read a book that touched upon the subject that simply by shifting your mindset and not letting the weather control your mood, you will feel better. Why was I letting the weather control me when I have no way of controlling the weather?
That's the conclusion in the article;
"But overall, mindset research is increasingly finding that it doesn't take much to shift one's thinking. "It doesn't have to be this huge complicated thing," says Leibowitz. "You can just consciously try to have a positive wintertime mindset and that might be enough to induce it." 
It's all about hygge
And besides the mindset shift, Scandinavians have more methods linked to dealing with the cold and darkness. Hygge, appropriate clothing and knowing that it isn't forever. Instead of hating winter, we make the best of it. We stay indoors and do full on hygge. Drinking hot beverages, cozying up with loved ones under warm, soft blankets, watching good movies, light up tons of candles and the fireplace, if there is one. Actually, on the contrary, I find myself excited for indoor winter hygge (which is totally a word in Danish – vinterhygge!), when it's summer. We also make sure to enjoy the outdoors. Scandinavians live by the belief that there is no bad weather, only bad clothing. So dress up, and get out and enjoy the winter landscape!
And lastly, we know that winter isn't forever. By enduring winter and making the most of it, we are very much aware that spring and summer are coming. And being well-acquainted with the contrast – the long, dark winter – we appreciate the sunshine, Scandinavian summer nights and the warm weather even more.
It's -8 degrees celcius in NYC today, but the sun is out. I'm fine, happy, and very excited to enjoy the last part of winter before March and spring are on their way.