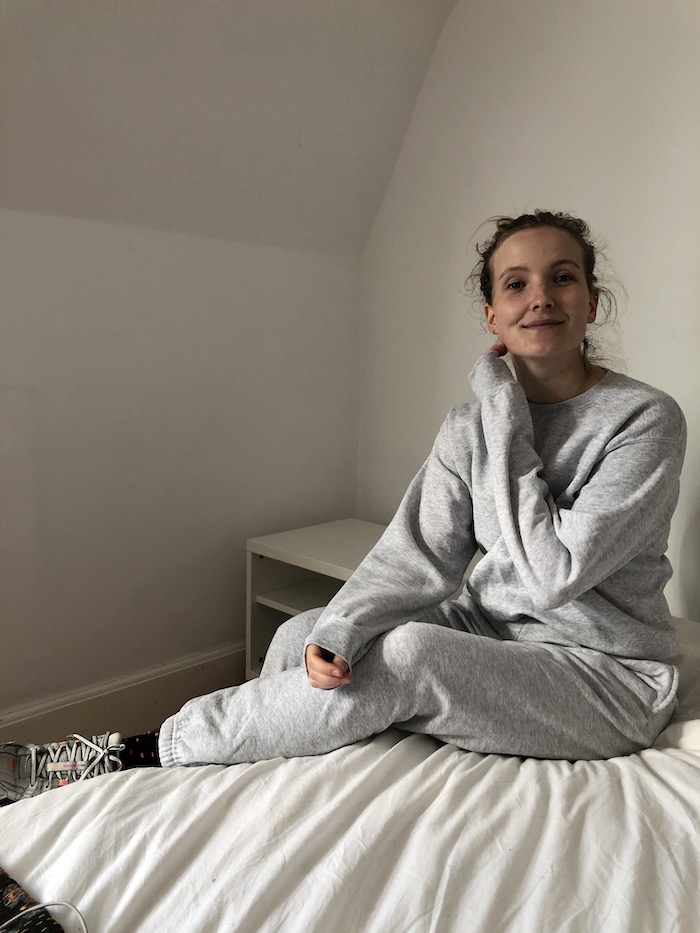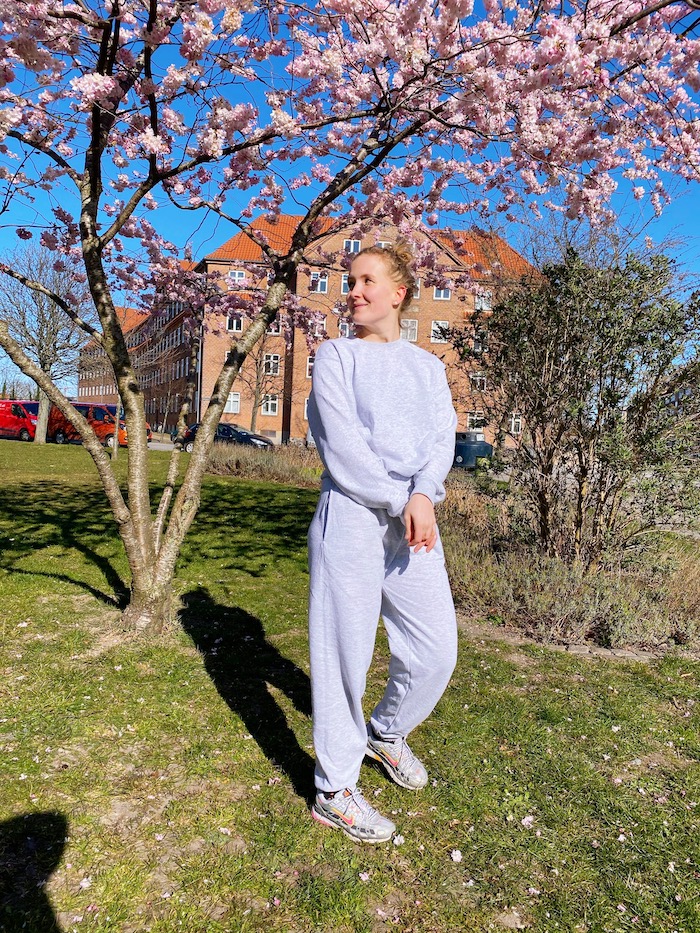 My favorite home workouts

I denne svære tid har jeg stærkt brug for 1. lyspunkter, der gør den nye hverdag lidt lysere og sjovere. 2. rutiner der kan være med til at opretholde en nogenlunde normal hverdag, der dog skal foregå inden for. Og hvis man må give hjemmekarantænen lidt ros, så har den lært mig et par ting.
Blandt andet har jeg fået øjnene op for at træne hjemme. Det er aldrig noget, jeg har gjort det i. Men faktisk kan man sagtens undvære fitnesscenteret takket være YouTube og forskellige apps. Nu har jeg sat en regel for mig selv – jeg skal bevæge mig hver dag. Om det er en gåtur, 20-minutters yoga eller et 60-minutters HIIT-program er underordnet, så længe jeg får gjort en af delene.
Mit vægttab- og muskelopbygningsprojekt
Ikke nok med at det hjælper mig med at holde situationen ud og fungerer som en humør-booster, så hjælper det mig også med at holde planen i forhold til det kropseksperiment, jeg lige nu er i gang med. Det var sgu lidt øv, da jeg indså at fitnesscentrene skulle lukke og jeg ikke ville kunne styrketræne der. Jeg tænkte straks, at nu kunne jeg ligeså godt kaste håndklædet i ringen og droppe projektet, men næ nej! Takket være at jeg har fået øjnene op for hjemmetræningsmuligheder, så går mit eksperiment stadig den rigtige vej.
Genialt tilbehør til hjemmetræning
REKLAME: Til at opgradere mit home gym en smule, har jeg modtaget nogle fede produkter i gave fra Apuls. Her kan du finde træningstilbehør til fantastiske priser. Jeg har fået en måtte (i pink selvfølgelig, til 99 kroner), elastikker og to foam rollers til ømmemuskler. Mine produkter kom et døgn efter, at jeg havde bestilt dem. Sikke en service. Derudover har jeg to x 5 kilo vægte, der er min fars. Du kan dog sagtens træne hjemme uden tilbehør. Udover de personlige træningsprogrammer jeg har fået fra min træner Helene, så er jeg vild med disse hjemmetræninger.
Yoga-hjemmetræning
Yoga with Adriene – Adriene er en populær youtube-yogi. Jeg er især vild med hendes 20-minutters flow, der træner kroppen godt igennem på blot 20 minutter. Så er der ikke nogen undskyldning 😉 Desuden har hun yoga-træninger specialiseret til alt – til dem, der vil tabe sig, til øm lænd, til stræk osv. osv. osv. Der er masser at gå i gang med!
SETU yoga – Et community der udbyder gratis yogahold i NYC, som jeg ofte har deltaget i. Nu har jeg fundet ud af, at de også tilbyder en lang række online yoga-timer.
Dans & HIIT
Popsugar fitness – Det er næsten som at være til en overenergisk holdtime i fitnesscenteret. Popsugar udbyder et hav af Youtube-video-træninger. Om du er til korte træninger, længere, med et specielt fokus såsom core eller dans, så findes der en træning til dig.
Mavefokus
Man går aldrig galt i byen med mave- og coreøvelser. Jeg har afprøvet et par af disse mave-træninger, og de virkede!
Træningsapps
Udover millioner af Youtube-videoer, findes der også specifikke træningsapps, der kan fungere godt som en slags virtuel personlig træner. Disse er ofte dyre at abonnere på, men jeg har fundet denne oversigt over, hvilke populære træningsapps du kan få en gratis prøveperiode til. Så er det bare om at komme i gang! Jeg har selv prøvet et tre-måneders program med Kayla Itsines, som jeg var glad for. Der findes også en god oversigt her over Youtube-videoer og apps.
Jeg håber, at denne oversigt kan inspirere dig til at komme i gang hjemme på stuegulvet. Det føles så rart, når det er gjort! Hvis du vil have mere inspiration, er det vitterligt blot at google dig frem. Der er en hel verden inden for hjemmetræning ♥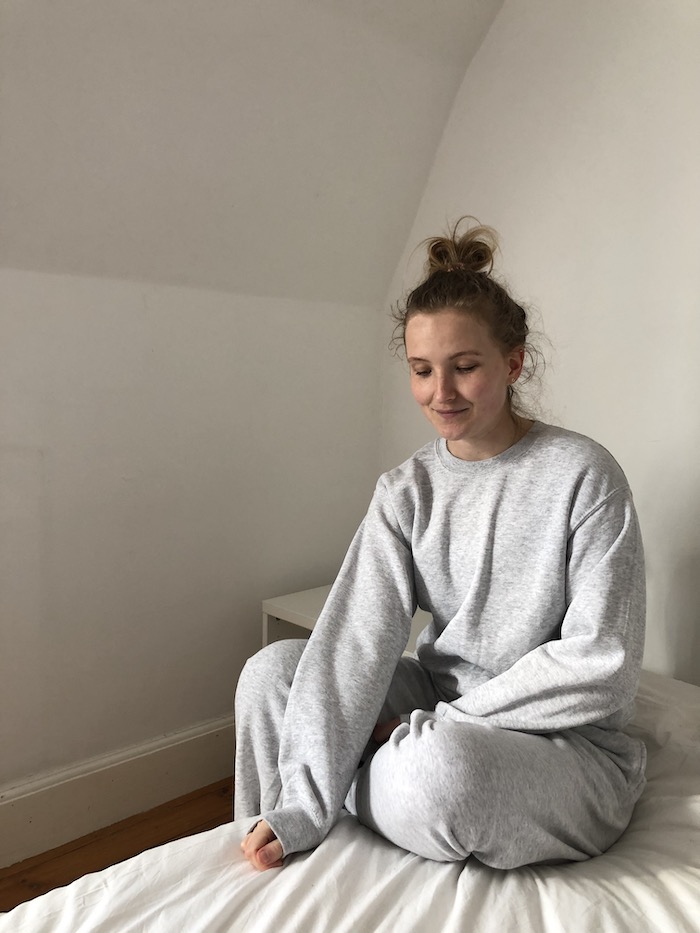 Finding the silver lining and learning new things…
In these hard and weird times, I need two things. 1. Silver linings that help brighten the day. 2. Everyday routines so I can stay sane, now that the world as we know it has been turned upside down. To credit the whole #shelterinplace situation, it's taught me a good thing or two:
That I need to move. So I've made a rule for myself. I need to move every single day, one way or the other. Whether it's by taking a long walk or by doing a workout. But how do I workout without a gym…?
2. That I don't need a gym to work out. I've learned to workout from the floor of my living room. Something I've never really done before. I've always been of the opinion that working out required a studio, a class or a gym.
Once the corona situation became real and the gyms closed, I was bummed out. Not only because of the whole awful and sad situation but also because I had just begun a body project of losing weight and building muscle with the help of a personal trainer. I felt defeated and was about to throw in the towel. But that's when I got into the world of opportunities of working out at home. Not only is it a great way to stay healthy, but moving also boosts your mood.
Here are some of my favorite workout videos that I can do from my living room floor.
My favorite home workouts
Adriene is a super calm, super awesome yogi who offers a ton of yoga workouts and flows under the name Yoga with Adriene. I love the 20 minute full body flow. It's so perfect that it just takes 20 minutes to get through the whole body. No excuses! 😉
When I'm in NYC, I often participate in the community-based yoga classes by Setu. Recently, I found out that they offer videos too, and they're great.
For more energetic, powerful workouts, I'm a huge fan of Popsugar Fitness. They offer a huge variety of videos, from short intense workouts to longer cardio-based dance classes. It's almost like being at a gym class!
Last but not least, I know that besides YouTube workouts, there are also tons of workout apps out there that almost act like a virtual personal trainer. I've found these two articles that list favorite workout apps and some of them even offer two or more free weeks to test them out!
I hope that this overview can be an inspiration for you to get moving and feel good while #stayinghome ♥