April and spring, bring it! Det er hvad corona-situationen blandt andet har ført med hjemme hos mig. Jeg har holdt sy-stue med min mor! 

Vi har syet et sæt tøj, puder, scrunchies og sengetøj!

Jeg synes, at marts er fløjet væk. Det har været en begivenhedsrig måned på godt og ondt. Jeg nød livet i New York, og så begyndte corona-krisen så småt at få sit indtog, og jeg indså, at jeg nok var bedre stillet ved at tage til Købehavn. Det gjorde jeg så en måned før tid og efterlod min kæreste i et kaosramt New York for at tage hjem i karantæne. Knap så fedt.
Nu har jeg været i karantæne i to uger i mine forældres gemakker. Udover at jeg savner min kæreste og er meget ked af corona-krisen og dens konsekvenser, så har karantænen gået over alt forventning. Jeg har haft motivation til en lang række aktiviteter og to-dos. Jeg har bagt som en sindssyg. Trænet på stuegulvet. Og set gode film.
Og nu er det blevet april. Jeg har aflyst alle de planer, jeg havde, og den nærmeste fremtid er lige nu ret uvis. Jeg skulle have holdt boglancering og reception af min nye NYC-guidebog. Selvfølgelig er jeg trist over, at det er aflyst. Men så husker jeg mig på, at alle har været nødt til at aflyse noget – fra bryllupper til ferier og andre vigtige begivenheder. Corona rammer os alle på den ene eller anden måde. I stedet ser mine planer for april nogenlunde sådan her ud.
I april vil jeg…
♥ Bage! Jeg er blevet vild med at bage og har gjort det næsten hver dag i løbet af min karantæne. Jeg vil bage surdejsboller!
♥ Jeg skal have gang i min altan. Det skrev jeg også på listen samme tid sidste år, men der skete ikke det store. Jeg er i gang med at sy puder, jeg skal måle op til et loungemøbel – jeg tænker noget i bambus! Så skal jeg også finde de grønne fingre frem, for der skal også noget planteværk og grønt ud på altanen.
♥… og hvis jeg orker det (og kan få min far med på idéen!), så vil jeg lave et flisebord, der skal stå ude om sommeren og inde om vinteren. Jeg kan lige se det for mig.
♥ Udnytte at jeg er hjemme hos min mor til at få færdiggjort en masse skønne strikkeprojekter og -opskrifter til Silver Lining.
Hvad jeg skal se og læse…
♥ Jeg har netop afsluttet efterfølgeren af The Handmaid's Tale, Gileads Døtre af Margaret Atwood (reklamelink), og den var fantastisk. Glæder mig endnu mere til sæson fire af The Handmaid's Tale nu!
♥ Tiger King på Netflix. Alle har set den, alle taler om den, nu må jeg også i gang!
♥ Sæson to af Min geniale veninde, der netop er udkommet på HBO om et venskab mellem to piger i en lille by uden for Napoli i Italien i 50'erne. Den fineste serie.
♥ Læse Fårking Gravid af Sofie Linde (reklamelink). Hun er skøn, sjov og ikke mindst ærlig, og det samme kan man sige om bogen.
Jeg er taknemmelig for…
♥ At jeg har så godt et forhold til mine forældre, at det ikke er et problem at være under samme tag alle tre i mange uger i streg.
♥ At Danmark har sat ind ift. corona-smittespredning, så vi forhåbentlig kan begynde at åbne op for landet igen.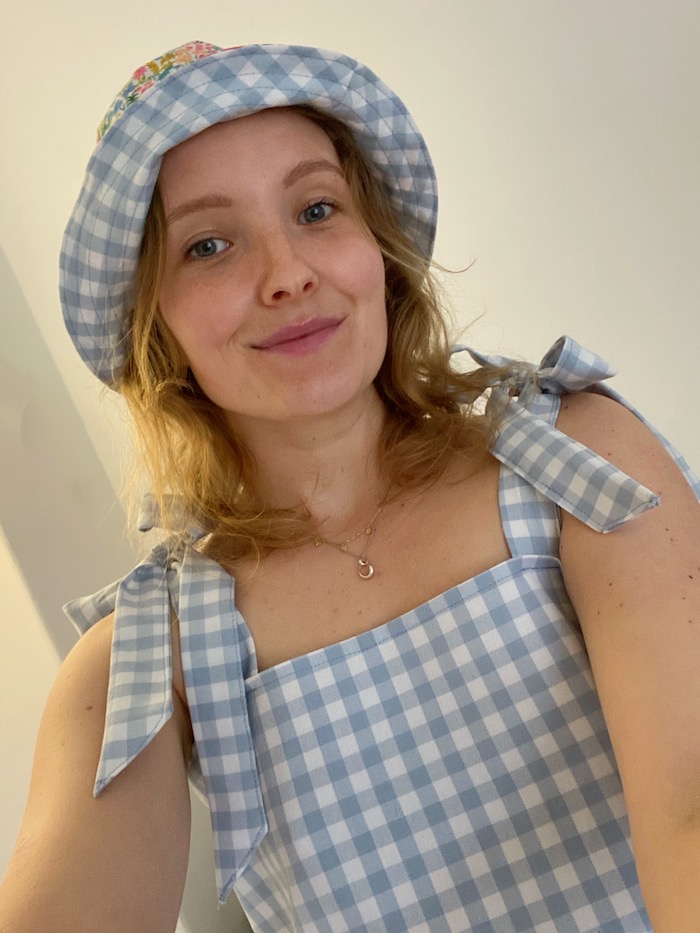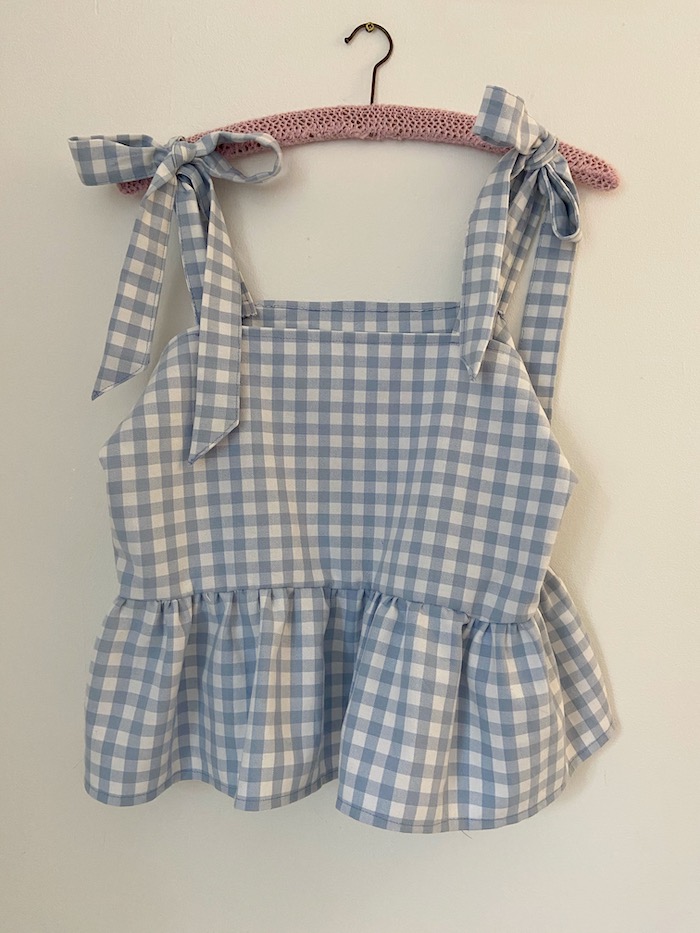 I've spent a day in the company of my mom and a sewing machine to make an outfit, a bucket hat, scrunchies, pillow cases, and bed linen. Isn't it cute?  
I feel like March has passed insanely fast. Like blinking, and here's April. It was a month full of contrasts. I spent the first week happy, living my best life in NYC until corona hit. Just like that, I was more or less forced to pack up and get on a plane back to Copenhagen as the crisis evolved minute by minute. It was honestly a very upsetting situation, having to make that decision and leave my boyfriend in NYC, knowing that corona would likely hit extremely hard in that city, which is now confirmed…
Now it's April, and I've canceled all the set plans I had. Printing my NYC guidebook, filming a promo for it and launching with a book party. It sucks, but I find solace in knowing that all of us had something to cancel. It's very democratic in that sense – it's hit all of us one way or the other.
Instead, I've spent two weeks in quarantine at my parents'. Luckily, besides missing my boyfriend immensely, being scared about the near future and upset about not knowing when we'll see each other, I've been full of energy and motivation for other projects. Like working out on the living room floor. Baking like crazy. And watching good movies.
Here are my plans for the month!
What I want to do in April…
♥ Bake! I've become crazy about baking while in quarantine. Something I've never really done before. For the past two weeks, I've baked almost every day. Next up, I wanna bake a carrot cake and sourdough buns.
♥ Get my balcony decorated and ready for summer. Last year, I had the exact same plan, and it didn't quite happen. 2020 is the year! I'm considering getting a bamboo lounge sofa and lots of plants!
♥… and if I have the energy (and can make my dad join!) I would love to do a tile table for my balcony similar to the ones we have at the cafe. I'm sure it would look amazing!
♥ Take advantage of being with my mom so we can get even more knitting  and sewing projects done.
What I am watching and reading… 
♥ I just finished the follow-up book of The Handmaid's Tale, The Testaments by Margaret Atwood. It was great and now I'm even more excited and ready for the fourth season of The Handmaid's Tale.
♥ Tiger King on Netflix. Everyone's raving about it! I'm two episodes in and it's absolutely crazy.
♥ The second season of My brilliant friend that just aired. It's a great show based on a book about a friendship between two girls in a small town outside Naples, Italy in the 50s.
I am grateful that…
♥ I have such a good relationship with my parents that staying home in quarantine with them is not an issue.