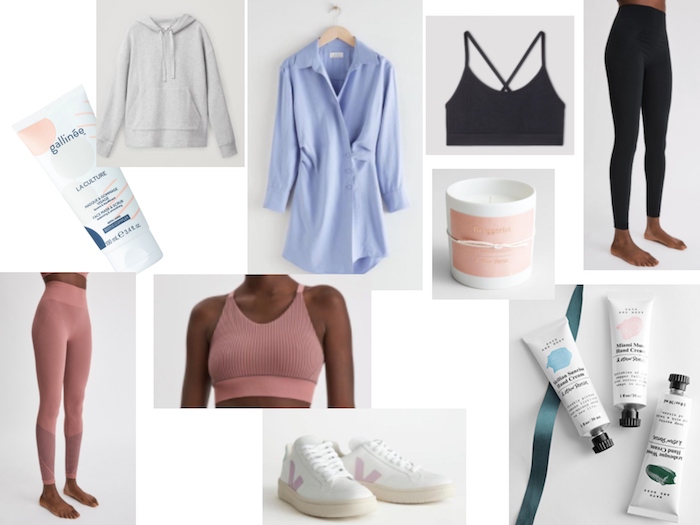 Retail therapy  – Indeholder reklamelinks

Håndcreme / Leggings / Top / Ansigtsmaske /  Pink leggings / Pink top /  Duftlys / Hættetrøje / Skjortekjole / Sneakers 
Gårsdagens pressemøde gjorde mig sgu en kende trist, hvis jeg skal sige det mildt. Hvem havde nogensinde troet, at det skulle komme så vidt. De store planer jeg havde for mit "fri-år" mellem min bachelor og kandidat er skyllet ud i toilettet, og jeg ved ikke, hvornår jeg kan se min kæreste igen. Han har desuden store problemer med caféen i New York, idet han ikke kan have nogle spisende gæster. #lort. Jeg forsøger at holde humøret høj(ere) ved at huske mig selv på, at jeg er heldig, fordi jeg selv, og dem jeg holder af, er raske. Det må være det vigtigste. Og så er jeg heldig at være født i Danmark.
I stedet drukner jeg sorgerne i at være online. Pleje humøret lidt med lidt onlineshopping og god gammeldags retail therapy. #Emneskift. Jeg drømmer om mere pænt træningstøj, der er så pænt (og blødt!), at jeg godt kan tillade mig at have det på 24/7. Den blå skjortekjole ser rimelig genial ud, fordi den snildt kan fungere oven på et par leggings og en træningstop, og boom, du har et outfit.
Mine hænder er kronisk vanvittigt tørre i disse tider, selvom jeg flittigt bruger håndcreme. Der må mere håndcreme til! Og lidt ansigtspleje er også godt til både at holde humøret højt, at holde mig beskæftiget herhjemme med lidt self-care, og ikke mindst så vil min hud takke mig. Min kæreste har et par Veja-sneakers. Jeg ønsker mig også et par, de er så pæne!
Et lille check-in fra mig, der ærligt sagt er pænt trist. Men det hele skal nok gå. Jeg håber, at du har det okay trods omstændighederne.

Retail therapy
Hand lotion / Leggings / Top / Face mask /  Pink leggings / Pink top /  Scented candle / Hoodie / Shirt dress / Sneakers
Yesterday the prime minister of Denmark held a press conference, stating that the borders will stay closed until May 10 for now and that all bigger events will stay illegal till September. I'm pretty bummed out, to say the least. I don't know when I will see my boyfriend again. All my plans are cancelled. And I don't know when I can publish my books. It sucks. I try to remind myself to stay thankful and grateful that I and my loved ones are healthy. That's the most important part.
In the meantime, I'm doing self-care, allowing myself some online shopping to drown my sorrows in some good old retail therapy. Hand lotion for my chronic dry hands. Leggings and gorgeous workout clothes that I can wear all day every day, while in self-isolation. A scented candle to enjoy my home. A shirt dress to put on top of my workout clothes, and boom, there's an outfit. Sneakers from Veja – my boyfriend has them and I would love to match with him.
I hope you and your family are okay. Sending digital hugs and elbow bumps from afar.