Sommeren har helt bestemt ramt Berlin, og selvom byen er skøn året rundt, er sommertid i Berlin noget helt bestemt og absolut fantastisk. Det er svært at beskrive præcis hvordan byen blomstrer og skinner, når solen skinner, men i dette indlæg vil jeg prøve – ved at dele de bedste hang out spots om sommeren i Berlin!
___________________
ENGLISH: Summer is definitely upon us in Berlin, and there is no better time enjoy the city. It is hard to describe exactly how amazing Berlin is in the summertime, but will this post I will try – by highlighting some of the best hangout spots for summer in Berlin.
The best hang out spots for summer in Berlin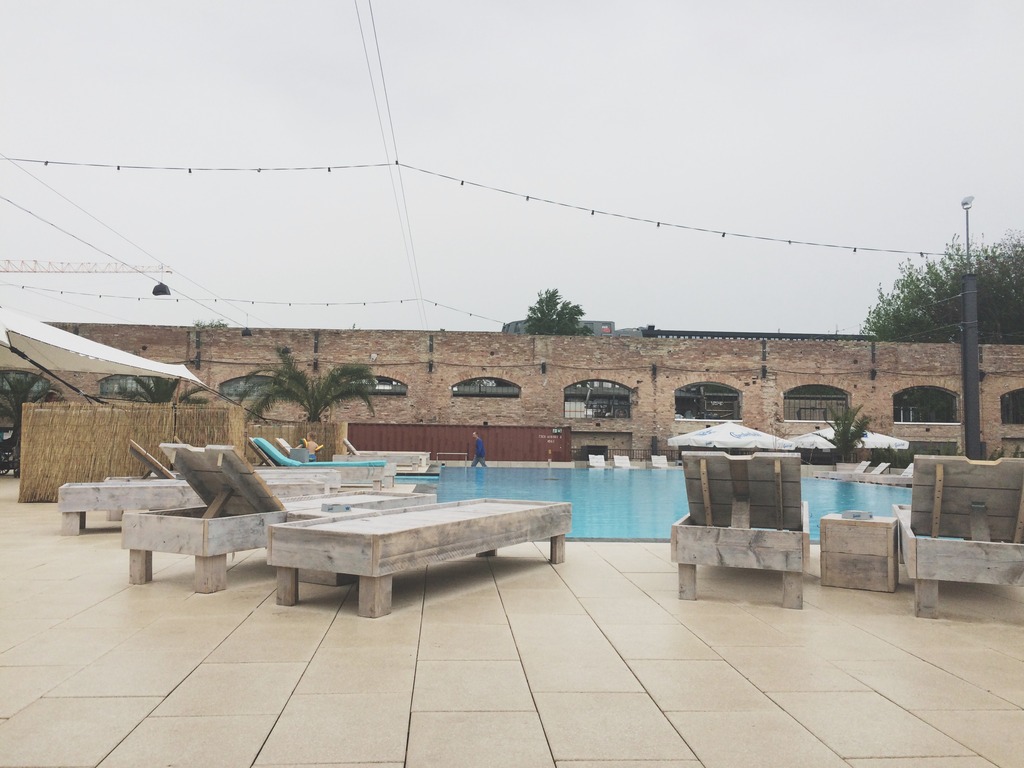 Haubentaucher – Hip outdoor pool and beach club 
Haubentaucher is (besides being a great crested grebe according to the English/German dictionary) also the name of an urban pool, sundeck, garden, lounge, and bar, which is literally how Haubentaucher describes itself on their website and business cards. Behind the big, old brick walls that used to be the place where the trams of Berlin came to be repaired,  you can now pay 5 euros and then be able to enjoy one of the best hang out spot Berlin offers. For the 5 euros entrance fee, you will be able to go in and out for a whole day, you simply get a stamp when you pay, and you just show that to the doorman if you want to leave and come back.
Haubentaucher
Revaler Straße 99
10245 Berlin (Friedrichshain)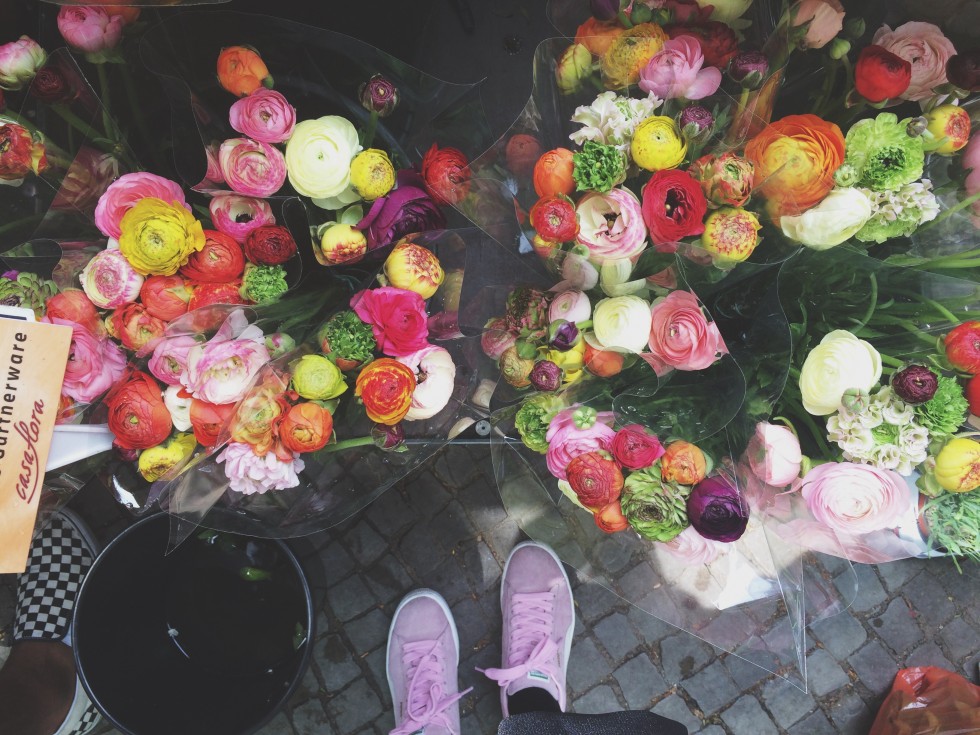 Boxhagener Platz Wochenmarkt – good food, delicatessen and a nice, local vibe
 Every Saturday there is a market right close to where I live – on Boxhagener Platz in Friedrichshain. I love to go there – not only because of the cheap prices when it comes to buying vegetables, fruit, and flowers, not to mention their big assortment, the great food, cakes, and coffee the market offers, but also to take in the great market atmosphere there is here.
Boxhagener Platz Wochenmarkt
Boxhagener Platz
10245 Berlin (Friedrichshain)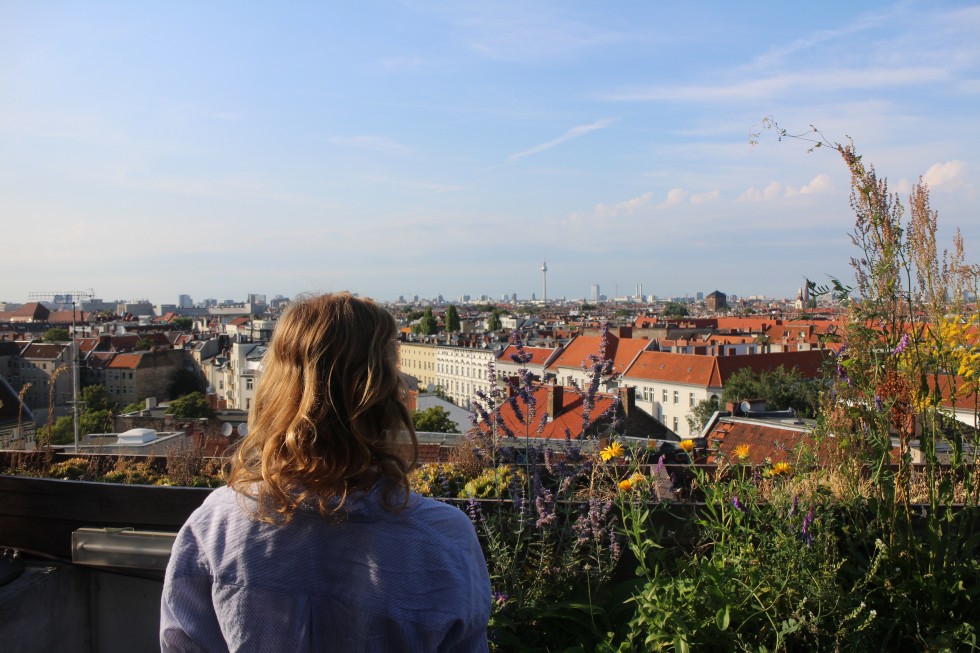 Klunkerkranich – a hidden rooftop 
Klunkerkranich is the name of one of the coolest places in Berlin. Hidden in the parking lot on top of a mall in Neukölln, an urban rooftop garden as Klunkerkranich is not what you expect to find here. None the less, when you take the elevator to the top floor and walk the last story up, you will find this amazing urban garden with a breathtaking 360 degrees view of Berlin. Perfect space to hang out both day and night.
Klunkerkranich
Karl-Marx-Straße 66, Neukölln, Berlin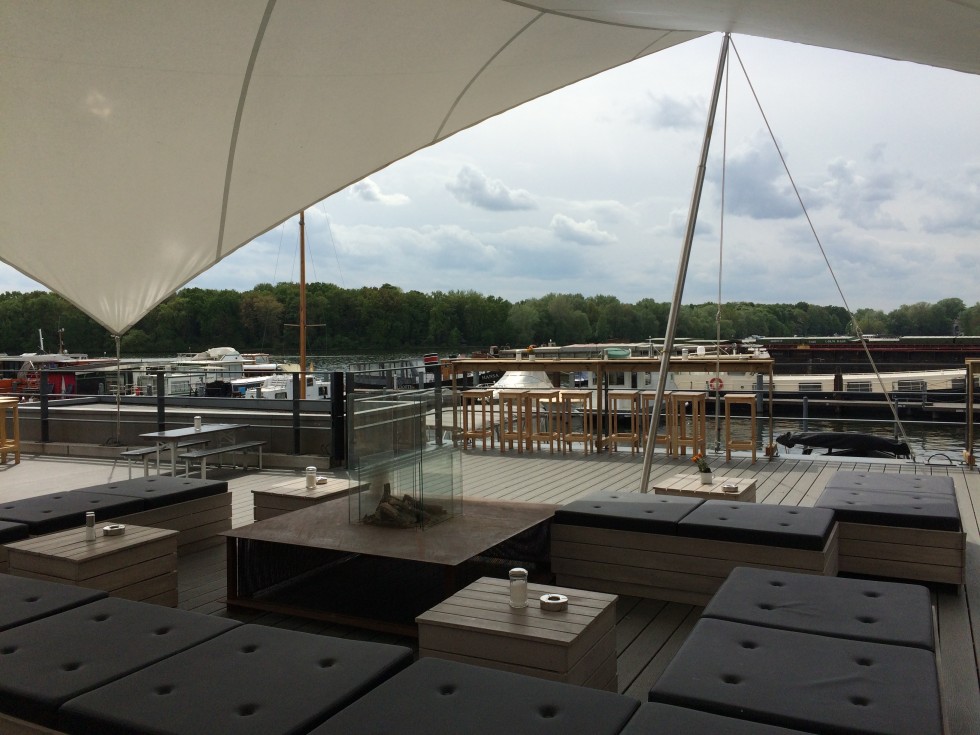 Rummelsburg – chill in the middle of a metropole
East of Ostkreuz in Friedrichshain, a big surprise awaits you. Rummelsburg is beautifully situated by the Spree, and instead of a river, the Spree more looks like a big, amazing lake, and you definitely get the feeling that you are no longer in Berlin. Rummelsburg is quiet, beautiful, and very countryside like. In Rummelsburg you can find many cool hangout spots, and one of them is this one shown in the picture above, Hafenküche, a restaurant and lounge with really good food and drinks.
Hafenküche
Zur Alten Flussbadeanstalt 5
10317 Berlin
Other awesome hang out spots for summer in Berlin: 
Badeschiff (a pool in the middle of Spree, very popular on hot days!)
Krumme Lanke (a beautiful lake)
Müggelsee (another great lake)
Weissensee (a third lake, very close to Mitte/Prenzlauer Berg)
Prinzenbad (an outdoor pool in Kreuzberg)
Mauerpark (always works)
Have you been to any of these spots? Did you like them? And what are your favorite hang out spots for summer in Berlin?