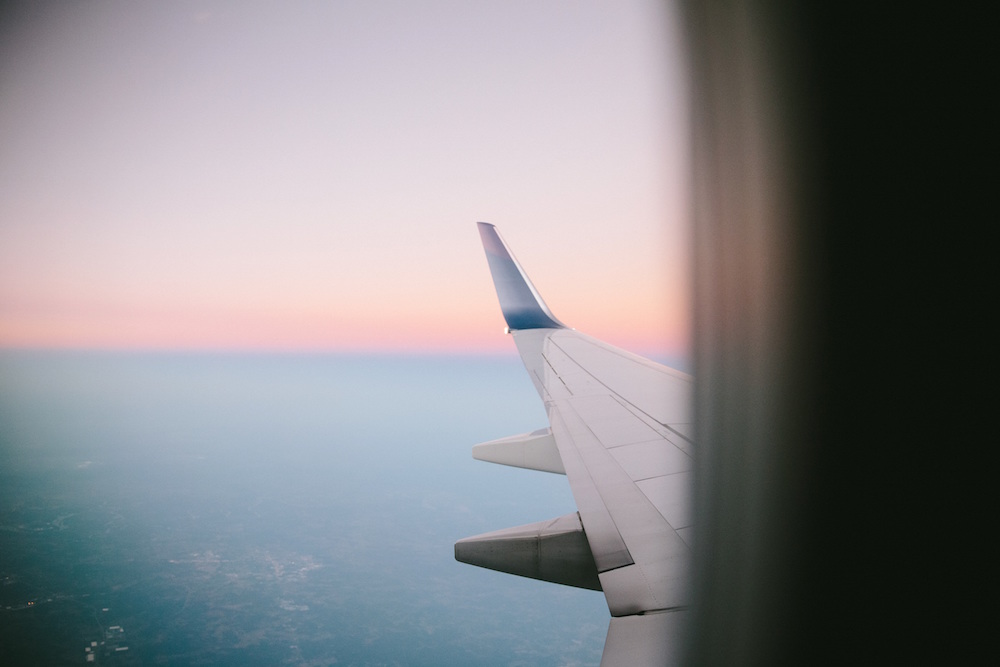 DANISH VERSION IN THE BOTTOM: And what is that unexpected exactly? That is hard to define. Sometimes the unexpected can give you some of the most memorable and amazing adventures and memories, sometimes it can teach you important life lessons and sometimes it can give you a tough experience. What they all have together is that they are unexpected and that is what traveling gives you.
Another important thing to know about traveling is that it is not always as glamorous as it may look like on social media, generally speaking. Suffering from no sleep caused by jet lag, delayed, overbooked or even canceled flights, lost suitcases, misunderstandings, trouble with communicating are only some of the not so glamourous events that are bound to happen when traveling.
Having traveled quite a bit on my own, I've had my fair share of non-glamourous events when traveling. From getting a stomach infection in Bali to having been denied boarding a flight to Rio de Janerio. I also lost my suitcase three times. And I think the winner of unfortunate events while traveling must have been in Cuba. In the airport, we are denied boarding a flight to USA, because my boyfriend, by mistake, had booked our return ticket a month later than the day we actually wanted to fly back. Fixing that mistake was pretty hard as, at that time, there was absolutely no wifi in Cuba as well as very limited access to American websites.
All these experiences have definitely shaped me and taught me to stay calm. Especially in situations you can't control that are out of your hand. I think that that skill was very important and useful to me this Sunday. I from Copenhagen to NYC with a layover in Amsterdam. Flying alone is not an issue for me at all, but there is no doubt it is more fun to do it with someone. What happened was that when I am about to board the plane to NYC in Amsterdam, I am told that the plane is overbooked. I am told to step aside and wait. It didn't look too good, as I could see the employees close the boarding.
A few minutes later, they tell me that I will not get a seat on this flight. I wanted to cry because I was tired. All I wanted was just to get to NYC to see my boyfriend. I then found out that I would get a seat on the next flight four hours later. This helped a little bit. Many hours later, I landed in NYC and I run to make it through immigration before the other passengers.
At the baggage carousel only to find out that my suitcase didn't make it. Again, I wanna cry. I go to the lost suitcase office and file a claim. My boyfriend runs to get me and I am so happy to finally see him. I also learn that my suitcase at least isn't lost. Hopefully, it will make it from Amsterdam to New York the day after.
Traveling is nearly impossible to plan. Situations that you don't expect, might occur. The more positive you are, the less of a negative effect it will have on your overall travel and that is important to remember. Every cloud has a silver lining!
_______________________________________
En del af at rejse er at forvente det uventede. Og er det ikke også en del af det, man søger, når man rejser? At man vil opleve nye steder, nye kulturer og nye mennesker? Man har nok en forventning til, hvordan det kommer til at være, men intet er sikkert. Det blev jeg igen bekræftet i i søndags, da jeg fløj fra København til New York.
Faktisk er det er svært at definere, hvad det uventede er. En definition kan være de oplevelser, der ender med at have mest betydning bagefter. Det kan også være de mest lærerige begivenheder. Det uventede kan også være det, der bringer dig på eventyr og skaber de bedste minder.
Der er også en anden ting, der er vigtig at huske på, når det kommer til rejser. Det er, at rejser ikke altid er lige så glamourøse, som de måske fremstår eksempelvis igennem de sociale medier. Det kan jeg i hvert fald skrive under på. Jeg har også haft min rimelige andel af uheldige og ikke mindst uventede oplevelser på rejser.
For eksempel dengang jeg blev meget syg på Bali og bruge tre dage i sengen. Eller jeg stod i Panama og blev nægtet adgang til flyet mod Brasilien grundet et manglende visa. Jeg har mistet min kuffert tre gange. Eller den, der nok løber med førstepladsen over uheldige begivenheder: i Cubas lufthavn da vi ikke kan komme med flyet, fordi min kæreste har booket en billet, der først afgår en måned efter…. Den situation var ret problematisk da der ikke findes internet på Cuba og på daværende tidspunkt, var al kontakt (også til hjemmesider) til USA blokeret.
Disse oplevelser har lært mig, at jeg skal slappe af. Især i situationer, jeg ikke er herre over og ikke kan kontrolere. Det tror jeg, er en evne, der er ret vigtig i mange situationer i livet. Det var meget nyttigt for mig i søndags. Jeg havde et layover i Amsterdam. Da jeg skal boarde til NYC, får jeg at vide, at flyet er overbooket, og at jeg skal stille mig til side. Det ser ikke for lyst ud, for imidlertid lukker boardingen. Jeg får at vide, at jeg skal følge med personalet. Jeg har lyst til at græde, for jeg vil bare med det fly. #firstwirldproblems men ikke desto mindre meget virkelig for mig på givne tidspunkt.
Heldigvis får jeg at vide, at der er et fly fire timer senere, som jeg får en plads på. Jeg trækker vejret dybt og beslutter mig for at nyde ventetiden på at se nogle film, jeg længe har villet se, for alt andet er ligesom spild af tid og energi. Faktum er, at jeg ikke rigtigt kan ændre situtiationen.
Mange timer senere lander jeg i New York, fræser ud af flyet for at komme hurtigt igennem paskontrol. På den anden side venter jeg i 40 minutter på min kuffert. Den kommer ikke. Igen, har jeg bare lyst til at græde. Jeg har været på farten i 18 timer, jeg kan mærke en forkølelse komme snigende og jeg vil bare gerne have min kuffert, så jeg kan komme ud til min kæreste.
Igen er jeg heldig, for kufferten er ikke væk, den er stadig i Amsterdam, og forhåbentlig kan den komme til New York dagen efter. Jeg løber min kæreste i møde og alt er fryd og gammen. Selvom, jeg ikke har min kuffert. Pyt, tænker jeg. Den kommer i morgen. At rejse er umuligt at planlægge, i hvert fald ned i de mindste detaljer, for det er uundgåeligt at et eller andet uventet vil ske. Det handler så bare om, hvordan man håndterer det uventede.