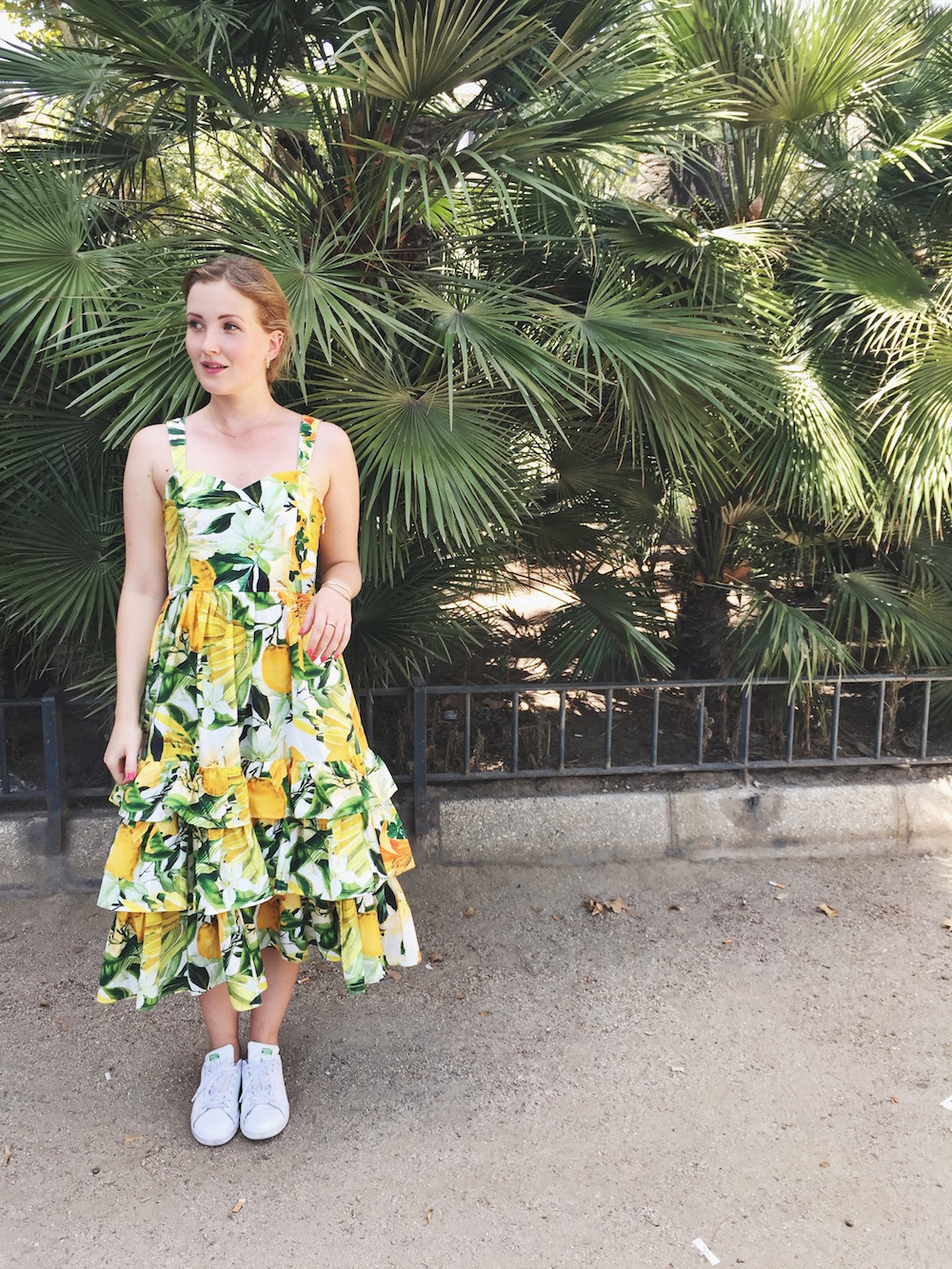 The day after the attack, I wore the happiest dress I have to spread a little happiness in dark times.
ENGLISH (DANISH VERSION BELOW): And then, just like that, what we all fear happened. Once again. I was enjoying my vacation in Barcelona. My boyfriend, my boyfriend's brother and I were biking around the city headed to Placa Catalunya when a police officer stopped us. She said we could not go that way. We asked her why, and she wouldn't answer. Within seconds, the place was full of police cars. All traffic was redirected and went the opposite way only. All pedestrians were also walking the opposite direction and chaos was present. We didn't know what was happening. My boyfriend asked a woman in Spanish, and she told us that a van had hit people on the Rambla. 
I pulled up my phone and the news must have already reached Denmark as my friends from Copenhagen were calling me. They asked me if I was ok and they updated me on the situation. My friend told me that her brother and mom were also in Barcelona and they had seen it happen. I was in shock and started shaking. I called my parents and my mom told me that the news said that the city expected more attacks and that we had to get away right away. Back to our apartment. Luckily we were only five minutes away from the apartment, but those five minutes biking back were terrifying. I feared that it would be like the Paris 2015 attack and there would be bombings and shootings around the city. 
We made it back to the apartment and I watched the live covering of the attack the whole night and didn't leave the apartment at all. I was devastated and couldn't believe that it had happened so close to me. Then, I started wondering how it would be in Barcelona the day after. I spoke to my friend that was in Stockholm when the terror happened a few months ago. She told me that everything was quite normal the day after, but of course one could feel that there was a heavy, dark cloud shattering the atmosphere. I guessed it would be the same in Barcelona. 
The morning after, we woke up and decided to go to one of the main sights in Barcelona, the Gaudi church Sagrada Familia as a way to show that we were not afraid. We were not the only ones with that idea in mind. The church area was crowded as ever. 
Later that day, we went to The Rambla as it felt like the right thing to do. To see it with our own eyes, to be present and to never forget. It was horrific and too real. People were crying, there were flowers, candles, notes and police cars everywhere. TV-reporters and their camera crews from countries all over the world were reporting. And worst of it all, people gathered around the candles and flowers to take selfies. I had a very hard time understanding why you would need a selfie of something like that, less than 24 hours after it happened. 
Besides from The Rambla, everything else was completely normal and it did not at all feel like there had been a terror attack just the night before. Pretty crazy. I guess that is both good and bad. We need to continue living our lives and not in fear! 
On Danish news, I found an overview of the terror attacks that have happened in Europe the past 1,5 years. It is insane that it has almost become a weekly event and no one can feel safe. When and where will it happen next? I am so grateful that nothing happened to me, but what about the people that were killed and hurt? Innocent people? Why them and not me? Just a few minutes later, and it would have been different. I don't know… What I know is that we can't be afraid. We must be strong and most importantly – fight the evil by being good, compassionate, helpful and kind to one another! 
___________________________________
DANSK: Og pludselig skete det. Det vi alle frygter. Barcelona var smuk og varm, og vi var glade og i højt humør og cyklede byen tynd på vores lejede cykler. Vi var på vej mod Ramblaen et par 100 meter væk, da en politimand stoppede os og meget bestemt fortalte, at vi ikke kunne cykle den vej. Vi spurgte hvorfor, men han kunne ikke svare. Inden for få sekunder udviklede alt sig til kaos. Alle biler vendte rundt, alt trafik løb den modsatte vej, og alle fodgængere gjorde det samme. Nogle så forvirrede ud, nogle så ud som om, de var i chok, mest af alt gik de bare hurtigt den anden vej. Vi spurgte en kvinde, hvad der var sket. Hun sagde, at en varevogn havde kørt ind i folk på Ramblaen. 
Åh nej. Det her sker bare ikke, tænkte jeg. Jeg tjekkede min telefon og med det samme ringede min veninde fra København. Nyheden var hurtigt kommet nordpå. Hun fortalte mig, at hendes bror og mor var i Barcelona og havde set det ske og lige nu gemte sig i et teater. Hvor var jeg henne, var jeg tæt på, var jeg ok? Her gik det op for mig, at det var alvorligt. 
Vi stod som forstenet og vidste ikke helt, hvad vi skulle gøre. Det var surrealistisk. Min mor ringede til mig og fortalte, at de i nyhederne sagde, at de frygtede flere terrorangreb i Barcelona. Nu blev jeg rigtig bange. Var det ligesom i Paris i 2015, ville de skyde og bombe restauranter og gader? Min mor sagde, at vi skulle tage hjem med det samme. Der var kun en fem-minutters cykeltur tilbage til lejligheden, men turen føltes meget lang. Jeg rystede og var meget bange. 
Vi nåede hjem og hele aftenen brugte jeg på at refreshe DR's dækning af angrebet. Det var så uvirkeligt. Dødstallene steg og frygtelige billeder og videoer blev lækket. Jeg tænkte over, hvad vi skulle gøre. Hvordan ville byen være dagen efter. Skulle vi flyve hjem. 
Morgenen efter besluttede vi os for at tage til Gaudi-kirken, Sagrada Familia, en af de største attraktioner i Barcelona. Vi ville ikke være bange. Vi var ikke de eneste, der havde den ide, for kirken og området omkring var pakket som de andre gange, jeg har været der. Det var på mange måder også meget mærkeligt. Man kunne på ingen måde mærke, at der få timer inden havde været et terrorangreb. Ret vildt, og både godt og dårligt. Vi skal ikke leve vores liv i frygt! 
Senere på dagen tog vi hen til Ramblaen. Det føltes som det rette at gøre. At se stedet med vores egne øjne, være der og for at huske og aldrig at glemme, hvad der var sket. Det var fuldstændig forfærdeligt, og jeg frøs, havde kuldegysninger og meget våde øjne. Folk græd, der var bugnendefuldt med blomster, tændte lys og noter. Der var politimænd og -biler, der vågede over alt. Der var nyhedsrapportere og kamerahold fra alverdens nyhedsstationer. Og værst af det hele: der var folk, der maste sig frem forrest ved blomsterne og lysene for – hold nu fast, at tage selfies. Hvorfor, ved jeg ikke, og jeg har meget svært ved at finde en mulig forklaring. 
På DR så jeg en oversigt over terrorangreb i Europa siden Paris 2015. Det er fuldstændig sindssygt, at det næsten er blevet noget der sker månedligt. Jeg er meget taknemmelig for, at der ikke skete mig noget, men hvad med dem, de uskyldige mennesker, der bare var det forkerte sted på det forkerte tidspunkt? Hvorfor skal det ske? Jeg har ikke svaret, men jeg ved, at vi ikke må være bange. Vi må stå sammen, være stærke, kæmpe mod det onde ved at være gode, hjælpsomme, venlige og medfølende mod hinanden.