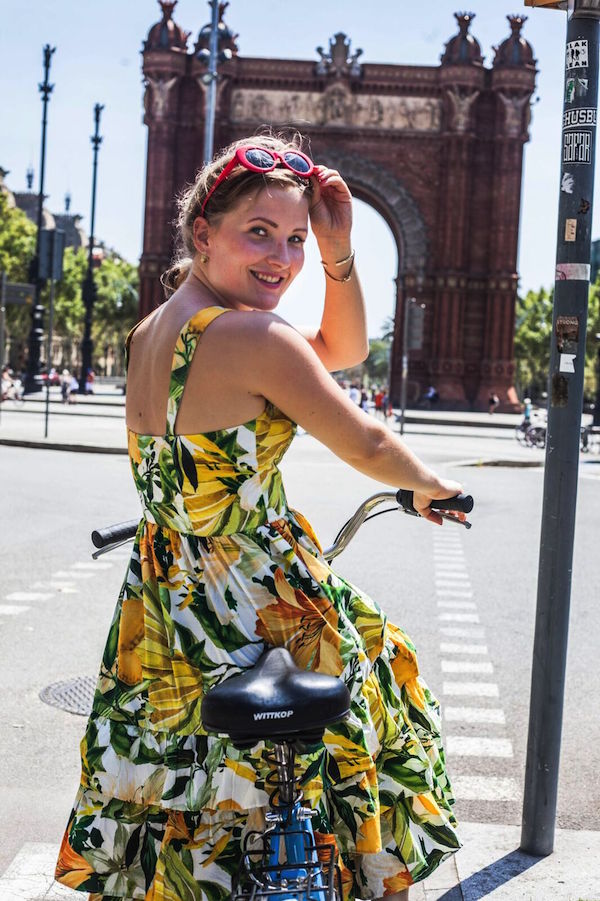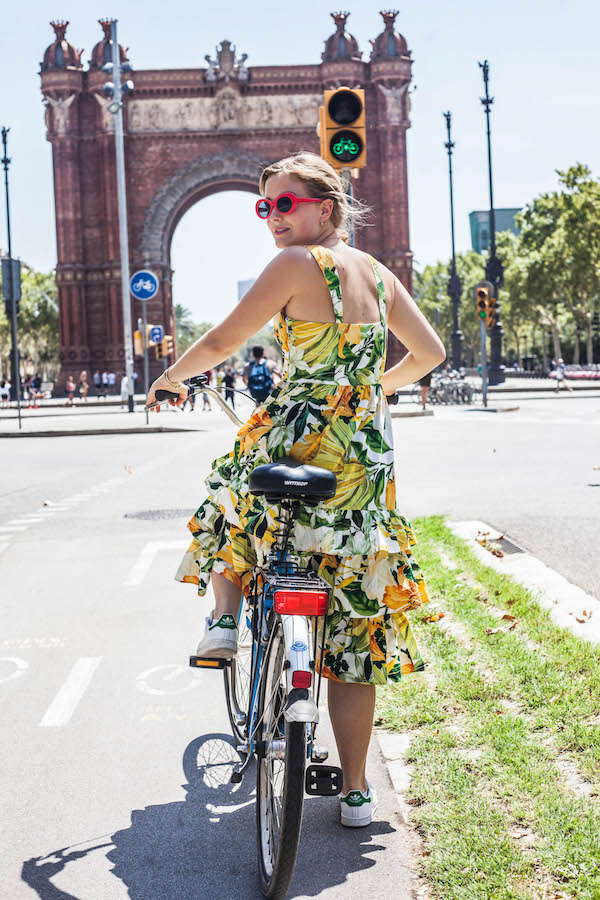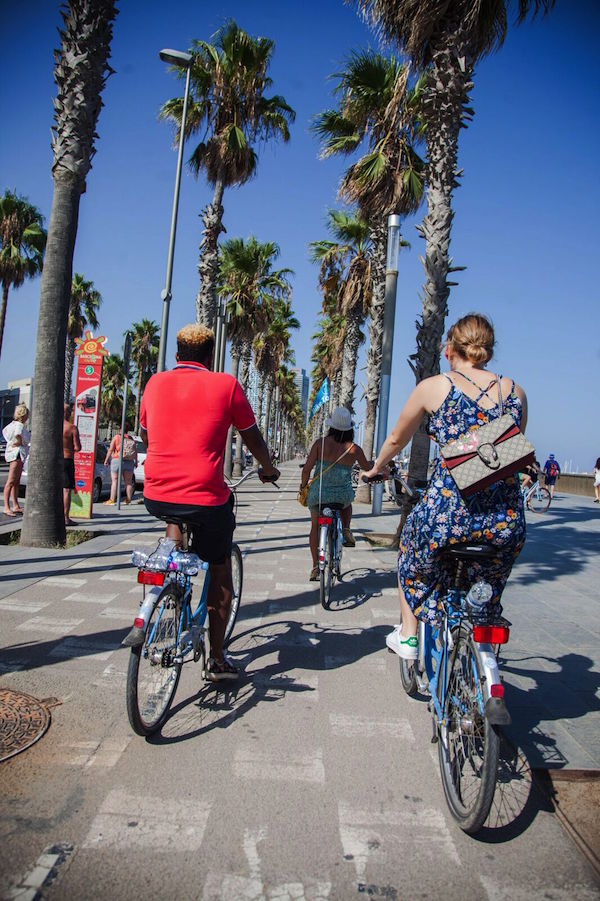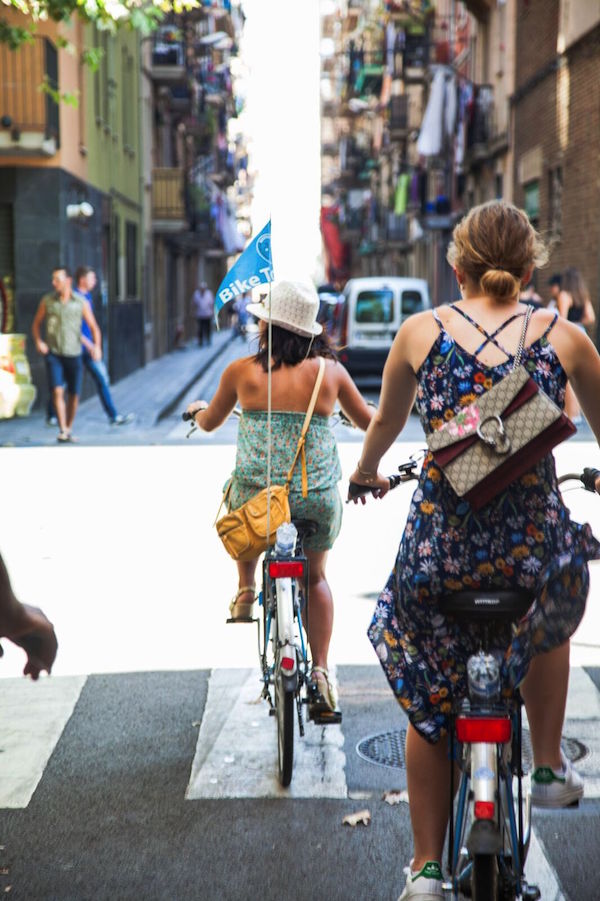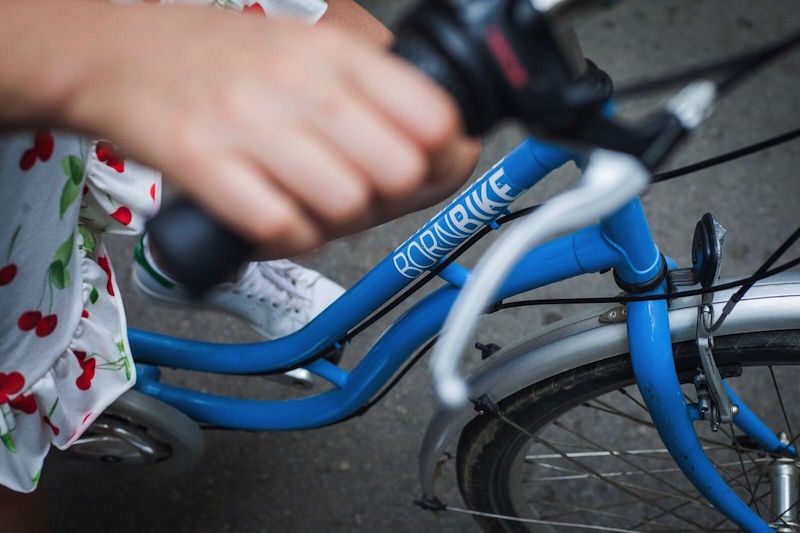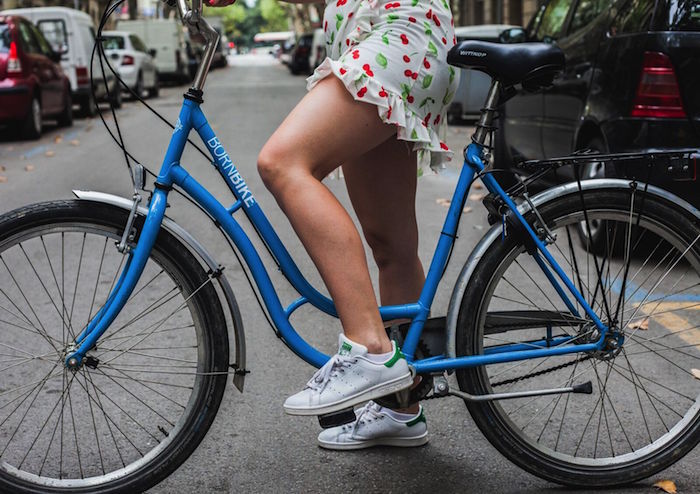 Ad for Born Bike Barcelona – photos by Dan Shot It
ENGLISH: It has been some time since I shared travel guides and articles on Silver Stories, and that is a shame! I love writing them and I have tons of tips to share. Back in the travel blog game and here is the first of many travel guides to come in 2018 <3 
When I think back on my favorite cities, what they all have in common is that they are bike friendly! To me, there is no better way to explore a new city than on a bike. When I travel to a new place that is somewhat 'bike friendly', the first thing I do is to go rent a bike. When I look back on my time exploring a city on a bike, what is clear to me, is that I get to experience and see so much. On a bike, you get to look around and enjoy the view, the streets, and the people while biking. 
I have been to Barcelona every summer for the past three years, and every time I've been, it's been with a bike. Last Summer I teamed up with Born Bike who rents out the cutest blue bikes. Renting a cute bike is definitely a plus! 
Born Bike is located right by Barceloneta, the beach in the city center. They have great prices for bike rental starting at 6 euros for two hours till 15 euros for 24 hours. An extra day will cost you 7 euros. An imagine all the money you will save by not having to take public transportation, Ubers or cabs. 
Barcelona is a fairly small city with great bike lanes meaning that you will be able to get around as fast as lighting. Or, almost at least… With the bikes this Summer, we were able to have brunch at Brunch & Cake, a great spot, in one part of the city, then go shopping in hip El Raval, and finish with a swim and an hour of chilling on the beach. Riding a bike is so liberating, simply because you are able to go from one spot to the other in no time. 
All you need is a map! Which Born Bike provides you with. They also have awesome guides that are happy to help with everything you might need. The guides also do tours. We were invited to try out one of Born Bike's four tours, their beach tour. We biked around with our tour guide for three hours and it was a lot of fun. Although I have been to Barcelona a good amount of times, she was able to tell me things about Barcelona that I had no idea about. For example that the beach in Barcelona was manmade for the Olympics in 1992. How crazy is that? And did you know that? I am usually not big on tours, but on a bike and with a great guide, it was so much fun! 
Here are some great insider tips for Barcelona from Born Bike:
Three must-see locations in Barcelona
In Barcelona you can't miss its modernism architecture with Gaudi as a reference, travel through time in the historical Gothic and medieval Born neighborhoods. Further up, you will discover the magic mountain of Montjuïc, its palaces that hosted the international exposition in 1929, its gardens, the Olympic stadium and wonderful panoramic views of the city! 
Why is Barcelona a great biking city
The climate is perfect in Barcelona, about 300 days of sun a year, and a pleasant temperature for bike riding. Beyond being a flat city, Barcelona has a vast network of bike lanes, which will be expanded to more than 300 kilometers of cycling paths in 2018!
The city is suitable for the whole family, we want it to be cleaner, sustainable and peaceful.
Why should people use Born Bikes?
We are a great family in Born Bike Tours Barcelona….we are lovers of Barcelona's history and cycling enthusiasts. We welcome you with a smile and you will be able to discover Barcelona at your own path! If needed, we will give you maps and share with you tips and recommendations. You can also explore some remote parts of the city with one of our bikes tours and learn about its history, secrets, legends with our local guides and spend a pleasant moment that will without any doubt make you live an unforgettable experience.
What is your ideal day in Barcelona?
Barcelona has many cultural and leisure offers. You can have your breakfast in the neighborhood of Poblenou, walk through its streets, reach the Olympic Village and join the beaches on the seashore until you reach the neighborhood of Barceloneta. Then, take a few tapas before eating, have an ice cream or a coffee in the Parc of Ciutadella, stay there and just enjoy the quietness of the park. Later, walk through the neighborhood of Gracia, grab a beer in one of its picturesque streets, stroll through the Eixample, contemplate its architecture and beauty until you arrive at Plaza de Espanya. Here you will gaze at the incredible magic fountain before returning home or dining one of the numerous gastronomic diversity…I recommend the Mediterranean diet, tasty, healthy and suitable for cycling.
If I have five hours in Barcelona, where do I go?
The city of Barcelona is relatively small which makes it great for biking. In no time, you'll reach the Historical Gothic neighborhood where you can discover 2000 years of history. Then, passing through the medieval and handcraft quarter of Born, we arrive at the Barceloneta maritime district and its beaches. Throughout this ride, you can discover a lot of places with stories and charm. Later, you should visit the neighborhoods, Poblenou and Gracia. In the latter, you will find Park Güell and if you dare, you can bike further up the mountain and get a gorgeous viewof the city from the Bunkers 360º of Barcelona. 
I am hoping to go back to Barcelona this Summer, and of course with a bike as my means of transportation.
____________________________________
DANSK: 
Der er gået lidt tid siden jeg sidst har delt rejseguides her på bloggen. Egentlig lidt sjovt, da bloggen faktisk startede for tre år siden som en rejseblog. Det vil jeg lave om på! Der skal flere rejseguides- og indlæg til, og her er det første ud af mange rejseindlæg for 2018.
Hvis jeg tænker på, hvilke byer i verden, der er mine yndlings, er der en fællesnævner. De er alle sammen, bortset fra New York, cykelvenlige! København, Berlin, Amsterdam, Barcelona… Den fedeste måde at opleve en by på er nemlig at cykle rundt i den. Bevæge sig, være uden for, kunne se byen forandre sig fra område til nabolag, se gaderne strække sig, se byens folk leve deres liv. Sanse byen med kroppen, ørene, øjnene og næsen. 
Når jeg er i cykelvenlige byer, sørger jeg altid for at leje en cykel. De sidste tre somre i træk, har jeg været i Barcelona. Barcelona er en ekstremt cykelvenlig by med fine, nye cykelstier på langt de fleste gader, og selv byens strand, der er et par kilometer lang, har en cykelpromenade hele vejen. Så bliver det ikke bedre for en københavnsk cykelmyg som mig! Sidste sommer teamede jeg op med Born Bike, som udlejer de fineste himmelblå cykler. Det er selvfølgelig et plus, at man kan få fat i en fin cykel 😉
Born Bike ligger lige ved byens strand, Barceloneta. De har fine udlejningspriser, der starter ved 6 euro (45 kroner) for to timer. En dag koster 15 euro, og hvis du vil have en ekstra dag, koster det 7 euro. Det er penge godt givet ud, for tænk på hvad du så kan spare, fordi du ikke skal købe billetter til metro, tog og bus, eller med taxa og uber. 
Fordi Barcelona er en forholdsvis lille by, er det fantastisk at cykle rundt. Du kan opleve så meget af byen, fordi det er nemt at cykle fra det ene område til det andet uden at skulle planlægge og koordinere for meget. Jeg havde en dag i Barcelona, hvor jeg først cyklede til et område for at spise en fantastisk brunch på Brunch & Cake. Herefter cyklede jeg til El Ravel, det hippe område, for at besøge en butik. Så på stranden for at mødes med min kæreste, hvor vi hoppede i vandet og solede et par timer. Så videre på cykel langs strandens fede cykelpromenade. Det er så befriende at cykle!
Born Bike er en familievirksomhed, og det kan mærkes. Du bliver mødt af det venligste personale, der gerne vil fortælle dig om deres skønne by og råde dig til, hvad du skal opleve. Derudover tilbyder Born Bike også guidede rundvisninger på cykel. Jeg er ellers ikke en guide-type-of-person, men jeg gav alligevel 'Born Bike Tours' en chance. Jeg tog med på en af de fire rundvisninger der tilbydes, nemlig 'Beach Tour'. Og det var så nice! Vi cyklede langs stranden og Barceloneta i cirka tre timer, og guiden var for fed. Hun var sjov og lærte mig faktisk en masse om Barcelona, som jeg ikke vidste noget som helst om. For eksempel, at Barcelonas populære strand er menneskeskabt for de Olympiske Lege, der blev afholdt i byen i 1992. Hvor vildt er det ikke? Før det, var Barceloneta en lille fiskerby med en lokalbefolkning, der boede i små fiskehuse og havde deres fiskekuttere liggende i vandet foran. 
Jeg krydser fingre for, at jeg når en tur til Barcelona denne sommer. Selvfølgelig med en cykel som transportmiddel!