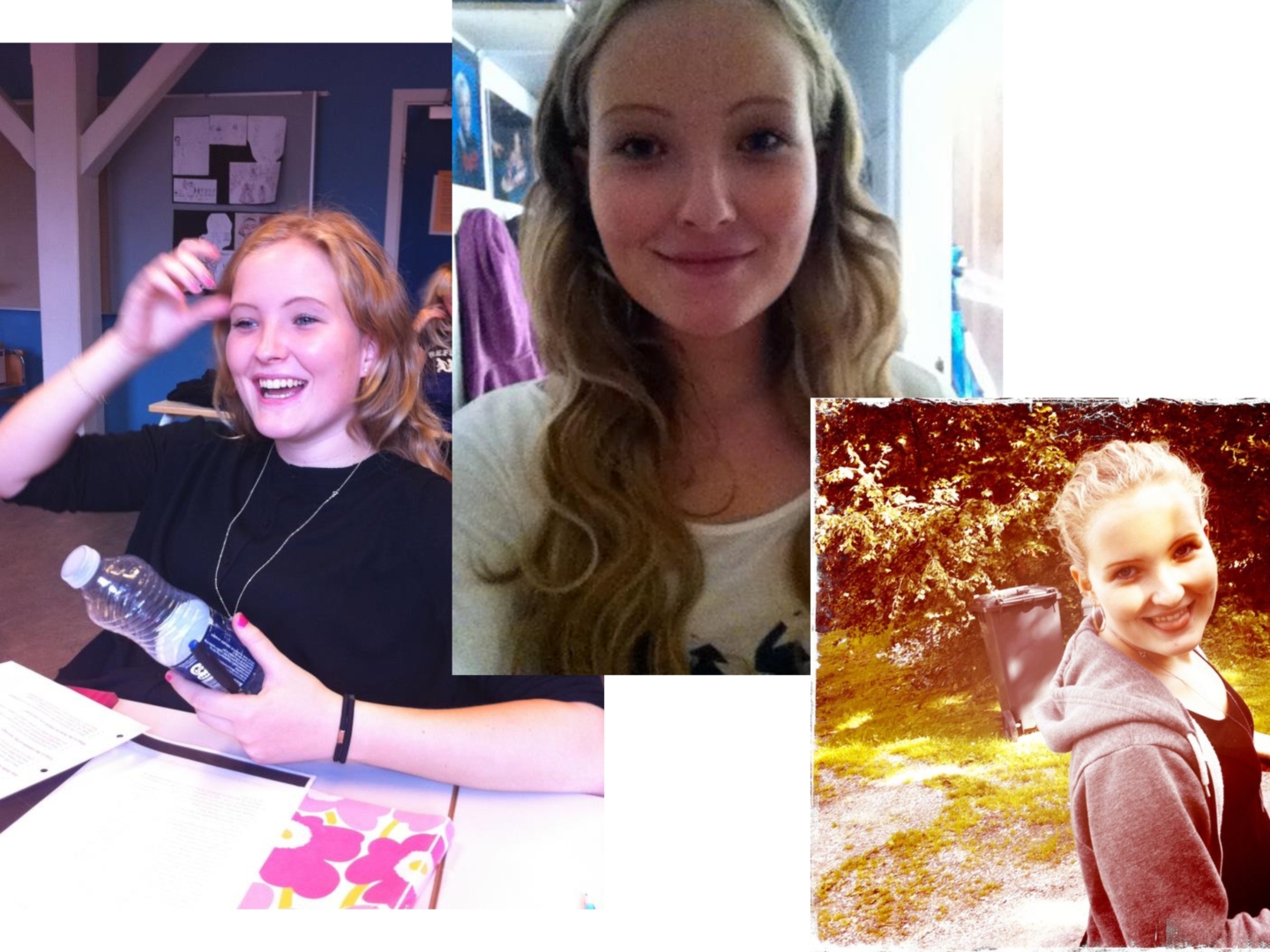 Revisiting my past – my 16-year-old self in 2011

For nogle dage siden søgte jeg tilfældigvis på et ord på min iPhone, og en gammel sms-samtale fra 2011 med min eks-kæreste kom op. 1. Hvor vildt er det lige, at jeg har digitale fodspor, der vidner om lange samtaler fra min fortid liggende på min telefon? 2. Selvfølgelig klikkede jeg mig ind på samtalen. Inden jeg så mig om, brugte jeg en halv time på at læse samtalen igennem, og inden jeg så mig om, var jeg faldet dybt ned i kaninhullet, hvor en masse gamle onde, klemte følelser lå gemt. Lige under overfladen.
Gymnasiekærester
I mit forholdsvis korte 24-årige liv, og på trods af, at jeg har haft den samme kæreste, siden jeg var 20 år gammel, har jeg inden det haft min del af romantiske eskapader. Samtalen ovenstående var med en fyr, jeg var kæreste med, da jeg gik i 1.-2.g. Det begyndte at gå galt, da han var på Skanderborg Festival, og jeg ikke hørte fra ham overhovedet. Hans mobil var slukket. Jeg var lige dele nervøs og vred. 16 år og med et vildert temperament. Da festivalen var overstået, kom han op til overfladen. Jeg flegnede ud, og langsomt trak han sig. Han ville have en pause. Jeg var desperat og ulykkelig, prøvede alt jeg kunne for at vinde ham tilbage, fx. ved at gøre ham jaloux – et meget modent trick – og lige lidt virkede det.
En måned senere, i Kongens Have, gjorde han det forbi. Jeg forsøgte at tage det cool, men tog hjem og gik i gråd-koma på sofaen hele weekenden med min mor i hånden. De næste mange måneder var jeg stadig ulykkelig med et hjerte flået i tusinde stykker. Selvom jeg prøvede at samle stykkerne sammen og leve videre, var det svært. Jeg prøvede manipulerende at virke interessant og skrive til ham med håbet om, at vi kunne "ses som venner", uden meget succes. Det gjorde så ondt, og jeg ville bare have ham tilbage.
Midlertidigt sindssyge
En dag drak jeg kaffe med en veninde, der havde en anden veninde, der gik i gymnasieklasse med ham. Sådan lidt henslængt fik hun spurgt mig, hvornår vi egentlig officielt havde slået op, for hun havde hørt fra sin veninde, at min ekskæreste havde kysset med en pige eller to til introfesten på gymnasiet. Mig, der gerne skulle vise omverden, at jeg var i fuld kontrol svarede: "nå ja, det havde han fortalt mig, ja, men vi havde jo også været på pause på det tidspunkt."
Fast-forward et par uger senere, hvor det meste, der havde fyldt i mit hoved var, at jeg var sikker på, at han havde været mig utro flere gange. Jeg var ved at gå ud af mit gode skind, faktisk så meget, at jeg blev ramt af et sus af midlertidigt sindssyge. Succesfuldt fik jeg hacket mig ind på hans Facebook-konto. Ikke mit stolteste moment.
Og her blev jeg klogere end hvad godt var. Han havde ikke bare kysset med hende pigen til gymnasiefesten, mens vi stadig var kærester. Det blev nemlig endnu bedre. I sommerferien havde han været med mig og min familie på ferie, endda betalt af mine forældre som et lån, han aldrig fik betalt tilbage. Her mødte vi nogle danske piger, som vi var i byen med. Dagen efter ville alle i byen igen, men jeg havde for mange tømmermænd, så jeg blev hjemme, mens min bror og kæreste tog i byen med de to danske piger. Min bror drak sig fuld, så var, belejligt nok for min ekskæreste, ikke noget vidne. Den aften, på ferie med mine forældre, var han mig så utro med den ene af de danske piger. Sikke en psykopat.
Var det min egen skyld?
At komme frem til den nyhed gjorde ondt. Mit hjerte, der i forvejen var revet i tusind stykker, var nu sprængt til uigenkendelighed. Jeg blev hjemme endnu en weekend og græd uden ende. Herefter skete der noget godt. Mit ulykkelige hjerte vendte sig til had, og for første gang i mange måneder kunne jeg se frem. I stedet for at ønske mig at få ham tilbage og være ulykkelig, var han nu, som man siger – ikke så pænt – død for mig. Hans forældre var gået fra hinanden på grund af utroskab, og som man siger – æblet falder ikke langt fra stammen.
Denne oplevelse gav dog to mén i mit liv, som jeg tog med mig. Den ene var, at det satte sig fast i mig, at det var min egen skyld, at han havde været mig utro. Jeg havde ikke været pæn, interessant eller en god nok kæreste, for hvis jeg var det, havde han vel ikke været mig utro? Den anden var, et jeg mistede tilliden til mænd i romantiske forhold. Da jeg nogle år efter blev kærester med Jesus, da jeg lige var fyldt 20 år, havde jeg mange problemer med at stole på ham. Jeg var simpelthen sikker på, at han også ville være mig utro. Det var jo sket en gang, så hvorfor skulle det ikke ske igen?
Nogle år efter hørte jeg rygter om, at han også havde været sine andre kærester utro. Så lille er København alligevel. Jeg havde ondt af dem, men alligevel hjalp det at få bekræftet, at det ikke var mig, der var galt med, men noget i hans hjerne der ikke helt fungerede, siden han åbenbart konsekvent var utro.
Der findes mange sindssyge mennesker
Jeg kunne skrive en roman om ungdomskærester, forhold, dates og kærlighed. Og dumme drenge og mænd. Der var også de to tyske fyre, jeg datede i et par måneder, der pludselig ghostede mig. WHAT?! Hvordan kan man gøre det efter at have set hinanden i måneder og have udviklet et tæt forhold? Og så var der en fyr på en natklub, der ville danse med mig. Jeg afviste ham, og et par minutter efter hældte han en halv liter øl i håret på mig og gav mig en lussing. Mine to veninder gik amok på ham, og så kom dørmanden og smed ham ud. Senere kom politiet, og så skulle vi vidne, hvad der var sket. Fyren havde selv ringet til politiet, fordi han mente, at det var diskriminerende, at han var blevet smidt ud af klubben. Psykopat.
Heldigvis har jeg også søde, dejlige mænd i mit liv. Min kæreste. Min far, tvillingebror og min farfar. Og det er heldigvis det allervigtigste.
Livet leves forlæns men forstås baglæns
I dag var jeg sammen med en veninde, og vi havde en snak om, at livet leves forlæns, men forstås baglæns, som den kære Kirkegaard engang har sagt. Gid jeg havde vist den gang, at jeg nok skulle blive glad igen. Og finde kærlighed igen. At ulykkelig kærlighed er meget smertefuldt. Og at det ALDRIG var min egen skyld, at han var mig utro. At jeg er meget mere værd end det. I mellemtiden skal jeg nok undgå at gå ind i ni år gamle sms-samtaler og rode op i tunge, onde minder. Det giver en mærkelig fornemmelse i kroppen at besøge sin fortid og sit fortids-jeg gennem sms-samtaler med folk, der dengang var en kæmpe del af ens liv, som ikke er det mere. Det er sjovt hvordan, oplevelser, mennesker, handlinger og reaktioner er med til at skabe og forme ens liv, personlighed og reaktionsmønster.
[Cheers] to all the men I've loved (and hated!) before. Desuden en ret sød film på Netflix.


A couple of days ago, I searched for a word on my iPhone and an old text message from 2011 from my ex-boyfriend came up. I was intrigued and clicked on it. Suddenly, I was taken more than eight years back to my 16-year-old self having a text conversation I don't even remember with a guy that I have no relations to. How crazy is it that I have digital footsteps and long conversations from my past stored on my phone? Before I knew it, I'd spend half an hour reading these old texts. I'd fallen into the rabbit hole which stirred up old, tough emotions that were stored deep inside of me.
High school sweetheart
Despite that fact that I've been with the same boyfriend since I was 20 years old, I've had my fair share of romantic relations prior to Jesus. The old conversation I was reading was from a guy I dated in my first and second year of high school. Things began to crumble between us when he was at a festival and didn't contact me for four days. I was furious, 16 years old and with a quick temper. Once the festival was over, he appeared. The angrier I got at him, trouble was brewing, and he slowly ghosted me. He wanted a break. I was desperate. I tried getting his attention, for example by going on a girls-party-weekend to Berlin and by making him jealous. A very mature method, I know. Nothing worked.
A month later, he broke up. I tried acting cool. Went home into a cry-coma the whole weekend. It was so painful. The next few months I was left with a broken heart. Although I tried collecting the pieces and move on, it was difficult. I tried manipulating him by seeming interesting, contacting him in the attempt of "being friends". Nothing worked. I was brokenhearted and all I wanted was to get him back, even if he was being cold, cruel and dismissive.
Temporary insanity
One day I was having coffee with a friend. She had another friend who was in the same class as him. She asked me when we had officially broken up because her friend had told her that he'd been seen kissing with another girl at the introduction party when the new school year had begun. Me, wanting to seem like I was in full control and had everything going right, answered that "oh yeah, I know about that, he told me and we were on a break at that time". This was a lie. I didn't know at all and I was in shock.
Fast forward a couple of weeks later. Most of what was going on in my head was that I was completely sure that the above scenario wasn't the only time he had cheated on me. I was going crazy, and this left me with temporary insanity. Successfully, I hacked my way into his Facebook account. Not my proudest moment, but none the less, I finally found out the truth.
He hadn't only kissed the girl at the high school party while we were still dating. Nope, there was way more to the story. In the summer holiday, he'd been to Turkey with me and my family. On this trip, we met some Danish girls and went out with them one night. The night after, they wanted to go out again. I stayed home, I was too hungover, but my brother and boyfriend went out with them. Conveniently, my brother got shitfaced and wasn't a reliable witness, so my ex took the chance of cheating on me with one of the Danish girls. On a trip, he was on with me, his girlfriend, and my family. He came back, slept in the same bed as me and acted completely normal. What a psychopath.
Was it my own fault?
Finding out about this felt like someone had stabbed me in my heart that was already broken into millions of pieces. Another weekend of crying my eyes out followed. And then it started turning. Realizing that he had done all this to me, lied to my face, looking me in the eye told me he loved me while cheating on me, my broken heart turned into anger and hate. For the first time in months, I was able to see clearly. Instead of wanting him back and being heartbroken, I now hated his guts. His parents had divorced for the same reason, and as you say, the apple never falls far from the tree.
However, it wasn't just good finding this out. The experience permanently injured me in two ways. One was that it ruined my self-esteem in some way. On bad days, I'd tell myself that it was my own fault that he had cheated on me. I wasn't pretty enough, smart enough or good enough. Secondly, I lost trust in men in my romantic relationships. When I started dating Jesus a handful years later, I couldn't trust him. I was so sure that he would cheat on me. I'd happened already, so why wouldn't it happen again?
A few years later, I heard rumors (Copenhagen is a very small city!) that my ex had continuously cheated on his other girlfriends. I felt bad for them, yet it was reassuring to confirm that he was the one with a problem – of not being able to keep his d*ck in his pants in a relationship. It was something messed up in his brain since he would continuously cheat on girls. It wasn't my fault that I'd been cheated on.
Some people are f*cked up
I could go on and have material enough for a novel about childhood sweethearts, high school sweethearts, and dates. Shitty men. Like, two guys, I dated in Berlin that both ghosted me after we'd been seeing each other for months. What?! How is someone able to do that to a person after developing a close relationship? Another time there was a guy at a night club who asked to dance with me. I declined because I was with my girlfriends. A few minutes later he came back and poured half a liter beer over my head and slapped me in my face. My girlfriends went mad and the doorman came to kick him out. An hour later, we were pulled aside to talk to the police as witnesses. The crazy dude had called them because he said that throwing him out of the club was discriminating. What a psycho.
Luckily, I also have sweet, great men in my life. My boyfriend. My dad, my brother, and my grandfather. And they are what matter.
Life can only be understood backwards
Today, I had a talk with a friend about how life can only be understood backwards; but it must be lived forwards as the good old Kirkegaard once said. I wish I had known back then that I would be happy again. Find love again. That love hurts. And that it was never my fault that someone cheated on me. That I am worthy. In the meantime, I should probably avoid reading old texts messages. Visiting your past self with people that were once a huge part of your life but aren't anymore can stir up some weird emotions that I am not sure I need to find. It's frankly a little scary how life molds you depending on what people, experiences, actions and events you meet.
[Cheers] to all the men I've loved (and hated!) before. A cute Netflix movie, by the way!