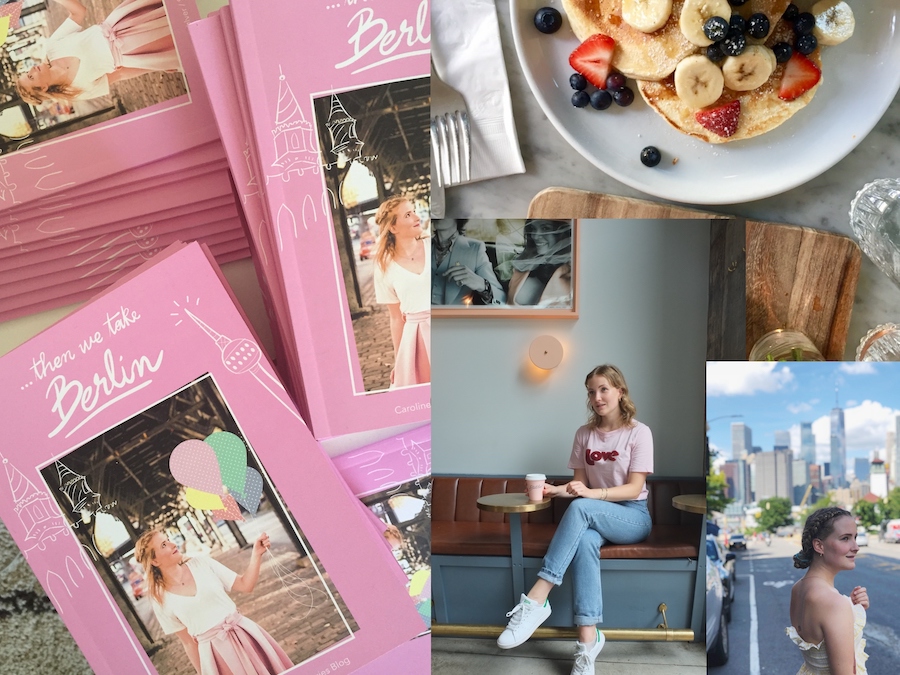 Om Caroline Sølver
Hej og velkommen til min blog, Silver Stories. Her deler jeg hippe rejseguides, livsstilsinspiration og personlige historier med håbet om at inspirere. Jeg hedder Caroline, er født og opvokset i på Østerbro i København. Da jeg var 18 år, flyttede jeg til Berlin, hvor jeg endte med at bo i tre år. Siden flyttede jeg til New York og arbejdede nogle år.
Jeg flyttede atter tilbage til min hjemby for at læse på Copenhagen Business School, hvorfra jeg nu har en bachelorgrad i Interkulturel Markedskommunikation. I 2020 læser jeg videre på kandidaten, Cand.merc.(kom.)
Nu bor jeg i København, men bruger fortsat nogle måneder om året i Berlin, New York og andre dejlige steder i verden.
Jeg drikker min cappuccino med havremælk, kværner 52 bøger om året, lærer at trække vejret til yoga, koncentrerer mig allerbedst når jeg er i gang med dyb research, og så ved jeg ikke, hvordan mit liv skulle hænge sammen uden min cykel.
Hippe rejseguides
I 2020 udgav jeg min anden bog – en rejseguide til Berlin. Min tilgang til mine rejseguides er, at jeg deler de skjulte perler, sjove steder og lækre caféer og restauranter. Jeg er nu i gang med at skrive en rejseguide til NYC og en til København. Guiderne er altså til dig, der ønsker noget udover det sædvanlige, som du ikke finder i de traditionelle rejsebøger.
Jeg udgiver også strikkeopskrifter under navnet Silver Lining. Fælles for opskrifterne er, at de er nemme at gå til. De kræver blot, at du kan strikke ret og vrang.
Senest har jeg startet en podcast, der hedder Silver Talks. I hvert afsnit inviterer jeg en inspirerende kvinde med i studiet. Vi taler om at flytte til et andet land, være kærester med en fra udlandet, at starte sin egen virksomhed og meget mere. Du kan lytte til den på podcast-appen, Spotify eller på bloggen.
Freelancer inden for kommunikation og markedsføring
Derudover arbejder jeg som freelancer og konsulent inden for kommunikation og markedsføring. Jeg er ekspert i digital og content marketing samt sociale medier. Jeg skriver whitepapers, blogindlæg og artikler. Planlægger kommunikations- og markedsføringsstrategier samt events. Desuden kan jeg rådgive om markedsindtrængning i USA, Tyskland og Danmark. Vil du vide mere, så tjek gerne min LinkedIn.
Du kan også se eksempler på mit arbejde her, både på Silverstories.dk i samarbejde med virksomheder eller som freelancer.
Kontakt mig
Har du ris og ros, vil du samarbejde med mig eller har du blot et spørgsmål? Så kan du skrive til mig på  carolinesoelver@gmail.com
Du kan også finde mig på Facebook, Instagram, Bloglovin og Youtube.
Tak fordi du læser med!


About Caroline Sølver
Ciao, I'm Caroline, 25 years old, born and bred in Copenhagen. Right after high school, when I was 18 years old, I decided to move to Berlin where I ended up living for three years. This is also where I started my blog. Read my story about Berlin here, here and here. In September 2016, I moved back to Copenhagen with my boyfriend who is from New York City. Here, I got my Bachelor's Degree in Intercultural Marketing and Communication from Copenhagen Business School.
I spend my time between Copenhagen, Berlin, and NYC. I have a cafe called Skål with my boyfriend, which is located in Bed-Stuy, Brooklyn.
I drink my cappuccino with oat milk, love reading good books and listening to podcasts, and my favorite means of transportation is my bike #atruedane.
On Silver Stories, you will find lots of hip travel guides – not only about Berlin, NYC, and Copenhagen but around the whole world. You will also find personal anecdotes and lifestyle inspiration with the goal of living your best life.
Hip travel guides
In 2016, I published my first book – a hip travel guide about Berlin (in Danish). My approach is to go beyond the traditional guidebooks and include hidden gems and cool spots that you won't find in the other guides.
In 2020, I will publish my first ever travel guide written in English – this time for my hometown Copenhagen. Stay tuned!
I also run a few more projects (sorry, they're in Danish…). YouTube vlogs, a podcast including cool female personalities called Silver Talk and publish knitting patterns in the name Silver Lining.
Marketeer and freelance writer
I also consult and work as a freelance writer and marketeer within communication and marketing. I'm an expert at digital and content marketing and social media. I write blog posts, whitepapers and articles in a wide array of themes from lifestyle to marketing and money. I plan and execute marketing strategies as well as events. Furthermore, I consult companies on the Danish, German and American markets. Do you want to know more? Check my LinkedIn and feel free to reach out.
Contact me
For love letters, nice words or collaborations, feel free to contact me at carolinesoelver@gmail.com
Find me on Facebook, Instagram, Bloglovin, Youtube and LinkedIn.
Thank you for stopping by!