ENGLISH (DANISH VERSION BELOW) Oh, America. The land of anything big, excessive, over the top, especially when it comes to food! Especially in New York City, the melting pot of cultures which is definitely reflected in the food. I have made my research and visited a few spots in New York that are just too crazy to not visit. I came across most of these places on Instagram. For a fact, I could say tons of bad things about social media, but I love how I am able to find so many cool places all over the world thanks to Instagram.
Here are the craziest things you have to eat in New York City. My list of crazy eats in NYC is huge, so be prepared for part two (and possibly a part three!) of this post.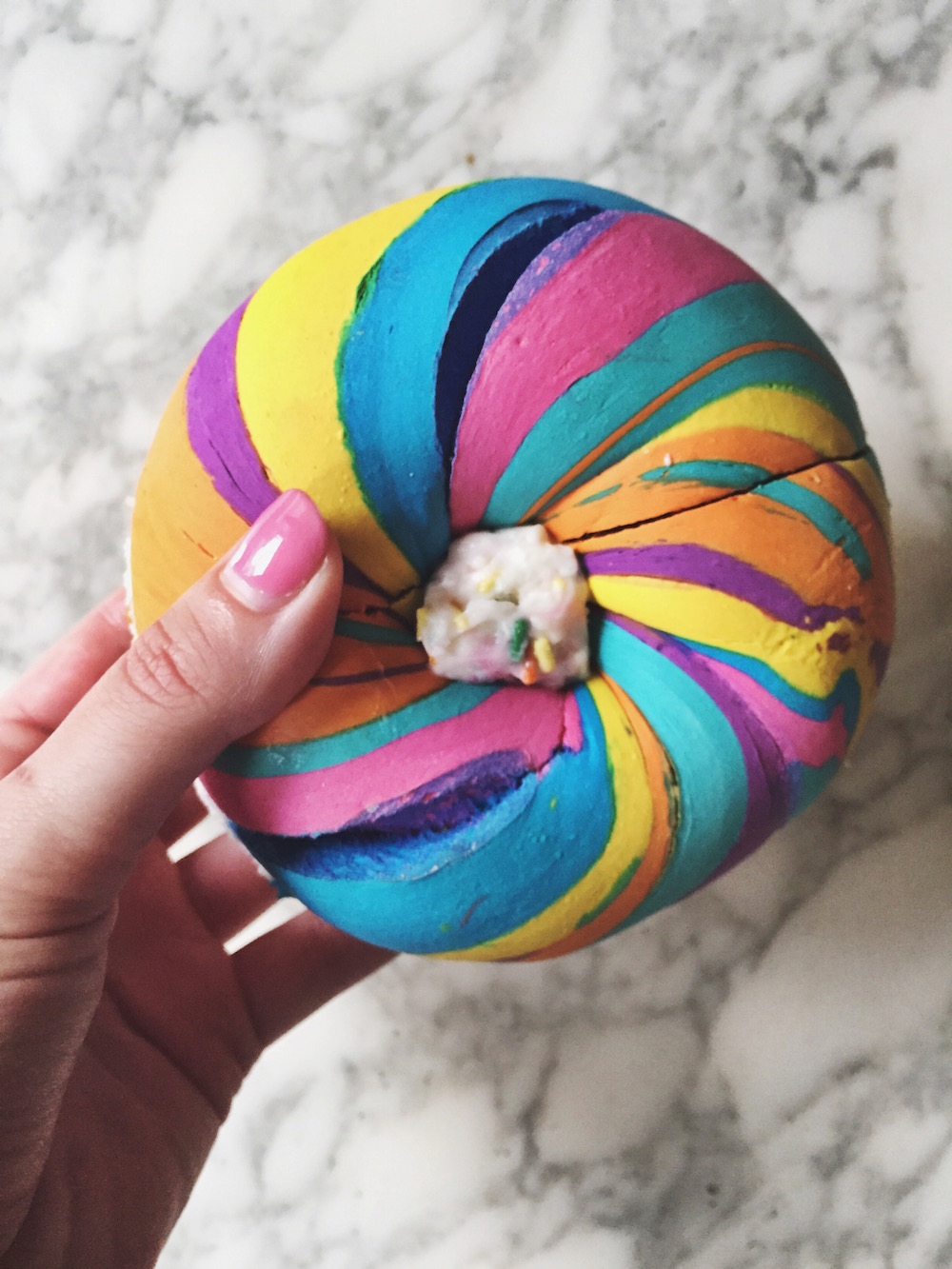 Rainbow bagel from The Bagel Store
How crazy and funny is this bagel? Although it looks a little insane, it actually tastes just like a regular bagel. I had mine with funfetti cream cheese, and it was a treat. At The Bagel Store they also have even more extreme versions of the rainbow bagel, so you can go all in on the craziness getting your bagel with toppings such as cotton candy. The Bagel Store is located in Williamsburg. If you are wondering how the bagels are made, all your questions are answered right here. The rainbow bagel costs between 3-5 dollars depending on what version you get.
The Bagel Store, 754 Metropolitan Avenue, Williamsburg (Brooklyn)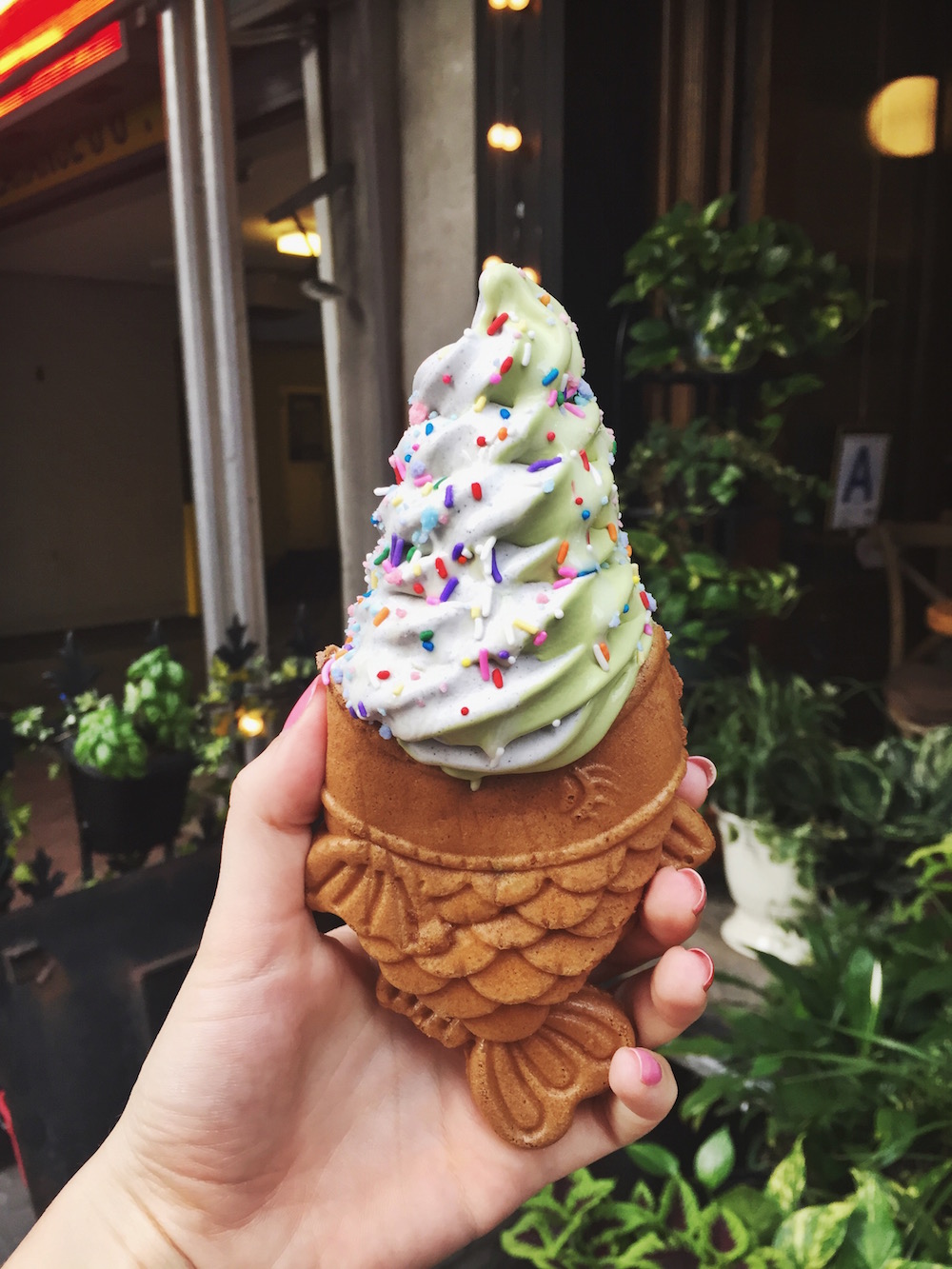 Green and purple ice cream served in a fish waffle from Taiyaki
I felt happy and excited as a kid once the employee handed over this ice cream to me in a waffle shaped as a fish. How cute is this ice cream? The waffles are made fresh in the ice cream store, and the one I was serves was still slightly warm and delicious. You mix your own serving of the ice cream with a fish shaped waffle, a custard, one or two ice cream flavors, a sauce and sprinkles. The whole thing is around 7 dollars.
Taiyaki, 119 Baxter Street, Chinatown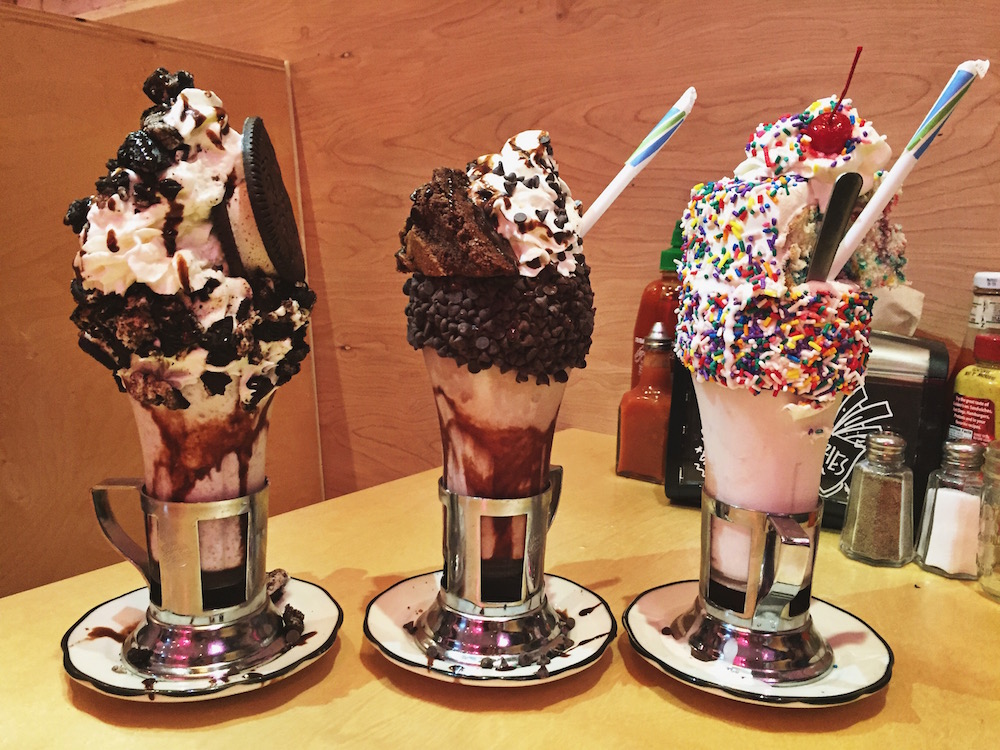 Craziest milkshakes from Black Tap
This milkshake is pure diabetes, as my friends and I agreed on as a joke when we first came to Black Tap. We actually came to eat the burgers at the place. They are great! Then, we saw the milkshakes and we all agreed that we had to come back and try them. It is like a once-in-a-lifetime-experience trying one of these milkshakes. Or, at least it should be! You don't want to eat them too often 😉 They are amazing, over the top and simply too much and can easily be shared. Each milkshake is 15 dollars. In the picture, you see the Oreo, Brooklyn Blackout, and Birthday Cake. Black Tap has three locations in Manhattan.
Black Tap, 177 Ludlow Street, Lower East Side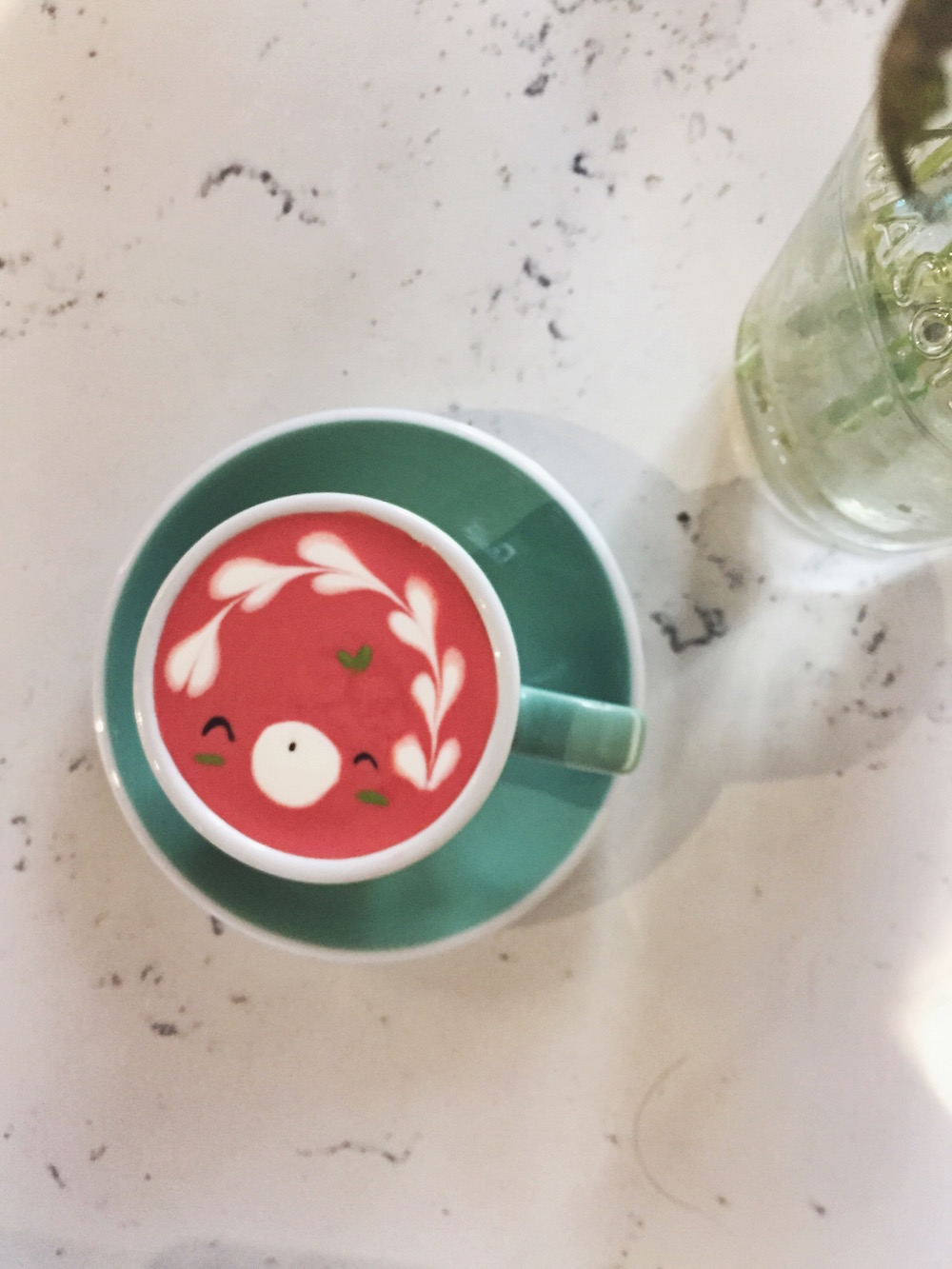 Pink sweet latte from Sweet Moment
If you love pink (or green!), cute and sweets with a hint of coffee, this place is heaven. It is also heaven for your Instagram feed. This place has quickly become a very popular spot due to Instagram. Sweet Moments serves three kinds of creamart. A chocolate, a matcha, or a red velvet version. The cute drinks are made of cold coffee and flavored cream and topped off with the cutest late art you will ever see. The creamart is five dollars.
Sweet Moment, 106 Mott Street, Chinatown
________________________________
DANSK: USA er kendt for at gå all in på alt hvad der er vildt, overdrevet og over-size. Det gælder også deres madkultur, der især kommer frem i New York City. Takket være Instagram har jeg opstøvet et par forskellige steder i New York, der serverer nogle vilde, overdrevede og over-size mad-kreationer. Jeg er sikker på, at der nok skal komme en part to med et lignende indlæg her på min blog!
Regnbue-bagel fra The Bagel Store
En regnbue-farvet-bagel! Det er næsten for godt til at være sandt. Måske tænker du, at den ser for vild ud, og hvordan mon en regnbue-bagel smager…. Til den store overraskelse smager den som en klassisk, plain bagel. Det vilde er derimod, at jeg fik min bagel med funfetti cream cheese, og det var en treat! Vil du have din regnbue-bagel endnu vildere, tilbyder The Bagel Store også, at du topper den med candyfloss. The Bagel Store ligger i Williamsburg. Hvis du sidder og tænker "hvordan i alverden laver man regnbue-bagels", så kan du få alle dine spørgsmål besvaret lige her. Regnbue-bagelen koster mellem 3-5 dollar.
The Bagel Store, 754 Metropolitan Avenue, Williamsburg (Brooklyn)
Grøn og lilla is i en vaffel formet som en fisk fra Taiyaki
Der går helt barndom i den, og den glæde jeg føler, da den ansatte rækker ovenstående is over disken til mig. Hvor fin er den ikke lige? Taiyaki serverer is i en frisk, stadig-varm, hjemmebagt vaffel, der er formet som en fisk. I den skal du vælge en creme, en eller to slags is, en sovs og krymmel. Taiyaki har kreative is-varianter såsom sesam og matcha, men er du mere traditionel i din is-preferencer, er der også råd for det. En is med vaffel og diverse toppings koster omkring 7 dollar.
Taiyaki, 119 Baxter Street, Chinatown
Vilde milkshakes fra Black Tap
Faktisk besøgte jeg Black Tap for deres burgere. De er forresten rigtig gode. Men, så så jeg, at Black Tap serverer de mest vanvittige milkshakes, jeg nogensinde har set. Mine venner og jeg jokede; det er instant diabetes at indtage sådan en. Det afholdt os dog ikke fra at mødes igen ugen efter, denne gang for milkshakes frem for burgere. Dog, til vores forsvar, delte vi to og to en milkshake, og det kan man snildt! Milkshakesne koster 15 dollar stykket. På billedet ses Oreo, Brooklyn Blackout (chokolade) og Birthday Cake-versionerne. Black Tap har tre forskellige beliggenheder i Manhattan. Dog kan nedenstående beliggenhed anbefales at besøge. Min erfaring er, at der aldrig er kø her, mod de andre placeringer, hvor ventetid kan forekomme.
Black Tap, 177 Ludlow Street, Lower East Side
Lyserød sød latte fra Sweet Moment
Hvis du er vild med søde sager med et hint af kaffe og lyserød, så er dette sted lige noget for dig. Og for din Instagram-feed! Sweet Moment er en ny café, men den har på kort tid opnået stor success og er blevet meget populær… takket være Instagram! New yorkere flokker nemlig til Sweet Moment for at få deres egen creamart (og et billede af den – måske det er det vigtigste…). De fine og fotogene creamart består af iskaffe og farvet flødecreme. Drikken fås i tre forskellige farver og smage. Den lyserøde smager af red velvet, den grønne af japansk matcha og den brune er chokolade. Hvis du spørger pænt, laver baristaen lattearten, så du kan se på imens. Det er så fint. Creamart-kaffe-drikken koster 5 dollar.
Sweet Moment, 106 Mott Street, Chinatown